Looking to go from Buffalo to Niagara falls? I've got all the details below including how to get there, what to see and do at the falls both on the USA and Canadian side and how it can all be done for just $5.
But first…
Why visit Niagara Falls from Buffalo (instead of Toronto)?
Like most people, I originally planned to visit Niagara falls from Toronto but thanks to a terrible tour company (more on that below), my visit to the falls was cancelled last minute. Upshot: I left Toronto without visiting Niagara and I was pretty pi$$ed off about it…at the time.
Fortunately, my next stop was over the border in Buffalo where I had a two-night stay pre-planned. So, with my 'make the best of a bad situation' hat on, I decided to make a second attempt at visiting the world famous cascades by going from Buffalo to Niagara Falls. And it turned out to be the best decision.
Why?
I saved myself a stack of cash ($169 for a tour versus $5 to go from Buffalo to Niagara Falls);
I didn't have to cram onto one of those 52-seater coaches with 51 other tourists;
and because of that I didn't have to wear a headset to hear a guide;
I was able to explore at my own pace – and my pace is often slower than most tourist groups (I want to take time to smell the sunflowers, not follow one on a stick);
I could arrive and depart at my own leisure (read: I'm not a morning person);
My lunch choice was all my own – as was the timing of lunch (and coffee breaks);
I avoided the crowds – when there were crowds, I hung back until their coach-load dispersed…or went for a coffee to let the pack thin;
I saw both sides of the falls – something most people don't do, which makes me feel sad because…
I actually preferred the USA side (more on that below);
I left the falls with an overwhelming sense of peace, something I've never felt when I've seen nature in a big tour group – it's not that I'm against group tours, I've taken plenty of them, but visiting Niagara, I was definitely delighted I ended up visiting independently.
What happened in Toronto?
I booked a tour with Royal Niagara Tours while I was in Toronto. The price was $169 for a night tour and although I booked last minute, I was sent a confirmation email with the pick-up time (1 p.m.). On the morning of the tour, Royal Niagara Tours emailed me to say that they had no other bookings for the day and therefore they were cancelling the tour. Of course, I was furious – the risk of the company cancelling is not mentioned on their site or in their booking conditions. A simple "Minimum 4 people" would have done as well as a notification at time of booking that they were currently below subscription.
Getting customers to commit to a tour date without making any commitment themselves (unless there are enough people to make it worth their while), falls flat into the category of unfair if you ask me (not that this former consumer protection lawyer has much of a view on these matters).
And tut-tut Trip Advisor: Even after my anger had ebbed (thanking the meditation retreat for that), I kept imagining how horrible it would be for honeymooners or bucket-list travellers to have to go home without seeing the falls.
So, I went online – to the largest travel forum out there – to share my experience of Royal Niagara Tours. But Trip Advisor refused to post my review – I'd not actually used Royal Niagara Tours, therefore how could I review them? I saw their point in principle but I went back to Trip Advisor to explain – without a review of the booking experience, Royal Niagara Tours can continue with its shoddy practice and all people will see are the nice reviews of people who were's shafted last minute (FYI, I didn't use the word 'shafted' when I wrote to Trip Advisor – my formal correspondence is much more proper than that).
Response from Tripadvisor: Silence.
My advice: book early and steer well clear of Royal Niagara. If I was to do it again, I'd book my trip with Viator – although I haven't been to Niagara Falls with the company, I have used them before and was happy enough with the service I'd book again elsewhere.
How to visit from Buffalo to Niagara Falls for just $5
After my failed attempt to visit the falls from Toronto, I decided to look at alternative options and, I have to say, I didn't find the internet to be particularly helpful when it came to planning my trip from Buffalo to Niagara Falls.
I started by searching on one of my favourite sites, Rome2Rio.com to get a general idea of the route options (beware: this website is a lot of fun and you can lose days playing on it).
From that search, I found out it's actually possible to visit the falls for just $5!
How?
You go by bus taking number 40 from Buffalo's Transit Centre directly to Niagara Visitor Centre.
Bus details:
The bus takes one hour and costs $2 each way for an adult.
You pay the fare on the bus.
Beware: the bus timings are a little sporadic, running between every 30 minutes to one hour depending when you go, so you're best checking the schedule before you go.
Rainbow Bridge: Once at the falls, your only other cost (apart from whatever you want to spend on snacks, drinks and souvenirs), is a $1 fee to cross Rainbow Bridge (the Bridge that spans the falls and connects the USA and Canada). The price is 50¢ each way for pedestrians and bikes. The rate is a little higher ($3.50 round-trip) for cars.
Total cost: $5 – that's a large saving on the $169 tour price.
Driving to Buffalo: of course, not everyone cares about making a huge saving so if you prefer to take your own car or even a taxi, you can access Niagara Falls very easily from Buffalo – it's about a 30 minute drive (route here). If you're going to do that, just skip past the Getting There section below and dive straight into What to See at the Falls.
Getting there: from Buffalo to Niagara Falls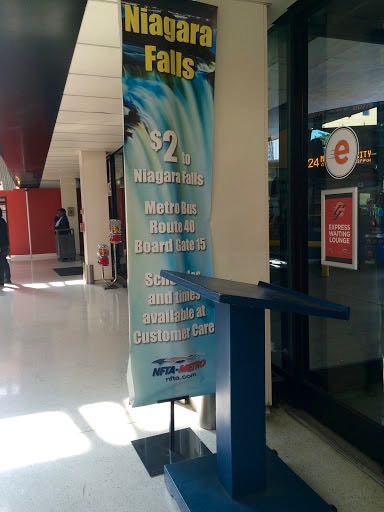 If you do choose to go from Buffalo to Niagara Falls by bus, you might find that the route isn't as clear as you'd like (probably because most people visit by car or tour). So, here are step by step directions from Buffalo.
The Buffalo Transit Centre is located in Downtown on the Southeast Corner of North Division and Ellicott Street. The bus leaves from Gate 15. Not many tourists were using the bus when I visited (I was the only one) so don't rely on following the tourist pack. The station is small but be at the gate before the scheduled time of your bus because the bus pretty much pulls in and pulls out. Also, make sure you have the right change as no change is given on the bus (and who wants to drop a $20 on a $2 ride?).
When you get on the bus, ask the bus driver if he or she will let you know when you're at the Niagara Falls Visitor Centre – the stop isn't as clear as you'd hope. The landmark you're looking for is this "haunted house" at the cross-section of Rainbow Boulevard and Old Falls Street. It will come up on your left-hand side.
From there, walk a little further down Rainbow Boulevard (in the direction the bus was travelling) until you see this… behemoth – it's technically called One Niagara Welcome Centre, but don't be fooled – the official Visitor Centre is around the corner, behind this building and the name is just a ploy to get you inside to buy stuff (and boy does it contain a lot of stuff – Niagara t-shirts and caps in EVERY colour).  That said, this oversized souvenir mall does have toilets if you happened to have drunk a very large coffee before getting on the bus, just sayin'.
Related article: How to Visit Pearl Harbor for Only $5
If you don't need to go inside the mall, continue on Rainbow Boulevard until you get to the end of the block at Niagara Street and turn left. Then, as you get towards Rainbow bridge, veer left towards the official (but well tucked away) official Visitor Centre.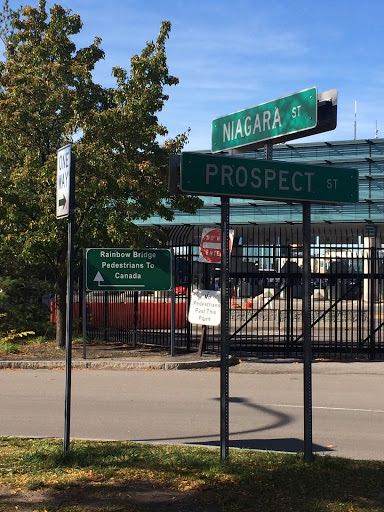 You do have the opportunity to go over Rainbow Bridge and on to the Canadian side of the falls from here. In fact, all of the signage is aimed at getting you over the bridge, making it a bit confusing. However, I recommend spending an hour or two seeing the USA side of the falls first.
To do that, ignore the signs for the Rainbow Bridge and instead double back, behind the behemoth building onto Prospect Street and from there you'll reach the entrance of the USA Niagara Falls State Park and the Visitor Centre.
How to get to the Niagara Falls Visitor Centre from Buffalo Airport – I've been asked this a lot so I've added a new section at the end under 'useful information' on how to visit  Niagara Falls from Buffalo Airport.
Related article: How to Spend One Day at the Grand Canyon
What to see at the falls: USA side
The first thing you should do when you get into the State Park is to head straight to the Visitor's Centre where you can pick up a map (or download it from page 2 of this link).
One of the things I loved most about the USA side of the falls, and which is immediately evident from the map, is the number of walking opportunities. Although none of the paths are long enough to be considered a hike, it makes for a much more immersive experience compared to the concrete approach to the Canadian falls, with lots of smaller waterfalls and tucked-away paths to explore. Add the lack of tourists and a lot of views that you won't have seen on in glossy brochures  or on the front of postcards and it's easy to see why many people come away preferring the USA side – I did.
Did you know Niagara falls is actually made up of three waterfalls – Bridal Veil Falls, the American Falls and Horseshoe Falls?
Horseshoe Falls is the bigger and most visited of the falls, on the Canadian side, but the other two, which are both on the USA side, are also very beautiful. And, if you're going to go to visit the falls, why wouldn't you want to see all three?
In terms of exploring the USA side of the falls, I'd recommend taking a slow wander through the park. Here are some of the highlights and the order I'd suggest visiting them in.
Green Island
Head away from the visitor centre and past Prospect Point (try to resist looking until you loop back – that way you build up to seeing the falls in order of increasing drama). Follow the path on the right of the visitor centre and you'll end up on a small pedestrian bridge (Goat Island Road) that will take you first to Green Island and then on to Goat Island. Green Island is so small you might not realise you've passed over it. The picture above is of Goat Island Road going onto Green Island – just look at the lack of tourists and those beautiful trees (don't worry, there's plenty of water to come).
A few steps later and you'll realise you're leaving Green Island behind…
Goat Island
..but the views from Goat Island, are just as spectacular.
And still with practically no tourists. In fact, I had this little trail all to myself.
Luna Island (for Bridal Veil Falls)
Bridal Veil Falls is the smallest of the falls at Niagara and is best seen from Luna Island (another short pedestrian bridge away from Goat Island) – follow your ears for the sound of water bucketing down.
Cave of the Winds
Cave of the Winds is a seasonal attraction that allows you to take an elevator down to the base of Bridal Veil Falls (accessed by the red wooden decking show in the picture below). Sadly, the attraction is disassembled during the winter period and was, therefore, closed when I visited at the end of October.
Prospect Point (for the American Falls)
After seeing Bridal Veil Falls, loop back towards the Visitor's Centre and Prospect Point. The second largest of the falls, at Prospect Point you'll start to get a sense of the magnitude and power of Niagara Falls. And still there's more to come.
Observation Tower and Maid of the Mist
There are two further main attractions on the USA side – the Observation Tower and Maid of the Mist.  The Observation Tower is the only way to get a panoramic view of all three falls while the Maid of the Mist tour will take you right up to the falls and get you a good soaking in the process (it's all part of the fun).
Sadly, I didn't try either of these attractions because I was fighting off a nasty cold and didn't think getting soaked and the being outdoors in late October was a smart move. If I'd been there in summer, I'd have been 1st in the queue for both.
You can find out more about both attractions, including pricing, on the USA Niagara Falls website.
Did you know Niagara Falls State Park is the oldest state park in America? If history's your thing (I confess I'm history nerd), don't miss the 45 minute show Legends of Adventure in the theatre in the Visitor's Centre. As well as providing the history of the falls, there's some daredevil footage in there, including one woman throwing herself over the edge of the falls inside a barrel. ***SPOILER*** she survived!
The Canadian side: Horseshoe Falls
Once you've explored the USA side of Niagara Falls, it's time for Horseshoe Falls and I have to say, even though the USA falls was my favourite side to explore, this view does top them all. But then we all knew that, didn't we…because this is the view that we've stared at so many times in 2D and is what prompted us to visit in the first place.
Getting to the Canadian side is a piece of cake – PROVIDED YOU HAVE YOUR PASSPORT (I watched one woman 'effing and blinding as she got turned away at the border). Simply pass through the guards on either end of Rainbow Bridge, pay your money, present your passport and you're through. It's then a several minute walk to get to the part of the falls that gives the most front-on view. No directions needed – follow the sounds of water and the head towards the mass of people.
I won't lie – there can be a significant jostle to get closest to the water and good manners and patience won't always get you where you want to be. And that was late October. However, the scrum is worth it and there's (another) visitor's centre right behind you if you need a coffee (or something a bit stronger) when you're done.
Table Rock Welcome Centre: I'd just about had my fill of visitor centres by the time I crossed to the Canadian side of the falls so Table Rock didn't hold my interest for too long. However, there's a whole range of shops, restaurants and activities if you want to explore. Personally, the crowds were thinner on the USA side so I was pleased I'd spent my time at the visitor centre there.
It was a long day out, especially when coupled with the two-hour return bus trip, but it was absolutely worth it to finally see what has to be one of the most impactful natural wonders of our world.
Useful Information
I'm getting a lot of useful questions about this post recently, so I've added this section to answer them for all of you.
Is there somewhere to store luggage?
Yes – you can store luggage at the Niagara Falls USA Visitor's Centre. It costs between $10-$20 per bag for the day. You can find out more here.
Where's a cheap place to stay in Buffalo?
I stayed at Hostel Buffalo Niagara, which is $35 a night in a dorm room. I loved this place – great location, felt safe for a solo female traveller, clean and helpful staff. Unlike lots of hostels, there are no private rooms so if you want your own room, there are several budget chain hotels in the area.
How to get to the USA Niagara Falls Visitor Centre from Buffalo airport 
Keep in mind that I've not done this journey, but years full-time travel have helped me plan routes. So, here are your options:
Uber –  of course, Uber is an option if you want the fastest and most direct route from Buffalo airport to Niagara Falls. It takes about 30-40 minutes and covers 25 miles so it won't be cheap. Also, you're reading an article about budget travel in the area so I'm presuming you'd also like to hear about public transport.
Taking the bus – the good news is that you can do this journey by bus and it's going to cost you about five dollars each way. The not so great news is that you're almost certainly going to have to travel into Buffalo city centre first and take the bus route I've described above. If you look at a map, this route into Buffalo first doesn't add a huge amount of distance to your trip, but it does make a reasonable difference in terms of time. You're looking at around two hours each way by bus, but isn't that always the case when you opt for the budget mode of transport versus car?
If you do want to travel by bus, just catch the number 24  from the airport. You'll get dropped off at Washington St. and S. Division St. It's just a few minutes across the park then to get to the Buffalo transit centre where you catch the number 40 at the Buffalo and follow the route described above.
I have two favourite websites for checking bus routes, times and prices. Both include detailed maps of the bus route, which is invaluable when you're taking the bus in a place you're not familiar with. The websites are below. I've plotted the route for you in the links but you might need to update your date and travel times:
Personally, I prefer Rome2Rio for planning and use Google Maps for live location tracking when I'm on the move. If you don't have mobile/cellular data or Wi-Fi access while you're travelling, download the Maps.me app and the USA and Canada maps while you are on Wi-Fi. Don't ask me how it works, but it magically gives you live location and GPS tracking while you're on the move but without data switched on. Being from the UK and not wanting to pay roaming charges, I used to Maps.me for my entire driving route from Miami to the Florida Keys via the Everglades recently and it worked a treat.
How to get to Toronto from Niagara Falls
If you want to head on to Toronto from Niagara Falls and you're not on a tour, the good news is there is a pretty easy public transport option. I'm assuming you've crossed Rainbow Bridge and are now on the Canadian side of Niagara Falls. From there (several stops available), take the number 12 bus to Burlington. At Burlington, you can change to the LW train that takes you into Toronto. Use the GO Transit website to plan your route and schedule. The journey takes around 3 hours including the transfer. The cost is around $10-$15 one way.
You can also drive (around 1hr 30 minutes).
How to get from Buffalo to Toronto?
This route I did do (in reverse) and it's super simple – you have a choice of Megabus or Greyhound.
Any more questions? Keep them coming (in the comments below) and I'll update this post with any extra information that you think would be helpful.
Want more? Here are some of my popular posts if you're planning a trip to the USA
12 Iconic Things To Do In New York For Tourists
21 Best Things To Do In New Orleans
21 Best Things To Do In Florida Keys
40 Cheap Things To Do in Miami
75 Things To Do In Key West Florida
Best Things To Do In The Everglades
3 Days in San Diego – What To See and Do
3 Days in Washington DC – What To See and Do
How To Spend One Day At The Grand Canyon
What and Where To Eat in New Orleans
How To Visit The Statue of Liberty – Ultimate Guide
How To Visit Pearl Harbour for only $5
Which Hawaiian Island To Visit
What To Do In Detroit – The City's Pretty Parts
Where Is The Best Chicago Deep Dish in Chicago?
Blog posts to help you plan your trip
The Only Packing List You'll Ever Need (with printable checklist)
15 Long Haul Flight Essentials: What to Take Onboard
Travel Insurance: Don't get Screwed by the Small Print
Like this guide to visiting Niagara Falls from Buffalo? Share it on Pinterest…