"Food in the Philippines isn't very good," they were words from a fellow traveller and they came as a crushing blow. How could that be? I was in Asia – one of the cornerstones of the spice trade, a region that had sent its cuisine global with pandemic success. The Philippines had to have good food, it was its geographical birthright.
I looked down into my plastic bowl of pale brown watery sauce and floating pig fat (no meat, just fat). The restaurant had been recommended to me, the dish I'd ordered all on my own. Surely, it was a one-time bad order?
Apparently not.
For the following three weeks with increasing degrees of frustration, desperation and eventually downright food depression, I, too, reached the sad conclusion that the food in the Philippines simply isn't good. I say these words carefully. The food is plentiful and provides essential nutrition (overly fatty meat aside), but for my inner foodie, sustenance was simply not enough.
Like many developing countries there is a point where income, at least for some, affords more dining choices and the fish, meat, vegetables and rice staples are passed over in preference for, most commonly, junk food. The result – an unsatisfying culinary mid-way – traditional recipes are no longer at their best, slowly being forgotten on a generation by generation basis, yet the new wave of fast food is a poor tasting substitute, even if it is an ironic social indicator of increased wealth.
Amongst the upcoming Filipino masses, Jollibee with its McDonald style burger meals and platters of pasta that would make the Italians want to throw in the kitchen towel, was sadly one of the most popular if not the crème de la crème of the Philippine's cooking world. I ate there twice – once for breakfast, another for dinner and both occasions left me with an inner food sadness. I also tried the ubiquitous Kenny Roger's Roasters (I'm serious – this does exist and no, it's not the world's greatest chicken, as the slogan suggests), slipping out mid-meal to pick up an avocado from the market to add more pizzaz to my meal.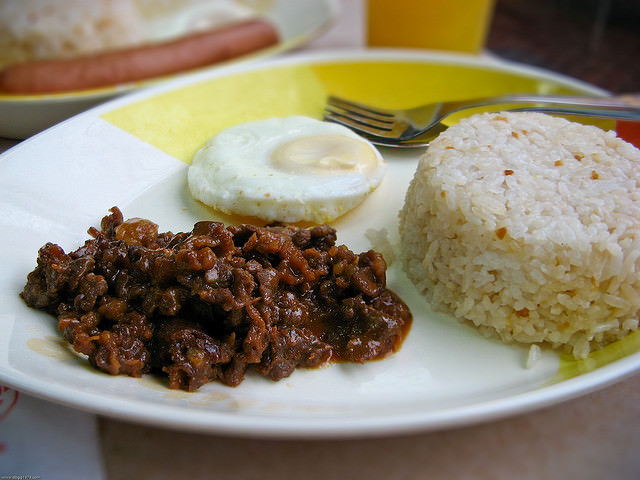 The street food (my usual go-to option in Asia) managed to tick the happy food box as I savoured barbecued everything from innards to unidentifiable pieces of meat, but a girl can't live on BBQ alone.
The halo halo dessert meaning 'mix mix' and comprising pasta, sweet potato, cream and jelly (strange, but works) and luminous green jelly drinks with buko (young coconut) were also fun (they matched the colour of one of my t-shirts, which made me happy), but equally, sugar cannot form my entire sustenance.
On Palawan, I tucked into some delicious tuna, tried the deep-fried bananas despite my heart protesting to the contrary and sampled the strangest coffee combination that included mushrooms and Korean Ginseng (surprisingly nice) but none of these items were distinctively Filipino.
birthright.
By far the best local meal I ate was the lunch served up in El Nido cooked on firewood on a beach during my time on a boat tour.
But beyond those few examples, I was stumped.
Yes, beef tapsilog was served at breakfast. The Jollibee version is shown above. I sampled others but consistently found the beef over salty and the garlic rice just too much for me first thing in the morning – even if it was offset with an egg.
I will give credit to Ube jam, which is definitely worth a try and probably the best breakfast item I tried the entire time (perhaps I just like the vividly coloured foods in the Philippines?).
Otherwise, kare kare (pork in peanut sauce) and other rice and meat based dishes were consumed with decreasing excitement.
As time passed and my interest in Filipino food waned, I lost my guilt at eating more internationally – Vietnamese, Chinese, Indian and (gasp, I'm about to say it) vegetarian food all stepping confidently into the breach, but it was nothing new, nothing I could take with me as a distinct culinary memory of the country.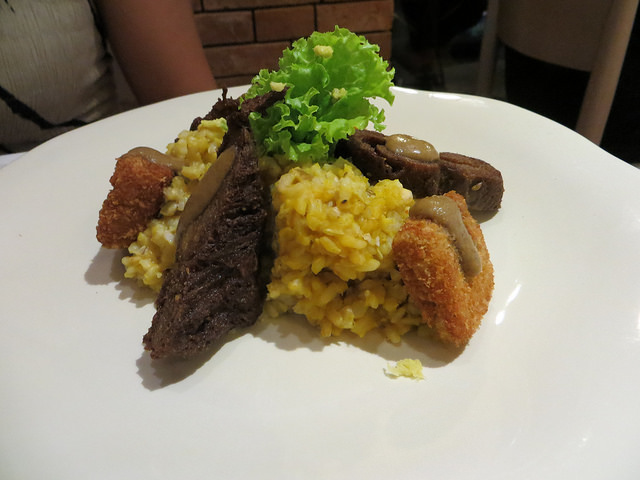 But I refused to give in. I researched, I tasted and then I found the answer I'd been looking for, the promise of a food utopia nestled in the heart of the Philippines…the Manila Sunday Brunch.
PS: I plan to return to the Philippines and I suspect that my disappointment with the country's food stems from my extended time in Japan where I existed in food heaven. Speaking to other travelers who had spent time in South Korea and Taiwan, the Philippines' food seemed, to them, a trade up. If you have any suggestions for where and what to eat for next time I visit, please do share otherwise I'll be taking a jar of (unsweetened) peanut butter and saving my main meal for the weekly Sunday brunch.
Want more? Read my post about Visiting the Batad Rice Terraces
"I was determined to take a trip to the north of Luzon and the Cordillera mountains to visit the Batad rice terraces. The terraces are dubbed the 'eighth wonder of the world' and although I have come across many self-proclaimed 'eighth wonders' on my travels, I'd say that the stunning emerald-green Batad rice terraces could well take the title.
If you find yourself in the Philippines, this journey is definitely worth the effort (and it can feel like an effort with a minimum 18-hour round trip on broken roads from Manila). Here's my guide to visiting the Batad rice terraces."
Related Food Posts
I Ate Fugu in Japan and Lived to Tell the Tale
What to eat in Japan – 20 alternatives to sushi
A life-changing experience – Eating Kobe beef in Japan
Hua Hin Hills Vineyard – Finding wine in Thailand
How to visit the Bombay Sapphire distillery, London
The Ginstitute – Making your own gin in London
Traditional Irish Food – How to eat like an Irishman
Best restaurants in Venice – Tried & Tested
What to eat in Jamaica – Traditional Jamaican food
Where is the best deep pan pizza in Chicago?
How to drink Tequila like a Mexican
How to go wine tasting in Ensenada, Mexico
Or read more of my posts about the Philippines or Asia