With a history of rum running, a complete refusal to adhere to the Prohibition and attracting unquenchables like Hemingway, you shouldn't be surprised to hear that Key West has a bar or two. What follows is a list of the most famous bars in Key West. This is an ideal list if it's your first time in Key West as most of them are on or near touristy Duval Street, the beating heart of Key West's bar scene.
You might also like my guide to the best things to do in Key West.
Whether you're in Key West for a celebration like a bachelor or bachelorette party or even a quieter, romantic trip, there's something for you on this list. I've tried to give you an idea of what to expect at each bar and at the end I've included both a map and a checklist. Print them, laminate them, drag then to every bar and love them. Just don't forget to have a margarita in Margaritaville for me ('here's to Indiana Jo' * crowd cheers *).
1. Captain Tony's Saloon for the oldest bar
We may as well start with the oldest bar in Key West. If you want to sip a beer in an historic institution, get to Captain Tony's Saloon. Find out more: Captain Tony's Saloon Website.
2. Sloppy Joe's for late night dancing
Live music with great service, at Sloppy Joe's a dance floor is set up from 9:30 p.m. so those still standing can practice their dance moves. If you want to party late, you'll probably find your way here. This is my favourite bar – I've had a consistently good time here. Find out more: Sloppy Joe's Website.
Fun fact: this was a popular spot for old Hemingway (though I suspect most of the bars in Key West were).
3. Green Parrot for a local vibe
Despite being so close to Duval, Green Parrot has a more local vibe and is perfect if you want a chilled beer in a chilled atmosphere. Also, it's over 100 years old so it must be doing something good. This is one of the places you really must go to. Once upon a time it used to be the last bar on US Highway 1. Find out more: Green Parrot.
Fun fact: Green Parrot used to function as the island's morgue and was also once the ice house.
4. El Maison de Pepe for romantic sundowners
A Mallory Square institution for drinks at sunset. There's Cuban food and therefore accompanying mojitos. Not to be confused with Pepe's Cafe. Find out more: El Meson De Pepe's Website.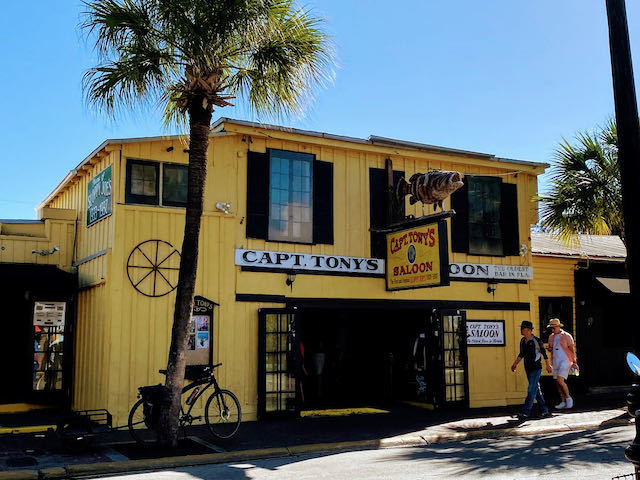 5. Hog's Breathe Saloon for outdoor drinking
If you're after live music in Key West, you'll find it here. But what I like most is the ability to spill out onto the front yard area when the risk of getting someone else's elbow in your beer becomes too high. Find out more: Hog's Breath Saloon Website.
6. Bull & Whistle for a sports bar vibe
Bull & Whistle has a choice of drinking floors – stay downstairs for quick access to Duval Street or head upstairs for a sports bar feel with darts and a pool table. Just don't go too many floors up unless you intend to go al fresco…
7. The Garden of Eden for naked drinking
Yep, you read that right. Clothing optional Key West is delivered in the form of The Garden of Eden bar. It's a nudist bar at the very top of the Bull & Whistle. You can stay clothed but that does put you firmly in the category of voyeur. Be respectful: no pictures. Find out more: Garden of Eden Website.
8. Hemingway Rum Distillery for rum tasting
Not a bar as such but included with your Key West Trolley ticket or Conch Train ticket. You'll get a quick intro to rum making followed by a few tastings of the Hemingway rum brand (named in his honour not by him). Find out more: Hemingway Rum Distillery Website.
Alternative rum tasting: Key West First Legal Rum Distillery for more rum tasting. You might visit here if this distillery is included in your sightseeing ticket instead of the Hemingway or distillery. Or, if you really like rum.
9. The Smallest Bar in Key West for a cosy drink
If there's 10 of you, you'll pack the place out and only 3 of you will get a seat. It's slap-bang on Duval and worth a stop though do move on after a drink to let others give it a try. Find out more: Smallest Bar Website.
10. Jimmy Buffet's Original Margaritaville for Buffet fans
I had to Google who Jimmy Buffet was (thought it was a brand of buffet-style dining) so it took me a while to visit this place. However, for Buffet fans, I believe this place is a big deal (and its definitely one of the most famous bars in Key West even if you're not a Buffet fan). Find out more: Jimmy Buffet's Website.
11. Waterfront Brewery for craft brew flights
Want to taste rather than throw back your beer? Pick a sea view table at the Waterfront brewery and order one of their craft beer tasting flights. Find out more: Waterfront Brewery Website.
12. Lucy's Retired Surfer's Bar for scorpion shots
Key West is full of crazy shit and this is just another activity to add to the list. You won't find me doing a shot of booze that contains a scorpion chaser but people do. I'd recommend watching some other fools do it rather than trying it yourself. Find out more: Lucy's Retired Surfers Bar Website.
13. Willy T's for a dollar bar experience
Willy T's is another of the most famous bars in the Keys. Dollar bars ply the overseas highway – bars where the walls and ceilings are adorned with dollar bills. Scrawl your name on a bill and mark your trip with a memory that will add to the look and feel of Willy T's. Find out more: Willie T's Website.
14. 801 Bourbon Bar for a drag show
I love the ladies at this bar and if you've never seen a drag show before (or have and want to go again), this is one of the most popular places to do it, right on Duval. The show happens twice a night. Get there early to enjoy happy hour and get a good seat. Find out more: 801 Bourbon Bar Website.
Alternative: La Te Da Key West also has a nightly cabaret show if you're after an alternative drag show in Key West. This one isn't for the shy, retiring type.
15. Durty Harry's for live Rock Music
Part of the famous Rick's Bar (which is actually several bars all in one place), Durty Harry's is a huge draw thanks to its regular rock bands performing each night. This is a good choice if you're a loud group wanting to get rowdy with a capital R.
Or Take a Key West pub crawl
Can't be arsed to plan your own night? Take a pub crawl and let an experienced guide show you a good time. The theme seems to be a side of (other-worldly) spirits, which will add to the fun. You can book a haunted pub-craw on Viator or Get Your Guide.
Tips for enjoying Key West Bars
happy hour in Key West is a competitive game where not just drinks but food is on regular discounted prices. Do go early to get a seat because things get pretty manic. For the best happy hour in Key West I'd suggest heading to the waterfront – food and drink aplenty with great views.
tiki bars in Key West – search on google and there are plenty of bars with tiki in the name but the entire island has a tiki bar feel. If you really want a wow tiki experience, why not try going for a sunset cruise on a floating tiki bar. Yes, you read that right! You can book here.
Famous Key West Bars Printable Checklist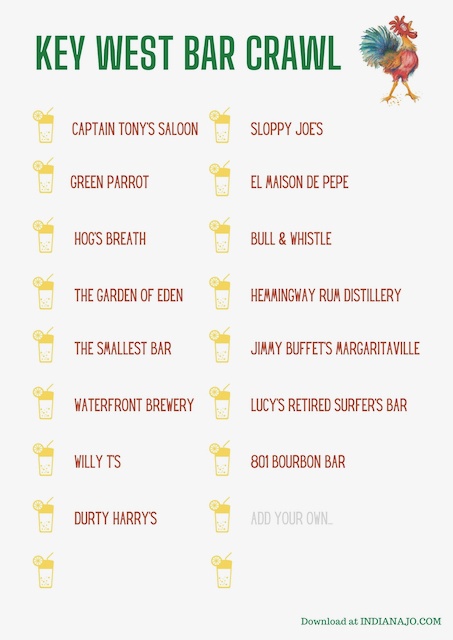 Want something to take on your bar crawl in Key West? Download a printable version of the checklist of the most famous Key West bars here.
---
Map of the best bars in Key West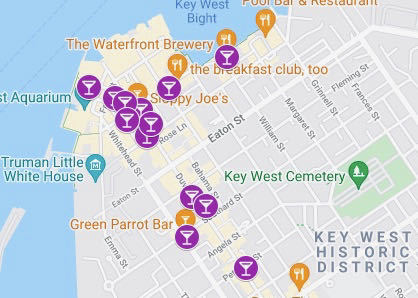 Click here to view this map or edit it in Google maps to add your own locations.
That's my guide to the most famous bars in Key West Florida. Got any questions or suggestions? Let me know in the comments below…
Related Articles: