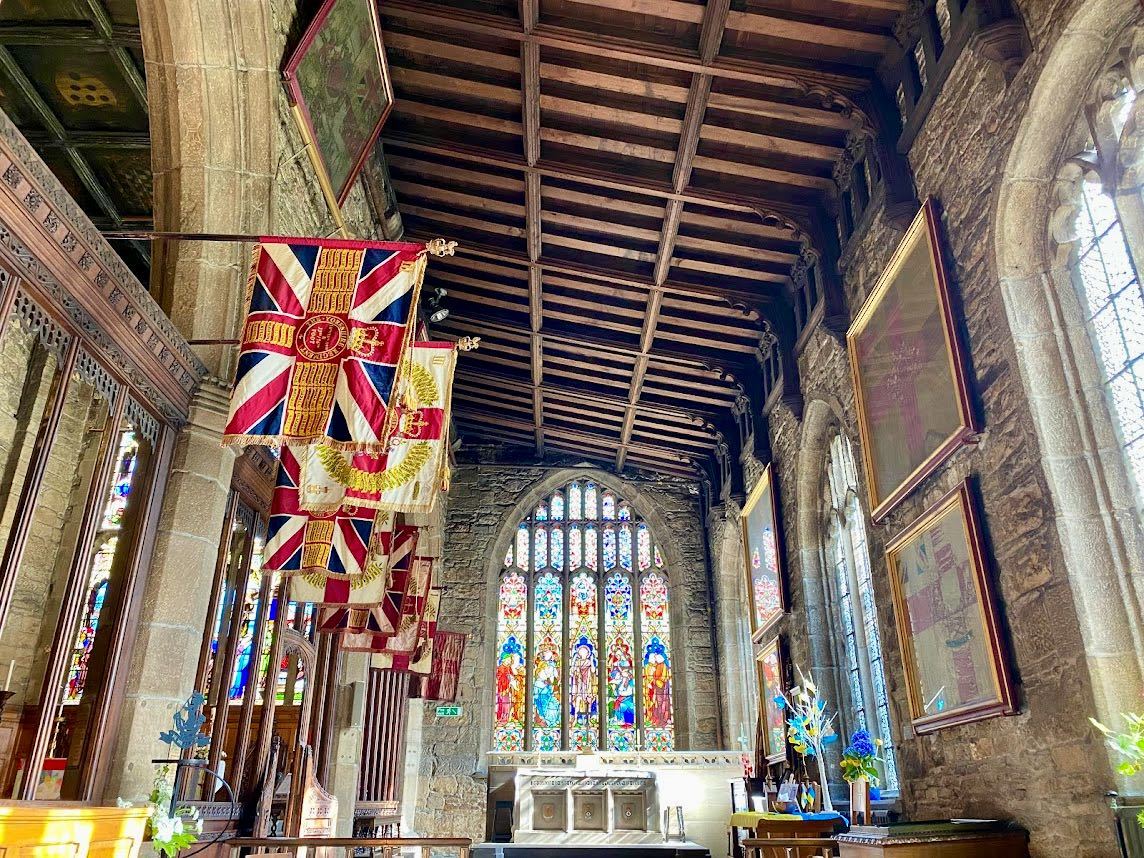 I know Thanksgiving isn't a British holiday, but given we suddenly appear to be claiming Black Friday as if it were our own, I thought I'd use this significant US holiday to think about all the great and wonderful things that make up the country that I call home. Which caused me to check out a few facts about Great Britain.
I may not be in the UK as much as I'd like and there may be a significant proportion of the British society that can't seem to say a good word about the place where they live, but the truth is that we have it good. Very damn good.
As someone who has spend time in some of the most impoverished and dangerous places in the world, where the authorities turn a blind eye to child prostitution and human trafficking and where poverty and diseases claim lives daily, one of the best lessons my travels have taught me is to be grateful for what we have.
And so, here is my list of 45 reasons (in no particular order) for why I am grateful for Great Britain.
We live in a free and democratic society. We have the right to vote and we have freedom of speech.
We have one of the most powerful passports in the world. We can access 173 countries without a visa or by visa-on-arrival.
We have a hygienic sanitation system. If you want to go to the bathroom, there's no need to dig a ditch or worry about things like cholera.
The tap water is clean, safe and constant. We need water to survive. Oh, and it's also handy for cooking, washing salad and brushing our teeth – things we take for granted. Can you imagine living without clean water every day?
We do not live in a war-zone.
We have one of the strongest currencies in the world.
We have one of the best education systems in the world. You can have 13 years of education for free and our literacy rate is 99%.
We have access to decent, affordable food. Sure, a Michelin star meal in London is very pricey but our supermarkets stock a good range of foods that are accessible for even the smallest budgets.
You flick a switch, a light comes on. It illuminates your home. It powers your electronic items. And it very rarely fails.
Gas – same deal. Quietly doing its work in the background. It heats your home. Let's you have hot showers and baths.
We have a capitalist economy. Love it or hate it, capitalism offers opportunity. Opportunity for a budding chef to open a restaurant, for a tech geek to code his way above the minimum wage…and for a travel blogger to start a business.
Speaking of minimum wage, ours is one of the highest around the world.
And speaking of opportunities, our unemployment rate isn't that bad – 6% compared to Greece (26%), South Africa (25%) and Spain (26%).
We have the National Health Service. You get sick in the UK, you get treated. No insurance questions, no worrying about affordability, no need to start cooking crystal meth…
And did you know that the NHS was found to be the BEST health care system in the WORLD in a recent independent report by Washington-based foundation, The Commonwealth Fund?
We have an amazing public transport system. The Tube is widely regarded as one of the best mass transit systems in the world, but more than that. National Rail. Local buses. Sure, things go wrong, but sitting in traffic is rarely the only option for getting somewhere.
We can flush our toilet paper down the toilet. Yes, I've gotten used to the bin method, but it's definitely nicer to flush the paper at home.
We have a free press and there is no government censorship, so the truth can make it into the hands of the people. That's not as common as you might think (even Italy is considered only partly free).
As much as we might get ourself into a tizz-woo over the heat, our summers do not get too hot. Imagine living in Australia where in 2013 they had to add a new colour to the weather map to record their +50ºC temperature.
And our winters are pretty mild – even when it snows. If you're feeling cold, get a bit of perspective from these pictures of the coldest inhabited city on earth (Omyakon, Russia) where -60ºC is common and -89ºC has been recorded.
Actually, despite being a regular topic of complaint, the British weather gives us the gift of four seasons. Imagine living in the tropics where you only ever having hot or rainy seasons – no spring blossom, no autumn leaves.
We have an amazing variety of international and home-grown food. In many developing countries, it's hard to get any food variety. In Britain, we serve food from all around the globe. Variety is definitely the spice of life.
You can travel freely throughout Europe without any concerns for how long you stay in each place. Ask any international traveller about the Schengen Zone restrictions and trying to see all of Europe in just 90 days and you'll realise how lucky we are. (And then 'we' decided to Brexit and messed this all up. Sob!)
But better than that, you can live and work in any one of the 28 European Union countries. There is nowhere else outside Europe where such opportunity exists. Best part – the EU keeps growing, adding new "I can live there" destinations to the list!
And speaking of travel in Europe, if you apply for a (free) European Health Insurance Card (known as an EHIC), you get free or at least greatly reduced medical treatment if you fall ill while you're in an EEA country (plus Switzerland – and we all know that the Swiss treat their patients with chocolate and fondue).
We get paid to go on holiday! Unless you work for yourself (oh, that would be me), our employers are legally required to pay us for 28 days of holiday per year. Compare that to the USA where employers are not required to give their staff any paid days off!
As a woman, I have long established rights. I'm able to find work and I'm treated as an equal (most of the time).
I'm also free to choose my future husband without being exchanged for a dowry (a matter more than 8,000 women were killed over in India in 2013).
Also, there's no risk I'm going to be subject to genital mutilation – unlike 125 million fellow females around the world.
We offer asylum in the UK. Sure, the system isn't perfect, but I want to be part of a country that is prepared to help and offer refuge to any individual who is at risk of persecution. Wouldn't you want the same chance of escape if you were born in a country that has become unsafe for you to live?
We're born speaking the most widely spoken language in the world – English is the official/native language in over 60 countries around the world (although, it's not great for our foreign language learning skills).
Other countries think we're nice – we came in as the third most popular country in the world (being beaten by Germany and Canada).
People also like to come and see us – we're the 8th most visited place in the world (ranking higher than Thailand!).
We have very tough gun control laws and our safety is better for it – in this 2012 article, the percentage of gun-homicides was 6.6% in the UK compared to 60% in the USA.
Our internet connection is pretty swift – we come in around 15th fastest (depending on which report you look at).
Even better, we rank number 7 for most affordable internet (monthly fee compared to average income) – and surely accessibility for more people is the most important factor?
We have over 50 museums that are completely free to enter. And they're not just in London.
Alcohol is legal (yay) and you can drink it in public (double yay and bring on picnic season). Alcohol is illegal in a number of countries around the world but even in some countries where it is legal, like Canada, it's still illegal to consume your summer beverage in outdoor public spaces.
Out of 168 countries, we're considered to be one of the least corrupt (ranking at number 14).
We also rank highly for human rights – a rating that looks at freedoms like religion, right to life, freedom from torture and right to an adequate standard of living. (We were ranked number 12th in the world).
And on the subject of rights, we have ranked top in Europe for the 3rd year running on LGBT rights. That's a stark contrast to the nearly 80 countries where homosexuality is illegal and the 5 countries where it is punishable by death.
Writers (Shakespeare), rock stars (Lennon), princesses (Diana), politicians (Churchill), scientists (Newton), explorers (Cook) and sports stars (Beckham) – our great nation has spawned some pretty Great Brits.
Oh, and let's not forget our very own Sir Tim Berners-Lee invented the world-wide-web.
Time and again I get laughed at when I pull out my cumbersome British plug. But guess what, it may be big, but it's the safest plug in the world. We're smart like that.
Finally, and probably most importantly…
We are one of the biggest tea drinking nations in the world – so you're unlikely to ever get a bad cup.
Do you agree that Great Britain is great? Did any of these facts about Great Britain surprise you? What have I missed? Any others to add to the list? Let me know in the comments below.
Related articles: