I'd heard that eating Kobe beef in Japan can be a life-changing experience but as much as I love a good portion of rare, red meat, I didn't have full faith in its power to alter my life…until I tasted it.
It was a cold, wet day in Kyoto and knowing that the Golden Temple was unlikely to glimmer under the grey sky, it seemed like the perfect opportunity to take the short jaunt south to Kobe to sample this world-famous beef. Effortlessly managing to recruit a few others for the journey, we set off just before lunch (in the hope of securing a lower priced beef-feast – Kobe beef is not cheap and the price rises as evening dining rolls around).
What is Kobe beef?
There is no doubt plenty of literature out there that can better and more specifically explain what Kobe beef is, but here is my amateur attempt.
There are several kinds of Wagyu (cattle in Japan), some of which have a natural disposition towards high percentages of fat. More specifically, it is the marbling of this fat, which weaves its way through the muscle, not just around the edges, that provides the distinctive, tender texture that makes Kobe beef feel like it is literally melting in your mouth.
Are Kobe cows massaged, played music and fed beer?
The old saying used to be 'It's a dog's life' until the concept of Kobe beef went global and images of heavily massaged, half-drunk cows swaying to Chopin filled our minds. It seemed that Kobe cows had the kind of life dogs could only dream of.
But is it truth or urban myth that Kobe cows have such a pleasurable way of life? The answer appears to be yes…and no.
According to the Kobe Beef Marketing And Distribution Promotion Association, there may be some farmers with a small number of cattle that are engaging in such practices, but it is neither common nor required in order to obtain Kobe beef certification.
The Association says:
"…if you make it a custom of playing music at feeding time, then the cows as a conditioned reflex know that it's feeding time just by hearing the music, and this, it is said, increases their appetite. However, the affect of music improving meat quality has not yet been proved. There is also the theory that beer is useful in improving cows' appetites. Actually, however, it can be said that there have been almost no cases of cows being raised on beer. And, massage, too, is considered to be useful in lowering cows' stress because of the close, physical contact it provides and in indirectly helping to improve the quality of the meat. Once again, however, massage itself neither softens meat nor increases the amount of marbling."
How to pronounce Kobe
Until I got to Japan, I, like much of the Western world, was operating under the incorrect assumption that when I pronounced the word Kobe it rhymed with Toby. Not so. If you don't want to receive strange looks from the locals, both the town and the beef it is famed for are pronounced Ko-bay. Ok, that's that cleared up.
Try Wagyu in Wakkoqu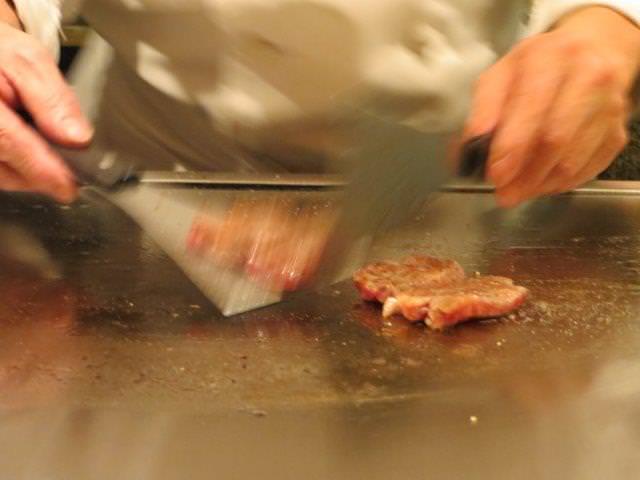 With cost in mind, I knew that my Kobe beef experience was probably going to be a once-in-a-lifetime meal (barring that six-figure book deal I'm holding out for, in which case I will move to Kobe and dine out daily).
So, I wanted to do it 'properly' i.e. eat in a restaurant that was renowned for serving up the good stuff.
After much research I settled on Wakkoqu, a beef restaurant situated on the 3rd floor of, but not part of, the ANA Crowne Plaza. Both the hotel and the restaurant are located just across the street from the Shin-Kobe JR Train Station.
What's on the menu?
The menu at Wakkoqu was fairly extensive though there is very little alternative choice if you're not there for the beef. I dithered for a while over the various cuts, steak sizes and set menu options before ultimately being drawn into ordering the Kobe Sirloin 250g from the Wakkoqu Special Selected Kobe Beef menu.
It was the most expensive set menu on offer but after watching the couple next to me devour bite after bite of melt-in-the-mouth meat, they looked like they'd taken a trip to Heaven and I wanted the same ride.
Without further ado, here's what I ate. Warning: severe risk of dribbling
Appetizer: Sashimi of beef
The appetizer was a choice of sashimi of beef or smoked salmon. I went for the former and it was my first bite on the journey of life-changing beef. A perfect temperature, not so chilled I could get the maximum flavour and not a grain of fibrous bite to be had. The beef hit my tongue and evaporated, leaving only the subtle and divine taste of beef behind. Minutes into my meal and already my eyes were rolling back into my head with pleasure.
Green salad
It was a green salad. There was no beef in it. I ate it. Not much more to be said except it was the perfect non-distraction from the chef who was slowly preparing the main course, expertly slicing and dicing the steak into minuscule chunks of bite size-beef.
The Kobe beef course
I have a general rule when it comes to food: you should never eat anything that is bigger than your head. Of course, there have to be a few exceptions – pizza from Naples, plates of Indian thali and, now, Kobe beef.
Marbled in a way I'd never seen and the promise of an entire 250 grams all to myself, my mouth was watering before the beef even hit the hot plate.
But it wasn't just about the beef at Wakkoqu. The preparation, performance and serving of the main course was a real art that could not be overlooked.
The cooking process started with the chef expertly slicing and lightly frying a clove of garlic. Sure, I've seen this done before, but never with such precision and care, as the chef turned each individual slice until it was cooked to perfection. Crisp, sweet and smooth, it was garlic like I'd never tasted (and that includes in France, a country where I lived for three months and a place I consider to be an expert in garlic serving).
And then came the beef.
Ordinarily, I'm used to chomping my way through a rare cooked side of cow sawing and chewing with pleasure. The Kobe beef served Japanese style was something else.
Here, the beef is served in delicate, tongue-tip-sized cubes. I ordered mine rare. The alternative was medium rare. If you prefer your beef more well done, you are honestly better off taking your money to have several steaks elsewhere.
Placed carefully, one slice at a time on my plate, the beef came with a small pile of rock salt, mustard and pepper. Dipping the beef in a little of each, I was then instructed to dunk it quickly in a small bowl of soy sauce.
I wouldn't ordinarily do this last step but when in Kobe…and to my surprise the additional saltiness complimented the beef a treat.
It's hard to convey in words how divine this beef was and I've searched extensively for some kind of app or plugin that will let me transmit the smell and taste experience of the beef, but none seems to exist. Yet.
Melt in the mouth seems such a cliché as a descriptor but it is the most accurate one. From chopsticks to the tongue, only seconds passed before the beef started to disintegrate, minimal chewing required. All the while the flavour of the best beef I have ever tasted (and I've tasted a lot, including Argentina's famed lomo in Buenos Aires) danced around my mouth triggering a craving in me – I wanted more. Immediately. And fortunately, with 25o grams of beef to call my own, more kept coming.
Throughout the meal, which I savoured with a slowness some might consider painful, side bits of cooked vegetables were added to my plate – carrot, green beans, tofu. All irrelevant as far as I was concerned. I was there for the beef and that is what I ate, the ancillaries forming a pile on the corner of my plate in a food graveyard I wasn't going to touch through fear of interrupting the pure Heaven of beef I'd discovered.
Think you might need to roll straight from your beef feast into bed? You're literally in the ANA Crowne Plaza – I wish I'd booked a night's stay!
The bamboo sprouts and Kobe fat course
I'm not the biggest fan of bamboo sprouts, largely due to their lack of flavour, but if there were ever a way to make them edible, it's with the addition of the outer edge of fat from the Kobe beef steak. Acutely tuned into the female fear of fat, the chef made a distinct effort to convey to me that the fat contained zero calories as it sizzled away on the hot plate. Tasting it, I wasn't convinced but even the fat melted in my mouth and cares of weight increase were light years away.
Japanese Tea
Revelling in a post-Kobe glow, the meal came to a fitting Japanese end with a delicate tea served with lemon. I was fearful of putting anything else in my mouth, wanting to cling to the taste of the beef for eternity, but even the tea managed to complement and enhance the lingering flavour.
Kobe beef changed my life but not for the better
By the time I finished the last morsel of beef I knew two things: i) I was unlikely to need to eat anything else for a good 24 hours – a suspicion that turned out to be true as the beef seemed to expand in my stomach over the following hours, and ii) the Kobe beef had forever changed life…but unfortunately not for the better.
Before dining on Kobe beef, I could happily find delicious steak in many places around the world. Now, I know I will never be able to eat non-Kobe beef and enjoy the same Heavenly taste sensation as I did in Wakkoqu.
How much does Kobe beef cost?
There is no dancing around the issue: Kobe beef is costly and the above image is the final price we paid for four people at Wakkoqu, which included four of the same set menus and three glasses of house wine. If you need an easy Yen-to-dollar conversion, simply remove two zeros. Yep, $632.50 in total.
No, it wasn't cheap. But having spent $158 or around that amount on other travel indulges including boat trips, a skydive in Hawaii and gambling in Vegas, tasting this beef was worth every dollar and gave me much more satisfaction than many other things I've spent the same amount of money on. So, yes, even if you're a budget traveller, I would definitely say the expense is worth it if you're a food fan. If, on the other hand, you can spend a week living on cup noodles, packed sandwiches and MacDonalds without concern, you may not get the same appreciation for your bucks.
Can I get Kobe beef outside Japan: the great faux-be scam
For a while, following the outbreak of Foot and Mouth Disease in Japan in 2010, all export of Kobe beef was stopped. Yes, you may have continued to see it on menus (Kobe sliders are a popular appetizer in the USA). However, much of that meat is actually faux-be beef, an imitation of the real deal, that prompted an interesting exposé by Forbes.
Kobe is back on the menu, and the import restrictions lifted, but it still pays to understand whether your beef is Kobe or faux-be. In the absence of requesting to see the certification of your dinner's origin, price is likely a good indicator – paying upwards of $350 and you're likely biting into the real deal. Handing over $10 for a couple of sliders – probably less so.
With prices that can be up to hundreds of dollars for real Kobe, my $137 set menu didn't seem so unreasonable.
I would always encourage people to try food in its country of origin, but regardless of location, I genuinely believe every food lover should try Kobe beef at least once in their life. But beware, it is truly life-changing: you are unlikely to eat beef this good anywhere else ever again.
To use the Japanese phrase: 'gochiso-sama-deshita' – it was a real feast!
How to Visit Kobe in Japan
Where to stay in Kobe
On a budget: Piece Hostel. This is where I stayed and I couldn't recommend it enough. More boutique hotel with dorm beds than a traditional hostel, it's no wonder this place books months in advance. Private rooms are also available.
Feeling lazy: you can't get closer to Wakkoqu than the ANA Crowne Plaza. If you're looking to roll from meat-feat to bed, this is the place to be. You'll find a list of the top 10 hotels in Kobe (according to Trip Advisor) here.
Want to take a gamble? Check out Priceline's Express Deals. I've had discounts of over 50% (almost $100 saved a night) using this site.
You can find out more about how to get great deals in my related article: How to Book Cheap Hotels (Using Priceline Express Deals).
How to get to Kobe
Kobe is an easy trip from Kyoto or Osaka. From the former, take the JR Shinkansen train to Shin-Osaka and change trains to Shin-Kobe. From Shin-Osaka, travel direct. The journey takes 20 to 30 minutes from Shin-Osaka and Kyoto respectively and, best of all, if you have the JR Pass, the journey is included in your ticket price, meaning you can save all your money for beef.
Getting the Japan Rail Pass
If you're considering buying the JR Pass to get around Japan, check out my Free Guide to the Japan Rail Pass.
Related Articles:
Have you ever eaten Kobe beef? Ever tried it in Japan?