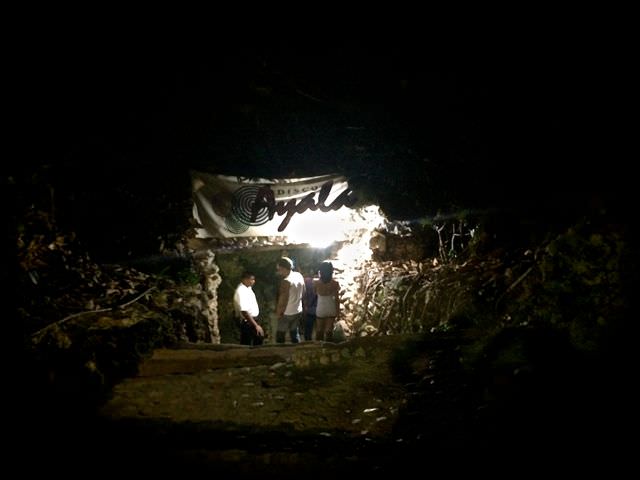 As I engaged in my rapid departure from what had become an ugly experience at Varadero's beach resorts, I was desperate to replace my memories with something novel and exciting. Fortunately, within 24 hours, my wish was to be granted when I found myself at a rave in a cave at Disco Ayala, an exceptionally unique nightclub attached to Hotel Las Cuevas in Trinidad, Cuba.
It turned out to be one on my best experiences in Cuba, but I'd be lying if I said it was my first rave in a cave.
In fact, I hosted my very own (somewhat low-key) cave party a couple of years ago when I lived in a Troglodyte cave house in Montsoreau in the Loire Valley of France. It was my brother's 30th birthday and equipped with a wine cellar that stretched back into the dark recesses of the cave wall, which had handily been kitted out with a bar area, it seemed like the perfect place for some festivities. And, at the risk of sounding arrogant, I thought I'd struck upon a genius idea. Huddled around in coats, hats, gloves and scarves and seated on rudimentary cave tables and chairs crafted from the surroundings, we sipped on excellent crémant, snacked on cheese and let the acoustics of iTunes bounce off the cave walls. A good time was had by il.
I didn't at that point realise that cave parties were a thing – though the perfect reverberation of the music against the chalk walls, the atmosphere, the adventurousness and general amazingness strongly hinted otherwise.
So, when the subject came up over a casual chat with a waiter, "Did you know there is a nightclub in a cave here – Ayala Disco at Las Cueves Hotel," there was no doubt I was going to go.
Time for Trinidad, Cuba
Like many people, I travelled to Trinidad to see the city streets painted in pastels and primary colours presenting a patchwork of creativity.
Despite being thick with heat and 1950s exhaust fumes, the city was, overall, a breath of fresh air after experiencing the good, the bad and the ugly that had unfolded before me during a short stay in Varadero. And, even though Trinidad is rife with tourists, they were visitors of a different type – intrigued, interested and keen to explore.
I wasn't sure before I visited this part of Cuba what would be the perfect length of time to linger in Trinidad. I had expected to stay four nights or maybe more, but within one afternoon of consuming the main sights, which are very closely compacted into a very small space, and an evening of consuming the over-priced, under-whelming food, I knew my stay would be shorter than I thought.
It wasn't that I didn't like the city, I did very much (though see my note below), but a couple of casual conversations with the casa particulares owners in Cuba made me realise there were better adventures waiting in the wings – including a stay at a Cuban beach, La Boca, and a journey into the mountains where Che Ernesto Guevara himself had hidden during the peak of the revolution. Indiana Jo was going to play Guerrilla (more on that to come).
With those alternatives on the travel itinerary, I halved my time in Trinidad and honed my focus. I'd seen the vividly coloured streets but there was something more fundamental I wanted to get under my skin: the music. It was a quest that would lead me to Disco Ayala at Hotel Las Cuevas for my second in a lifetime rave in a cave.
A Note on Trinidad's Touts: It's worth understanding that the large number of tourists who hit Trinidad each year has led to a sub-culture of hustling and hassling so strong that you might begin to wonder whether your name had changed to "Lady Buy" (or man…depending on your appearance). Restaurant touts, tour touts and even casa (accommodation) touts who will stand outside fellow casa owner's houses and tell you they are full (when they are not), the hassle factor was higher in Trinidad than any of the places I visited in Cuba. Sure, I never felt unsafe, but in hindsight, the overselling to tourists was one of the factors in my decision to move on quicker than anticipated.
Trinidad's music scene
I took this video at the first music bar I stepped into.
My most enduring memories of Cuba's capital have come from Havana's basement jazz clubs and historic cocktail bars. And Trinidad, I'd heard, had just as much to offer.
Finding somewhere to listen to music isn't difficult in Trinidad. You simply stop and listen to the notes that float throughout the city on the night breeze, pick a harmony that pleases and follow the tune until you find the source.
It's quite common for small groups of talented locals to wander from restaurant to restaurant performing while you dine. Of course, a tip box tends to make its way around the tables after every few songs but it's otherwise a very pleasant way to get a music fix.
After dinner on my first night in Trinidad, I didn't wander very far before a diligent waiter rounded me and My Travel Amiga up and settled us in his bar. Serving up cans of competitively priced cold beer and promising a free performance was about to start, I sat down to enjoy the show.
A bit on Cuba's Beers
There are two main beer brands in Cuba: Cristal and Bucanero. Travelling from the UK where the strongest lager/pilsner lingers around 4% (unless you're consuming slightly stronger Stella Artois), Cristal is a good match. Bucanero on the other hand is going to knock your socks off. At 5.4%, the label ain't wrong. Bucanero is fuerte i.e. very strong.
For completeness, and with a shudder, I'll mention the third brand, Hatuey. I sampled this once on the recommendation of a waitress and my advice is, if you have to try this beer, then order one between at least 5 people and make sure you have some boiled mints to hand because it tastes vile. I don't think it's a coincidence that Hatuey has a vomiting sound to it name. Just saying.
For around 30 minutes a series of dancers in myriad costumes from pirates to slaves acted out the coarse history of Cuban life, whirling, stomping and chanting to the tune of a nine strong band complete with bongos. The performance was mesmerising but over too soon. When I asked the barman where was another good place to go, he directed me to the Casa de Musica (the house of music).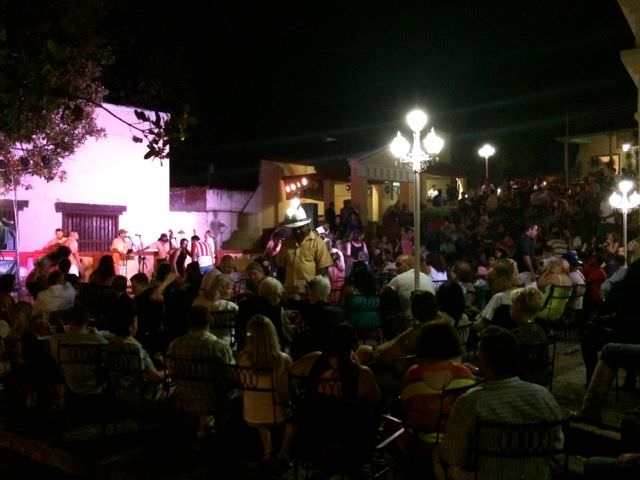 Before I even reached the heart of the bar of the Casa de Musica, which was outdoors and packed over several levels, I knew it wasn't my scene – tourists in chinos and pressed shirts (the men) and floaty dresses and heels (the women), sitting sipping mojitos while the bar man slid on by, attending to your every table need. The music was mellow and although completely tolerable, there was something staid about the scene. It was the kind of place I would have visited a different lifetime ago when I was a lawyer on one of my many extravagant holidays. But that wasn't what I was looking for anymore. I wanted something else. Something less…mainstream.
Lingering at the bottom of the steps, trying to re-devise the night's plan, it didn't take long for a suggestion to come.
"You want a good party?" A young waiter asked, sensing my urge. "You need to head to Disco Ayala at Hotel Las Cuevas. It's a nightclub in a cave."
"Seriously?" I asked.
Yes, it turned out. He was deadly serious. And so it began.
Disco Ayala at Hotel Las Cuevas in Trinidad, Cuba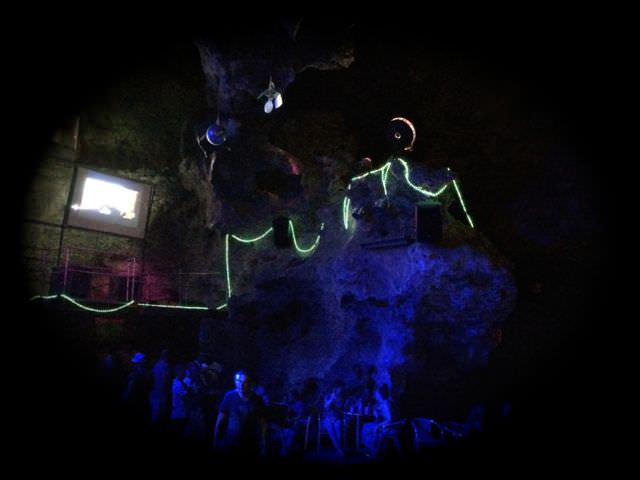 I was pretty sure I had understood the Spanish directions that the waiter had given me but as I passed away from the brightly lit centre and started to make my way uphill over increasingly steep, dark and rocky terrain, I began to question my judgment.
What if I'd been sent up a dark alley where I was going to be relieved of my valuables or, worse, my kidneys. But Cuba is a very safe country, I reassured myself…as I slowed my pace.
Consulting with my Travel Amiga, checking our bearings and our senses, we looked at the dark, stoney path that led uphill into nothingness and were having serious doubts when an American couple overtook us. "Disco Ayala? Hotel Las Cuevas?" they asked. I nodded. "Follow us".
I'll be honest, the couple looked far from fit and were not about to compete in any Olympic events any time soon, but their pace was fuelled by an adrenaline that had the sole purpose of propelling them to the top of the hill. My legs were getting weary but their excitement was contagious so I matched their pace.
It took about 15 minutes of hard stomping uphill to reach Hotel Las Cuevas just beyond the centre of Trinidad. "I thought caves were usually underground," I managed to squeeze out between my puffing and panting.
"Oh," I corrected myself as I looked at the entrance. The cave was underground and there was a hell of a flight of stairs to get there (I have a rather rational fear of stairs since I've fallen down a fair number of them)…and a tunnel that disappeared into the beyond.
Paying the $3 entry fee (per person but includes one drink), I slowly descended the steps and filed through the tunnel which spat me out into a gigantic, cavernous space.
Disco Ayala was atmospherically illuminated, with minimum lighting for safety and sporadic lighting to highlight the walls. But otherwise, the caves stood in their natural form: grey shards of nature towering up towards the sky before fracturing at the top to let in moody steams of moonlight. Some of the worlds most prominent architects equipped with an endless budget couldn't have designed a better space.
High above, reigning over the dance floor was the DJ booth complete with a screen streaming video of whatever music boomed out of the speakers. Salsa to reggaeton to electronica to latino ballads and an obligatory round of pop, the music bounced off the cave walls and reverberated into the space before being consumed by the sweating, heaving mass of people who throbbed to the noise.
It was 12 a.m. when I walked in and although the party was already underway, I could sense that things were only just beginning.
Over the next few hours a fascinating mix of foreigners and locals streamed into the club. A small act was performed (local men holding chairs between their teeth and performing daring feats with swords – obviously) and the club became close, hot and sweaty.
Around 3 a.m. as the club was reaching its climax (and I say that not entirely devoid of sexual reference: as the evening marched on, local guys tried their level best, aided by their impressive salsa moves to pick up a tourist for a night…or two), it was time to find my bed (alone, I'd like to confirm).
I've visited many nightspots on my travels from city clubs to beach bars to the full-moon party on Haad Rin in Thailand to half-moon parties in Costa Rica – it would be fair to say that I've partied my way around the world. But until I'd reached Cuba, I'd never partied in a place nearly as impressive as the rave in a cave at Disco Ayala.
Useful information (and a spider warning)
Disco Ayala is attached to the Hotel Las Cuevas in Trinidad, Cuba.
You do not need to be a guest of the hotel, nor enter the hotel to visit the disco.
If you're thinking of staying at Hotel Las Cuevas, for ease of location to the disco, do your research first. Although I didn't stay at the hotel, I note it is a Cubanacan hotel. These are government run hotels and are not known for their maintenance and upkeep (I know that from experience because I subsequently stayed in one in the mountains). With that in mind, there are likely to be better places to stay in Trinidad (a casa particular would be my recommendation). If you have stayed at Hotel Las Cuevas and have a review to share, do please post it in the comments below.
As for the spider…this bad boy was ambling along as I was cruising home around 3.30 a.m. I believe it's a tarantula, or at least part of the same family (and other suggestions?) and therefore not likely to kill you, though you probably don't want to tango with one. I spotted more than one tarantula in Cuba, particularly after dark, so just keep an eye on where you place your feet.
Have you visited Ayala Disco? Let me know in the comments below? Do you have any other quirky nightspots around the world you'd recommend I visit?