Cycling from Alaska to Patagonia and climbing the highest points of each country in between? Given I'm very wobbly on two feet, let alone on wheels, I can't proudly claim that achievement, but Thomas Laussermair can.
Taking a staggering 14 months and who knows how much energy expended, Thomas has kindly agreed to share a synopsis of his tale in this guest blog…
Cycling from Alaska to Patagonia
I had been looking for a trip that combines cycling and mountaineering. After reading the Seven Summits, I briefly contemplated doing the continent highpoints by bicycle, but then dismissed that idea as too long and too expensive. I had read many accounts of the Panamerican Highway, a long-distance cycling classic. Then I hatched the idea of combining the cycling from Alaska to Patagonia with climbing the country highpoints. The Panamerican Peaks project was born. When I got laid off in February 2009, timing was fortunate and started a 3 month preparation phase. I bought the recumbent bicycle and did several training rides back home in Florida to get used to it. I also bought lots of cold weather mountaineering equipment. To test it, I flew out to Idaho in late March for a winter camping gear test trip. Physically, preparations consisted of my usual cycling and some swimming and kayaking as well as two gym visits per week for some upper-body strength thrown in for good measure. The other challenge was to mentally prepare. Prepare for something so much bigger than anything I had done before. Prepare for something almost all friends and family recommended against doing. Prepare to say goodbye to them for a year or so. And say goodbye to most of the conveniences and trappings of modern life. I couldn't know how would I handle that challenge mentally, but I was soon to find out.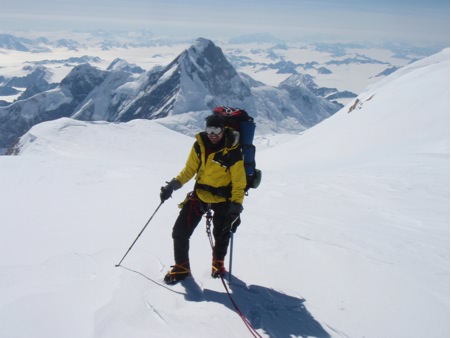 The journey started with two big mountain expeditions: Mount Logan in Canada and Mount McKinley (Denali) in Alaska. I had never been anywhere near this remote or this high on a mountain. I spent 33 days camping on a glacier, with only 4 days of rest and transport in between. While similar in size and mountaineering challenge, my experience on both mountains was quite different. Logan was a great success, a place of solitude, small team (3 clients, 2 guides) and lots of camaraderie. Our expedition was crowned with a glorious summit day, with great photos and video from the summit. Denali, by contrast, was about 50x more crowded, our expedition (9 clients, 3 guides) just one of many dozens on the mountain. Due to a combination of slow ascent and one of the guides getting sick at high camp we lost a lot of time when the weather was good. By the time the sick guide was brought down and a replacement guide brought up and rested, the weather turned bad, closing the time window for most expedition members. The few that stayed waited 12 days at high camp for their chance to the summit. I wasn't one of them. But failure is always a possibility at such big mountains.
"If you're not failing every now and then, you are not trying things hard enough." [Warren Buffett]
Cycling down the Alaska Highway and then the Pacific Coast was a great time. You meet a lot of other touring cyclists at the many State Parks, with quite a few of them having turned into good friends.
After scaling Mount Whitney in California the next section was cycling into the Baja California and on to Mexico and Central America. The heat and remoteness of the Baja California turned out to be a good preparation for the even more extreme sections months later in South America. As is often the case in such endeavors, experience helps one get used to and more tolerant of certain conditions.
The mountains in Central America – with the exception of Pico Orizaba in Mexico, the 3rd highest mountain in North America – were relatively easy and usually just one or two day side trips. The cycling, however, was often challenging due to hilly terrain, high heat and humidity. Also, the days were much shorter in the tropics than when I started up in Alaska and Canada.
Here I cycled through Guatemala, El Salvador, Honduras, Nicaragua, Costa Rica, and Panama. I met many people along the way, almost uniformly friendly and curious to learn about me and my story.
Quite often a car that had just passed me would slow down and stop in front of me. Often a surprising number of family members and kids would pile out of the car and motion me to stop. They would ask me the same questions like where I come from and where I was going. Many would give me water or snacks; some would even invite me for dinner or to stay at their homes. Most Latino men would comment at my unusual recumbent and say: "Oh, look at that bike!" The women would usually say something like: "Oh, look at those legs!" It was quite amazing how much attention I received with my bike and outfit. At times it was downright exhausting; I felt like an accidental celebrity. Often upon evening arrival at a town I hurried to get rid of my bike at a campground or hostel, change into normal clothing and slip into the relative anonymity of a regular tourist.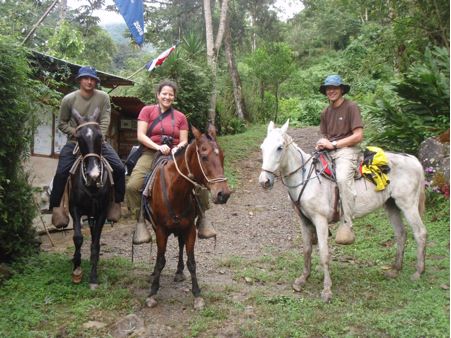 My wife had made plans to join me three times during the journey. She booked vacations first in British Columbia, later in Costa Rica and at the end in Ecuador. For me it was like a vacation from the grand journey and I could stop cycling for about two weeks at a time. That way we also got to climb two of the mountains together, as well as do other local excursions such as horseback riding in Costa Rica. At other times I flew back home to Florida from Mexico, Panama, and Argentina for one to two week breaks around holidays. This allowed me to stay in touch with friends and family, who also followed my trip by Blog, email, skype and GPS tracker.
The midpoint of the journey came in Panama. I hurried to get there before Christmas just in time to catch a plane back home to Florida. After a two week break for Christmas and New Year I flew down to Ushuaia, the southern-most city and endpoint of the Panamerican Highway. As January is the Southern summer, I again started in the hemisphere summer cycling away from winter. This sequence also allowed me to get to the high mountains during their respective climbing season.
After adventurous cycling in Patagonia (high winds) and South Chile (lots of rain) I had an unexpected mechanical defect on my bike. My aluminum rear fork broke and I had to ordera replacement part from the manufacturer in the Netherlands. This would cost at least two weeks, the remaining time for me to ride up to Mendoza prior to the next planned mountain expedition. In an act of improvisation I staged a surprise visit to Florida, unannounced to my wife. Timing was on my side in mid-February. I will never forget that look on her face one Sunday morning when she opened the door at home and I could take her into my arms: "Happy Valentine's Day!"
Next up was Aconcagua, highest mountain of Argentina and of all the Americas. By now I had more experience with and more confidence in my own abilities to organize big mountain expeditions. Hence I planned the next two climbs in Argentina and Chile together with my new friend Antoine Labranche, a young Canadian mountaineer who I had met on Pico Orizaba in Mexico. Aconcagua was a great adventure, crowned with the summit on a beautifully clear day.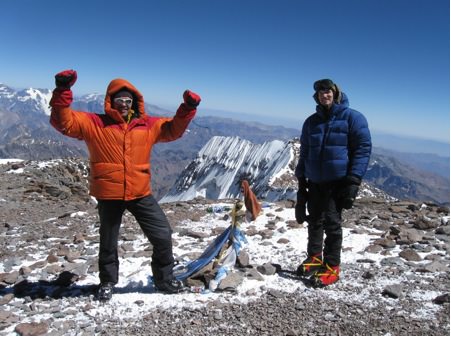 Ojos de Salado, the highest peak in Chile and almost as high as Aconcagua, proved elusive for both of us due to our bodies not coping well with low oxygen at high altitude. It was surprising, as we thought after Aconcagua and being well acclimatized it wouldn't be a problem. Just goes to show that despite modern technology and medical knowledge, personal performance at high altitude remains a bit of a mystery.
After the mountains I had a blast cycling further North in the dry pampa of Argentina. Here my recumbent bike design was ideally suited for long days of riding on relatively flat and good surface roads. There were many long days and often what seemed endless roads going North. Argentina is a vast country; the distance from Ushuaia up to the Bolivian border measures more than 5000 km.
Bolivia had its own rugged beauty in store for me. Now up at the higher elevation of the altiplano, the air was dry and hot during the day, but the nights would get chilly and often below freezing. Two major attractions had lured me into Bolivia: The white salt plains of the Salar de Uynui and the mesmerizing blue waters of Lake Titicaca against the backdrop of the glaciated 6000m peaks of the Cordillera Blanca. Camping on the Salar de Uyuni was an otherworldly experience, with absolutely no sounds or lights disturbing the brilliant night sky all around.
After Bolivia I entered Peru and cycled into Cusco, probably the most interesting city along my journey. Many of the sights were familiar to me, as my wife and I had visited here back in 2008. Peru turned out to be quite hard, with countless mountains and extreme elevation changes while riding. Huascaran, the highest mountain of Peru and anywhere in the tropics worldwide, is a formidable challenge and heavily glaciated. I joined a small expedition and was lucky to get through all the obstacles and finally reach the summit.
Now I was running low on time due to having lost a few weeks with the bike repair earlier in the trip. I loaded my bike on a bus and drove several hundred remaining kms through Ecuador to Quito. There I met up with my wife for a final week of mountaineering. After two smaller acclimatization hikes we climbed Cotopaxi and then Chimborazo. Although the stormy weather turned us back near the top of Cotopaxi we both enjoyed the experience in the Avenue of the Volcanoes.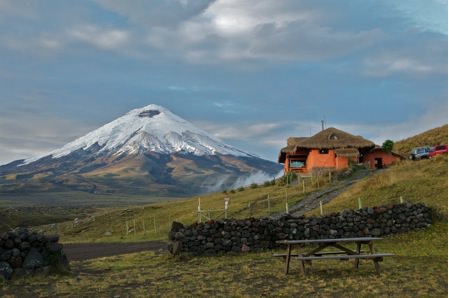 At long last, after climbing Chimborazo, 14 months after I had started up in Alaska and Yukon, the Panamerican Peaks project came to an end. I had spent 8 months on the road and about 4 months in the mountains, with 2 months of breaks and travel time in between. Jill and I went on to a wonderful week-long cruise in the Galapagos. I couldn't imagine a more fitting way to celebrate the end of this grand journey.
People often ask me: What's next? Here is my motto:
In my twenties, I flew around the world.
In my forties, I cycled around the world. (halfway, anyway)
In my sixties, I will sail around the world.
It's hard to convey the motivation for and then the rewards of such a journey in a short post. That's why I wrote an interactive eBook to share the experiences and emotions through a mix of stories, photos, videos and maps. For more details, head on over to the my blog.