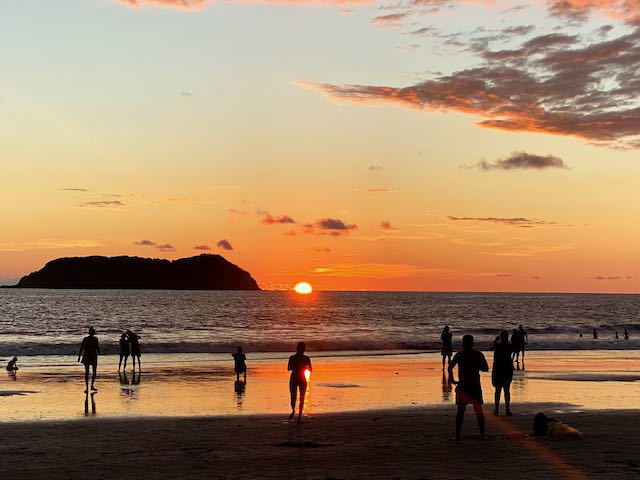 Costa Rica: where rainforests mingle with steaming volcanoes, where beaches are golden or black and offer surf and sunsets, where sloths and toucans are just a small slice of the exotic wildlife on offer. This small Central American country is a vacation destination that has it all. Whether you're planning a luxury honeymoon or taking a solo backpacking trip, all travel styles are catered for – it's not just the environment that's diverse, Costa Rica welcomes everyone.
I've visited Costa Rica three times: as a solo female traveler backpacking through Central America as part of a round the world trip, on a trip with my dad where we opted for more comfort, and as a digital nomad where I called Costa Rica home for a short while, exploring by day and working by night. In this Costa Rica travel guide I'll give you the low down on everything from the best time to visit Costa Rica to Costa Rica safety to packing tips, how to get around, the food and culture and, perhaps controversially, my take on Costa Rica versus Mexico and Costa Rica versus Panama (since I've spent extensive time in all three). If I've not covered something in this Costa Rica travel guide, let me know in the comments below and I'll try to answer your questions.
Quick Costa Rica Facts
First, let's start this Costa Rica travel guide with the answers to some of the most frequently asked questions and some fun facts about Costa Rica.
Costa Rica is located in Central America, the often overlooked stretch of land that connects with South America to the South and North America (Mexico then USA and Canada) to the north.
Costa Rica's neighbours are Panama to the south and Nicaragua to the north.
Costa Rica's beauty is packed into a pretty tiny 51,000 square km / nearly 20,000 square miles. That's about the size of Denmark or the USA state of West Virginia.
It's also a long and slim country which is what makes it a wonderful beach destination with the Caribbean Sea to the east and Pacific Ocean on the west coast.
Although Costa Rica represents only 0.03% of the earth's surface, it holds nearly 6% of the world's biodiversity (that's animals and plants to you and me).
It would be a long list to tell you all of the Costa Rica animals you might see but here are some of the most common – sloths, toucans, many kinds of monkeys, crocodiles, turtles, resplendent quetzals, macaws, whales, and big cats like jaguars, ocelots and cougars (but the cats are rare to see).
What is Costa Rica's capital city? San Jose.
What language do they speak in Costa Rica – Spanish is the official language but many of the people who deal with tourists (tour guides, restaurants, hotels) speak excellent English.
Did you know Costa Rica has no army – it hasn't had one since 1948, making it one of the most peaceful countries in the world.
Costa Rica is almost 100% sustainable, which means it generates almost all of its power from natural resources like wind and sun.
The locals are called Ticos (and sometimes Ticas for women).
The phrase Pura Vida is used a lot and has many different uses from saying hello to goodbye to asking how you are (and answering), giving well wishes. Translated, it means pure life.
Best time to visit Costa Rica
Thanks to its location near the equator, Costa Rica climate is tropical, meaning it's generally hot year round. However, Costa Rica weather has two main seasons – wet season (May to November) and dry season (December to April).
Costa Rica rainy season doesn't mean you shouldn't visit but do think about what kind of trip you're looking for: beach breaks are better when the weather isn't wet and overcast. Meanwhile the rainy season can show the rainforest and waterfalls at their fullest (though trekking is very muddy).
Another factor to consider is that the country has microclimates with different coasts and elevations having different weather depending on the time of year. This Costa Rica climate guide has a good summary by location. If you're heading to one destination only, I'd pay close attention to the weather but if you're going to explore the whole country, you're going to hit some cooler or wetter weather along the way so try to stick to just the dry season.
What is the best month to travel to Costa Rica? I've travelled to Costa Rica in November (end of wet season), February and March (dry season) and had a great time on each trip. If you really want to time it well, the best time to travel to Costa Rica is January, February and March.
Costa Rica Passport and entry requirements
All visitors to Costa Rica, including from the USA, need a passport for Costa Rica.
Your passport typically must have a minimum of 6 months validity remaining.
You will also need a return ticket showing you intend to leave Costa Rica – this can be a challenge for some solo travelers who don't know their onward route yet.
Depending on your country of residence, you may need a visa for Costa Rica. Typically tourists from Europe and USA don't need a visa but check with your country's foreign travel website to confirm the situation.
You can typically stay in Costa Rica for up to 90 days without a visa.
Vaccines needed for travel to Costa Rica
You should check with your country's foreign travel organisation for recommended vaccines for Costa Rica. In the UK I use the Fit for Travel (NHS) website which suggests getting vaccinated for Hepatitis A. It also suggests considering vaccines for diptheria, rabies and tetanus.
Yellow Fever: If you have travelled to South America or parts of Africa you will need a Yellow Fever jab and vaccination card to enter Costa Rica. Previously it was rarely requested at border control but this might change since Covid.
Covid vaccine: at time of writing, the rules are in flux but it's likely that in future you will be required to have had both Covid vaccines to enter Costa Rica. Check the rules before travel.
Getting there – Costa Rica International Airport
Costa Rica's main international airport is Juan Santamaría International Airport in San Jose with the Costa Rica airport code is SJO. Here you can find a full list of airports in Costa Rica.
San Jose International airport is technically in the neighbouring town of Alajuela but it's only 10 miles/ 16 km from the centre of San Jose.
The journey is a quick taxi ride away (about 15 minutes) but can be longer depending on the location of your hotel and traffic.
How to travel around Costa Rica
How to travel in Costa Rica will largely be determined by your trip style, time and budget.
Hiring a car is the easiest way to get around, giving you the most flexibility. If you're looking for Car rental Costa Rica you can compare prices on RentalCars.com.
If you want to relax, there are plenty of private driving companies to take you around, though this is one of the most expensive ways to get around Costa Rica.
If you'd rather be driven but don't have the budget for private drivers, there are plenty of shuttle services available connecting the popular tourist spots. Tip: plan your route in advance as not all destinations connect with each other by shuttle. The most popular shuttle companies (which I've used) are Interbus and Costa Rica Shuttle.
Most solo travellers travel by a combination of local buses or shuttles.
Taking the bus: imagine Costa Rica as a bike wheel – San Jose sits in the centre and most of the places you want to visit are at the end of the spokes. The frustrating thing about bus travel in Costa Rica is that most routes will take you via San Jose and back out again, adding lots of time to your trip. That said, it's by far the cheapest way to travel Costa Rica on a budget.
Some destinations like Tortuguero National Park and Corcovado National Park can only be reached by boat but don't worry there are plenty of companies offering linked shuttle and boat tickets to these destinations.
How much does Costa Rica cost to travel?
What is the currency in Costa Rica? The official Costa Rica currency is the Costa Rican Colon. The notes are very beautiful in bright shades of pink, blue, yellow and green.
Can you use US dollars in Costa Rica? Yes, dollars are very commonly accepted in Costa Rica and in some cases prices are quoted in dollars. Be aware, if the price is quoted in Colon, you typically get a better deal paying in Colon rather than asking for a USD conversion.
Costa Rica, thanks to its popularity, is the most expensive country to visit in Central America. However, there is something for every budget from luxury hotels and fine dining to dorm rooms and cheap eats.
Numbeo is my favourite website for getting an idea of local prices.
Backpackers tend to notice a marked increase in Costa Rica travel costs compared to other spots in Central America, from food to buses to beds, so budget for that.
If you want to figure out the cost of travel, I have a detailed guide here.
Is Costa Rica safe to visit?
Is it safe to travel to Costa Rica? My answer is yes, Costa Rica is safe. In fact, it's one of the safest countries in the Americas. I have visited twice as a solo female and regularly walked around at night on my own in the tourist centres. However, like anywhere, some places are more prone to issues than others and you won't be surprised that the densely populated, urban capital, San Jose has a higher crime rate.
What is the risk? Theft is the main crime against tourists – homicide/murder rates against visitors is very low. You should also consider the less obvious risks like all those adrenaline activities and the risk of interacting with animals. Don't worry, the most popular activities like the adventure parks, have good safety standards; and going with a hiking guide can reduce the risk of you kissing a poisonous frog.
Costa Rica safety tips
Here are a few tips to keep you safe in Costa Rica. Most of them apply all round the world.
Stay in hotels that are located in the tourist centre of your destination. I recommend hotels and hostels in each of my Costa Rica travel guides, below.
If you are outside the centre, take a taxi or Uber at night. I personally like Uber because the trip is tracked and the app has safety features built in.
Pick up a local map at your hotels and get the staff to mark on any areas to avoid. Plot your route from hotel to tourist sight/restaurant so you're not wandering around looking lost.
Don't flash your valuables, don't carry stacks of cash on you, leave your passport in the safe at your hotel/dorm locker and avoid dark alleys and empty beaches at night.
Best Places to Visit in Costa Rica
Oh, it's so hard to pick my favourite places but here is a quick low down of the best places to visit in Costa Rica. I have more detailed guides for these destinations.
San Jose – the capital city and a place you'll likely travel through at least once. There is actually plenty to see and do so don't skip it. My full guide: 12 Quick Things To Do In San Jose
La Fortuna – with Arenal Volcano towering over the cute town of La Fortuna, you're in the land of hot springs, lakes and wildlife. My full guide: Top 10 Things To Do In La Fortuna
Monteverde – escape the heat and get an adrenaline fix with zip-lining and cloud forest hikes in this cool mountain region. Full guide: 20 Best Things To Do In Monteverde Costa Rica
Manuel Antonio – Costa Rica's most accessible National Park with great trails past sloths, monkeys and a few hidden beaches. Full guide: 10 Essential Things To Do In Manuel Antonio
Puerto Viejo – an entirely different vibe where Costa Rica meets the Caribbean in this laid-back beach town on the Caribbean coast. Full guide: 11 Best Things To Do in Puerto Viejo – Costa Rica
Cahuita – travel a little south of Puerto Viejo to escape the crowds in this sleepy beach town with a national park skirting wild black sand beaches. Full guide: Things To Do In Cahuita – Costa Rica
Tortuguero National Park – a place to see Costa Rica's baby turtles being born and running into the sea (seasonal). Or take a canoe trip to spot toucans and sloths. Full Guide To Tortuguero National Park Costa Rica
Santa Teresa – one of Costa Rica's sleepy beach towns that has turned hip and cool. Whether you go to worship the sun, practice yoga or learn to surf, you probably won't want to leave. I didn't. Santa Teresa Beach Life in Costa Rica
Want more? Here are all my Guides to Central America and Guides to South America.
Recommended Costa Rica Vacation Packages
On the trip with my dad, I booked a package tour with Intrepid travel which I highly recommend. The tour was called The Costa Rica Experience but all of the Intrepid tours are excellent quality with a focus on small group responsible travel that gives back to the local community.
Best Costa Rica Tours
I have given tour recommendations in each of my Costa Rica travel blog posts and Costar Rica travel guides above. If you want to do some searching yourself, I use Get Your Guide and Viator for booking tours.
Hiring guides to see the wildlife in Costa Rica
I'm a big fan of doing things independently…unless it means I'm not going to get the best experience, and that is very much the case in Costa Rica. How many sloths did I spot when I wandered around nature on my own? One. How many did I spot when I went on a tour with a keen-eyed expert guide with binoculars – so many I lost count. My point: don't go all that way and skip out on using guides. They will literally make or break what wildlife you see.
What is Costa Rican food like?
No Costa Rica travel guide would be complete without the low-down on the food situation.
Costa Rican food is pretty simple with the same ingredients showing up on repeat: rice and black beans, some protein (usually chicken, pork or fish), vegetables or salad and patacones (fried plantain). Add hot sauces, salsas and corn tortillas and you have the Costa Rican food staples.
A popular Costa Rican breakfast is gallo pinto. It is typically rice and beans mixed together and served with scrambled or fried egg plus cheese.
Casado is a typical lunch or dinner dish with…you guessed it…rice and beans, protein, patacones and usually salad. This is one of the most filling, tasty and budget friendly option.
Soda is the name for a local restaurant – these are the restaurants to get your gallo pinto and casado dishes.
Did you know, the Nicoya Peninsula in Costa Rica is one of the world's Blue Zones, where the locals typically live long lives, often attributed to the diet. Sardinia in Italy is another.
If you're veggie or vegan, don't worry – the country is bursting with fresh fruit and veg and most restaurants can make your casado veggie/vegan friendly. You'll commonly get an extra order of veggies instead of the protein. Dairy is reasonably low in the Costa Rican traditional diet, helpful for vegans.
Speaking of fruit – you will get mangos you can peel with your fingers, pineapple where the core is soft enough to eat and avocados bigger than your hands.
Sick of chicken, rice and beans? In most touristy locations you will get a good range of 'western' (especially Italian) and some Asian restaurants. But please keep your expectations low – these places have been opened for tourists and the Ticos may not yet be expert in tossing dough a la Naples in Italy.
In bigger cities like San Jose, you'll even find McDonalds, Starbucks and Taco Bell if you're really craving something familiar.
Don't miss out on the local artisinal cafes – this is where you'll encounter the best Costa Rican coffee and chocolates. I say artisinal cafes because instant coffee like Nescafe is a popular, quick coffee drink that you might see in home stays and cheaper, local restaurants.
Is it easy to travel solo in Costa Rica?
If you have Costa Rica solo travel plans, you're in luck – the country is very well set up for backpackers and solo travellers. There are plenty of hostels which do a great job of offering information to help you plan your trip. They also provide a great way of meeting other solo travellers. Many of them have private rooms if you don't sleep well with strangers. Otherwise, swing by for a drink (if they have a bar) to meet other travelers.
As for the best places to travel solo in Costa Rica, all of the places I've written guides for (see above) are great for solo travel. If you are travelling to Costa Rica on your own, you might like my posts about feeling lonely when you're travelling alone and how to dine out solo.
What to pack for Costa Rica
I've put together a post about what to pack for Costa Rica, including a free, printable, high-res Costa Rica Packing list. As well, here are some specific suggestions to pack for Costa Rica are:
A lightweight waterproof jacket. Get one with a lining otherwise you'll be sweating in plastic. I pack one by The North Face and it's lasted years.
Trail runners – trail shoes will help in the jungle (keeps the tarantulas out – just kidding, kind of) and they have the advantage of drying quickly, being light and small to pack. I tend to travel with train runners. I have a pair by Brooks. See my guide to the best travel shoes here.
OR hiking boots – the advantage of walking boots is they're waterproof, which will help if you plan on any serious hiking. Routes are often muddy. And hiking boots usually have better grip and ankle protection for uneven terrain. That said, they're heavier and bulkier to pack. My hiking boots are by Salomon and they were comfy right out of the box.
Re-useable water bottle – Costa Rica is wonderfully onboard with reducing plastic and there are water refill stations everywhere. I pack a Contigo bottle – it's leakproof, holds a lot and gives easy drinking access. The built in carabiner is a bonus.
Binoculars – I've never packed binoculars before and I wasn't sure that I'd use them but I did. Every day. I packed this cheap, lightweight pair from Amazon.
A warm layer – Costa Rica's climate is tropical (read: hot and wet), in some spots like Monteverde, where you're elevated from sea level, temperatures can drop to positively chilli. I pack a pair of leggings, thin fleece and long-sleeved top and that does me.
Mosquito repellent – you can read my guide to the best mosquito repellent. Not sure whether you need repellent, maybe you need to read my experience getting Dengue Fever (in Mexico).
The Best Costa Rica Guide Books
I'm a book nerd so I rarely leave home without a travel guide. I've visited Central America and Costa Rica a few times and here are the guides I've found very helpful for planning my trip.
Also a book nerd? You might like my posts about how to read more books and the best travel books.
Costa Rica versus Mexico
I know this is a Costa Rica travel guide but you might also be considering a trip to Mexico or Panama. Here's how they compare.
Pros for Mexico
More cultural diversity within the same country – Cancun and Chihuahua feel very different.
Tourist routes easier to connect by bus and plane.
More food variety and better food (according to me!).
More islands to visit than Costa Rica.
Typically cheaper than Costa Rica.
More coastline so more beaches.
Pros for Costa Rica
Better for biodiversity – nature and wildlife.
Smaller, so it's easier to see more in a shorter trip.
Safer than Mexico (according to the data, not just my personal opinion). But you can read about Mexico safety here.
More unspoilt places like Corocovado National Park.
More wild beaches and often cleaner, less touristed beaches.
Easy to combine with a trip to Panama.
Winner: it depends. For honeymooners and nature-lovers, I'd suggest Costa Rica. For budget travellers, beach-bums and cultural explorers, I'd recommend Mexico.
You can read my Mexico guides here.
Costa Rica versus Panama
Pros for Panama
It has similar biodiversity to Costa Rica.
There are fewer tourists making Panama feel more untouched.
Many of the natural trails and sights feel less commercial/monetised.
The beaches (like San Blas islands and Bocas del Torro) are more paradisiacal and have fewer people on them.
It's a good jumping off point for Colombia via San Blas Islands.
Panama City (and nearby Panama Canal) is more interesting and beautiful (in the old town) than San Jose.
Panama is cheaper.
Pros for Costa Rica
Panama has similar biodiversity but Costa Rica is still king of the jungle…and rain forest and cloud forest.
Costa Rica is just that bit safer (Panama is close to Colombia and some of the drug issues rub off).
Costa Rica has a better set-up for adventure activities like zip-lining, hanging bridges and rafting.
Getting around without a car is easier thanks to the shuttles.
Costa Rica wins for eco-tourism and sustainability.
Costa Rican food has just that bit more variety of taste and there are more alternatives to the local food.
Winner: personally I prefer Panama. Gasp, I said it. That's mainly because I like the unspoilt feel and the beaches. If you prefer more infrastructure or want more luxury, Costa Rica is the better choice. For backpackers or budget travellers, opt for Panama.
I'm writing my Panama guides next so stay tuned or sign up to my Newsletter to get them in your inbox.
So, that's my Costa Rica travel Guide – got any questions? Let me know in the comments below.