Let's face it, Miami is not cheap. With year-round warm weather, a stretch of coastline that makes you feel like you're in the Caribbean, a legendary party scene and a culture as unique as the city's eclectic blend of residents, there's every reason to visit Miami. Which raises the question – how can you do Miami on the cheap?
In this guide, I'll share all my tips for visiting Miami on a budget.
1. Try to avoid Miami at the weekend
Ok, ok, I get it. If you're trying to do a cheap weekend break or there's an epic DJ you must see on a Saturday, then this tip won't work for you. For everyone else, skip the weekend like your wallet depends on it. More specifically, forget Friday and Saturday nights. Miami is crazy busy, hotels book up quickly, accommodation prices spike, tours are oversubscribed, and the beach is a bun-fight for space. Spare yourself the drama.
The Miami party scene happens all week, and the sun shines just as hard on Sundays and Mondays. If you're on a longer trip, spend your time elsewhere in south Florida over the weekend.
2. Stay in Miami South Beach to save on transport costs
I may get shot down by internet trolls, but downtown Miami is barren. Sure, there are pockets of things to see and do (Wynwood Walls, Little Havana), but for the most part, the Miami you have come to see exists in South Beach. Yes, it's expensive to stay there but trust me on this one – stay in South Beach; the extra you'll pay in room rates will probably be less than you would spend on Uber fares getting around. There is public transport (more on that below), but it's patchy and neither fast nor frequent. Here's a list of Miami South beach hotels.
3. Consider staying in mid-beach or north beach
It's possible to walk from mid-beach or north-beach (depending on your exact spot) into South Beach in about 30 minutes, and there are bars and restaurants dotted along the way. Better yet, walk beach-front. And if you can't or don't want to walk that long, there are free trolleys that run through north, south and mid-beach. Yes, I did say free. More details on the Trolley are below. Here's a list of Miami Mid-Beach beach hotels. And here's a list of Miami North Beach hotels here.
4. Skip the hotels on Ocean Drive
Ocean drive is iconic but do you need/want to sleep in one of the hotels there? Apart from the fact that Ocean drive is an expensive place to stay, the hotels fall into the 'boutique' category; a category that, for me, screams old buildings with inconsistent quality. And then there is the noise factor. Revving sports cars (why do people feel the need to do this?) and party bars. You might want to visit a few nightclubs in Miami but do you really want to sleep in one? Tip: Want to be close to Ocean drive but not on it? Look at hotels on Collins Avenue and Washington Avenue, which run parallel.
5. Do NOT hire a car in Miami
This might seem controversial advice given that Miami is sprawling and getting to and from places like Wynwood Walls and Coconut Grove can be a PITA (pain in the ass) via public transport but parking is expensive in Miami, particularly if you're staying in South Beach – factor in a minimum of $15 per day. South Beach is very walkable. My advice: use the city sightseeing bus or Uber or Lyft for exploring downtown and save your car hire for when you exploring further afield (like the Florida Keys, Key West and Everglades National Park). You can book tickets for the hop on hop of City Sightseeing bus.
6. Book early and check for major events
I'm a Last-Minute-Larry when it comes to booking travel (I recently booked a trip to Panama and Costa Rica, leaving in two weeks). For some destinations, that absolutely flies. For Miami, it does not. Accommodation can be crazy expensive (the W Hotel was advertising rooms at $1600 a night last week), meaning all the cheap places get snapped up in advance. If you want to sleep somewhere that won't require a remortgage or involve sleeping in the kind of place where even the criminals won't go, you need to book accommodation far ahead.
Check local events, too. Turns out the Super Bowl was happening in Miami the same week I had planned to be there. It's not something that's on my radar. Check events before you book your flights. Here's a calendar of what's on in Miami.
7. Avoid low-season pricing (it's not worth it)
I've been in Miami at many different times of year, hitting almost every season (apart from the middle of hurricane season) and I can tell you that the prices barely change. Sure, you might find a few small discounts but most offers come in the form of extras you probably don't need (late check out?). Given the weather in Miami can have a huge impact on your trip, I'd skip the low-season (July-October) – if the hurricane risk doesn't ruin your trip, the heat, humidity and mosquitoes will.
When is the best time to visit Miami: Spring time. The best weather I've had in Miami (blue skies, perfect temperature, clear water) has been the end of April/May. Winter is nice to escape the cold elsewhere but Miami can get cold snaps with grey skies. Related: The Highs and Lows of Low-Season Travel.
Getting around Miami is as simple or complicated, cheap or expensive as you want to make it. Here are my tips for budget ways to get around Miami.
8. Download Miami maps and apps before you leave home
If you're from the USA, you will probably have the luxury of taking your data with you. For everyone else (including me), you'll be scratching around for data which usually happens when you have it least and need it the most. Download your maps while you are connected to wifi. I recommend you download:
9. Take the 150 Miami Beach Airport Express Bus
Miami International Airport is the only airport in Miami and is only 13 miles west from South Beach. The good news is, there are several cheap ways to get from Miami airport to South Beach.
When you land in Miami, your cheapest option for getting from the airport is to take the 150 Miami Beach Airport Express Bus. It will pick you up right outside the airport terminal (follow signs or ask for the 150 bus stop) and drop you at any one of several stops in South Beach. The bus takes about 30 minutes but factor in that the bus runs every 30 minutes and you will need to walk from the bus stop to your accommodation.
It costs $2.65 one-way. Here's the schedule and route (though, I find using 'directions' option on Google Maps to be more useful – it gives details of the next bus and an estimate of your door-to-door time).
Tip: Did you know that Fort Lauderdale airport is often a cheap alternative to Miami Airport and you can get between Miami and Fort Lauderdale by the Brightline train, which only takes 30 minutes.
10. Get a ride share from the airport
Can't be bothered to take the bus but equally don't want to throw down on an expensive cab fare? Take Uber or Lyft. Both will allow you to ride share (share the car with other passengers) to reduce the fare. If you're from outside the USA, download Lyft. As a rare user, I'm often enticed with 10% off 10 rides or similar offers. As a guide, with Uber it's about $18-$19 a ride without a ride share or codes. In comparison, taxis are a flat rate of $35. Both prices are without tips.
11. Use the free local trolley to get around South Beach
There is a free trolley that runs through north, mid and south beach in Miami. Yes, it's free. Yes, it runs every few minutes (because some of the routes overlap). Yes, it's every bit as wonderful as it sounds. Here's the map.
12. Use the City Sightseeing Bus to explore outside South Beach
I became a big fan of the city sightseeing bus a few years ago (after injuring my knee). As well as providing a great hop-on, hop-off service, you get to know the history and facts about what you're seeing. There are two main services in Miami and it's a bit confusing:
City Sightseeing – you might be used to City Sightseeing as a red bus but this one is actually run by the related company Big Bus and is, in fact, a brown bus. Personally, I recommend this bus.
Miami Double Decker – to confuse you, this is a red bus and, in my opinion, is not as good because it has far fewer hop-on and off stops.
Tips for booking your sightseeing bus:
check the routes – they do differ so make sure they cover what you want to see.
check the number of hop-on, hop-off stops – the Big Bus is more of a hop-on, hop off service. The Double Decker bus is more of a tour bus with fewer chances to get off.
compare prices – Big Bus is more expensive but better for exploring. The Double Decker is cheaper and ideal if you just want to sail past the sights.
Book online – rates can be a lot cheaper than paying on the day.
Book your ticket in advance to get a reserved place – the buses can sell out when several cruise ships are visiting Miami.
Plan your day – the buses leave to a set schedule, usually hourly.
Related: Top Travel Sites – Over 100 Links for Trip Planning
13. Use public transport (maybe)
Miami does have an extensive public transport network but, as you can imagine, it's designed for locals, not for sightseeing. Hence, I suggest you maybe use it. It really does depend on where you want to go. You can check routes using the official Miami transport page but, again, I usually find Google maps more useful for direct route planning.
14. Know the best free sights in Miami
Before you start sightseeing, know what's on offer and pick what takes your fancy. With the exception of Star Island which you need a boat tour if you want to get closer and museums, all of these sights are free to walk around. I'll give you more detail on some of these below.
South Beach's Art Deco District
Wynwood Walls
Bayside Marketplace
Star Island
Little Havana
Coconut Grove
Coral Gables
Miami Marina
Lincoln Road Mall
Miami Beach
Southpointe Pier
Espanola Way
Phillip and Patricia Frost Museum of Science
15. Spend the day at Miami south beach
You can't put a price on the ocean and the beach in Miami is both sprawling and absolutely free. To access it, just take one of the many side streets from Ocean drive onto the sand. Beach tips:
the further north you head, the thinner the crowds become;
see if your accommodation includes access to a free beach lounger (some of them do); and
lie directly on the sand if you want to avoid lounger fees (around $10 per day).
Related: Want to get your bikini body hair free? Check out my guide – Does IPL at home work? Philips Lumea Review
16. Walk the South Beach Boardwalk
Is there anything more Miami than hitting the South Beach Boardwalk? It runs from 5th to 46th Street and you'll be joined by runners, craft stalls, dog walkers, bikers, beach bums, surfers, skate-boarders and roller-bladers. Here's what to see on the Boardwalk.
17. Take in the views from South Pointe Pier
Push on all the way to the most southern part of the Miami boardwalk and you'll hit South Pointe Park which includes South Pointe Pier. With a park on one side and a pier out over the glorious ocean on the other, we're talking views a-plenty. Tip: go for sunset.
18. Get great views of the city from Miami Beach Marina
Water, south beach as a backdrop and lots of boats, keep travelling after south pointe and you'll end up at Miami Beach Marina. It's definitely worth a stroll if you're down that way.
19. Take a free walking tour of south beach
The free walking tours scene is ever changing in Miami but there is usually something a-foot (sorry, not sorry). I like this website – free tours on foot – for recommended tours. Note: although free walking tours don't have a fee, it's good travel karma to tip your guide.
20. Go on a self-guided walk of the Art Deco District
For me, the combo of ambling down Ocean Drive and Collins Avenue, coupled with the city sightseeing bus, offers enough Art Deco sightseeing in Miami. If you do want more (and more in-depth info), from the same company as above, check out their free self-guided walk of Miami's famous Art Deco District. There's even an audio download. Otherwise, stop into the Art Deco Welcome Centre on Ocean Drive. Tips:
Take a stroll along Ocean Drive and see the Art Deco Buildings at night.
Feeling a bit macabre? Check out where Giovanni Versace was shot, which is now a luxury hotel – The Villa Casa Casuarina.
Check your city sightseeing bus ticket – you might have a night bus tour included.
21. Get the multi-day sightseeing bus pass for a free boat tour
With many of the City Sightseeing Bus tours, if you book a multi-day bus ticket you usually get the 'Millionaire Row' boat cruise thrown in for free. This boat tour takes you around Biscayne Bay and past the luxurious homes of Miami's wealthiest residents on Millionaire's Row and Star Island.
Being a book worm, I'm not well up on pop culture so I didn't expect to enjoy the boat tour of Star Island as much as I did. But who doesn't want to ogle at the houses and super-yachts of the rich and famous? Some of the stories made me want to vomit (how can a person spend so much importing a freaking palm tree from Asia when there are palms-a-plenty in Miami and…errr….world poverty). But I was equally fascinated that Mr Viagra and Mr Instagram owned houses next to well-known pop stars and movie stars. Tips:
book a multi-day bus pass and you'll usually get a boat tour thrown in.
if you don't need the multi-day bus ticket, there is also the option to purchase a half-day bus tour with the boat tour included.
if you book the tour separately, research the companies. I didn't (on my second visit) and ended up on a booze cruise which would have been ideal if that's what I wanted. Instead, the noise and music was too loud to hear the commentary.
take a boat near sunset and you'll get great pictures of Miami downtown at night (as well as sunset pictures over the water).
You can separately book the boat tours on Viator or Get Your Guide. If you want to take a slower visit around Star Island, try a Segway tour.
22. Visit Little Havana
Little Havana is probably one of the places you will have heard of before visiting Miami. It was a lot more kitsch and touristy than I expected, but that's ok with me. Go; drink some, dance some, eat some and enjoy the Cuban side of Miami life.
order a cafe con leche for some of the best coffee in Miami. Ask for no sugar if you're not a sweet coffee person;
know that the Cuban sandwich is an American invention. Doesn't make it less tasty but you won't find one in Havana.
if you do want to splash out a little (money spent on food is never money wasted!), book a Little Havana walking food tour and have a local take you on a tasting tour of the area while meeting some of the restaurant owners and local artists.
Thinking of taking a trip to Cuba? Here are my Cuba Travel Guides.
23. Explore the free museum of Wynwood Walls
I'm not much into street art (I'm more into the Renaissance art of Florence) but even I'm blown away by the art of Wynwood Walls. Add in a general upbeat vibe and it's easy to spend half a day hanging out there, and it's absolutely free. Tips:
Head into Wynwood Walls to see the galleries and outdoor art – the Kobra exhibition and the cat on the airplane are my faves.
Be aware that there are opening times so plan your day.
Wander the surrounding streets – there's more art than just within Wynwood Walls so look up, look down and look behind.
There are only a couple of spots where you can grift off the free wifi to order an Uber/Lyft back (if you're not using the sightseeing bus). Wander, you will find them.
For the real hardcore street art connoisseurs, you can also book a guided tour of the Wynwood Art District to learn more about the art with a knowledgeable local guide.
24. Look for open air art on Lincoln Road Mall
Lincoln Road Mall is a great place for a stroll, day or night. Close to Ocean drive, it's a street filled with cafes, bars, restaurants, shops and art galleries. I'd describe it as a more upmarket dining scene than Ocean Drive (you won't find neon drinks here).
While the restaurants can be expensive, it's a great place to wander with regular street performers and sometimes open air art exhibitions. I was lucky enough that there was a Botero exhibition littered up and down Lincoln Road Mall on my last trip (Botero is a Colombian artist famous for his sculptures of bulbous humans). You can find out what's on here.
If there's no art on, step into one of the many galleries for a free art fix (there is a National Geographic gallery, and the Peter Lik gallery is a personal favourite of mine).
There is a farmer's market on Lincoln Road Mall every Sunday – great if the all-American-diet has left you feeling like you need some fresh fruit.
Swerve the Lincoln Road Eatery – I very rarely say don't eat somewhere but this street-food place was overpriced and the food so bad, I asked for a refund (my pita came out black all the way through. Twice.)
If you're thinking of taking a trip to Colombia, here are my Colombia Travel Guides.
25. Take a walk down Española Way
It doesn't merit more than a quick wander, IMO, but if you want to do some people watching, having a quick wander down Española way. It's just up the road from Lincoln Road Mall, so it's easy to tack on when you're there. Beware: this is an eating street so if you are prone to getting hungry, take a slice of pizza from nearby Groovy's pizza with you.
26. Enjoy free beach yoga
Beer belly getting you down? Feeling a bit poisoned from all the happy hours? Check out free yoga on the beach. It's offered by the city and happens every Saturday morning. I did one of the classes with a lovely Colombian instructor. Nothing better than doing a sun salutation right there in front of the sun, looking out over the ocean with your toes embedded in the sand. No equipment required – just turn up with a towel or sarong. No need to book.
27. Understand the Miami party scene
The first thing to know about Miami is that the party scene is very diverse. Want glam nightclubs, you've got it. Prefer the craft beer scene, no problem. There for the LGTBQI nightlife, Miami's got you covered.
Me? I'm a dive bar kind of girl. Which dovetails very nicely into the cheap party scene in Miami. But don't worry, I've got a few non-dive bar tips for you below. Some of these tips might seem a bit more generic (because it's hard to cover so many party types in one article). Here's more info if you want to explore the different nightlife options.
28. Research your Miami nightclub costs
If you're going out for the night, research your club costs. Entry fees and drinks can vary wildly. After paying $20 to get into one club (which felt reasonable), my eyes nearly fell out when my gin and tonic came to $25. I didn't order a second one. Don't forget tax and tips go on top of every drink price. Order in rounds to save on tips (solo beer – $1 tip, 2 beers – $1 tip).
29. Take a party tour bus
I've long been of the opinion that I don't need a guide to take me on a night out…unless it makes it cheaper. And Miami is a city where it can make it cheaper. With negotiated discounts and the chance to see several bars and clubs in one night, if you're going to have a big night out in Miami, but want to do it cheaply, this is a good way to do it. A bus and free shots are usually thrown in. I went with South Beach Party Tours and it was pretty good as these things go. I tried to find the company online but got a weird website. You're best booking when you get there.
30. Hit Miami's dive bars
Now we're talking my language. Problem is, I may have been doing some afternoon drinking before I went exploring the dive bar scene in Miami so I kind of can't fully recall the name of the bar (at one point I wasn't sure I could recall my own name). However, my point is – dive bars and therefore cheap drinks do exist in Miami. I think my favourite was The Deuce but my memory isn't good enough that I'd bet my house on it.
31. Hit the happy hour offers
You'd have to be walking around with your eyes closed to not see the happy hour options in Miami South Beach. Stroll along Ocean Drive, compare prices and start your party early. Otherwise, here's a list of happy hour offers in Miami.
32. Book a hotel that has free drinks in your resort fee
I loathe the Miami resort fee. What is it? It's a fee you pay when you stay in most hotels in Miami. What's it for? My answer: f*ck knows. The hotel industry answer: beach towels, beach loungers, bath, blah, bulls!t, we just want to make more money. But anyway, before this descents into total rant, many of the hotels offer either free drinks or happy hour drinks to guests as part of their resort fee. If drinking is high on your agenda, book a hotel that offers free drinks at happy hour. Then get there early. When the wine is gone, the wine is gone.
33. Pre-game in your hotel room
First of all, pre-game is a USA phrase used for drinking before you go out and many people do this is Miami if they want to party cheaply. Unfortunately, it's not legal to drinking outside in Miami (no beach beers, I'm afraid) but there are plenty of alcohol and liquor stores where you can buy cheap booze and have a few drinkies while you get ready for your night out. Or even when you get back (some liquor stores are open 24 hours).
34. Choose accommodation with a good breakfast
Not all hotels are created equally and hotel breakfasts certainly aren't. Check out the detail of what your hotel breakfast includes – continental breakfast, a bit of rubbery toast and a Nescafe or are you looking at a divine a la carte hot breakfast. Fuel yourself right in the morning and you can cut down the costs of lunch. Eating out, you're looking at probably around $20 for a seated breakfast by the time you've added tax and tips.
I'm not ashamed to say that I regularly raid a hotel breakfast for lunch – bread plus cold cuts and cheese = a very good lunch. Add fruit and a breakfast pastry and you have a full meal together with an afternoon snack.
If you're staying in a hostel or guesthouse or Airbnb, choose a place that has a kitchen so you can make your own breakfast.
Not got a kitchen or hotel breakfast? Walgreens, CVS and grocery stores have fresh fruit, yoghurt and pastries that can stand in for a cheap breakfast. Failing that, Starbucks (as much as I don't like it) can offer a pretty cheap breakfast.
35. Lunch at Miami's French bakeries
One of the greatest gifts of Miami's food scene is the French bakeries. The sandwiches are big enough for two (people or meals) and consist of fresh bread with good quality meats, cheeses and vegetables. All for around $10. Great for taking on the go.
My favourite (and apparently everyone else's) is Rosetta Bakery. There are often queues out the door of the branch near Lincoln Road Mall. Either go mid-morning or mid-afternoon or check out their sister branch (quite a bit) further down Collins.
Bonus: everything is 50% off early evening. The sandwiches do keep overnight if there isn't too much tomato on them.
36. Dine twice from one meal
Oh boy, the food scene in Miami hurts me. As a grazer (I eat very small amounts about 28 times a day), I struggle to find small meals to satisfy my annoying eating style (American portions, anyone?). Not only that, Miami hurts my pocket. Sit down for three meals, add tax and tip and taxes on top of tips and your budget can get blown pretty quickly.
My solution is to often dine out twice from one meal. I've gotten pretty good at knowing what food is good to reheat (if your hotel room has a microwave) and which super large sub sandwiches are good for two meals if I bulk it out with some soup or salad. Get creative with your evening meal and you can save the leftovers for a next day picnic lunch on the beach.
37. Brunch at Nikki beach on Sundays
If you're from the USA, you don't need some Brit schooling you on the many benefits of Sunday brunch. If you're new to the concept of the USA brunch, think lots of food at reduced prices and often bottomless booze for a not so big uplift in price.
While probably not a budget bunch, I'm recommending the brunch at Nikki Beach because you get an all-round great experience of beach club plus an unlimited buffet of high-quality food. Add day tunes and sunshine and your Sunday is set. Do book in advance. Not feeling Nikki Beach, here's a list of places to brunch in Miami. Related: 10 Tips for Making the Most Of Buffet Dining
38. Split a plate at the 11th Street Diner
Sure, the 11th Street Diner is touristy but it also serves up huge portions at a great price in a retro-style train car. The staff are fantastic (I off-menu order almost every time and they don't blink). It's also open 24 hours for those post-party munchies. I find the portion sizes huge so it's very easy to split a plate. Still hungry, just add a few sides (or a slice of pie for dessert). I've never had to book.
39. Grab cheap pizza at Lincoln Road Mall
Whether you split a whole pizza or just grab a slice or two, Pizza Rustica is a rare, affordable eatery on Lincoln Road Mall. You can get a huge, square slice for under $5. Order to-go for the cheapest prices. Another alternative for cheap pizza by the slice is Groovy's just further up the road towards Ocean Drive.
40. Skip the expensive ice-creams
I love a gelato. (Fun fact: did you know I run wine tours in Italy's Prosecco region? Thanks to this, I'm becoming a gelato aficionado). The problem is, I have yet to find any really good gelato, or ice-cream, in Miami. And it's not due to lack of trying.
I've thrown down close to $10 for gelato/ice-cream in some of the city's most touted places (Stefano Versace Gelato in Wynwood Walls, self-professing the 'best gelato in the world' and 4D Ice Cream, which is on every blog and guidebook list). And none of them past muster, IMO. Better: just go and grab a frozen bar in one of the freezers in CVS or Walgreens. You'll spend half the price for about the same quality.
41. Sit outside Starbucks on Ocean Drive
Oh, Lordy-Lord, I've recommended Starbucks far too many times in this article already. Understand: I'm not a fan of coffee chains. Except, this one on Ocean Drive gets a mention because it wins for the combo of cheap (just about drinkable) coffee in a top location especially if you grab a seat facing the ocean. If you want actual good coffee, head to Panther Coffee in the Betsy Hotel on Ocean Drive and go and drink it on the beach. It'll cost more but it definitely tastes better.
42. Hit the grocery stores for fresh salads and sandwiches
I do like to sit down for a hot meal at dinner time but I don't need the same at lunch time. Which is how I came to discover that many of the grocery stores have a chilled counter that includes great-priced fresh salads, sandwiches and sushi. I'm talking greens and tomatoes and inch long shrimps, kind of salads. Get one and dine al-fresco at the beach.
43. Dine on Washington Avenue
Two blocks back from Ocean drive, you hit Washington Avenue which is awash (sorry, not sorry) with good, cheap eats. Over several trips, I've eaten at most of them and there isn't one I wouldn't recommend. Here are a few of my favourites:
Cream Gourmet Espresso Bar for soups and sandwiches;
Taco Rico, just off Washington for, errr…. tacos;
Moshi Moshi – not just because it's cheap but also because the sushi here is exceptional;
Al Basha Grill for amazing Middle Eastern food;
Pane & Vino for the best, fresh pasta in Miami (IMO);
Juice & Java for an immune boost of goodness;
Burger-Fi for dirty burgers (though I believe Cheeseburger Baby is better);
Poseidon Greek Boutique Seafood – I had an amazing Greek salad here. I'm sure the other food is good too;
Yes, I have eaten my way down Washington. Don't judge me. I did it all for research, alright?!
Final cheap food tip for Miami: I couldn't really find a place for this so I'm popping it here. I had an amazing, very fancy dining experience at Meat Market on Lincoln Road Mall. Usually the prices are prohibitive if you're trying to do Miami on a budget but they do a great fixed-price set lunch. I had two courses, including a delicious piece of salmon for just $33 (including the taxes and tip).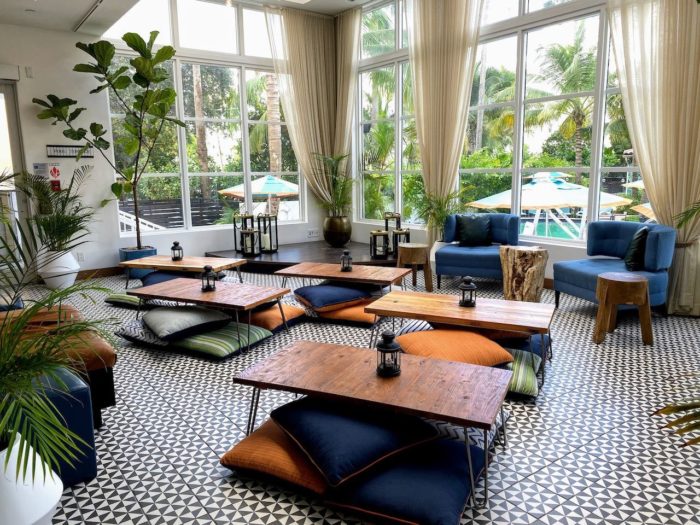 44. Consider staying in a fancy hostel in Miami
Finding cheap hotels in South Beach Miami is a bit like searching for a pink and lemon stripy unicorn riding a moped through a field of sunflowers. In fact, Miami is so expensive for this solo traveller that I mostly stay hostels in Miami and this is the best way stay in Miami on a budget. I get that communal sleeping is not for everyone but most hostels also offer private rooms. The upside of having visited Miami many times is that I've stayed in most of the hostels at some point. Below is a run down of the various hostels and what I like about each one.
Generator: Best for: hotel quality beds and service at a budget price. This hostel is a newbie in Miami and still has the sparkly clean feel. There is a beautiful pool with loungers out the back. Also, the location makes it better for non-party animals. Downsides: it's in north beach, a 30 minute walk to South Beach (or 5 mins by free Trolley). Don't buy anything here – tea and coffee is $7 a cup and a beer will fleece you $10. I've no idea who they're catering to, but it ain't budget travellers.
Miami International Beach Hostel: Best for: partying – I've had some wild nights out with some good people in this hostel. It's in a prime location in South Beach, a block from Ocean Drive. Bonus: the price includes three meals a day. Yes, you read that right.
Freehand: Best for – access to a kitchen while you're in Miami. A few blocks closer to South Beach than Generator (but still a 25 min walk), Freehand is a solid choice. Downsides: the hostel is looking a little tired. But, Generator have recently bought the chain of hostels and, though the brand name will stay the same, a refresh is imminent. Same deal as Generator – the on-site menu/bar is not cheap.
Beds'n' Drinks: Also a winner for location, I really enjoyed the patios (front and back) at this hostel and although the name suggests it is party-central, the vibe was actually more low key. Do check – I haven't stayed here for a while and the reviews suggest it might have taken a turn downhill.
Rock Hostel – this was on my list of places to try during this trip but Last-Minute-Larry here didn't get her arse into gear in time to book it. I've walked past and it looks good as a South Beach hostel option.
Related: Tips For Your First Time Stay In A Hostel and Why All Female Dorms Are An All Round Bad Idea.
45. Score a cheap hotel in Miami
If you're squirming at the very thought of a hostel, I've managed to stay in some almost cheap hotels in Miami (keeping in mind cheap is relative).
I've stayed in San Juan, which I really liked and wish my budget extended to it every time. For me, this is the best place to stay in Miami for it's combo of affordable price, good location and good breakfast (loungers and beach towels are included).
Most recently I stayed at The Julia Boutique hotel which was a lot closer to South Pointe pier and had a much swankier interior than San Juan if you don't mind a 5-minute walk to get closer to the South Beach action. It's also another of the best places to stay in Miami.
I've yet to try out an airport hotel but this would be my pick – Hilton Miami Airport Blue Lagoon. It's not the cheapest airport option but by spending a bit more, you get a great resort/pool feel if you can't make it into the city or want to eek one more day out of your trip before flying home.
And if, on the off-chance you want to spend big, go and stay at Loews for me and let me know how it is. This would be my luxury pick in Miami South Beach. Brilliant brand with the perfect location.
So, that's my guide to cheap things to do in Miami. Got any questions or other suggestions, let me know in the comments below.
Like this guide, share it on Pinterest…
Related Articles