Hawaii is expensive, but that doesn't mean you can't visit on a budget. Whether you're backpacking in Hawaii, trying to honeymoon without taking out a mortgage or you're a family on a budget, you may be surprised to know that you can sleep for as little as $30 a night in Hawaii.
The answer: hostels. Whilst not abundant in Hawaii, they are an option on (nearly) every Hawaiian island and they almost always have a private room option offering the privacy of a hotel at a fraction of the cost.
But aren't hostels…horrible? They can be. I've certainly bunked in the stack 'em high, sell 'em cheap doss-houses in Southeast Asia but the hostels in Hawaii are in a league of their own, in a good way. Clean, homely, with friendly staff, breakfast often included, great facilities and sometimes better locations than many of the hotels in the area, the hostels in Hawaii are an amazing breed of budget accommodation that is amongst some of the best I've stayed in around the world.
But I don't want to stay in a dorm! That's ok. You don't have to. Most hostels offer budget private rooms in Hawaii. Many come with en-suite but if you're prepared to share a bathroom, the price drops even further. With access to a kitchen (without the expense of Airbnb in Hawaii), you can save on food costs too.
In this guide I'll share the best hostels in Hawaii, on each island and hopefully you'll find the cheap accommodation in Hawaii you've been searching for.
Related: Which Hawaiian Island is the Best to Visit? Quick Guide
Best Hostels in Oahu
Courtesy of my screw-up and not booking ahead, I managed to sleep in almost every hostel in Waikiki. The upside: I've explored plenty of budget accommodation options for you!
And for when you do visit, you might like my Oahu travel guides: 10 Top Things To Do In Oahu For First Time Visitors | How To Hike Diamond Head in Oahu | Things To Do In Pearl Harbor | How To Visit Pearl Harbor – Tickets, Tours & Tips | Pacific Skydiving Honolulu Review
Pros:
Free pizza and beer nights twice a week (apparently now beer and BBQ nights).
Free tea and coffee – and by coffee, I mean REAL coffee, that can be brewed rather than rehydrated.
Excellent location. An ABC Convenience store under a minute away and about the same distance to a nice patch of beach with fewer tourists on it (this comment is relative – you will never get Waikiki alone).
Wonderfully clean everywhere, even the shared dorm bathrooms.
Seemed to consistently gather a friendly and fun bunch.
Nice hammock out the back – not the prettiest surroundings (you can mainly see concrete), but perfect for reading and afternoon napping.
Cons:
Small social area – the hostel was presumably once apartments so each dorm has its own patio and there are a few 'common' patios. Nice for peace and quiet. Not great for socialising.
The main social area is technically off-bounds after around 9pm. We were allowed to stay in there if we were quiet…but when can more than 5 people in a small space remain quiet after free beer?
The staff – rude, rude, unhelpful and, did I say rude (apart from the cleaning lady)? The guy running the show (who wasn't the owner) was consistent in his bad attitude and propensity for shouting at guests. I would like to say that thankfully, the rude man was relieved of his customer-facing position (true), but his replacement seemed no more enthralled with the idea of dealing with guests. All that said, staff may have changed again by now.
Overall: great location, nice freebies and super clean. If the staff has been on a people management class up, or you can deal with their grumps (assuming these leopards have clung to their spots), then this is a great choice.
Pros:
They were able to squeeze me in when the rest of Waikiki was full of marathon runners – this place had less women or more female beds, not sure, but it meant availability.
I got stuff done here – beyond the distracting party atmosphere of Waikiki Beachside Hostel (below) I was able to get some proper sight-seeing done.
The mood was calming and the common room like a big, friendly sitting room.
The clientele seemed older – I know I fit into that 'older' category but I can usually mingle with all ages. However, it was nicer to see older people here because it added a different dimension to the conversation (one guy was a war veteran and had some tales to tell).
Cons:
I can only take calm and serious serenity for so long before I get bored. After a few days I was ready to leave.
The location was at the other end of Waikiki (away from the zoo, towards Honolulu) and after the proximity of the other hostels to everything, it felt miles away though in reality it wasn't far at all – the beach and restaurants all within a few minutes' walk.
Overall: If you're in Waikiki on a short stop with a mission to see as much as possible, this is an excellent base. Crashing here after an exhausting day promises a clean bed without parties to interrupt your sleep.
Pros:
This was a perfectly acceptable hostel with nice staff, nice rooms and a nice communal outside area. It was simply nice. Nothing to get too underwhelmed or over excited about.
The rooms had a cabin feel, which made a nice change.
The staff was really friendly and nice to chat to.
Cons:
This hostel was probably the furthest walk from the beachfront.
The hostel is also located off the street corner where the local ladies of the night hang out/carry on their 'freelance' business. The ladies seemed pleasant enough (I bought one of them dinner) and although I don't think it's an unsafe area, I did look over my shoulder around here after dark.
Overall: The word bland comes to mind although I can't say that in a negative way because everything was…nice. I guess I prefer extremes – party central or serious city but if you're looking for a no-fuss spot, I'd recommend it here.
When I was backpacking through Hawaii, I avoided this place like the plague because, at the time it had less than 5/10 on Hostelworld. But some serious hard work seems to have been done since my visit and the efforts have resulted in this hostel becoming one of the most popular in Waikiki – don't you just love a good recovery story? The renovations look very nice. So, I'm confidently putting Polynesian Hostel on the list. And I plan to check it out next time I'm in Hawaii (hopefully soon). If you do stay there, let me know below how it goes.
Pros:
If you're looking for people to hang out with, explore the nightlife and experience a wilder side of Waikiki, you're guaranteed to find it here.
A basic but good-for-the-price restaurant is attached to the hostel serving some of the cheapest food you'll find in Waikiki. Will it compete with Michelin star restaurants? Of course not. But what do you expect for a couple of dollars in paradise…sloppy joes is what you can expect and sloppy joes is the kind of thing you get.
Despite this being party central, it was pretty quiet at night – either well sound-proofed or the party was elsewhere.
The staff was great. I was booking by the day and they went to a lot of effort to shuffle things around so I didn't need to keep moving room. My bad. Their good.
Cons:
The couple having sex in my dorm. Not in the bathroom, but on the kitchenette counter. Oh Lord. Guess this isn't promised with every stay but the propensity for alcohol in this establishment makes it much more likely.
The neighbouring property. I heard a lot of screaming, yelling and other unpleasant disturbances that made me initially wonder if the place was a low-security prison. I did walk a little faster past the property after dark and was grateful for the wristband security entrance on the hostel.
Overall: If you're in the mood for a party, this is the place to be. If you're looking for more quiet time, there are other options in Waikiki.
---
Best Hostels in Big Island
The first decision you have to make when you book a hostel on Big Island is whether to stay in Hilo (east coast) or Kona (west coast). Unless, of course, you decide to try both, like I did. Can't decide? This might help.
Why choose Hilo
Renowned for receiving more rain, though it didn't rain once while I was there.
Closest to Volcanoes National Park.
A local town feel though some people might consider it a big rough around the edges. Personally, I really liked Hilo. More so than Kona.
Why choose Kona
Beautiful beaches, better weather (apparently) and plenty of water-based activities like scuba and snorkeling.
Better set up for tourists – take your own view on whether that is a good or bad thing.
Well located for coffee plantations and the Kona brewery.
Whether you choose Hilo, Kona or try both, you will probably want to cross from one side of the island to the other during your stay to see most of the sights on Big Island. And don't miss Green Sand Beach in the south of the island
Pros:
Everything…ok, being more specific…Beautiful old house in Hilo that has been converted with lots of space to socialise or chill-out with a book as the mood takes you.
Cheapest prices in all of paradise (when I stayed it was $19 a night – clearly there has been some levelling with the market rate since I stayed).
Good breakfast with fresh fruit included.
The cleanest place I stayed in Hawaii – I felt confident walking bare foot here, even in the bathrooms!
Well located in the middle of town, with private parking and a few minutes from bars, restaurants and the waterfront (note it's not a beachfront here).
Amazing staff.
Cons:
I had hoped the hostel would offer more affordable tours especially for lava hunting. Fortunately, everyone at the hostel was in a similar situation so it was easy to arrange a car share.
Overall: I went back to this hostel after spending time in Kona. I would have happily stayed longer if I hadn't booked a flight to leave the island.
This hostel has popped up since I visited (or maybe was there but hadn't popped onto my radar). Located in Hilo, it gets great reviews. Personally I'd still opt for Hilo Bay because it was so good but I know hostel beds sell out very quickly in Hawaii so this is an excellent back up.
Note on Kona hostels: Since I last visited Big Island, my Kona hostel where I stayed has closed. To be honest, it's probably for the best because it was pretty grim. The good news is there are now better options. I haven't tried these (yet). Let me know if you have.
If you're after location, this is the Kona hostel to choose. Situated slap-bang in the middle of Kona with all the bars and cafes you need, it's especially ideal if you don't have a car to get around. This place does get slightly lower reviews than My Hawaii Hostel, below, so it depends if the room or the location is the top priority. Still, this place looks nice enough.
Just 3-miles south of Kona, this would be my choice if you're looking to be closest to the Kona action on a budget. There are cafes, bars and restaurants within walking distance and the public bus just outside the door. This hostel gets excellent reviews.
Located above Kealakekua Bay, I'd say Pineapple Park is too south of Kona to use the name in the title but it's at least on the same side of the island. You will need a car for this hostel and some of the review raise an eyebrow. That said, I would consider staying here if the other hostels near Kona were sold out (a cheap bed is a cheap bed, right?).
Located north of Hilo on the east of the island, this guesthouse is an eco-friendly, off-grid option if you want to live the rustic life. I nearly never included this hostel because the dorm option is around $50 for a hammock outside, which is verging on unreasonably steep; plus the word 'rustic' can often be code for grubby. But, plenty of people have given it decent reviews and just because it's not for me doesn't mean it's not for you. I'm especially interested to know if you stay here.
---
Best Hostels in Kauai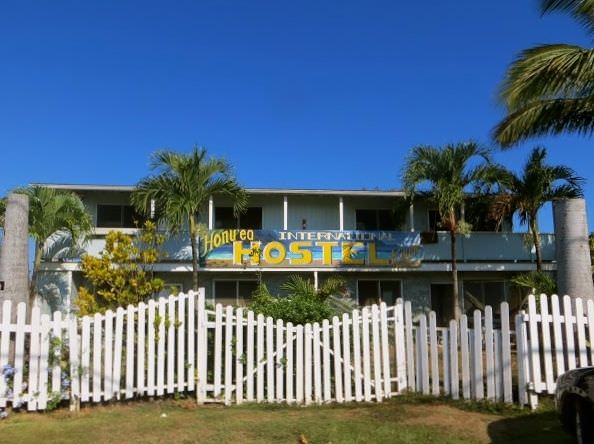 I stayed in the cutest hostel when I was in Kauai – Honoueaua International Hostel, in Kapaa. However, it seems to have closed down since my visit. And, in doing so, has left a huge gap in the hostel market in Kauai – there are none. Not only that, there aren't many budget accommodation option at all. The cheapest I've been able to find is Kauai Palms hotel which is close to $200 a night. Argh. I'm screaming too. If anybody knows of a better budget option in Kauai, drop me a comment below.
Tip: On my most recent trip, savvy backpackers dealt with the lack of hostel on Kauai by camping or sleeping in their car. One visited for the day by flight and another payed for a helicopter ride over the island. I suppose if you're going to that expense already, it's one way to do it!
Related: 16 Best Things To Do In Kauai For First Time Visitors
---
Best hostels in Maui
Like the other islands, I moved around a bit so had a few places to compare and contrast.
On the east coast the hostels are congregated in Wailuku. I won't lie, the town itself is pretty but has a distinctly edgy side to it demanding you keep your wits about you at night (judging by some of the posters around town as well as some of the residents, it seems Wailuku has a Crystal Meth problem). Having said that, there is very little (read: no) reason to go out at night because there is no nightlife in the town – not even one bar, so if you want to party, pick your hostel well. On the plus side, there is an all-night gas station that sells alcohol and snacks. The town also doesn't have many of its own natural attractions, the best of Maui lying elsewhere. With public transport lacking for visiting the main attractions on Maui (e.g. the road to Hana and Haleakala volcano and the island's beaches), and car hire both expensive and hard to come by, weigh your options when you book (suggested solutions below).
On the west side of Maui, the hostels are located in Lahaina, the old-whaling town and being in the centre of downtown they have a better location that the bigger hotels which are along the coast.
Pros:
Super clean – again, clean enough to walk around bare foot.
Pancakes for breakfast – yay! (Have to cook them yourself, but who cares).
Homely feel in a converted house.
Well located for the centre of the town – a few minutes away from cafes and restaurants.
A rather rude woman who shared my room was obnoxious to the staff and promptly dealt with via eviction. Bad behavior will not be tolerated here here, which was a refreshing change.
Cons:
Labels. Eveywhere. Ok, I'm not against the labels themselves but it was the constant barrage of rules. Silence after 10pm. Fair enough. Lock the bathroom door. Errr, ok. No laptop noise. What? Key tapping? Get dried inside the shower. Seriously?
I'm a night owl, even when I'm not partying. It may have been the crowd when I was there (late 40s-50s American men travelling solo) but lights were out by 9pm and I was often the last (wo)man standing.
There were so many rules that I escaped to a friend's hostel for some atmosphere on the second night. By the third night I'd moved.
Overall: If you want to sleep early, get up early and appreciate a high level of order, this place is great. Anarchists (who like to get dried outside the shower cubicle), look elsewhere.
Pros:
You pay a premium to stay at Banana Bungalow. What you get in return is free tours to the main sights on the island – a day taking the road to Hana, a day trekking into Haleakala volcano, a day at Big Beach and Little Beach (the nudie one) and various other trips. Given Maui is incredibly difficult and expensive for car hire (you're competing with a lot of honeymooners), these tours are a unique and invaluable budget option that make this hostel one of the best choices on the island.
As well as good value, the tours make this hostel an incredibly social experience – who doesn't bond at a nudist beach?
The staff are super friendly and helpful.
Pancakes for breakfast – yum!
A very decent kitchen for cooking and the tours stop via a large supermarket on the way back to the hostel meaning you can save on eating out.
Cons:
The social side can be a double-edged sword because a day of fun turns into party central – every night. I stayed long enough to do all the tours I wanted but found myself in a loop of day-trip, party, day-trip, party. (I have FOMO and limited will-power to turn down fun). Engaging outside of the hostel walls and with locals instead of other travellers would have been nice (I accept this was within my control).
The trips have a maximum number and are therefore oversubscribed daily. If you don't get on a tour, you're paying a premium for nothing.
You're strong-armed into tipping the tour guides – $10-$20 per trip. You won't find this detail mentioned anywhere and, added to your room costs, the overall price starts to creep up.
This is an incredibly popular hostel that was always full. It was a challenge for cleanliness and bathroom queues could be long (everyone arrives back from the beach at the same time bringing a bucket's worth of sand with them).
Overall: If you want an affordable way of seeing Maui without hiring a car, this is the best option on the island. If you enjoy partying, even better. If you're just looking for a bed, there are cheaper options.
Located in Paia, on the north of Maui, this spot is perfect for water sports – both surfing and windsurfing. Aloha Surf Hostel is also walkable to both the town in 10 minutes and the beach in 15 minutes making it perfect if you don't have a car. They also run tours, helping you see the island without a rental (competing with Banana Bungalows I suspect). Overall this place gets excellent reviews and is on my shortlist – between this and Tiki Beach below – for my upcoming return to Hawaii.
Judging by the turnover of hostels in Hawaii, you'd think I'd visited a million years ago. I guess it's a tough industry in Hawaii and perhaps the pandemic saw a few places close. Anyway, my hostel in Lahaina is no longer in operation which is a shame because it was nice. The good news is, Tiki Hale seems to have filled the gap. It gets average rather than superb reviews but you can't beat the location on Front Street and Lahaina is, hands down, a better place to stay than Wailuku.
---
Tips for booking hostels in Hawaii
With a good choice of budget accommodation in Hawaii I managed to fulfill my goal and stay for three month in the islands and during that time I managed to sleep at a significant number of the hostels in Hawaii (details on that below). I also picked up the following tips for booking hostels in Hawaii.
Do your research: sure, doing research for every trip is important but with the hostels in Hawaii it's even more important. Although each island is catered for in terms of hostel accommodation, there are only a handful of choices per island. If you turn up and your chosen place is not to your liking, there won't be as many alternatives in the same price bracket. The choices on some islands (Oahu) are better than others (Kauai), so bear this in mind.
Booking in advance versus turn up and see: your personal circumstances will largely dictate your approach on this front – if you're on holiday for two weeks and want the security of knowing you have a room or need to accommodate a family, you'll no doubt want to book in advance. If you're backpacking, turning up is usually fine as there are a good number of dorm beds (though beware some hostels are so popular they are regularly booked out). If you're after a private room, then you should almost certainly book before you arrive – private rooms at hostel prices go quick, quick, quick.
Beware peak season: why, why, why have I not learned my lesson on this yet? I spent Golden Week without accommodation in Japan and I was near homeless in Hawaii for the last week of my stay because I'd failed to realize that the Honolulu Marathon, anniversary of Pearl Harbour and peak Christmas period all collide during December, resulting in a booked out beach area (here are some suggested solutions if you ever find your self in a similar spot). After knocking on enough doors, I managed to score a place to lay my head…over a succession of different properties. Cue: logistical pain in the backside as I spent my last week in Hawaii bouncing from one hostel to another. Don't make my mistake.
Look for freebies: costs can add up quickly in Hawaii from food to transport to tours. Finding a hostel that offers extras can make a real difference. Pizza and beer nights, airport transport, breakfast (great for trying Hawaiian fruit) and even tours are included in the price at some hostels so don't just look at per night rates – compare the overall cost with everything included. I stayed in one hostel that was nearly double the price of a competitor but offered free day-long tours to the island's best sights removing the expense of hiring a car and paying for gas, which more than made up for the increased room cost.
Check your location: be aware that many of the hostels in Hawaii are located in local towns rather being co-located with the grand resorts. For me that was a good thing – I prefer being able to explore local life. But if you're looking for a beach-based holiday, double-check the location of your chosen accommodation.
Pack a guide book: I know we all have the Internet in our pockets but the Hawaii Lonely Planet Guidebook is packed with insider tips. Sling it in your bag and you can quick-check local maps, tips and accommodation without spending your trip face down in your phone.
Have you ever stayed in Hawaii on a budget? Do you have any other recommendations for places to sleep for cheap?
Related Articles: