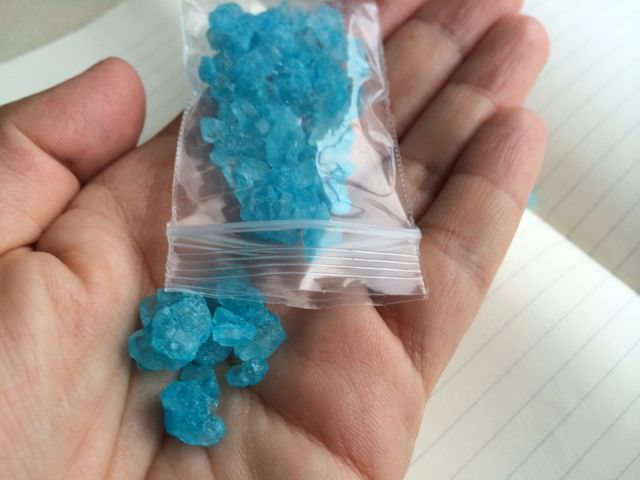 I've been on dozens of tours in my travelling life but I've never had as much fun as I did when I went on a Breaking Bad Tour in Albuquerque, New Mexico. Read on to find out more.
You've heard of Breaking Bad, right?
Unless you've been asleep or have consciously decided to turn your back on popular culture, I'm sure you've heard of the hit TV show, Breaking Bad.
The five series show follows the story of Walter White, a chemistry teacher in Albuquerque, New Mexico who deals with his cancer diagnosis and associated medical bills by cooking the drug crystal meth…and, as it turns out, cooking the finest damn meth there is around. As the show goes on, the plots takes some compelling turns as the characters darken.
By the time Breaking Bad reached its finale, it had gained enough followers to smash records with 10.3 million viewers tuning in. It has also racked up a list of nominations and awards so long that I can't list them (though you can find them here).
Spawning tourism in Albuquerque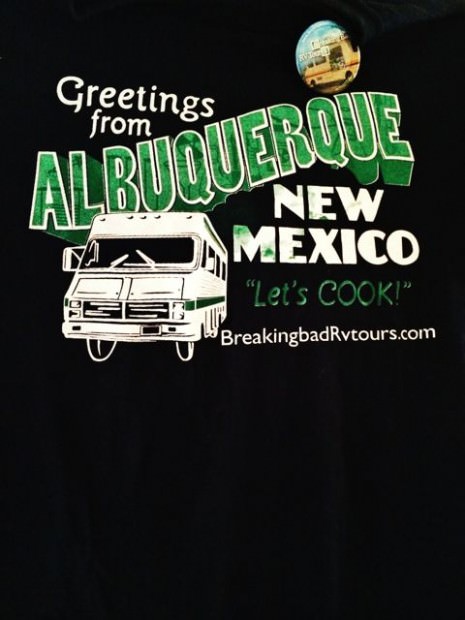 Perhaps one of the biggest unanticipated side effects of Breaking Bad is the surge in tourism that Albuquerque has seen since the show hit the screens. Once upon a time, Albuquerque was a normal place where people lived. Travellers simply didn't go there – unless the had friends or family in the city. Yet, all of that had changed. Despite the drug-based theme, the show has spawned a whole new industry in Albuquerque – Breaking Bad Tourism.
"We hardly ever had international travellers visit here before," one local tells me. But now, sit outside a café in the beautiful old town and you're as likely to see Japanese, German and Australian tourists as you will locals.
And what are the tourists looking for? The Breaking Bad filming locations, of course.
Breaking Bad Tours in Albuquerque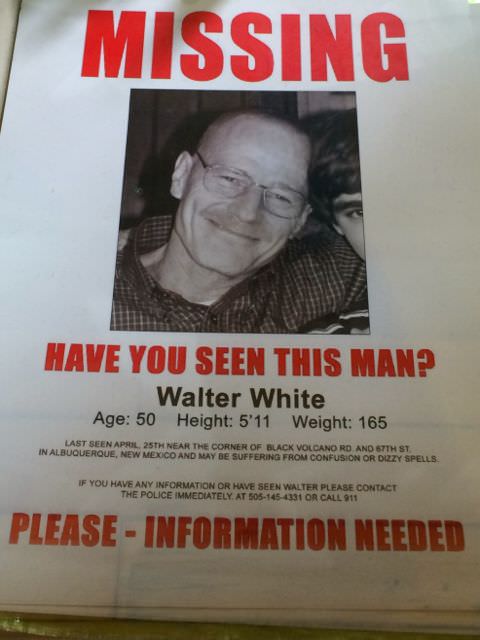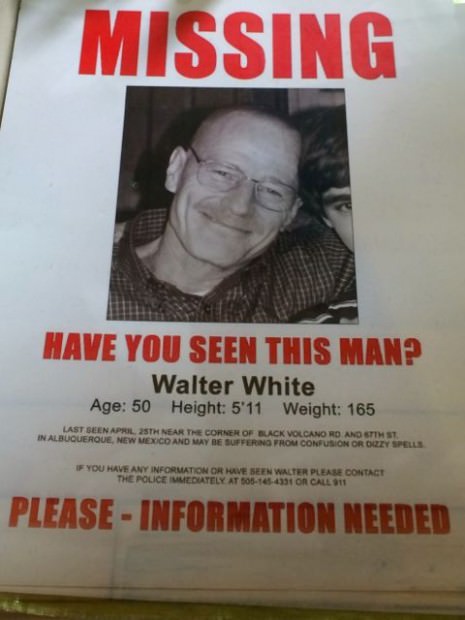 Albuquerque wasn't on my travel radar until I became addicted to Breaking Bad and despite disconnecting myself from the daily TV culture years ago, I still found a way to watch every single episode. In binge-like fashion. So, when I found myself unexpectedly in California..and then Arizona, I knew I had to go the extra mile (or few hundred) to get to the New Mexico where the show was filmed.
Researching the options extensively, I weighed up the possibilities of hiring a car and taking a self-guided trip versus taking one of the many paid tours now on offer in Albuquerque. Ultimately, I opted for a day of location spotting with Breaking Bad RV Tours.
Why Breaking Bad RV Tours?
Often, it can be hard to tell one tour company from another when you're doing your research on the internet, but my tour company decision wasn't difficult this time because Breaking Bad RV Tours stood so far out from the crowd.
Why?
you got to tour over 20 sites;
but most importantly, you get to do it while sat inside one of the actual RVs used in the show;
and not only that, the tour is hosted by Frank, a wonderfully affable and highly gregarious, actor who was in the show.
Although riding in the RV was the factor that helped me make my decision, it was Frank's passion, encyclopaedic knowledge and contagious enthusiasm for all things Breaking Bad that made this tour so exciting and special. And, I'm going to go so far as to say, Frank made this one of my BEST TOURS EVER.
The tour with Frank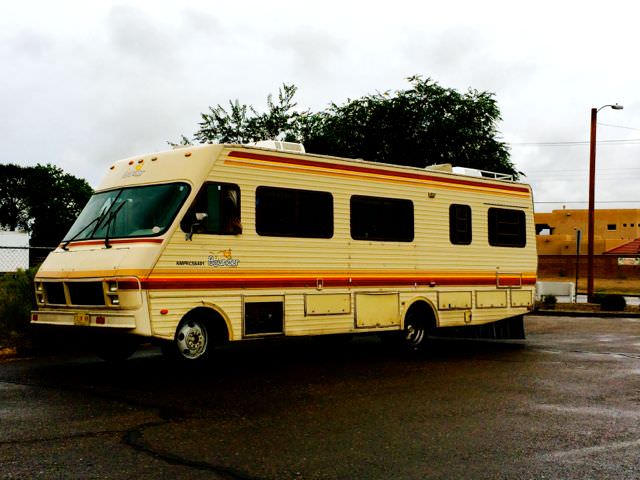 What follows is a run down of some of the highlights from the tour together with some clips from the show. If you haven't made it to the end of the show, either walk away now, continue your viewing and return when you're done…or run the risk of SPOILERS.
If you haven't started watching the show yet, cancel your life for the next few months, call in sick to work and get on with it!
The RV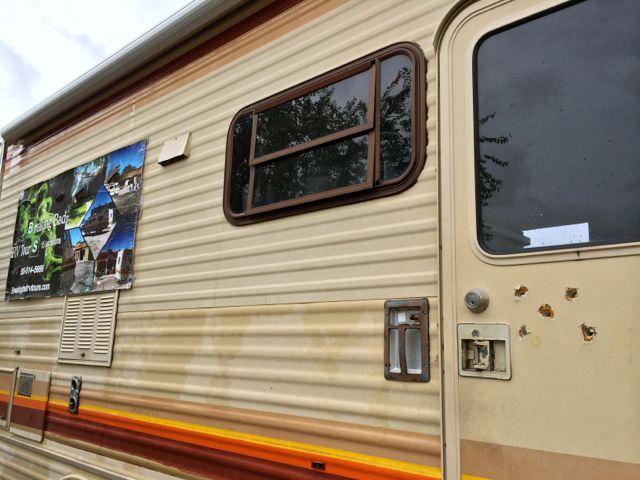 Three RVs were used in the filming of the show and one of those used is in the possession of Frank for his Breaking Bad tour.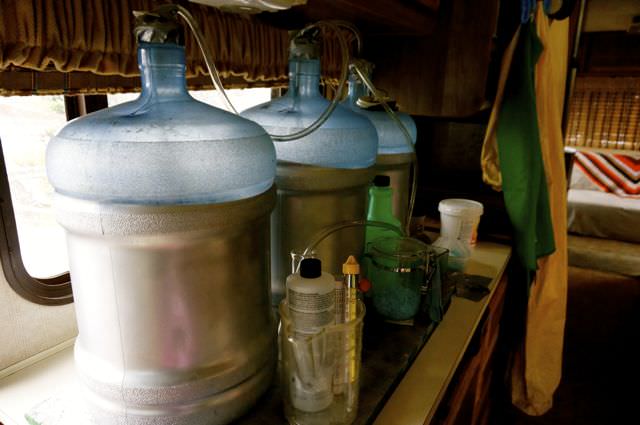 Inside the RV, you quickly come across the cooking station which is complete with blue crystal meth (more on that below), chemistry equipment and, obviously, a bunch of bills.
Oh, and remember that bell that Salamanca (the retired Mexican drug kingpin in the wheelchair) would ring – that's now in Frank's possession and gets used a lot on the tour – Ding! Ding! Ding!
No detail is spared inside the RV with gas masks and protective suits hanging up, like those worn by Walt and Jesse in the show.
At the back of the RV you'll find the scorched bear from the plane crash in Season 3.
After a serving of blue sugar coated donuts, the tour makes a start.
We visited over 20 filming locations on the tour. Here are just some of them.
Walt's House
On a quiet suburban street in Albuquerque, New Mexico, sits an inconspicuous house that wouldn't raise an eyebrow if you didn't know it was used for the exterior shots of the house where Walter, Skylar and Walt Junior lived…
…and where this famous pizza throwing scene was filmed.
Inside info from Frank: over 20 pizzas were ordered in preparation for this scene but Bryan Cranston managed to flip that pizza up there in just one go!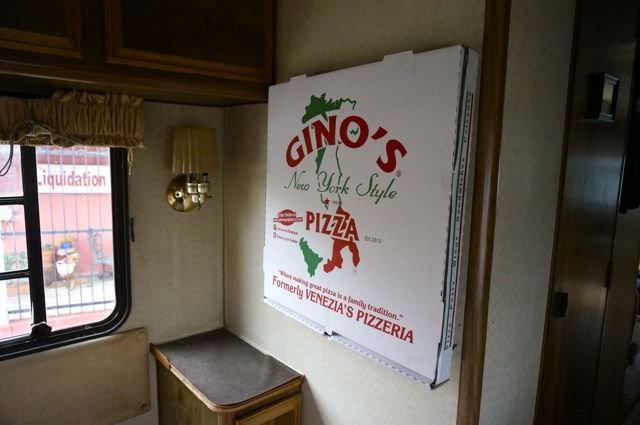 Jessie's Aunt's House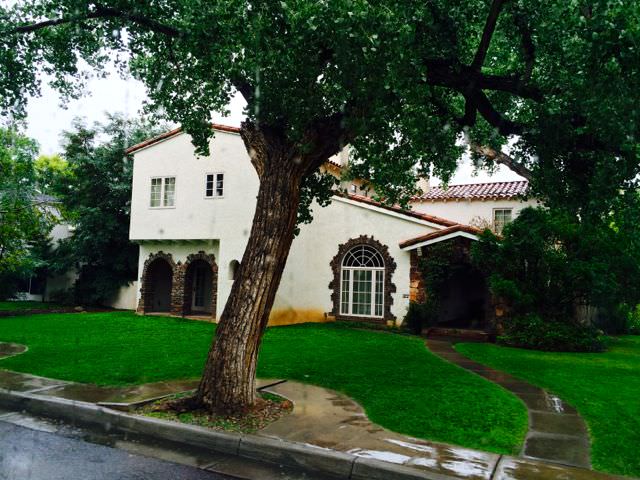 Some renovations have been made to the side of the house where the RV was parked, but the rest of the house, where Jesse first lived in the show (and where he has the acid bathtub incident), looks the same.
The Hardware Store
And speaking of the bathtub incident, we also got to see the store where Jesse went shopping for a body disposal bucket.
The Gas Station
Remember that episode in Season 1 where Walt gets supremely p!ssed off by a loud mouth obnoxious, BMW driver and winds up blowing his car up? Well, the tour took us past that gas station. It's a significant location as it is the moment where Walt's character really breaks bad for the first time.
Denny's
Denny's is probably one of the first diners I ever visited in the USA over 10 years ago so despite being a chain, it holds a strangely special place in my travel memories. For that reason, it delighted me endlessly to see Walt celebrate his birthday there (even if he is going through a life-low at the time in the show). And the Denny's where this scene was filmed was on the location list in the Breaking Bad tour.
RV Cooking
The RV spewing out the vaporous product of crystal meth cooking is an iconic image from the show and parked in the car park of Los Pollos Hermanos, Frank recreated the scene…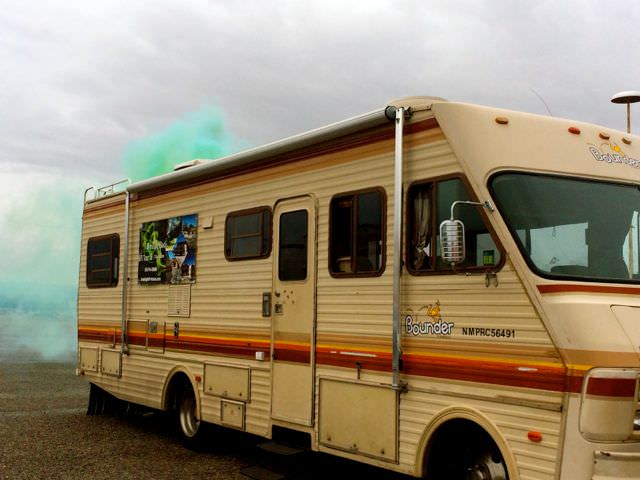 Jane's House
As you'll recall from the show, Jesse doesn't spend all of his time living in his aunt's house and for a time he finds his own place living next door to ex-drug addict Jane. Although Jesse enjoys a glimpse of happiness, things don't end so well. Perhaps that's the reason the neighbouring houses of Jesse and Jane (above) are currently for rent!
Los Pollos Hermanos
I simply couldn't resist the opportunity to pose next to the Los Polls Hermanos sign on the Breaking Bad tour.
The restaurant where the filming took place is actually called Twisters but capitalising on the show's success, there are plenty of Los Pollos signs around.
Los Pollos is the restaurant where Walt convinced Gus to work with him.
Sadly, Gus wasn't working the day we visited.
Los Pollos (or, rather Twisters) is a food stop on the tour and I decided to try one of the local dishes – green chile stew. In the spirit of maintaining complete honesty, I'm afraid my food at Twisters tasted like gelatinous, salty slime. Sorry. Maybe not trying the fried chicken is where I went wrong! But, ultimately, most of the fun was to be found in ordering at this famous restaurant, rather than tasting the food itself.
Super Lab
Cleverly hidden in an industrial laundry, Walt reaches the pinnacle of his cooking career in the super lab where he cooks for Gus. Sadly, there is no basement or super lab tucked away here (all underground filming went on in the studios), but seeing the concealed entry to the lab was enough for me.
Inside info from Frank: the laundry staff in the show were the staff that actually work in the laundry.
The Car Wash
I'm going to take a minute to get over laughing at this clip, which has to be one of my favourite from the show…
…ok, over it…mainly…
The car wash is obviously a significant location in the show and it was a memorable part of the Breaking Bad tour. The interior doesn't look quite like it does in the show, because it is a functioning car wash, but there is plenty of Breaking Bad memorabilia to browse.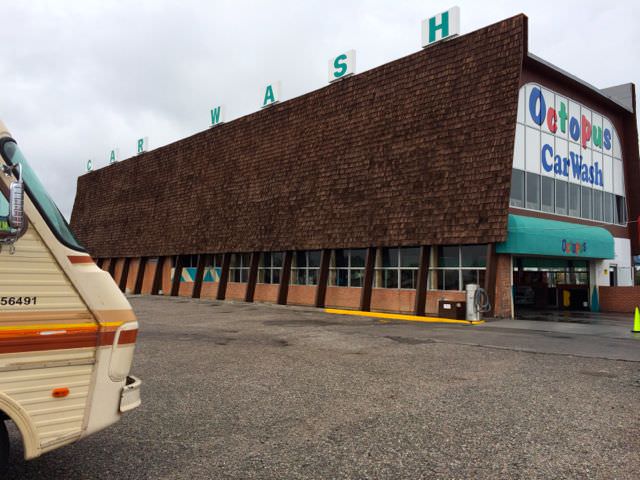 All in all, after more than 20 stops we came to the end of what was most certainly an A-1 Day!
An extra stop: Candy Lady
The blue crystal meth used in the show was created by a local candy maker aptly called the Candy Lady and you can visit her store in the old town of Albuquerque to buy postcards, stickers and the candy meth (if you take a tour with Breaking Bad RV Tours you get a free bag).
Just beware, I had to eat all of my candy before boarding a plane to my next destination – I didn't want to get questioned by Colombian authorities on touch down, even if it was just sugar!
Albuquerque Old Town
Despite the fact that many people now visit Albuquerque for it's Breaking Bad filming locations, I was very pleasantly surprised to find that the old town is very beautiful and has enough shops, cafes and restaurants to occupy a day.
Better Call Saul
Spin-off show, Better Call Saul, was being filmed while I was in Albuquerque and while I'm generally hesitant about spin-offs, I'm unexpectedly excited for this show to hit the screens. Maybe it's because the show promises to feature the vast majority of the characters from Breaking Bad…and you never know, it might well prompt me to make a return visit to Albuquerque.
Useful Information
For more information and to book online, see Breaking Bad RV Tours.
I'd highly recommend booking far in advance as the tour is popular and with only 12 spots per day, fills up fast.
Albuquerque is located on Route 66 and can also be reached by Greyhound and Amtrak (the station is well located in downtown).
The tour costs $95 and $5 of each ticket goes to Healthcare for the Homeless to help prevent substance abuse.
My tour was complimentary of Breaking Bad RV Tours.