I've drunk Bombay Sapphire gin all over the world. Literally.
In that bar in Hong Kong, where the theme was blue, and Bombay Sapphire was the perfect fit.
In that tiny mountain town in the USA, where I came across the white label version (mystery behind that uncovered below).
I've found it on offer in Thailand, Turkey and Timbuktu. Well, probably. If I'd been to Timbuktu.
My point is, Bombay Sapphire is everywhere. And I've had the head-based incursions (ahem, hangovers) to prove it.
So, it would stand to reason that this British born girl would have tasted this British born drink in distillery from which it came?
Strangely not.
Until recently.
I'd done a Bombay Sapphire gin tasting experience back when tasting at Vinopolis on London's South Bank was a thing. I've sipped my way around the new millennium gin craze in London. I've even crafted my own gin at the Ginstitute on Portobello Road.
Yet, it wasn't until I received a Christmas gift from some wonderful friends that I finally visited the Bombay Sapphire distillery in England. What follows is an overview of the Bombay Sapphire disillery and how to plan your own visit to Laverstoke.
Let's be honest, most people will want to visit the Bombay Sapphire distillery so that they can taste the gin. And, of course, that's definitely on offer. What surprised me was how much more there was to the Bombay Sapphire gin experience. Here's a quick run down of what you can expect.
Laverstoke mill – a mill that dates back to 903 A.D.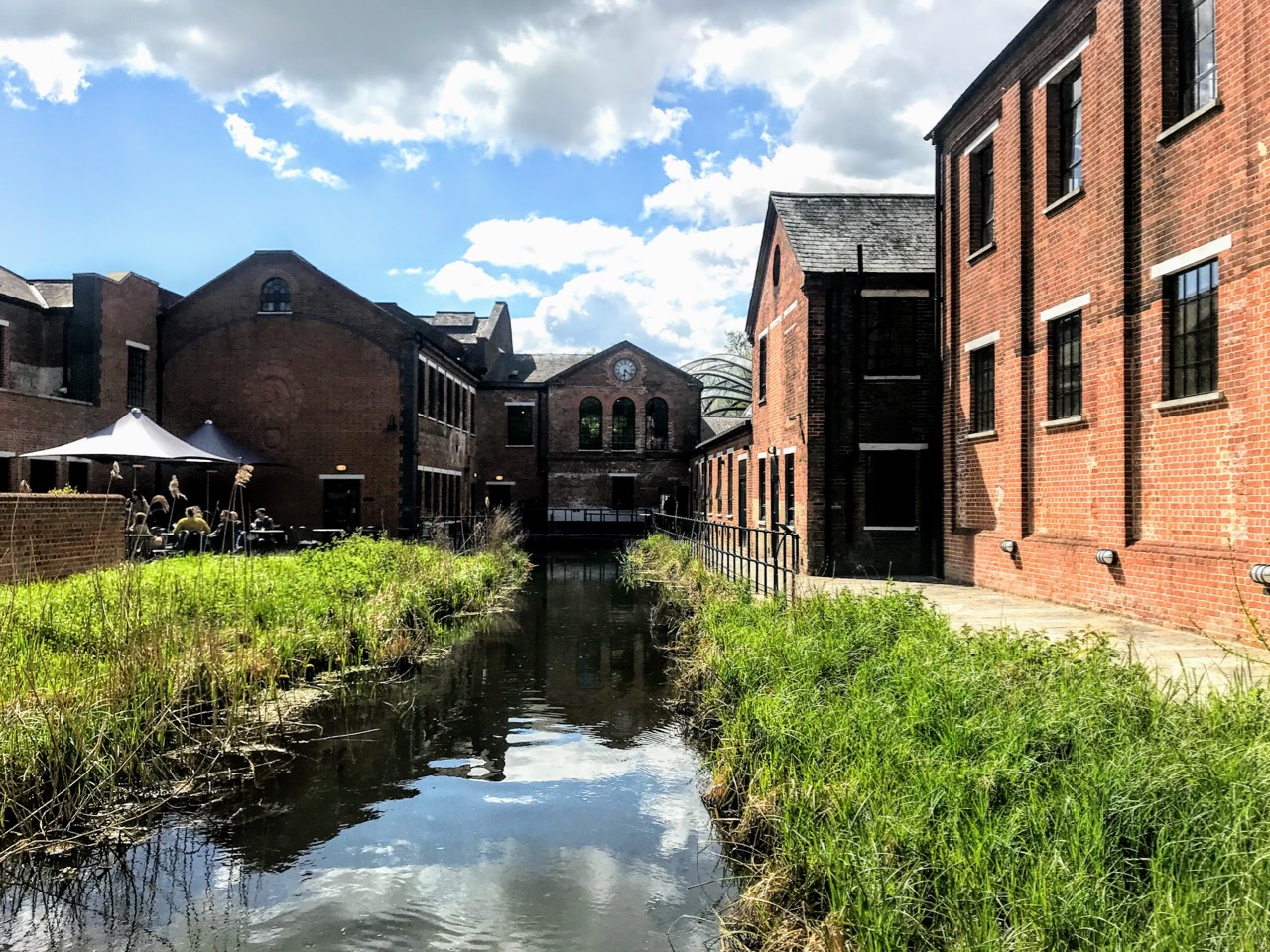 Laverstoke Mill is the perfect backdrop.
Old mills typically don't have an exciting past – the phrase 'run of the mill' wasn't borne from a history of high jinks. But Laverstoke mill is a bit different. Sure, it started out as a…er…run of the mill, mill (sorry, not sorry), grinding corn. But over its life it has fallen into the hands of Henry VIII (at a time when you'd have thought his hands might have been full with his wives). And, thanks to its use as a paper mill producing bank notes for the Bank of England, Laverstoke Mill has been the location of a bank robbery as well as having several members of the Royal family traipse through.
Add the fact that it's old enough to feature in William the Conqueror's Doomsday book, which is the quintessential definition of 'really old' in the UK, and you have a fitting history for a mill that now distills one of the UK's most iconic and oldest gins.
You can read more about the mill's history here.
Don't miss: The River Test runs through the site of Laverstoke Mill and is reputed to be the purest chalk river in the UK. I could have sworn that the guide said the water is used as part of the gin distillation process but now I'm committing that to the world wide web, I'm no longer 100% sure. Can someone check and report back if they visit? I don't trust the internet on things like these, what with people like me creating #FakeGinNews as and when we feel like it.
The Gallery Room – A history of gin at Laverstoke Mill
Although gin production was a relatively recent addition to Laverstoke Mill's resume, Bombay Sapphire's heritage dates back to 1761 when a northern chap called Thomas Dakin decided to treat himself to a plot of land in Warrington where he could distill his gin. Impressively, he was only 24. (Feel free to take a moment to feel inadequate.)
However, it wasn't until 1831 when the real magic happened. That year, the Dakin family struck upon the idea of separating out the botanicals, which used to be 'cooked' in with the booze-producing grains. Instead, they decided to separate the botanicals, effectively steaming them and using the vapours to give a more delicate and distinct flavour to their gin.
It's this same vapour infusion distillation method – the Coke formula of the gin world, if you like – that is used today.
Dakin's Warrington Gin and distillery changed hands many times over the year. In the 1950s, the drink was rebranded as Bombay Dry Gin, but it wasn't until 1985 when the man behind Absolut Vodka injected the final marketing twist – adding two new botanicals and, of course, crating the iconic blue bottle – that made Bombay Sapphire what it is today.
Did you know? The man behind both Absolut Vodka and Bombay Sapphire is called Michel Roux. But he's not the Michel Roux, celebrity French chef, you're probably thinking about. He's just another food and drink genius who also happens to have the Michel Roux name.
You can read more about the history of Bombay Sapphire.
The entire history of gin is wonderfully laid out in sip-size chunks in the Gallery room at the Bombay Sapphire distillery.
Botanical gardens – The Bombay Glasshouses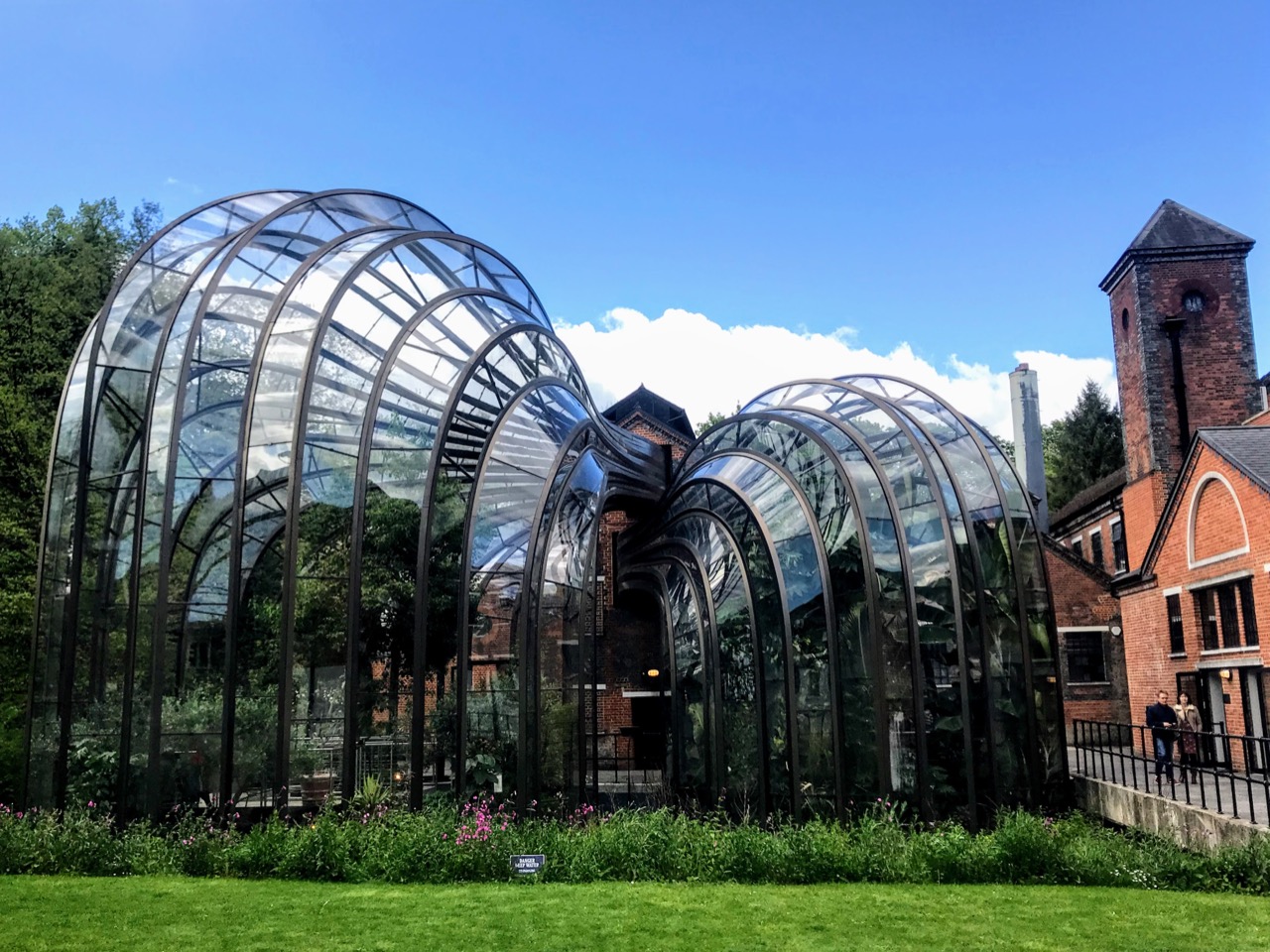 See those big glass domes above? They're the Bombay Sapphire botanical gardens. Ok, they're technically called the Bombay Glasshouses. The main point is, these glass domes are filled with the botanical plants that end up in your gin.
Travel tip: go with a friend who knows one end of a plant from another. The botanicals were not as well labelled as I'd have liked and I spent the whole time asking random strangers 'what's that?'
Fun fact: the best thing I learned in Bombay's botanical gardens was that there's a variety of cinnamon called 'Bastard cinnamon'. Having spent the previous week in the USA bemoaning the fact that every single cake I bought had 'bastard cinnamon' in it, I felt somewhat vindicated.
Don't miss: the gigantic butterflies. And by don't miss them, I mean don't wander out with one on you (they liked my flowery scarf). And certainly don't tread on one. I'm pretty confident that will send you straight to gin hell (the version of hell where no gin exists).
The Botanical Dry Room
With the exception of the bar (for obvious reasons), the 'sniff it and clip it cocktail crafting room' was my favourite spot. You'll find it more dryly referred to as the 'Botanical Dry Room' on the Bombay distillery map. My description comes from the fact that you get to wander around this room, sniffing each of the botanicals that go into Bombay Sapphire. When you find one (or two, or three… or more) that you like, you clip a hole on your tasting card. Later, in the bar, your preferences are used to recommend a cocktail that matches your favourites.
Vital information: do not lose this card. It's your passport to a free drink at the end.
The copper stills – The Dakin Still House
From the Botanical Dry Room you can access a guided tour of the Dakin Still House, where you can see the original Dakin still in operation. The tour guide gives a 15-minute walk through the gin distillation process while you get to ogle the copper stills. Cutely, they've got names – say hello to Henry and Victoria from me, and tell them to keep up the smashing work.
If you can, try to time your tour of the still house so you can see distillation in action. I can't find any information about the timing of this on the Bombay distillery website (perhaps it's top secret?) but it does happen a few times a day so either email ahead or ask when you arrive.
The Mill Bar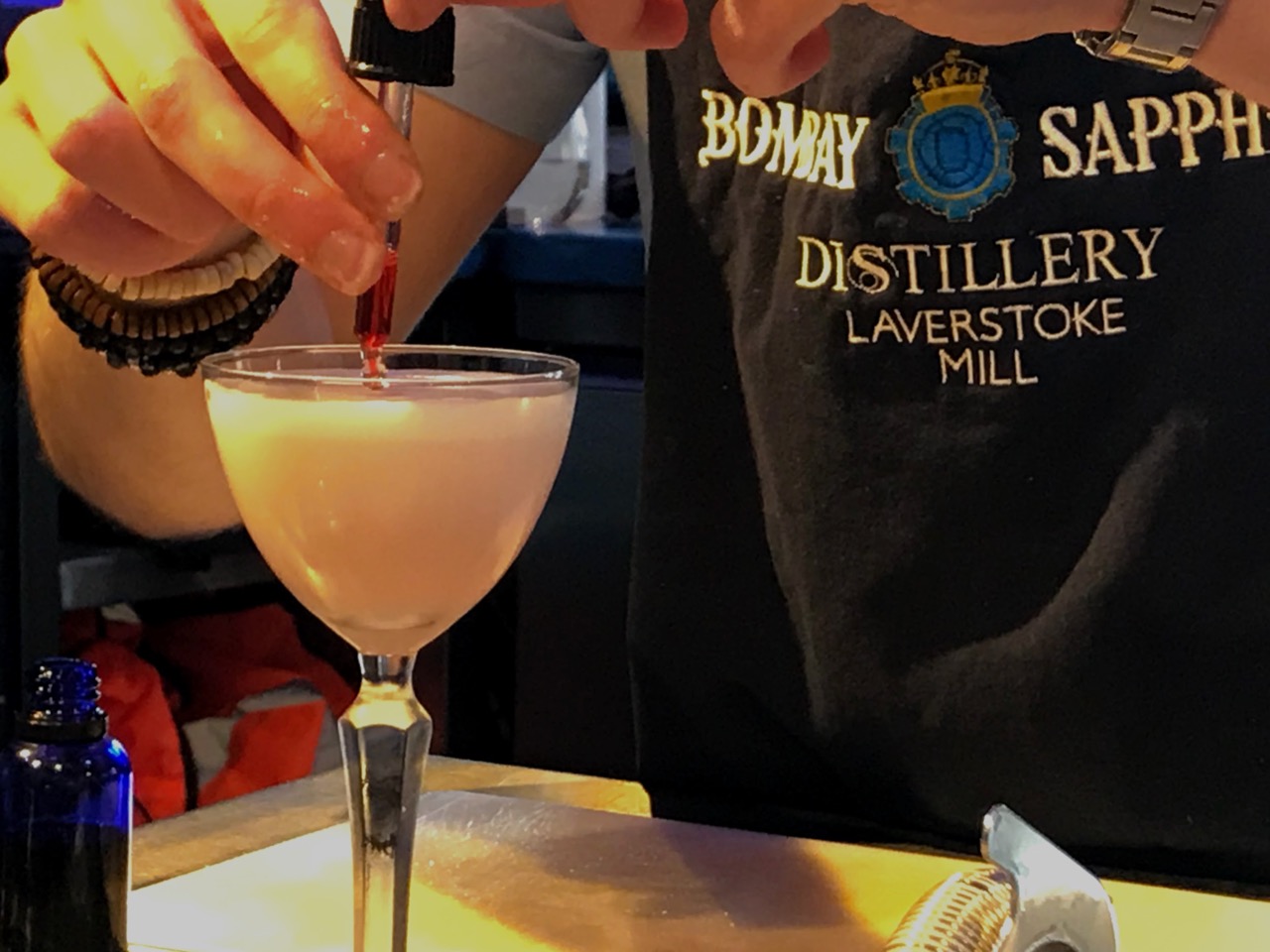 Even if you don't get to see the stills in action, you can definitely see some gin in action at The Mill Bar. Unless you're especially enthusiastic (making a beeline from the entrance), this will be the last stop on your visit. At the bar, you can trade your 'sniff it and clip it' card for a cocktail (don't tell me you've lost it – I did warn you).
To be honest, the free cocktails looked impressive but they were a bit drowned given the ratio of mixers and ice to the sole measure of gin. We also ordered a round of paid for cocktails and they were much more to our liking; apart from the cocktail with the blue paint. Don't order that unless you like to drink your granny's rose-scented perfume. Note to Bombay Sapphire: all rose flavoured items should be coloured pink as a warning, not blue.
Tip: take a seat upstairs – you can see all the cocktail making in action and there's less bustle. Also, catch one of the waiters as they wing by and you can order drinks right to your seat.
The Gin Shop
It's not a proper tourist attraction unless there's a shop at the end, right? And this shop had potential to be a highlight of the Bombay gin experience – who doesn't want to replicate at home what you've tasted on site? However, it was an opportunity missed. Unless you're after a limited edition Bombay Sapphire glasses that looked too expensive to even look at, there's not much on offer. You can buy gin, obviously. And tonic. But that's nothing I can't buy at Tesco. I expected a lot more Bombay swag on sale. And was disappointed to find an almost empty shop.
The one function the gin shop did have was doling out a free Bombay Sapphire miniature gin and miniature Fever Tree tonic to anyone who was a designated driver. This was a nice touch, meaning everyone got a gin from their visit.
If you are the designated driver, there are a few mocktails on the menu, which you get for free in addition to your miniature gin from the shop.
How to visit the Bombay Sapphire distillery
Here's a quick guide to how to plan your own visit.
Types of tickets available
There are several tour options on offer at Bombay Sapphire.
Self discovery experience: I did the Self Discovery Experience which was £16. This includes a free guided tour of the Dakin Still Room and one cocktail in the Mill Bar. For the other stops, you show yourself around. There are several info points around the place as well as some historical details on the map you get when you arrive. There's also a gallery room if you want to dive deeper into the history of Bombay Sapphire and Laverstoke Mill. For most people, this ticket will be enough.
Hosted experience: If you prefer to take a fully guided gin tour, you can book one for £25. This takes around 2 hours (excluding your time at the bar afterwards). Plan ahead because this gin tour only runs once a day in the morning (10 a.m. in summer and 11 a.m. in winter).
Heritage and Horticultural Experiences: If you've got more time/a deeper interest, you can book either a heritage or a horticultural experience for £40 each. Check online to see when these run because they're not every day.
Masterclasses and tasting experiences: there are several tasting tickets on offer ranging from a one-hour cocktail masterclass to a gin tasting experience to one off events (at the time of writing it was a gin and supper pairing event – yum, yum). So, if you're visiting for a special occasion or really want to make the most of your visit, these are the tickets to book (prices from £40-£150).
You can check out all the ticket types and book here.
How long do you need?
I'm that person who reads everything. I also spent an inordinate time trying to identify the botanicals. Even with that, I'd say you need about an hour to visit the site, including the tour of the still room. How long you need at the bar is entirely up to you.
Opening hours
The distillery is open 7 days a week from 10am to 8pm with last admission at 6pm.
What to wear
Don't worry, there isn't a dress code e.g. you have to wear Bombay blue (though I'm kind of tempted to tell you that just for fun). But there is a no high-heels or open toe shoes rule. I can't decide whether this stems from health and safety worries or whether one too many butterflies have met their end on the tip of a stiletto spike. Either way, put on your ballet flats. You too, gents.
What about food?
The Bombay website says there is a green double-decker snack bus on site but I didn't see it and I'm pretty skilled at sniffing out snack opportunities. I also can't find any further information on the visitor website so it may have been something they tried and got rid of. The website says that a new cafe is coming in 2019 but it wasn't open when I was there (May).
The Mill Bar did have some snacks for sale but not enough to line your stomach (crisps and nuts). And you're asked not to bring your own food to the mill. So, I'd advise grabbing lunch before you go. Have a picnic on the train otherwise the nearest eatery is Watership Down Inn, which is less than a mile from the distillery (more info below).
You can find out more details about planning your visit here.
How to get to the Bombay Distillery in Laverstoke
Laverstoke Mill is located is a small village in Hampshire, south-west of London, along the M3 motorway. It's 60 miles from central London, around 1.5hours by car and just 40 minutes from Southampton. Longer if the King decides to have a razz around town and traffic jams up.
If you can't con…I mean convince…one of your group to be the designated driver, the distillery operates a shuttle bus that runs from Overton or Micheldever train stations to the distillery and back (£3 for a return shuttle ticket).
To get there from London, take SouthWest trains from London Waterloo. You have two route options:
London Waterloo to Overton (train destination: Exeter St David's via Basingstoke) – shown in green on the map above.
London Waterloo to Micheldever (train destination: Weymouth via Baskingstoke) – shown in pink on the map above.
I use Trainline (website or app) to book and check train times in the UK.
You can find more details about the Bombay Distillery Shuttle and check the timetable here.
I recently explored the south coast to take a cruise with Swan Hellenic around the British Isles. It's a great day trip from Southampton.
Where to stay near Bombay Distillery
Ok, it's not quite weekending in The Hamptons – no beach, for a start – but Hampshire is a beautiful, under-explored part of England. And, let's face it, can you really be bothered to traipse back into London when you're full to the gills on gin? As well as serving food, the Watership Down Inn has rooms.
If you're not quite ready to visit, you can have a virtual tour – just check out the official distillery video here.
---
White versus blue Bombay Sapphire bottles?
If you've got a keen eye, you may have come across Bombay Sapphire being sold in a decidedly plain looking white bottle. I first came across this version in the USA where myself and the bar tender concluded it must be some sort of export version.
We were wrong. The correct answer is:
Bombay Dry Gin (in the white bottle) – contains the original Warrington Gin recipe featuring the eight botanicals used by Dakin back in the day: juniper, coriander, angelica, almonds, lemon peel, orris, liquorice, and cassia bark.
Blue Bombay Sapphire – is Michel Roux's revised version and is the drink you're most likely familiar with. It has 10 botanicals: all the above plus cubeb berries and grains of paradise. (Nope, I don't have them in my spice cupboard either). This version was developed to be more gentle on the palette so as to appeal to the vodka crowd that was prevalent at the time.
Since the latest gin craze took hold, two more versions have hit the bars.
Bombay Sapphire East – this popped up a few years ago and included two further botanicals – lemongrass and peppercorn. I wasn't a huge fan. I still see it around but it's no longer featured on the Bombay Sapphire website, so maybe I wasn't the only one who didn't want a second glass.
Star of Bombay – this is the newest Bombay on the block and, like Bombay Sapphire East, it saw the addition of two further botanicals to the 10 botanical recipe – ambrette seeds and bergamot orange peel. I've not tried this one and I have no idea what an ambrette seed might taste like so I can't make a guess. I'll be keeping my eye out for a tasting opportunity. Let me know in the comments below if you've tried it.
You can read more about the Bombay Sapphire product range here.
So, that's my guide to how to visit the Bombay Sapphire Distillery at Laverstoke Mill, England. If you've got any questions, let me know in the comments below.
Related Articles:
Share it on Pinterest…