After my Intrepid tour ended I holed up in Loki (hostel in La Paz) for a few days to recharge and catch up with myself. The potential problem was that Loki was so inviting I was at risk of never leaving. The rooms were less than a fiver a night, perfectly clean and safe. The toilets were western, had seats, flushed, didn't stink (most of the time), came with loo roll and…wait for it…soap. Add to this a cool bar on site that served cheap booze and all manner of comfort food – chips and gravy; chilli and chips for less than £1.50; an oxygen bar for breathing off the hangover and comfy bean bags and I was coming to wonder why I should leave. Loki is a place that allows you to trade work for a bed and food so a couple of shifts behind the bar and I could have become a permanent resident, like one of the guys who turned up last March for three days and is still there.
In truth I was sorely tempted after a month of moving towns practically every other day with 10-15 hour bus journeys in between. I was feeling burnt out and Loki was holding the potential key to serenity. (Apart from the parties, of course, but they were a welcome break to the days of chillin'.) Plus, the next item on my self-imposed itinerary was the Bolivian Salt Flats – an apparent highlight in Bolivia where a once luscious lake has dried into desert leaving behind hundreds of miles of salt plains. A white, glowing beautiful landscape. Sounds great, but the problem was the trip involved four days trekking into the desert. Which meant desolation. No showers (again) and questionable toilets (always…except for at Loki). So, for this reason I was reluctant and I showed my resistance by spending my last couple of days in La Paz holed up in the hostel. Eating chips three times a day (ok on the waistline on account of the generally dodgy health standards in Bolivia which almost guarantee a permanently dodgy stomach) and chilling out in the bar.
The crunch point came, however, when I realised that I had very quickly come to know the barmen on first name terms. When I found myself caught in a conversation about what I was going to wear to the New Year's Eve party I knew I had to move on. So, forcing my own hand, I booked my trip to the Salt Flats.
Off to the Bolivian Salt Flats
It was hard leaving behind my chips and gravy at Loki, especially when the start of my tour involved ANOTHER overnight bus. (Sinking heart). Settled in my bus seat I was instructed to read a laminated card about the ensuing journey. Main point to note: the journey from La Paz to Uyuni (salt flats) was 548km – ok, I'd done longer before. I read on. 198km were on unpaved roads!! Now, let me explain, in Bolivia the paved roads are the equivalent of UK country lanes with a continual bump. To cross nearly 200km on rock strew wasteland I knew my bones were going to be rattled to within an inch of their life. And I was right. Every 20 minutes or so the bus would stop to allow your heart to realign itself with your lungs and the driver would get out of the bus and check the tyres. And this all happened between the hours of 3am and 7am. Needless to say, it wasn't the best night of my life. I wish I was positive enough to think that the tall, old, fat French man with greasy grey locks reclined into my lap (his chair was broken and so he was almost reclined flat onto me and his chair hit my legs with EVERY bump) enhanced my experience, but I've not reached such grand levels of serenity yet.
Day one of the trip took me and my new 'family' onto the salt flats. (I say family because I've found that when travelling people bond tightly and quickly, aided by the communal sense of being completely alone in the world.) I knew my new family were good when we collectively decided to crack open the tinnies at 11am. A lot of laughter and late nights of card playing and Bolivian wine and rum (Ron) tasting followed.
The salt flats were, as expected, salty and flat 🙂 and very, very white. I'll spare the written description – check out my photos.
The important details about the trip are:
a) Despite being in the Bolivian desert, it was effing freezing – down to minus 11 degrees. How can that be?!?! (Ok, the answer is altitude, but I'll never trust that desert = hot ever again)
b) I have re-confirmed to myself that there is very little that impresses me at sunrise (when I've gotten up to see it – very different matter if I've been up all night clubbing). I wasn't impressed when I saw Angkor Wat at sunrise, so the geysers in the freezing cold were unlikely to raise my pulse. And I was right.
c) Four days without showers is disgusting, no matter how quick it is to get ready in the morning, especially when you've slept in all your clothes because it is so effing cold.
d) Due to my own lack of washing I now know how people get dreadlocks in their hair….and on that train of thought, has anyone ever seen anyone mid-way normal to dreadlocks? I haven't. I might google what it looks like before I try it.
e) The words 'One more bottle of wine' are dangerous when i) said more than twice; and ii) when coupled with a 4am start.
f) I don't care how ironic it is to furnish the salt flat hostel floor with salt rocks. It erodes your feet and looks like a cat litter tray. I'm suing for toenail damage.
g) Flamingos look beautiful and they represent my favourite colour, but they really do stink.
h) Two lagoons is the limit that holds my interest (One red. One green. Done.)
i) However, the best part was the fun you can have with the lack of perspective (thanks to the stretches of white salt).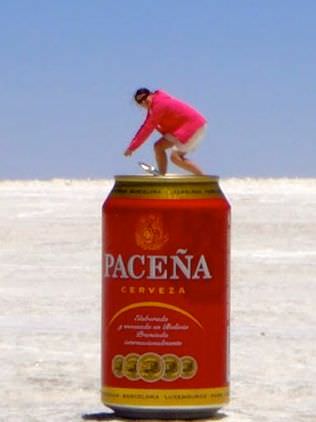 j) I now know why lots of tourists die on the salt flats each year – not from the cold, or lagoon boredom, but borracho (drunk) drivers. I'd like to say my family trip was free of trouble but the driver was celebrating his 30th birthday on our trip and boy was he celebrating. The fact that I made it to Chile alive was literally a miracle.
From the Bolivian Salt Flats to San Pedro de Atacama, Chile
After four days on the road, smelly and exhausted (AGAIN!) I crossed (ANOTHER) border – Bolivia to Chile. It passed without incidence, which I was pleased about and I made it to the small border town of San Pedro de Atacama. I've taken an instant like to this town, which is very lucky given that I am now stuck here for four days until the next tourist bus leaves town for Santiago. (I say next, but what I mean is the next 'Premium' bus with full flat beds, wi-fi and toilets. It may sound extravagant, but the bus is 23 hours and I don't think I would actually survive another overnight bus like the one to the Salt Flats).
My first day in San Pedro was close to a small disaster. Bearing in mind I'd been up since 4am, not showered in four days, had my bones chilled to nothing, been in a 4×4 with a hungover driver for 8hrs and crossed a border (generally stressful and arduous) I was not best placed to cope with travelling challenges. The mistake I made was back in La Paz. I had failed to get Chileano pesos. After 1.5hrs scouring the streets of San Pedro (an achievement given there is less than 30 minutes area to explore there) I nearly fell over with delight when I finally managed to find an ATM that was switched on and took Visa, not just Mastercard. Then the machine ate my card. Arrrrgggghhhh.
Now, I had already 'lost' my bank card in Chivay (relieved of it from my hostel room) and lost my credit card in Puno – my own drunken stupidity on that occasion, so I was down to my last, fully functioning means of obtaining cash. As I looked in stricken panic at the evil machine, which seemed quite satisfied with its lunch of my Gold Barclaycard (yes, I know, not a cool card to travel with given I'm feigning poorness) I could have cried. Then anger set in as a smelly Frenchman (always the bloody French) informed me in his broken English, and with a smile, that the machine had just done the same to him. I'm not sure he understood every word of 'Why the f*ck didn't you tell me, you w*nker? But I'm sure he got the sentiment. Mum, apologies for the panicked phone call that followed – quite what I thought you'd be able to do from thousands of miles away I don't know, much then same when Hannah and I called her dad after we stabbed her freezer with steak knives trying to make ice-cream and it started emitting gas (another story). In both cases, it helped provide calm.
Fortunately, all's well that ends well and when I went back to the evil machine, there was a man there refilling it with cash and handing back the cards it had greedily taken. Biggest phew of my life. Now I'm stuck in San Pedro for three more days with no cash (even if the ATMs become fixed, there is no way I'm offering up my Gold card as another sacrifice). Consequently, I'm eating in very nice restaurants – the ones that take Visa. I'll blowing my budget, but it is necessity 🙂 It is also enhancing my Spanish, my new favourite phrase being 'No tengo dinero. Aceptar Visa?' I'm very much looking forward to Santiago where I am hoping HSBC 'the World's local bank' will have two shiny new replacement cards ready for me…we'll see.
In the meantime, every cloud has a silver lining. In preparation for Santiago I checked out my list of 80 bars around the world to see what lies ahead in Santiago. What I found is that instead of the Chilean cocktail bar being in the capital, it is, in fact, in San Pedro de Atacama!!! What are the chances of that? So, tonight I shall be visiting the Atacama Hotel (acceptor Visa I hope!) for a Pisco Sour. Mmmmmmm. My next promise is to update the 80 bars part of the blog, but one step at a time.
TTFN
Alive and grateful.