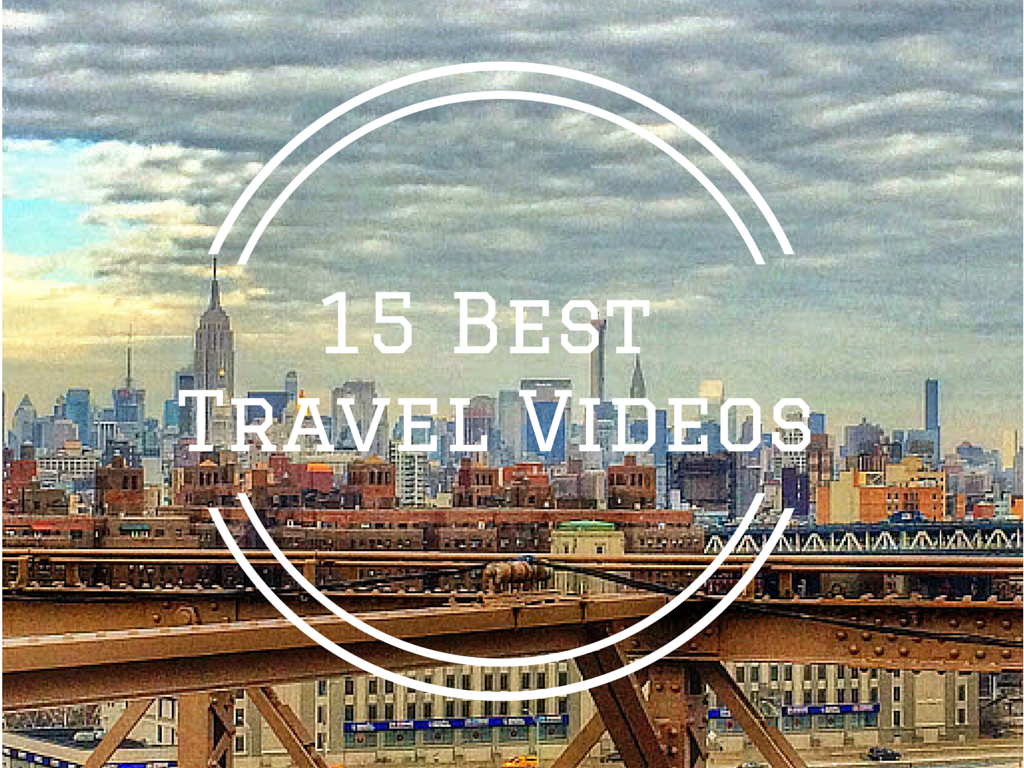 Even full-time nomads need to stop every now and again and for me that usually means the beginning of each year as I sort out my 'life admin' (aka taxes, insurance, health checks and all the rest of that mundane yet essential stuff). So, what does a serious wanderluster do when they are not on the road? Watch videos of other people travelling, of course!
Whether you're stuck in a cubicle with no travel plans on the horizon or you're gearing up for an epic adventure of your own, these travel videos are bound to make you want to pack a bag. These are some of my favourite videos so I hope you like them too. In no particular order of preference here are:
The Best Travel Videos That Will Make You Want to Pack a Bag
1. Watchtower of Turkey
If there were an Oscars of the travel video world, then Leonardo Delassandri would probably win it. This isn't a series of clips by some dude with his selfie stick. This is the real deal.
He says, "I've crossed Cappadocia, Pamukkale, Ephesus, Istanbul, Konya; and tasted baklava, kunefe, doner, the turkish tea; and got the chance to meet the soul of Turkey, its people.. and got their smiles and their hospitality. This is Turkey lived by me from north to south, and I hope you enjoy it :)"
I'm pretty sure you will.
2. Around the World in 360º Degrees – 3 Year Epic Selfie
Speaking of dudes with selfie sticks…
There's a growing school of thought that selfie-sticks are for narcissists and a not so small part of me agrees (and, yes, I confess I have stood in front of one or two of them in my time), but you can't dismiss the fact that this travel video makes you want to tear open your screen and jump right into the shot.
You can watch more of Alex Chacon's videos on You Tube.
3. Caminito del Rey
I remember shaking my head as Expert Vagabond explained to me his plans for hiking Caminito del Rey, a cliff-side walkway in Spain that has crumbled to practically nothing. You couldn't pay me enough to want to take this trail. Hold your breath for the final scene.
If you want to read more about Caminito del Rey, there's a detailed description on Expert Vagabond's website. As for me – thanks but no thanks.
4. Ciao Traveler
Travel isn't always a picnic and that's what I love about Celesty Lee's travel video. Sure, it shows the highs, but it also depicts that lows. And there can be plenty of them when you're in a foreign country trying to figure stuff out. Her attempt at garnering help probably won't make you feel as warm and fuzzy inside as you might hope.
Celesty Lee has a couple more videos you can watch on Vimeo.
5. Time is Nothing: A Journey Around the World
If you want a really big dose of armchair travel, then a great time-lapse is going to do it for you…and this is one of the best time-lapse videos on the web.
17 Countries. 343 Days. 6237 Photographs. There's even a part two if you're hooked. You can follow this traveller at Where and Wander.
6. Hockey in the Himalayas
Ready to feel humble? Andrew Wahba of True Travellers Society took it upon himself to send a truck load of hockey equipment to India. He raised donations, oversaw the shipment to SECMOL (Students' Educational and Cultural Movement of Ladakh) and joined the kids for a game. This video brings a tear to my eyes every time. (Andrew, I've said it once, I'll say it again, you're a superstar!)
You can read more about the project on the True Travellers Society website.
7. Koh Yao Noi
Ready for another Oscar Nominee-worthy travel video? Koh Yao Noi is the version of Thailand many people dream about visiting – tourist free and a pure example of life on such a small Thai island.
8. Epic 30 Day Vacation Wearing Only Tuxedos
Losing all sense of seriousness for a minute, sometimes travel is just about cutting loose and these tuxedo wearing guys make their travel adventure look like one long party.
30 days. 24 cities. 10 countries. 9 Tuxedos. 1 experience of a life time.
If you were ever tempted to go straight from your graduation to the airport, this might be the video that tips the balance.
You can watch all of the #TuxedoChallenge videos on YouTube.
9. Skiing Down Mount Everest
This video definitely falls under the banner "not to be tried at home, kids" but it still deserves a place on this list.  The video features Yuichiro Miura who decided to ski down Mount Everest all the way back in 1970. The entire documentary was the first sports film to win an Academy Award for best documentary in 1975. I promise your heart will be in your mouth when the clip ends.
SPOILER Yuichiro skied 6,600 feet (2000 m) in 2 minutes and 20 seconds before falling 1320 feet before coming to a full stop just 250 feet from the edge of a crevasse. He survived and in 2013 became the oldest person to reach the summit of Mount Everest, aged 80!
10. MOVE
This is an oldie, but definitely a goodie. If, like me, you have a waning attention span, this one-minute video will give you just enough of a bite of travel. If nothing else, you've got to love the perfection of this video.
You can follow the Director, Rick Mereki, on Facebook.
11. Wingsuit Flight Down Silberhorn, Switzerland
Is it just me or does wingsuit flying look like a phenomenal adrenaline rush? You don't really grasp how high these jumpers started until the ground eventually comes into view. Maybe one day I'll get to put a wingsuit on, but for now, my skydive memories will have to do.
12. The Longest Way – Walking Through China and Growing A Beard
So, this is one kind of video I'd never be able to make. And I'm grateful that I can't grow a beard, but I still watched this video with fascination. I don't know what's more impressive – the immense growth of facial hair or the walk across China.
You can read about Christopher Rehage's walking adventures on his website.
13. Dark Side of the Lens
For inspiring people to surf and inspiring people to follow their dreams, this video is all-round winner (something that has been broadly accepted – Dark Side of the Lens has won a heap of awards).
My favourite lines:

I never set out to become anything in particular, only to live creatively and push the scope of my experience for adventure and for passion. They still all mean something to me, same as most anyone with dreams….

If I only scrape a living, at least it's a living where I'm scraping.

If there's no future in it, this is a present worth remembering.

For fires of happiness and waves of gratitude. For everything that brought us to that point on earth at that moment in time, to do something worth remembering with a photograph, or a scar -I feel genuinely lucky and hand on heart say I love doing what I do. And I may never be a rich man, or live long enough, then sadly I have a tale or two for the nephews. And I dig the thought of that.
14. EAT
Why aren't there more food and travel videos out there? When I'm not eating, I love looking at food…maybe not so much watching other people eat (it's hardly an elegant activity) but shots of big plates of delicious yum – more please! EAT, by the same guy who did MOVE is one of the few but great food-travel videos out there. Warning: don't watch this unless it's nearly time for lunch.
15. 3 Years of Travel in 3 Minutes
I'm no videographer and I never will be (I much prefer words) but after 3 years of full-time travelling I decided to do a short montage of my favourite travel pictures. It is indulgent adding this to the list? Perhaps. But it deserves a place here because this is one of my favourite travel videos.
Why? Because there's nothing like looking back at your own trip to inspire you to travel more.
Which one's your favourite? And if you have any others you think I should watch, just leave a link in the comments below.