With fine turquoise waters, powdery white beaches, colonial cities and ancient Maya ruins, it's no surprise Mexico's Yucatan peninsula attracts millions of visitors per year. It's a part of Mexico that drew me in and kept me there – I have spent over a year exploring Mexico and around half of that time in the peninsula. 
From connecting with locals to checking out the major attractions to scouting down tiny taquerias, there are plenty of ways to enrich your vacation in Mexico. In this guide I'll share the best things to do in the Yucatan Peninsula.
But first let's take a quick look at the peninsula: Where is it? What areas does it cover? And how do Riviera Maya and Costa Maya fit in? I've also included a map below to help…well…put the Yucatan Peninsula on a map.
Mexico's Yucatan Peninsula – Overview
The Yucatan Peninsula is made up of three Mexican states: Yucatan, Campeche and Quintana Roo. These states sit on a peninsula located in the southeast of Mexico between the Caribbean Sea and the Gulf of Mexico. For those who don't know, a peninsula is a bit of land that juts out into the sea/ocean. Peninsulas tend to have a lot of ocean-front coastline, often featuring a many beaches. This is a large part of what has made the peninsula so popular as a vacation spot.
As you will see on the map below, the peninsula covers a vast area, neighbouring the country of Belize to the south. Most visitors tend to stay in the area just south of Cancun known as Riviera Maya, where you'll find most of the region's All-Inclusive resorts. There is an additional tourist area even further south known as Costa Maya. (More details below).
This guide includes activities in the whole of the peninsula. Keep that in mind when you are planning any tours or day trips if you're based Riviera Maya or Costa Maya. To give you some context, Merida, the capital city of Yucatan State in the north of the peninsula is a 4 hr 20 minute drive from Cancun.
Here's my more detailed guide to Yucatan State.
Where is Riviera Maya
Both Riviera Maya and Costa Maya are the name of tourist areas on the east, Caribbean coast of the peninsula. Both are located within the Mexican state of Quintana Roo. Because they are effectively tourism names, there are no distinct boundaries, like there are with state lines. And, quite often, where is Riviera Maya can come down to clever marketing by travel agents, local hotels and towns. For example, when I first visited the area, it used to be known as the Cancun-Tulum Corridor and you might hear many locals still refer to it this way. (Some pretty good re-branding, don't you think?).
Above, I've created a map of Riviera Maya and Costa Maya so you can see where they are.
Today, Riviera Maya typically means the tourist area that starts south of Cancun and continues south to Tulum. The area used to start in Playa Del Carmen (around 52 miles / 68 km south of Cancun). More recently, Puerto Morelos to the north has been included as part of Riviera Maya and the town of Felipe Carrillo Puerto, which is quite far south of Tulum is also sometimes included as part of Riviera Maya (even though it more naturally sits within Costa Maya). As you can see, there are pretty blurred lines between where Riviera Maya ends and and Costa Maya starts.
The most popular places to visit in Riviera Maya include Playa del Carmen, Akumal and Tulum. There are many cenotes (natural swimming holes) and excellent beaches in Riviera Maya.
Where is Costa Maya
Like Riviera Maya, Costa Maya is a tourist area on the Caribbean coast. it is located in the state of Quintana Roo. As mentioned above, the boundary isn't fixed and the answer of where is Riviera Maya vs Costa Maya isn't always obvious. What is clear is that the two tourist areas run into each other and share the same spectacular coast line. Since Costa Maya is much further south of Cancun, it is less touristy. This can have the advantage of cheaper prices, fewer people and a chance to see a more authentic side of the area.
Costa Maya tends to refer to the tourist areas south of Tulum all the way to Chetumal in the south, close to the border with Belize. Costa Maya is a relatively new 'invention'. In 2001, a new cruise port was opened just north of the small fishing village of Mahahual. From then, tourism has sprung up along this section of coastline.
When you're booking your trip, be aware that some sights like Chichen Itza are a 3 hr 50 minute drive away from the cruise port. I'd recommend putting together a quick itinerary than looking at the maps below before booking your trip.
The most popular places to visit in Costa Maya include Sian Ka'an, Mahahual town, Bacalar Lagoon and the Mesoamerican Barrier Reef off the coast of the Costa Maya.
Map of Things to Do
On this map you can see the best things to do in the Yucatan Peninsula.
Best Things to Do
Now we've cleared up the geography, here's a quick guide to the best things to do in Mexico's Yucatan Peninsula.
1. Cancun
Cancun is predominantly a tourist resort and it's the quality of the high end resorts that sit on pristine beaches in the Hotel Zone that draw visitors to Cancun. However, step beyond the manicured grounds and there's real Mexican life to be found. I love grabbing tacos with the locals at Parque de las Palapas in Downtown. It's an open air park filled with taco stands that are popular with families. The Hotel Zone and Downtown aren't walking distance – grab a taxi.
How to get to Isla Mujeres from Cancun: If you want to visit the stunning Isla Mujeres, Cancun is the closest jumping off point. The ferry only takes 30 minutes so you can even visit as a day trip. The ferry company is Ultramar and it leaves from Puerto Juarez (Juarez Port). Cancun is also the best starting point if you want to visit the more northern island of Isla Holbox.
Related: How to Drink Tequila Like a Mexican | How to Drink Tequila Like a Mexican | Quick and Easy Guacamole Recipe From Mexico
2. Playa del Carmen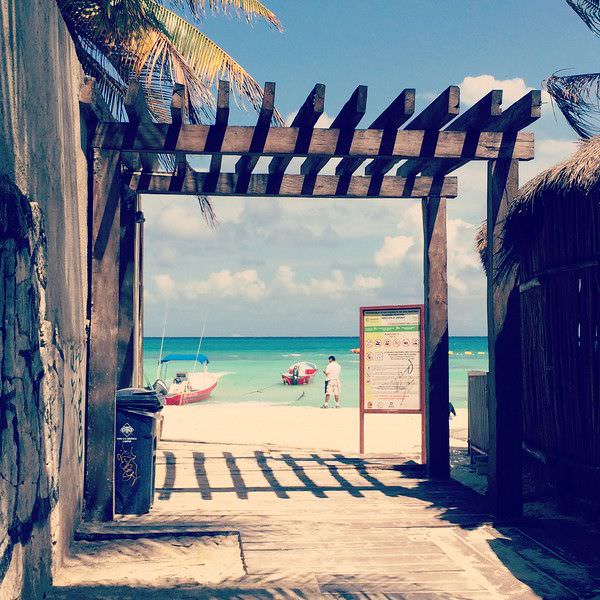 Playa del Carmen has a special place in my heart. I spent a lot of time here, made some local friends and even considered buying a property here at one point. Yes, it gets ever more touristy each year but it's hard to beat the fact that you have the beach, hotels and local restaurants all within walking distance of each other. That makes it really easy to check into a boutique or family-run hotel and put some money back into the hands of the locals.
The main tourist strip is 5th Avenue, filled with souvenir shops, bars and restaurants. One block after that is a golden stretch of sand fronting the Caribbean Sea. And running crosswise to 5th Avenue is 12th Street – famous for the best of Playa del Carmen's nightclubs.
Tips: if you want local food (and cheaper prices), head to 10th Avenue, the next street over from 5th Avenue. From Playa del Carmen, it's easy to hop a ferry to Cozumel.
3. Chichen Itza
If you only have time for one historic sight, make it Chichen Itza. There's a reason this, out of the many Maya ruins in the area, was listed as one of the New Seven Wonders of the World. What is Chichen Itza? Today, it's an archaeological site but once upon a time it was a Maya city. Even though it was built over 1,500 years ago, many of the temples are still intacts. The most famous of which is El Castillo, the Temple of Kukulucán. I've seen a lot of ancient sites, including the Pyramids in Egypt and I can't imagine anyone not being impressed by Chichen Itza.
I recommend taking a tour, especially if you're based in Cancun or further south – the ruins are around 120 miles (193 km) from Cancun. Not only will someone else do the driving, having a guide explain the history will really bring the ruins to life.
4. Isla Mujeres
Isla Mujeres is just a short ferry ride off the coast of Cancun but it feels worlds away. This comparatively under-developed island is the perfect respite from the crowds, especially if you stay overnight. Popular things to do include lagoon-like Playa Norte beach (my favourite beach on Isla Mujeres), and the sunsets there are out of this world. Off the coast, the big attraction is the Underwater Museum of Art, MUSA. An installation of statues on the seabed, including a car and dinner table with guests, MUSA is a must-do. You can scuba dive, snorkel or take a glass bottom boat.
Back in town, don't forget to rent a golf-buggy to explore Isla Mujeres – its the most fun way to get around. In case you're wondering, Isa Mujeres (technically Isla de Mujeres) means Island of Women or Women Island.
5. Akumal
The tiny town of Akumal reached it's first peak of popularity some time in the 1960s when a resort was opened near the beach. These days Akumal has become a popular attraction because of the chance to swim and snorkel with sea turtles. The turtles visit Akumal to dine on the sea grass and have being doing so for a very long time – Akumal means land of turtles in Mayan.
I visited quite a few years ago when there were only a small number of visitors each day. It was an insider tip from a local and I was overwhelmed by the ability to get so close to these gracious creatures.
Since then, there has been a huge boom in tourism in the area and a visit to Akumal seems to be on every tourist's list. This has raised concerns for the preservation of the turtles' habitat. If you can go swimming with turtles at Akumal (and do so in a responsible way), I'd highly recommend it, but do your research before you go.
Tip: Akumal is located between Playa del Carmen and Tulum.
Related: How To Swim With Sea Lions in Mexico – Baja California
6. Tulum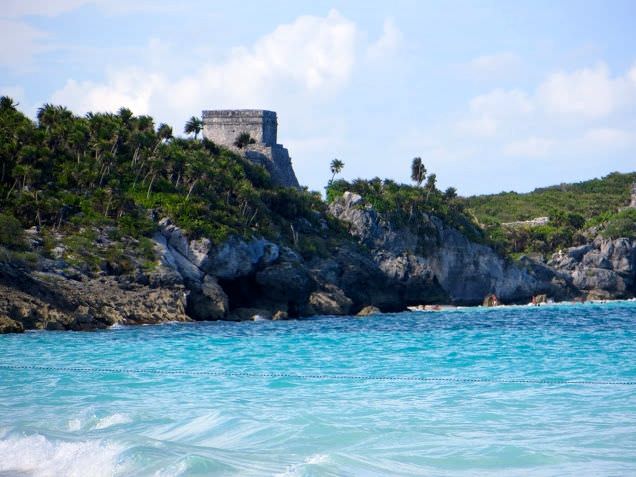 I don't recognise Tulum any more and I'm not sure if that's a good thing. During my first visit, it was a sleepy town with picture-postcard white sand beaches, amazing Maya Ruins and cute beach cabanas for a rustic stay. This all still exists in some form. But add swanky resorts, crowds on those beaches, packed yoga classes by day and thumping clubs at night, and it's a whole different vibe. Don't get me wrong, Tulum is a hot spot and many of those yoga shalas, clubs and hotels are some of the finest you will find. I suppose I just enjoyed the sleepier version of Tulum that once offered a retreat from the resorts of Cancun and Playa del Carmen. But, I guess, progress marches ever on and if you do visit Tulum, there is plenty of opportunities to relax, stretch and party in luxury.
If you do only one thing while you're there, visit the Maya ruins at Tulum. Of all the ruins, none (not even Chichen Itza) can compete with the location of the those in Tulum. Precariously hanging onto the edge of the cliff face that tumbles down towards the Caribbean Sea, the contrast of the dark grey material of the ruins against the backdrops of the aqua blue sea is unbeatable.
7. Cenotes – Natural Swimming Holes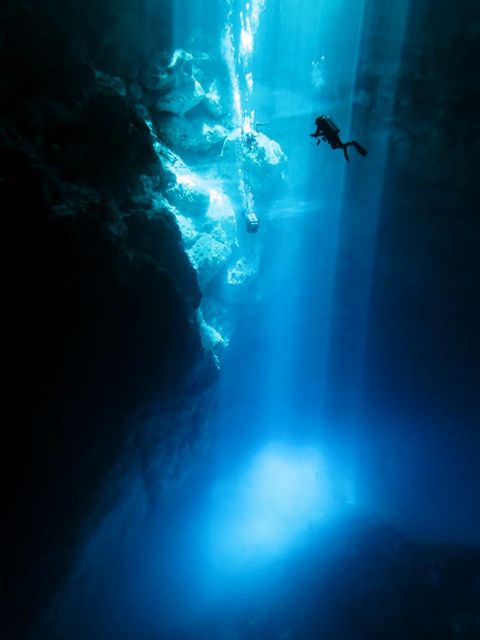 The region is well-known for its cenotes – sink holes that have been created naturally when the limestone ground has fallen away. These natural holes are perfect as an alternative to swimming at the beach.
Whether you decide to swim, snorkel or dive, there are thought to be more than 10,000 cenotes to choose from. Dotted throughout the area, you're likely to find one reasonably close by. Be aware that those around Tulum can get very busy. The cenote in Valladolid is a great option as it's a short walk to the city and can be combined with a visit there.
8. Isla Holbox
Where the deep blue waters of the Gulf of Mexico meet the Caribbean Sea, there is something very magical about Isla Holbox. A sleepy island off the north coast of the Yucatan Peninsula, this traditional fishing island is by far my favourite. Yes, it takes a little more effort to get to, but that's why it retains its sandy streets and oh-so laid back vibe.
Whether you kayak through the mangroves at sunset, swim with the whale sharks, dine on fresh fish tacos or see the bioluminescence by moonlight, Isla Holbox (pronounced 'Hol-bosh') promises a memorable trip.
9. Swim with whale sharks
Who doesn't want to jump into the water to swim with the world's largest fish? Whale sharks can grow as large as a bus and in the right season (from May to September), you can swim with them off the coast of the peninsula. Tours typically leave from Cancun, Playa del Carmen, Isla Mujeres or Isla Holobox. I've seen humpback whales in Maui in Hawaii, turtles in the Florida Keys and Tortuguero National Park in Costa Rica, yet swimming with whale sharks in Mexico has to be one of my best sealife experiences. Check out my guide: How To Swim with Whale Sharks in Mexico. Or just jump right in and book a whale shark tour.
10. Las Coloradas Pink Lakes
Río Lagartos Biosphere Reserve has become a tourist draw thanks to the brightly coloured pink lakes, known as Las Coloradas. You will need to invest some time to get there, since they're located on the northern tip of the peninsula, but it's worth it. What is Río Lagartos Biosphere Reserve? In short, a series of salt lakes and protective wetlands filled with sea birds and wildlife. The pink lakes are coloured by red algae and shrimp in the water.
Tip: although Las Coloradas looks quite close to Cancun on a map, the trip is over 3hrs by car because of the roads – you have to head southwest before going north. Don't be fooled. Taking a tour is a great option.
11. Merida
When people think of the Yucatan peninsula, their thoughts tend to conjure up images of beaches and islands, but the Yucatan has some amazing cities, and visiting pretty Merida makes a nice change to the beach vibe that dominates much of the region.
The capital of Yucatan state, Merida will give you an insight into everyday Yucatan life. The main plaza, Jardin Principal, is beautiful and there is often live music at night. Merida is also a place to get some very good local food.
12. Valladolid
Since we're on the topic of cities in Yucatan, I highly recommend you add Valladolid to your trip. In fact, book a trip to Chichen Itza and most tours will stop in Valladolid. Offering a slower pace of life and a backdrop of stunning 16th century Spanish colonial buildings, it feels like you're stepping back hundreds of years in Mexican history. Bonus: there is a cenote, (Cenote Zaci) a 10-minute walk from Valladolid centre.
13. Uxmal
The peninsula is filled with Maya ruins and Chichen Itza is likely to be top of your list. However, I highly recommend taking the time to get to Uxmal (pronounced "Oosh-mal"). Sporting a distinctively different style, these ruins offer a fascination insight to this interesting culture. Invest in a guide and you'll appreciate the ruins, the history and the myths all the more.
14. Izmal
If you love colonial architecture and brighly coloured buildings, you have to put Izmal, the yellow city, on your list of things to do. With many of the buildings in the city painted a stunning shade of rich yellow, you won't know where to point your camera first. Nearby, you'll find the Maya temple of Kinich-KakMo, which sees far fewer tourists than Chichen Itza.
15. Isla Cozumel
As a main stop on many Caribbean cruises, the island of Cozumel receives a lot of passing trade and this can show with high prices and a slight downshift in the quality of the food. But don't let those niggles stop you. Dig a bit deeper, wander a bit further and you'll discover the reason this bright, beautiful island is a tourist draw. That said, if you have a choice over which Yucatan island to visit, I would place Isla Mujeres and Isla Holbox higher up your list.
How to get to Isla Cozumel: You can take a ferry from Playa del Carmen. The ferries runs every 30 minutes and take around 30 minutes. The main ferry company is Ultramar.
Related Articles:
Main image also by Luna Vandoorne.