Mexico's Yucatan peninsula is a real tourist hot spot attracting millions of visitors per year. Sadly, most of those visitors will check-into their hotel and fail to check-out any of the beauty that makes the Yucatan peninsula one of the most spectacular parts of Mexico.
If you're looking for something more than the beach, buffet, bed formula for your trip, what follows is my list of the best things to do in Yucatan peninsula.
Why take my word for it?
As an independent adventure traveller, I have spent over a year exploring Mexico and around half of that time in the Yucatan peninsula. From connecting with locals to checking out the major attractions to scouting down tiny taquerias, this article is based on my personal experience of the region (not a quick search on Google).
This article isn't supposed to be an exhaustive list of things to do in Yucatan peninsula. In fact, there are a number of tourist attractions you absolutely won't see here – like Delphinus, because I absolutely do not support the cruelty of dolphin tourism.
Instead, what you'll find are the activities and attractions that have been the highlight of my travel adventures in the region and I hope will be the highlight of your trip too.
Cancun
Based on the reaction of many people I meet, Cancun is a bit like marmite – you either love it or hate it. Whichever camp you fall into, I'd highly recommend getting out to explore Cancun because the truth is that there's much more to this resort area than most people realise.
Sure, the mega hotels and spring break atmosphere have resulted in large parts of Cancun losing its Mexican identity (you're as likely to find Tex-Mex and dollar signs as you are tacos and peso prices) but that doesn't mean you can't enjoy the area – you just have to dig a bit deeper.
Things to do in Cancun
Visit the beach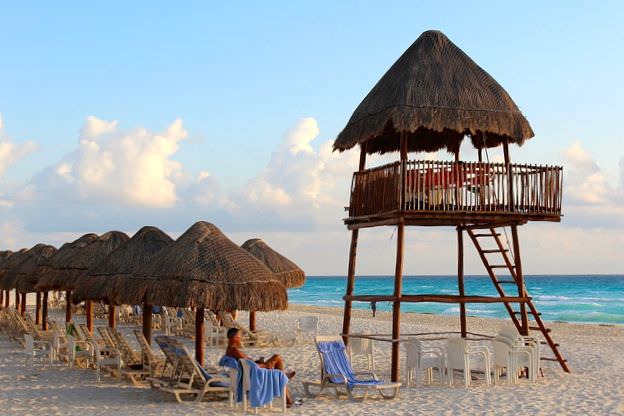 Photo by shinyasuzuki.
Dear Cancun Haters, you may not be the type who like to stay in resorts (they're generally not my cup of tea either), but go sit on the beach in Cancun and swim in the Caribbean waters and tell me it's not beautiful. Hate the crowds? Take a book or some music and just look out to the horizon.
Resort Go-er? Step away from your pool and go sit on the sand, swim in the sea and realise that much of Cancun's beauty rests beyond the travertine interior of your 5-star hotel.
Eat tacos at Parque de las Palapas in downtown
One of the problems with Cancun is that the Hotel Zone (where most vacationers stay) and Downtown (where most independent travellers stay and the locals live) are not co-located. So, in order to get the full feel for Cancun, you really need to see both.
Obviously, the Hotel Zone has the beaches and tourist night life but you can't beat the local life in Cancun, particularly the taco stands that surround Parque de las Palapas. Home to the best food I've eaten in Cancun, this open air eating area is a real joy at night when local families meet for dinner and to chat while their children play. Wander the taco stalls, tempt yourself with one of the desert stalls and check out the arts and crafts on sale. If you were convinced Cancun had no local substance, go to Parque de las Palapas and I'm sure you'll change your mind.
Where to stay in Cancun
On a budget: Hostel Mundo Joven Cancun if you want to be in downtown. For the beach try Hostal Mayapan (with a deserted shopping mall!) or Hostel Natura Cancun (which I've yet to try).
For hotels: Here's a list of the 10 best hotels in Cancun (according to Trip Advisor).
Travel tip: the ADO bus station in downtown Cancun is well located for exploring the entire Yucatan peninsula without the cost of hiring a car.
Playa del Carmen
Playa del Carmen has got a lot going for it. Unlike Cancun, the beach, hotels and restaurants are all located in the same area and are generally within walking distance of each other. Plus, the intensity of the tourism dilutes pretty quickly the further you walk away from the beach and the main "strip" (5th Avenue).
Travel tip
Taxi drivers at Cancun airport are highly tuned into the tourism industry and will think nothing of trying to relieve you of $80 or more to get from the airport to Playa del Carmen. If you want to save money, come out of the terminal, turn right and walk straight to the end of the airport building (you have to go through a small barrier that looks prohibitive but just say ADO (ah-day-oh) and you'll be waved on through).
At the small ADO terminal, you can take the bus for around £7 ($10) one-way per person direct to Playa del Carmen. The buses leave around every 30 minutes and takes just over 1 hour. The bus terminal in Playa del Carmen is located directly in the centre of town and so most accommodation is within walking distance once you get off the bus. Otherwise, a local taxi will be able to take you to most places for under $50MXN (around £2.50/$3). That's a fair saving on the taxi prices at the airport.
You can check prices and the schedule here.
Things to do in Playa del Carmen
Visit the beach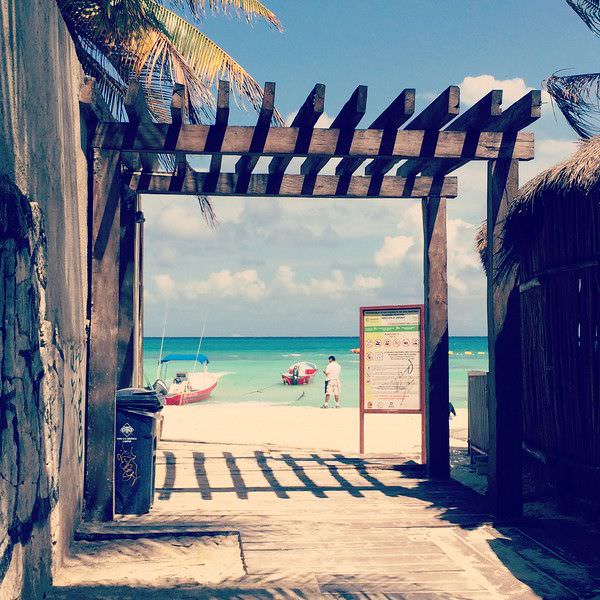 Ok, you'll find this to be a recurring theme in this article. Not because I can't think of anything else to write, but because the beaches in the Yucatan peninsula are by far one of the biggest draws. Unlike Cancun, the main beach in Playa del Carmen is skirted by a multitude of bars and restaurants. That, of course, is a good thing if you're looking for food and drink with a view. However, in recent years the hassle factor has intensified noticeably. And it's not just the bar owners – masseurs, bracelet and fruit sellers are all getting in on the action.
Solution: Head to the far right of the beach, towards where the Cozumel ferry leaves. The bars thin, the number of locals increases, the sunbathers are less prevalent and the hassle is that bit less intense.
Embrace 5th Avenue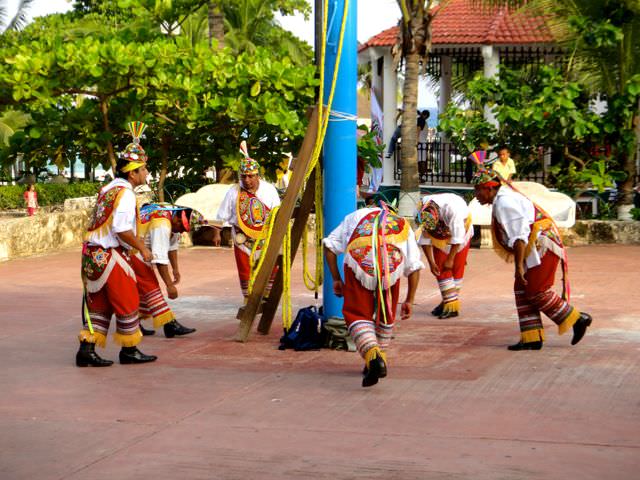 So, 5th Avenue is most definitely the most touristy street in Playa del Carmen, but that doesn't always have to be a bad thing. Whether you're shopping for some Mexican memorabilia, looking for a photo of you donning a gimmicky sombrero, having a drink at a bar while sitting on a swing, watching the local performers or looking for the latest in designer Nike wear, 5th Avenue is the place to be.
I get tired of hearing independent travellers complaining that 5th Avenue, Playa del Carmen and Cancun are too "touristy". Well, guess what – if you're not from there or don't live there, you are a tourist. Embrace it – hell, you might even enjoy it.
Eat on 10th Avenue
When it comes to eating in Playa del Carmen, the best decision you can make is to step off 5th Avenue. For every street you stray from the strip, the prices decrease and the food quality increases exponentially. 10th Avenue (the street one parallel to 5th Avenue) has some of the best tacos and quesadillas I've tasted in Mexico.
Although most tacos stalls don't serve alcohol, if you ask nicely and are discrete, most will let you bring your own from the local OXXO (convenience store).Failing that you can probably pick up one of the tasty aquas frescos (flavoured waters).
Food tip: try tacos al pastor – the meat is cooked on a large skewer with a huge chunk of pineapple at the top to infuse flavour. Served with a chunk of pineapple, onion and cilantro/coriander and lime, these tacos are one of my favourite and at around £1 ($1.50) per taco, they're a bargain.
Experience the nightlife on 12th Street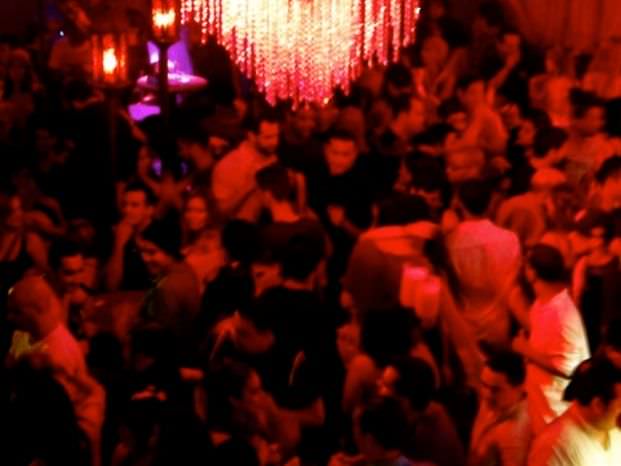 I have to start by saying that 12th Street (running perpendicular to 5th Avenue) can be intense. As you walk down the street towards the beach, the medley of club tunes pumping into the street can be overwhelming. But don't turn back – there is a lot of fun to be had if you know where to go.
One of the big upsides of Playa del Carmen's location is that there are a number of nightclubs and bars that front onto the beach. Nothing screams exotic holiday like dancing with your feet in the sand, looking up at the night stars with the balmy air on your skin.
The clubs and bars that front the beach fall in and out of popularity almost with the seasons and depending on the quality of the DJ in residence. Coco Maya used to be a top spot but has more recently given way to the Blue Parrot in terms of popularity. Poke your nose in to see where the crowds are before you commit to an entrance fee.
There are a bunch of other clubs that line 12th and are open air so pick the vibe you like.
A word on cover charges: sex discrimination is alive and well in Playa del Carmen (and Cancun for that matter). "Ladies Night" occurs in at least one bar in the town each night allowing ladies to drink house spirits and beer for free until around 1am or 2am. How do the bars afford that? Well, they effectively pass on the costs – whether it is inflated cover charges or bar drinks, the boys generally end up paying for what the girl get for free. Agree or disagree with the practice, it's almost unavoidable…almost.
There are a growing number of bars that charge men and women alike and, perhaps unsurprisingly, these places tend to attract more locals and ex-pats. Beer Bucket is one of my favourite "off 12th" bars whileLa Mexcalina on 12th has good priced drinks and music with no cover fees.
Visit Chichen Itza
Chichen Itza fell onto bucket lists around the world when it made it onto the list of New Seven Wonders of the World in 2007. As a result, tourism is booming at this beautifully preserved, wonderfully symmetrical Maya ruin in the Yucatan peninsula.
Sure, those responsible for developing the site for tourism were pretty short-sighted when they cleared the surrounding jungle to nothing, leaving the ruins practically situated next to the coach car park, but there is no denying the stunning sight that is Chichen Itza. Consequently, if you step foot in Mexico's Yucatan peninsula, then you really should make the effort (and travel the distance) to go and see it.
If you have the time and are travelling independently, you're best bet is to travel to Valladolid for a night or two and take a trip to the ruins from there.
If you are on a tight schedule, it's possible to take a day trip from Playa del Carmen (or Cancun). Expect to spend a long time on a mini bus – the ruins are around 250km/150 miles away. But, with an early start and a late finish, you can cram this top sight into your travel itinerary.
Booking tip:
There are literally dozens of tour companies lining 5th Avenue in Playa del Carmen ready to sell you a trip. Use this to your advantage and bargain one against the other to get a good price. But don't forget to check what's included (lunch, snacks?) and find out about stops on the way – surely you would rather spend your time swimming in a cenote (more on that below) than at a rug factory getting the hard sell?
Where to stay in Playa del Carmen
On a budget: The Yak is my favourite hostel closely followed by Hostel 3B if you want to party. Hostel Rio Playa was a bit grungy when I was there a few years ago but from more recent reviews it looks like it's upped its game.
For hotels: Here's a list of the 10 best hotels in Playa del Carmen (according to Trip Advisor).
Isla Mujeres
A short ferry ride off the coast of Cancun, Isla Mujeres is, as yet, relatively under-developed and offers the perfect respite from the mass tourism that can be found in Cancun and Playa del Carmen.
Things to do in Isla Mujeres
Visit the Beach
Rating within the top five of my favourite beaches ever, North Beach on Isla Mujeres is truly beautiful. Not only can you wander out for metres and metres without the lagoon-like water getting past your mid-calf (even by this short girl's standards), the sunsets over the water are unmissable.
Drive around the island on a golf buggy
How many times in your life do you get to explore an island by golf buggy – not that many is probably the answer and so you really should taken the opportunity on Isla Mujeres. There are a bunch of museums and sights along the way but really the true fun lies in hooning around in what feels like a go-cart.
Getting out of the town with the full-sized traffic can feel a bit hairy (thanks to the lack of acceleration in the golf buggies) but most drivers are considerate and will let you pootle slowly past.
Enjoy fusion pitas at Pita Amore
Sure, you're in Mexico so you might not want to cheat on the local cuisine but if you do, the pitas in this tiny restaurant are divine. An Israeli traveller told me about this place and it's now my first dinner stop ever time I get to Isla Mujeres.
Filling, great value and with a fun and lively atmosphere, Pita Amore is more of a place for a good night out than a quick bite. And you can keep the costs even lower by bringing your own alcohol, which the owner will happily open for you and even supply you with nice glasses for your consuming pleasure.
More information at Pita Amore.
Planning your trip: I used the Mexico Lonely Planet Guidebook. Although it's not filled with pictures, it's got all the details you need including train and bus routes and times as well as local maps. If you're not travelling beyond the Yucatan, save space in you case and take the smaller Cancun, Cozumel and the Yucatan version.
If you're a more visual person, check out the DK Eyewitness Top 10 Guide to Cancun & the Yucatancomplete with images and 3D guides to major sites.
Check out the beach bar at Pocna Hostel
It's not very often that an island's (only) hostel also happens to be the most happening night spot in town, but that's how things roll on Isla Mujeres. Every night Pocna hostel puts on a show with local bands and open mic nights featuring prominently – I even saw a very good illusionist during one visit. And when the entertainment ends, the party moves onto the hostel's beach front space where the bar serves drinks into the wee hours while people sit around on the sand, lounge in hammocks or hit the rudimentary dance floor.
The only downside: if you're not staying at Pocna, you'll be asked to leave around 1am…which is a shame because that's when the party really gets started.
If you're an independent travellers looking for either a dorm bed or a good priced private room, then Pocna is the place to stay – just make sure you book in advance because the rooms book up fast, even out of season.
Where to stay in Isla Mujeres
On a budget: As mentioned above, Pocna is the place to be on a backpacking budget. It's also the only hostel on the island
For hotels: Here's a list of the 10 best hotels in Isla Mujeres (according to Trip Advisor).
Getting to Isla Mujeres
To get to Isla Mujeres you need to take a ferry from Cancun. The ferries run every 30 minutes and take around 30 minutes. There are two main departure ports in Cancun but I strongly recommend that you take the Ultramar ferry from Puerto Juarez in Cancun as it drops you off at the best spot near the main streets in Isla Mujeres. Puerto Juaraz is located aaround 5-10 minutes by taxi from the ADO bus station.
You can check details for Ultramar here.
Swim with Turtles at Akumal
Akumal as perfectly captured by my friend and professional photographer Luna Vandoorne.
The tiny town of Akumal reached it's first peak of popularity some time in the 1960s when a resort was opened near the beach. These days it looks like a hippy commune (and attracts that kind of guest), and yet the area is undergoing a renaissance primarily due to the marine life.
Snorkelling at Akumal, where you're practically guaranteed to spot turtles, seems to be the hottest activity currently advertised in Playa del Carmen, Cancun and Tulum.
I visited Akumal two years ago following a tip from a local and was overwhelmed by the ability to get so close to these gracious creatures. At the time there were only a small number of visitors each day.
Since then, the boom in tourism has started to take hold and there are some concerns for the preservation of the turtles' habitat. If you can go swimming with turtles at Akumal (and do so in a responsible way), I'd highly recommend it, but do your research before you go.
Where to stay in Akumal
Most people will visit Akumal as a day trip from Cancun, Playa del Carmen or Tulum but if you prefer to base yourself in Akumal, here's a list of the 10 best hotels in Akumal (according to Trip Advisor).
Travel tips
Akumal is situated pretty much equidistant between Tulum and Playa del Carmen and can be reached by local bus which will drop you off on the highway a short walk from the beach.
I'd recommend taking a guide for your snorkelling expedition. There were significantly different reports in the number of turtles seen between those people who'd hired a guide and those who hadn't.
Tulum
Tulum is definitely on the rise in popularity in the Yucatan peninsula yet this cute beach can't escape the fact that, like Cancun, the beach area and the downtown area (where cheap accommodation, good nightlife and the best restaurants are located) are around 15 minutes apart by car. That doesn't mean you can't have it all in Tulum – you can… you just need to do a bit more planning.
Things to do in Tulum
Visit the beach
Yeah, yeah, yeah – another town, another beach but trust me when I say that the beach in Tulum is so stunning that even if you've already spend significant time at the beach in each of Cancun, Playa del Carmen and Isla Mujeres, you'll still want to spend some time on the beach in Tulum. Not only does it see significantly fewer tourists, it has the significant advantage of sharing space with one of the regions most beautiful Maya ruins…
Beach tip: Clear off the beach before sunset or take cover because the sand flies swarm in at dusk and they're fierce.
Visit the Maya ruins at Tulum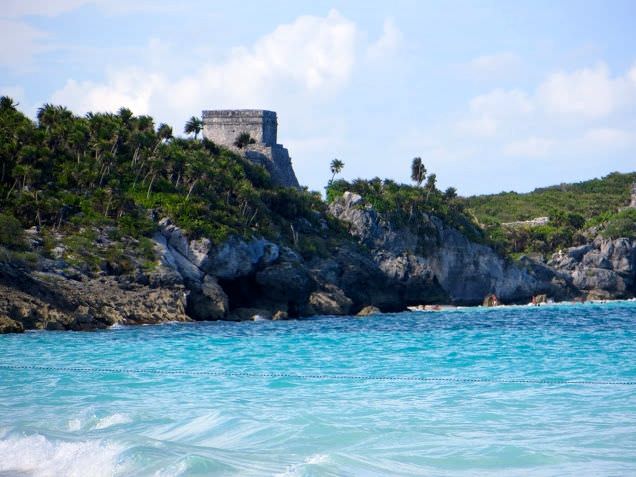 Of all the Maya ruins in the Riviera Maya and in the Yucatan peninsula, none (not even Chichen Itza) can compete with the location of the ruins in Tulum. Precariously hanging onto the edge of the cliff face that tumbles down towards the Caribbean Sea, the contrast of the dark grey material of the ruins against the backdrops of the aqua blue sea is unbeatable.
Travel tips
It's possible to walk to the ruins by the road that run parallel to the beach in Tulum. Just don't try getting there via the beach: you'll hit rocks that are dangerously difficult to cross (I know, I tried it).
The ruins are perfectly sized meaning you can complete a visit including a swim at the beach in front of the ruins within a couple of hours/morning.
Sleep in a beach cabana
If you're after a bit or romance…or even just a bit of downtime on your own, then sleeping in one of the many beach cabanas is a great option for your time in Tulum. Do, however, think through the fact that there is little to no nightlife at the beach area at night. So, you will either be tied to what is put on at your hotel (or the facilities of neighbouring hotels) or taking taxis back and fore to downtown where all of the independent bars, restaurants and taco stalls are situated.
Budgeters beware
Do be aware that as Tulum goes up in popularity, the number of rustic, affordable beach cabanas in Tulum declines. A few years ago it was possible to pick up a cabana for around £20/$30 a night. These days you're looking at more than twice that. Great if you have a significant other (or travel friend) to share the cost with. Not so great if you're a solo traveller.
Eat, drink and party in downtown Tulum
I had a somewhat curious experience in downtown whereby a rather drunk Mexican woman attempted to steal my size 3 flip-flops in a bar (I'd taken them off to get a better handle on my salsa dancing). Seeing her size 7 trotters squeezed into my flip-flops, she reluctantly handed my shoes back and the night continued. The upshot – Tulum offers a fascinating and fun night out.
Taco stalls and low-priced restaurants litter the main drag in downtown Tulum and interspersed between eateries is a fair choice of bars. Even thought the whole strip is carved up by a hideously main road that sees trucks hurtling down it 24/7, there is a very lively vibe to downtown Tulum.
If you're an independent traveller or wanting to escape the solitude (and costs) of the beach cabanas, downtown is the place to stay with a wide choice of hostels.
Swim in the Cenotes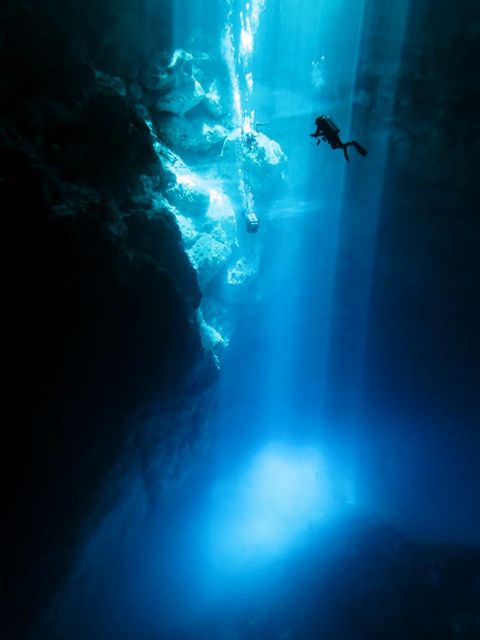 This amazing shot was also taken my my friend and professional photographer Luna Vandoorne.
The Yucatan peninsula is well-known for its cenotes – water holes in the jungle! If you do get tired of the beaches and want to cool off, cenotes are the perfect adventure escape.
There are several cenotes in and around Tulum and the question "Which is the best cenote" will usually prompt fierce debate. So, instead of suggesting one to two, check out this article from Todo Tulum and decide for yourself.
A word on diving in Yucatan peninsula
A lot of people visit Yucatan peninsula for the diving opportunities. Unfortunately, due to an inner ear condition (a.k.a a dysfunctional eustachian tube), I can't dive. For that reason I can't recommend any dive spots. If you do have experience diving in the region, feel free to leave a note in the comments below with any recommendations).
Where to stay in Tulum
On a budget: The Weary Traveler Hostel is pretty rustic but you can't beat the vibe in the social garden space. Note, most budget accommodation is based in downtown, not at the beach, but the Weary Traveler Hostel provides a free shuttle bus.
For hotels: Here's a list of the 10 best hotels in Tulum (according to Trip Advisor).
Isla Holbox
Even though Isla Mujeres has just a fraction of the development that has taken over parts of Cancun and Playa del Carmen, Isla Mujeres seems like a mega resort when you compare it to sleepy Isla Holbox.
A place where the streets are still made of sand, stop lights don't exist and the number of cars can be counted on one hand, Isla Holbox is the perfect place to step back in time. And for that reason, of all the islands off the coast of the Yucatan peninsula, the traditional fishing island of Isla Holbox is by far my favourite.
Where the deep blue waters of the Gulf of Mexico meet the Caribbean Sea, there is something very magical about this Mexican island.
Things to do in Isla Holbox
Swim with whale sharks
Who doesn't want to jump into the water with the world's largest fish that is generally bigger than a bus? Ok, it took me a few months to gather the courage but as far as seeing marine life goes, this is up there as one of my best sea life experiences.
You can read full details about swimming with whale sharks in my related article here.
Whale shark tour tips
While it is possible to take a whale shark tour from Cancun, Playa del Carmen and, most commonly, Isla Mujeres, I strongly recommend you take a tour from Isla Holbox to avoid sea sickness (yes, even those of you with strong sea legs).
Whale shark tours are seasonal (from May to September) and the tour season is regulated meaning you can't go outside of these months.
See the bioluminescence
You might have noticed that "visit the beach" hasn't featured under this section and that's because the beaches in Isla Holbox, although definitely fine for sunbathing and swimming, don't quite compare with the sands and waters found elsewhere in Yucatan peninsula (in my opinion!). However, that becomes kind of irrelevant when you find out that beaches on Isla Holbox promises something much more special: bioluminescence, which you can see at night.
What is bioluminescence? As a non-scientist, my lay-person explanation of bioluminescence is plankton in the water that glows when you interact with it e.g. swim or run your hand through the water. A more technical explanation can be found here.
I confess that the non-scientist in me doesn't know whether this phenomenon in Isla Holbox is seasonal or not (and Google doesn't seem to know either). I saw it in September and it was mesmerising. Any knowledge on the subject, let me know!
I don't have a picture of the bioluminescence in Isla Holbox, but here is one of my favourite videos of the "Red Tide" bioluminescence that hit California in 2011.
Kayak through the mangroves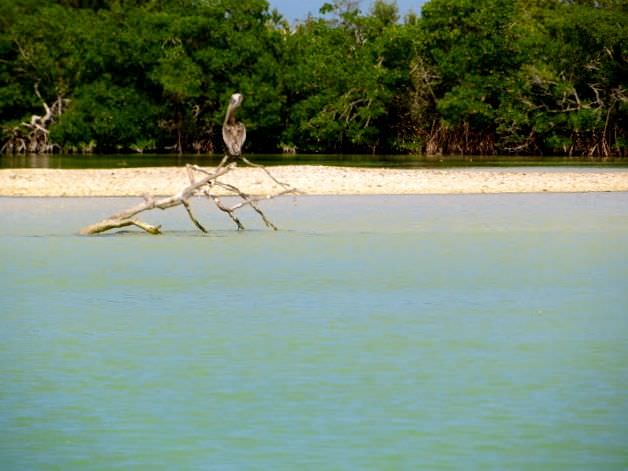 Pink flamingos, swampy mangroves and the potential to see a 360 degree sunset complete with every shade from dark blue to pastel pink, taking a dusk kayaking trip on Isla Holbox is a very special experience.
The only (significant) downside: dusk + mangroves = a shit tonne of mosquitos. Wear long clothing and take a barrel of mosquito repellant with you. I stopped counting bites after 30.
Gorge on fresh fish

Retaining its traditional fishing village feel, Isla Holbox has some of the best opportunities for eating fresh fish in the entire Yucatan peninsula. Whether it is tacos, a whole fish bought from the fishing co-operative by the docks or ceviche, you're unlikely to find fish cheaper or fresher than you can on Isla Holbox so let loose and gorge.
Where to stay in Isla Holbox
On a budget: Tribu Hostel is well located and you'll fall in love with the turrets.
For hotels: Here's a list of the 10 best hotels in Isla Holbox (according to Trip Advisor). If you're looking for something a little more personal, stay at Casa del Viento where the service and attention to detail is second to none.
Merida
When people think of the Yucatan peninsula, their thoughts tend to stray to the coastal areas and the islands, but the region is so much bigger, and if you have time, visiting pretty Merida makes a nice change to the beach vibe that dominates much of the region.
Things to do in Merida
Stroll the main plaza in Merida
Although from a tourism perspective there isn't a whole heap going on in Merida (its more of a place where people work and study), the main plaza is beautiful and, even better, there is often live music at night. Oh, and the local food is pretty damn good.
Take a day trip to Uxmal
It's very each to get "ruined-out" in the Yucatan peninsula where you don't need to go more than a few towns without bumping into another set of Maya ruins. However, even if that is the case and you already feel like you've seen too many ruins, I highly recommend taking the time to get to Uxmal (pronounced "Oosh-mal"). Sporting a distinctively different style, these ruins are likely to revive your dwindling fascination with this interesting culture. Invest in a guide and you'll appreciate the ruins, the history and the myths all the more.
Where to stay in Merida
On a budget: Nomadas – with a pool and hammock in the dorms, even if you're not on a budget, it's a brilliant place to stay.
For hotels: Here's a list of the 10 best hotels in Merida (according to Trip Advisor).
Isla Cozumel
I've left Isla Cozumel to last. Not because it is the best thing to do in Yucatan peninsula, but rather because it was the place that excited me the least. Of course, all tourism and sightseeing is subjective but after visiting the other islands of Isla Mujeres and Isla Holbox, Isla Cozumel was simply far too developed for my liking.
The main stop on many Caribbean cruises, the island of Cozumel receives a lot of passing trade and this sadly shows with high prices, comparatively low quality food (not much repeat business goes on here) and a tourism industry that simply didn't impress me.
Trying my level best to give the island a fair shot, I took an over-priced snorkelling trip. The boat travelled to shallow water that I could have waded out to and after seeing no more than a handful of fish after 30 minutes of snorkelling, I gave up.
In summary (and purely in my opinion), if you have the opportunity to visit any other place in the Yucatan peninsula, then do…
Where to stay in Cozumel
On a budget: I didn't stay on Cozumel so can't comment personally, but there are two hostels on the island – Beds Friends Hostel and Amigos Hostel Cozumel.
For hotels: Here's a list of the 10 best hotels in Cozumel (according to Trip Advisor).
Reaching Isla Cozumel
That said, the main square has a few nice photo ops and the best way to decide whether you like a place or not is always to see it yourself. So, to get to Isla Cozumel, you can take a ferry from Playa del Carmen. The ferries runs every 30 minutes and take around 30 minutes.
Once again, the Ultramar website is the place to go for details and schedules.
Next time…
Yucatan peninsula is one of those places I'm confident I will return to again and again. And, as I do, I will continue to explore the wide and diverse activities on offer in the region. Of course, there are many more places, towns and beaches that I haven't included above, because I haven't visited them yet. On the agenda for my next trip are Puerto Morelos and Campeche to name just two.
Where is the Yucatan peninsula?
The Yucatan peninsula is made up of three Mexican states: Yucatan, Campeche and Quintana Roo. These states sit on the southeast peninsula of Mexico between the Caribbean Sea and the Gulf of Mexico.
You may also have heard of Riviera Maya – it is a coastal stretch of land within the state of Quintana Roo that includes the popular holiday destinations of Cancun, Playa del Carmen and Tulum. Riviera Maya is simply a smaller areas that is located within the Yucatan peninsula.
Related Articles:
If you have any other tips and suggestions for the best things to do in Yucatan peninsula, let me know in the comments below.
Main image also by Luna Vandoorne.