Washington DC is absolutely packed with famous, significant, historic sights. Even if you'd rather swim with sharks than talk politics, there's something fascinating about seeing The White House or standing on the steps where Martin Luther King gave his famous "I have a dream" speech. Not sure where to start with your sightseeing? Here's my guide to the best things to do in DC.
1. Take a Segway Tour of Washington DC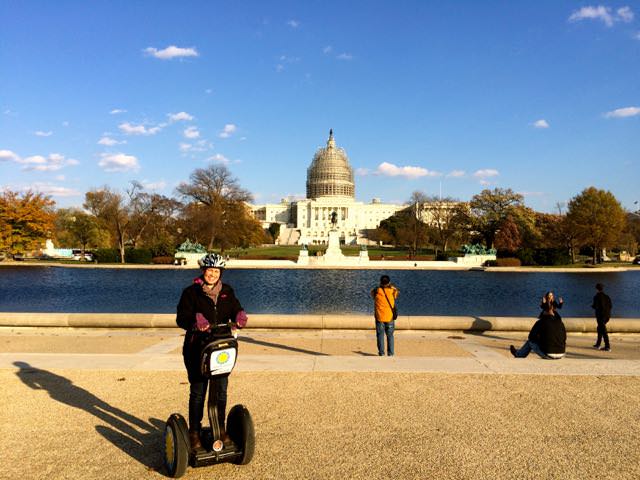 I suggest spending the first morning or day taking a sightseeing tour. There are plenty to choose from including hop-on and hop-off city buses to Segway tours to small group private tours. I've put this first because a) I took a Segway Tour of Washington DC; b) it was one of the most fun I did in Washington DC; c) without realising it (I was focused on the idea of the Segway rather than the itinerary), we visited most of the major sights in a handy 3-hour route through the city. As Washington DC sightseeing goes, this was efficient and fun.
I took the Segway DC tour with Unlimited Biking (Price, $64). Starting at 2pm and lasting for 3 hours, the route took us past: The White House, Capitol Building, National Mall, National Monument, Lincoln Memorial, Vietnam Veteran's Memorial, and National WWII Memorial. Phew! Sounds a lot but I barely moved my legs. The tour I took only zooms past the back of the White House, so I separately spent the morning seeing the White House.
2. See the White House
The White House is almost certainly going to be on your list when you visit Washington DC. You'll probably struggle to get an uninterrupted photo of one of the world's most recognisable homes (they've only got a damn fence in the way) but just seeing it with your own eyes is the important thing.
How to visit the White House: I just stared at the White House through the railings like most people. It is possible to arrange a self-guided tour inside the White House. However, you have to do it via your Member of Congress (so, a no-go for overseas tourists like me). You can find out more on the White House page. If you are an overseas tourist like me, you can get a glimpse inside with a stop at the White House Visitor's Centre – full details here.
3. Take a Washington DC Hop-On Hop-Off City Tour
Segway not for you? I still recommend taking the City Sightseeing Bus. Not only is it great for understanding the layout of Washington DC, the city is vast and sprawling so it's an efficient way to see the highlights. The bus includes commentary and, to be honest, some sights you'll probably be happy to just see from a quick drive past rather than spending half a day getting across the city just to take a snapshot.
4. Explore The National Mall
Some of these sights will be included if you take a city tour, some you might want to explore in more detail, taking a tour inside. I've also included the main openair sights of the National Mall so you can see all of these sights in one go without zigzagging across the city.
In itself, the National Mall – which is actually an extremely long stretch of lawn, is more of a starting point for seeing the main historic sights in Washington DC rather than being a sight in itself but still, it's a very pretty and very expansive lawn nonetheless.
I visited as part of my Segway Tour (see below). Otherwise, just tap 'National Mall' into Google Maps. Or, more specifically, head for the Washington Monument which is probably the most iconic of the many sights at National Mall.
5. Visit the Capitol Building
For me, the Capitol Building is way more impressive (architecturally) than the White House and some of the best views you will get of the Capitol are from the balcony of the Newseum Museum (see below). I only saw the Capitol Building from the outside (both visits) but if you want to explore in more detail, you can book a tour to go inside.
If you want to go inside, you can take a guide-led tour of the Capitol for free – details on the Capitol website. It's best to book online to reserve ahead and we prepared to queues in peak season. If you want to skip the line, these two guided tours offer that.
6. Marvel at the Washington Monument
It's definitely one of the most iconic places to visit in Washington DC and I've no doubt you've seen it countless times on TV and in movies, but nothing can compete with seeing the National Monument up close and personal. Do both – stand under it but also make sure you get that perfect picture of the monument reflecting in the reflecting pool. It's a bonus that it's free. Fun fact – it's the tallest structure in Washington DC.
How to visit the Washington Monument – get to National Mall and you can't miss it. I visited during sunset (in winter) and the light was glorious. All guided tours of Washington DC will have the Washington Monument on the itinerary.
You can now go up, inside the Washington Monument. Closed for years, work has now been completed on the elevator meaning you can once again ascend the monument. You can book on the official National Park website here. At only $1 to ride the elevator, is that the best value paid attraction in the USA?
7. Visit Abraham Lincoln at the Lincoln Memorial
Of all the monuments in Washington DC, the Lincoln Memorial is my favourite and arguably the most grand. It's also got a famous place in history as the location where Martin Luther King delivered his "I have a dream…" speech.
How to visit the Lincoln Memorial: (Almost?) all of the Washington DC city tours will include the Lincoln Memorial but you're going to have to climb the steps to see him up close. The good news is, it's only a few steps and it's absolutely worth it. If you have time, see him illuminated at night (more details below on how to take a night tour of Washington DC).
8. Pay Your Respects At the Vietnam Veterans Memorial
I always find war memorials haunting but Washington DC is not short on dedications to those who have fought and lost their lives in battle, so it's almost inevitable that you'll find yourself at one war memorial or another during your visit to the capital. In my opinion, the Vietnam Veterans memorial, with its stark, black marble, is absolutely one of the most striking you'll see.
How to visit the Vietnam Veterans' Memorial: The memorial forms part of the National Mall and is located between the Lincoln Memorial and the Washington Monument.
8. Honour the brave at the National WWII Memorial
The National WWII Memorial, just over from the Vietnam Veterans Memorial, honors the 16 million who served in the armed forces of the U.S. during World War II, the more than 400,000 who died, and the millions who supported the war effort from home.
The memorial also forms part of the National Mall and can be visited at the same time as Vietnam Veterans Memorial.
10. See more Washington DC memorials
You could dedicate an entire trip to seeing Washington DC's memorials. The ones listed above are the memorials I visited (as part of my Segway tour) but there are plenty of others to explore including the:
Korean War Veterans Memorial
Martin Luther King JR Memorial
Franklin Delano Roosevelt Memorial
Thomas Jefferson Memorial
Holocaust Memorial Museum
11. See the United States Supreme Court
I've been inside enough courtrooms in my life to not need to go inside the United States Supreme Court but I did sail past it on my Segway Tour and gave the beautiful building a wave. By the way, I used to be a lawyer, not a criminal (no inappropriate jokes, please). I did once spend a night in a prison cell but that's another story. At least it wasn't as bad as my mate Tim who got to experience the inside of a prison in Panama (the country, not the city in Florida). But I digress.
How to visit the United States Supreme Court: The court is open to the public Monday to Friday. You can plan your visit on the Supreme Court Website.
12. Explore Washington DC at night
All of those clandestine meetings in the spy movies take place in Washington DC at night. Not because there's some rule about such meetings but because Washington DC illuminated at night is by far one of the most stunning views of the city. I'd definitely suggest setting aside some time to see the city at night and the most efficient way to do it will be on a tour. The City Sightseeing Bus includes a night tour option.
13. Understand The Smithsonian Museums
Before I arrived in Washington DC and took my Segway Tour, I, like many people, was operating under the misapprehension that "the Smithsonian" was just one (albeit the most famous) museum in Washington DC. In fact, it's 19 museums – gasp! And there are Smithsonian museums outside DC too, like the Grammy Museum in Downtown Los Angeles.
For most people, ticking off just a few of the Smithsonian museums will be more than enough of a challenge though I can't help admire the spirit of the seven interns who visited 17 of the museums in one day.
I focused on three of the Smithsonian museums plus Newseum (which has regularly been voted the best museum in Washington DC). Two museums in the morning and two in the afternoon make for a pretty packed schedule, particularly given I'm the kind of person who likes to read every last word on every last plaque so a bit of advance planning is required. If that seems too harrowing, visit the museums at your own pace.
How to plan your trip to the Smithsonian: The Smithsonian museums have this entire castle (above) as a dedicated visitor's centre – perfect for planning your museum visits. Each of the museums I visited had a summary floor plan that highlighted the main attractions in the museum and where to find them. For a $1 (optional) donation, it's worth picking one up if you're short on time.
How much does it cost to visit the Smithsonian? the Smithsonian museums are free to enter which makes it one of the best things to in Washington DC for free.
Below are the Smithsonian museums I visited and the highlights I saw in each museum.
14. Visit the National Museum of American History
This was one of my favourite museums in Washington DC. Not only does it take you through America's modern history from transport and the kitchen table (exhibitions during my visit), but you get to see one pop-culture item after another.
Museum Highlights:The Ruby Slippers worn during the filming of the Wizard of Oz and the original Star Spangled Banner.
15. See Dinosaurs at the National Museum of Natural History
There are dinosaur skeletons aplenty in the Museum of Natural History, but that wasn't the reason I wedged this museum into the middle of my day. I wanted to set eyes on the infamous Hope Diamond. I fully confess I was too superstitious to take a picture of the diamond lest its powerful curse somehow cause me to lose my beloved iPhone.
Museum Highlights: Dinosaur skeletons and The Hope Diamond
16. Visit Europe via the National Gallery of Art
I could easily have spent the entire day wandering around the National Gallery of Art. From sculptures to Renaissance works to Modernism pieces, the museum is both vast and packed full of some of the world's most significant and identifiable works of art.
Museum Highlights: Self Portrait, Vincent Van Gough (1889), Little Dancer of Fourteen Years, Edgar Degas (1878–1881), The Japanese Footbridge, Claude Monet (1899)
17. Learn more about African American History
It was in Washington DC that Martin Luther King gave his famous 'I have a dream' speech but that's not the only monumental bit of African American history to have taken place in the USA Capital. Find out more with a visit to the Museum of African History and Culture and an African American History Tour.
You can find out more about the Museum of African American History and Culture here (part of the Smithsonian).
18. Understand Free Speech at Newseum
Update – Sadly Newseum closed its doors on 31 December. Personally, I'm very sad to hear this – it feels like a blow to free speech and protection of an independent press at a time when we need it more than ever. The slight good news is that the Newseum website lives on and I'm therefore going to keep this museum in this list so you can continue to explore it virtually on the Newseum website.
Want an alternative museum that ticks the quirky box? Check out the Museum of the Bible.
Although not forming part of the Smithsonian museums, Newseum definitely deserves a place on your museum list. In its own words, Newseum's "dynamic, engaging and interactive museum allows visitors to experience the stories of yesterday and today through the eyes of the media while celebrating the freedoms guaranteed to all Americans by the First Amendment." It's a perfect description that is wonderfully executed.
19. Explore more Washington DC museums
Like the city's monuments and memorials, there are more museums in Washington DC than your average tourist will have time to visit. However, I'm listing a few more of the best museums in DC in case there is something that sparks your interest. As a fan of crime fiction, the spy museum is on my list for a repeat visit as would be the FBI experience if I was allowed.
If you are interested in Space Museums, check out my visit to the NASA and Johnson Space Centre in Houston. Want more culture? Check out the John F Kennedy Center for the Performing Arts where free or low-cost performances are regularly available.
20. Visit Arlington National Cemetery
I'd suggest setting aside half a day to visit Arlington National Cemetery because it's located across the Potomac River. Although one of the most sombre places to visit in Washington DC, it's definitely a sight I'd recommend placing on your list.
Things to see at Arlington Cemetery: John F. Kennedy grave site, Changing of the Guard, Tomb of the Unknown Soldier
How to visit Arlington Cemetery: you have a range of options for visiting Arlington Cemetery. I visited independently, taking a metro and then a bus around the cemetery but this was pretty time consuming. If you're short on time, I'd recommend taking a bus tour. Here are the main ways to visit Arlington Cemetery.
Hop-on hop off city tours – Many of the city tours listed above like the hop on hop off bus will take you to the cemetery. From there, you can buy tickets for one of the buses that will take you around the cemetery (details below).
Visit independently by Metro – if you're on a budget or just prefer to explore independently, you can visit Arlington Cemetery without a tour. I would recommend hopping onto one of the guided bus tours when you get there, to help you find the main sights in the cemetery. You can find out more and plan your independent visit on the Arlington Cemetery website here.
21. Take a cruise on the Potomac River
I'm drawn to water like moths to a flame (sorry for the cliche but it's true). Mostly I'm content standing staring, watching the water swim by but if there's a chance to get on the water in some way, I'm there. If you're like me, you'll want to take a river cruise on the Potomac River. Capitol River Cruises is one of the longest running and is a family business.
22. Visit George Washington's Mount Vernon
Full disclosure, I've not been to Mount Vernon. Mostly because I didn't have time because this historic that was once home to George Washington is exactly the kind of grand estate I like to poke my nose around.
How to visit Mount Vernon: Mount Vernon is located on the east side of the Potomac River, on the same side as Arlington Cemetery. It's about a 30 minute drive from National Mall and can also be reached by public transport and boat (I vote for the boat). You can find full details of how to visit as well as opening times on the Mount Vernon Official Website.
23. Explore Washington D.C's Food Trucks
There are so many things to do pack into your trip in Washington DC that stopping for food can feel like a luxury you don't have. Fortunately, the recent explosions of food trucks onto the DC food scene means you can grab a quick bite without having to resort to trading cash for cardboard with a hot dog vendor. There are plenty of trucks to choose from, dotted all around DC and catering to every international flavour you can think of…and some you can't.
How to do it: Food trucks are an ever-revolving scene. Here's a list of some of the best food trucks in Washington DC and where to find them. If you have any more recommendations, leave a comment below.
24. Take a Food Tour around Georgetown
Eating is most definitely one of my favourite ways to pass time in Washington DC. From food trucks to food tours to fine dining, you're more likely to run out of appetite before you run out of options. Here's my favourite foodie options in Washington DC.
When I was putting together my list of what to do in Washington DC, eating was very high on my list. On a short time scale and wanting to maximise the number of restaurants visited in the least amount of time taken, I opted for a food tour around historic Georgetown with DC Metro Food Tours.
Lasting around 3.5 hours, the Gastronomic Georgetown tour featured four courses in four restaurants and a good smattering of history as we walked around Georgetown, an area that was once home to the Kennedys.
Highlights: The charcuterie board at J Paul's, the twice ground meatballs at Paolo's, the smores for dessert.
25. Pretend you're in politics at Ebbitts Grill
What to do in DC when you can't take the heat? Take cover for a long lunch in cool AC. Remember those Bloody Mary's I mentioned from my first trip to Washington DC? Well, they were served in Old Ebbitt's Grill. Not only it the oldest saloon in the capital (founded in 1856), it's an historic landmark that has had a long list of past Presidents and politicians prop up the bar or talk policy over lunch. I can highly recommend the Bloody Maryland, topped with a jumbo shrimp (but I'd advise you to only have one!) and the jumbo lump crab cakes are the perfect accompaniment.
26. Dine with views at Washington Harbor
Head to Washington Harbor for great views of the Potomac and great food at Farmers Fishers Bakers. The food is made from scratch and as well as serving American classics, there's an in-house bakery and sushi counter.
27. Dine near the National Mall at 7th Street/Penn Quarter
You'll definitely be ready for a sit down meal after a day of sight-seeing and 7th street/Penn Quarter has a vast collection of restaurants and cuisines to choose from. If you don't feel the need to go back to your hotel to spruce yourself up for the night, the area is a short walk from the National Mall.
28. Treat yourself at DuPont Circle
Alternatively, head to pretty DuPont Circle to explore a different side of DC and grab a divine dinner at the same time. There are plenty of recommendations by Zagat if you want to plan in advance.
29. Take a dinner cruise on the Potomac River
With an extensive buffet, 360 views, a DJ and games like giant Jenga and shuffleboard to entertain you, that's a lot of fun packed into on experience. Find out more about taking a cruise on the Spirit yacht here. (Price, $77).
30. Take a trip to New York
Did you know that New York is under 300 miles away from Washington DC and while the 3hr 20 minute journey (by train or 4hrs by car) might be too much for a day trip, it's a short enough distance from New York to DC that you could easily tack on a side-trip to the Big Apple while you're in Washington DC.
---
Washington DC Trip Planning Tips
Getting around Washington DC: The Washington DC Metro makes it very easy to get around the city. You can check out the Metro map or if you have a smartphone, I'd highly recommend downloading a free metro map app like this one.
Best time to visit Washington DC:
My first Washington DC trip was a bit of a write-off. Arriving in the Capital from New York in July, the first thing that hit me was the humidity. I consequently spent the first day shopping for clothes befitting a tropical island in the Pacific, my second day I hid out in a bar that was deliciously cool, had constant air conditioning and served up strong Bloody Mary's. On my third and final day, I pulled my hungover body around as many of the sights I could, cursing the heat, swearing off vodka and making a promise to return to Washington DC for a second attempt – at a much more temperate time of year.
December probably wasn't a much better time weather-wise but the USA's capital was feeling rather festive and with an icy breeze serving as a good motivation to speed up my sightseeing pace, I once again attempted to see the sights of Washington DC. If I had my time again, I'd visit in spring for a chance to see the cherry blossom or fall/autumn to see the glorious fall colours. In short, the best time to visit Washington DC is spring or fall. The worst time is summer.
For more trip planning tips, check out the Official Tourism Site of Washington DC and Capital Region USA.
Have you been to the capital? Any other recommendations for things to do in Washington DC? Let me know in the comments below.
Related articles:
Like this article? Share it on Pinterest…
I was provided with complimentary tours courtesy of Smithsonian National Mall Tours, DC Metro Food Tours
Photo credits: Vietnam Memorial – hookbrother, WWI Memorial – Nicolas Raymond,