When people think about the South of France, most would picture the beautiful beaches and resort towns of the French Riviera. But did you know there's so much more to this amazing region? In particular, the beautiful city of Toulouse, the capital of the South West region of France.
Toulouse is an intriguing mix of old and new, with a historic centre filled with beautiful architecture dating back centuries, while also serving as the headquarters for European space study and the multinational aerospace corporation Airbus.
To help you get your head around the best places to visit and things to see in the 'Pink City', here's my ultimate guide to what to do in Toulouse.
1. Take a Walking Tour of Toulouse, the 'Pink City'
While Toulouse is known as La Ville Rose, 'the pink city', I would be more inclined to call it 'the coral city' – with the terracotta bricks of many of the buildings giving the city an orange-pink glow which really comes into its element during golden hour (just before sunset).
But whether it's pink or coral, there's no doubting that Toulouse is a beautiful city, full of colourful facades, historic architecture, quaint cobbled streets and impressive courtyards, and therefore the best way to explore it has to be by foot (even though the city does have a good metro system).
Exploring Toulouse by foot is simple enough, alone or as a part of a guided tour. The main benefit of taking an organised tour of Toulouse is that you'll also be able to learn plenty of fascinating facts about the city and its history along the way. A courtyard tour with the Tourism Office will also make it easier to find and allow you access to several of the city's beautiful courtyards which are tucked away down alleyways that you might not otherwise stumble down or be able to access. I've got more details on this below.
How to do it: The best way to book walking tours is through the Toulouse Tourism Office based in the Donjon du Capitole. Check out some of the guided-walking tours here. Prices start at €20 per person. Otherwise, this is a popular walking tour in Toulouse.
Should you buy a Toulouse city card?
The Toulouse Tourism Pass is a city card which gets you free public transport, free entry to several attractions and discounts on many of the top things to do in Toulouse. The pass costs €18 for 24 hours, €28 for 48 hours and €35 for 72 hours.
One key benefit of the city card is that you can pick it up at the airport upon arrival and use it to get between Toulouse airport and the city centre, which would otherwise cost you €8 one way.
The pass then also gets you free entry to the Natural History Museum, Fine-Arts Museum, Contemporary Art Museum and the Jacobins Convent, as well as discounts on walking tours and river cruises, and cheaper entry to the Cité de l'Espace, Aeroscopia Museum and Let's Visit Airbus (plus more).
If you're spending a long weekend Toulouse, will be needing a return journey to the airport, and intend on visiting a few of the main attractions on this list, I'd say the Toulouse city pass in definitely worth your money. You can check prices and full details of the Toulouse City Card here or book your city card here.
2. Marvel at Place du Capitole

Place du Capitole is the heart of the historic district of the city and is definitely one of the most popular places to visit in Toulouse. The large square is engulfed by the iconic Capitole building and its majestic neo-classical facade, which houses city hall and Théâtre du Capitole.
Within Place du Capitole, you can wander around the square taking in the impressive architecture, walk through the arcade admiring the artwork by Raymond Moretti which illustrates the city's history, and take a tour of the buildings' many historic rooms.
Then once you're done, enjoy a drink or a bite to eat at one of the many restaurants on the square, the majority of which have large outdoor terraces perfect for enjoying the gorgeous French sun and people watching across the square.
How to do it: The Capitole's historic rooms are open for tours Monday to Friday 8:30am-7pm and Sundays 10am-7pm. Admission is free. You can find out more here.
3. Explore Toulouse's Courtyards
A distinguishing characteristic of Toulouse has to be it's many historic Mansion Houses and their courtyards. The majority of the Mansion Houses were built in the 16th Century by rich merchants and parliamentary nobles as a symbol of their status and wealth – a particular signifier of wealth is the tall (but somewhat useless) turrets you'll spot in the corner of many of the courtyards.
Most of the Mansion Houses are still private homes to this day, while others are home to private institutions such as schools or galleries. However, many of their impressive courtyards are open to the public to come in and admire.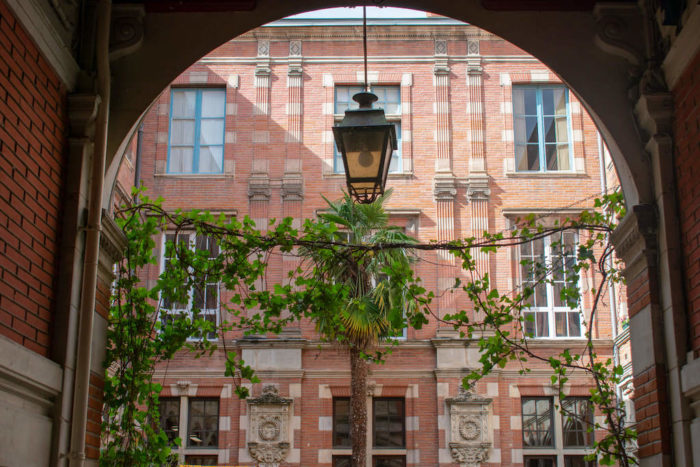 How to do it: Some of the courtyards in Toulouse you should put on your list to get started:
Hôtel d'Assézat – A beautiful example of Renaissance architecture of Languedoc, Hôtel d'Assézat was commissioned by merchant Pierre d'Assézat in the 16th Century. The building is now home to the Bemberg Foundation (see more in Museums below). From April to October, you can enjoy tea in the courtyard.
Hôtel Dahus – Another courtyard certainly worth a visit to admire the ornate carvings adorning the Mansion's facade and doorways.
Hôtel de Bernuy – One of the earliest examples of Renaissance architecture of this era and with one of the tallest towers in the city, Hôtel de Bernuy is now home to Pierre de Fermat college. The Mansion House's two spectacular courtyards are only accessible on a tour with the tourism office.
Fun fact about French housing: I ince spent 3 months living in a Trogoldyte cave house in France after I quit my job as a lawyer and decided to become a freelance travel writer.
4. Find the 'Palm Tree' at Couvent de Jacobins
Couvent de Jacobins is a Roman Catholic church and a beautiful example of Southern Gothic architecture in the centre of Toulouse. The slender columns holding up the roof of the church are especially iconic, with one column – known as 'the Palm Tree' – supporting 22 ribs of the vaulted roof, an impressive architectural feat at the time.
The church's large cloisters are also definitely worth a visit, with its long galleries facing into the well-kept garden in the centre. During the summer months, there are even chairs in the cloisters for sitting and enjoying the sun while taking a break from exploring the busy city outside.
How to do it: To enter the church museum, the chapels and the cloisters, tickets can be purchased inside for a fee of €4 (or free with the city pass). The church museum is interactive with tablets and a family-friendly trail. You can find out more here.
5. Take a Toulouse Food Tour

You definitely can't visit Toulouse, or anywhere else in France for that matter, without gorging on as much delicious French food as possible; pastries, cheese, cured meats. And a great way to find some of the best food in Toulouse is to take a guided food tour.
Taste of Toulouse is the first English language food tour in Toulouse, run by the lovely Jessica who is originally from the US but now lives in the French city. Jess is not only a certified French Wine Scholar but she also used to be a cheesemonger, both contributing to her amazing knowledge and passion for French food and wine. She set up the company 2 years ago.
With Taste of Toulouse, you can choose from three options; a tour of Marché Victor Hugo, a chocolate and pastry tour, and cheese and wine tasting.
Like French wine? Take a trip to Bordeaux.
During my time in Toulouse I took part in the Marché Victor Hugo tour, being a huge fan of visiting a local food market. Jess guided us through the large and historic market, making stops at several of her favourite stalls to pick up samples for us to try and where she then talked the small group through interesting facts about the foods and the traders themselves.
The tour cumulated at a wine stand where we gathered around a rustic wine-barrel table and enjoyed a further feast of fresh baguette, several different types of cheese, Fois Gras, cured meats, artisan chocolates and local wine.
A Taste of Toulouse food tour is definitely one of the best things to do in Toulouse and was one of the highlights of my time in the city. Not all tours run every day so plan this one in advance. You can find more including tour dates on the Taste of Toulouse website here.
6. Go Shopping in the Fashion Capital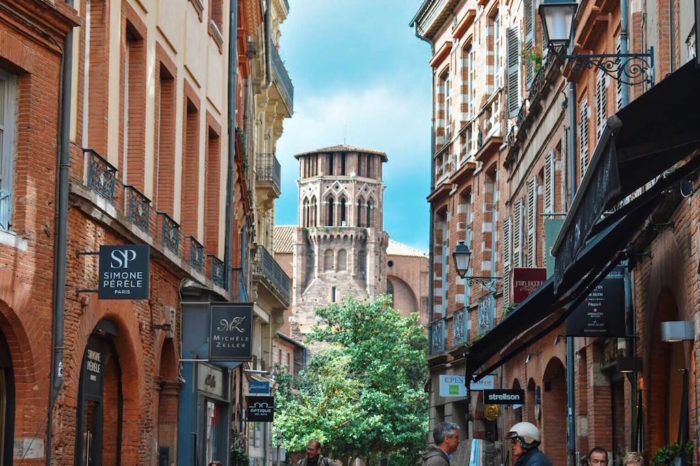 Toulouse, like Milan in Italy, is a city which is always at the cutting edge of fashion, being the birthplace of many famous brands including The Kooples, Le Comptoir des Cotonniers, Marchland Draper, 7Ropes and Marx Deloche jewellery. There is also a large design scene, with many up-and-coming fashion and craft designers making a name for themselves in the Pink City.
How to do it: For the major chain fashion brands, stick to Rues d'Alsace-Lorraine and Saint-Rome in the centre of the city. For those with more sophisticated taste in clothes, head to Rues des Arts, Boulbonne and Croix-Baragnon, as well as Place Victor-Hugo or Place Sainte-Georges for the biggest names in Haute Couture. While Place de la Bourse, Rues Cujas, Sainte-Ursule and Peyrolières are the spots to find some of the most beautiful vintage and second-hand stores in the whole of France.
And if clothes aren't your thing, head to Sainte-Étienne's cathedral quarter for antique dealers and second-hand shops.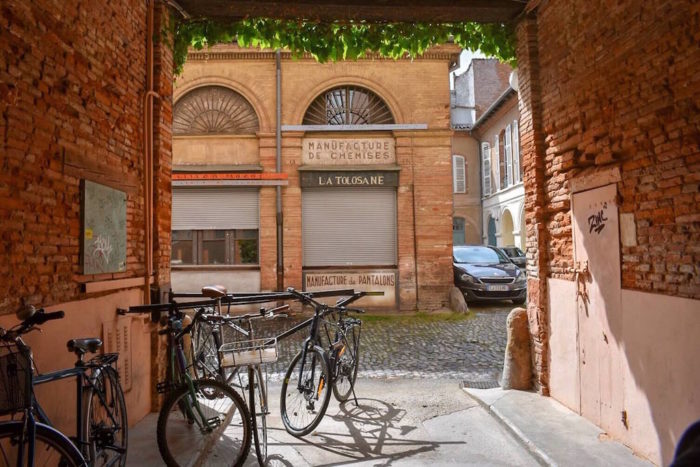 Spending the weekend in Toulouse? If you're visiting Toulouse for the weekend, an important thing to note is that many of the shops and restaurants are closed on Sundays. There is still plenty to do in and around the city, but if there's any particular shops or restaurants you'd like to visit, make sure you research opening days and times first.
7. Visit the Museums in Toulouse
There are a number of museums in Toulouse definitely worth visiting, especially for art lovers as the city has several impressive fine art and modern art establishments.
How to do it: These are a few of the best museums in Toulouse (all included with the Toulouse City Pass):
Les Abattoirs – Located in a former abattoir (hence the name), the Toulouse Museum of Modern and Contemporary Art holds thousands of works from the Second World War right up until the modern day. There are regular exhibitions on, including a Picasso exhibition when I visited. The museum is open from Wednesday to Sunday 12-6pm, while on Thursday evenings there are special events and concerts for adults from 6pm.
The Bemberg foundation – Located in the beautiful mansion house, Hôtel d'Assézat, the Bemberg Foundation is an art gallery which provides a panorama of Western art from the end of the Middle Ages to the 20th Century.
Muséum de Toulouse– Toulouse's National History Museum showcases the mysteries of the Earth and its interaction with mankind, with five main exhibitions; 'Earth', 'The living', 'Life in time', 'The needs of man' and 'What life, tomorrow?' With more than 2.5 million items, it is the largest national history museum in France outside of Paris.
8. Walk on the moon at Cité de l'espace

Cité de l'espace is Toulouse's space exploration themed park on the eastern edge of the city. The large 9-acre park is home to full-size models of the Ariane 5 rocket (a whopping 180ft tall), the Mir Space Station and Soyuz modules, as well as numerous other interesting exhibitions about space and the human conquest of space.
The park is one of the most interactive I've ever been to and great fun for both children and adults (it's certainly not just for kids). You can sit inside a mock-up control room to help launch a rocket and place a satellite into space, climb inside a compact spacecraft launch module and explore the inside of the replica of the Mir Space Station.
There are also many interactive talks and shows throughout the exhibitions which people of all ages are welcome to take part in, and the park has two planetariums showing films throughout the day. Included in the Toulouse City Pass.
Cité de l'espace's exhibition all about the moon and the Apollo missions is particularly great fun. The use of a special suit can help you experience what it would feel like to walk on the moon. Don't be afraid to let out your inner child and go wild bouncing around on the makeshift moon surface.
How to do it: There's so much to do at this interactive museum that a visit can easily take up an entire day. Tickets can be bought in advance online or at the entrance on the day. The museum is on the outskirts of the city and can be reached by public transport (Bus linéo 1 or Bus 37) or a 15-minute taxi.
Did you know? I once visited a Religious Theme Park in Argentina.
9. Visit the Airbus HQ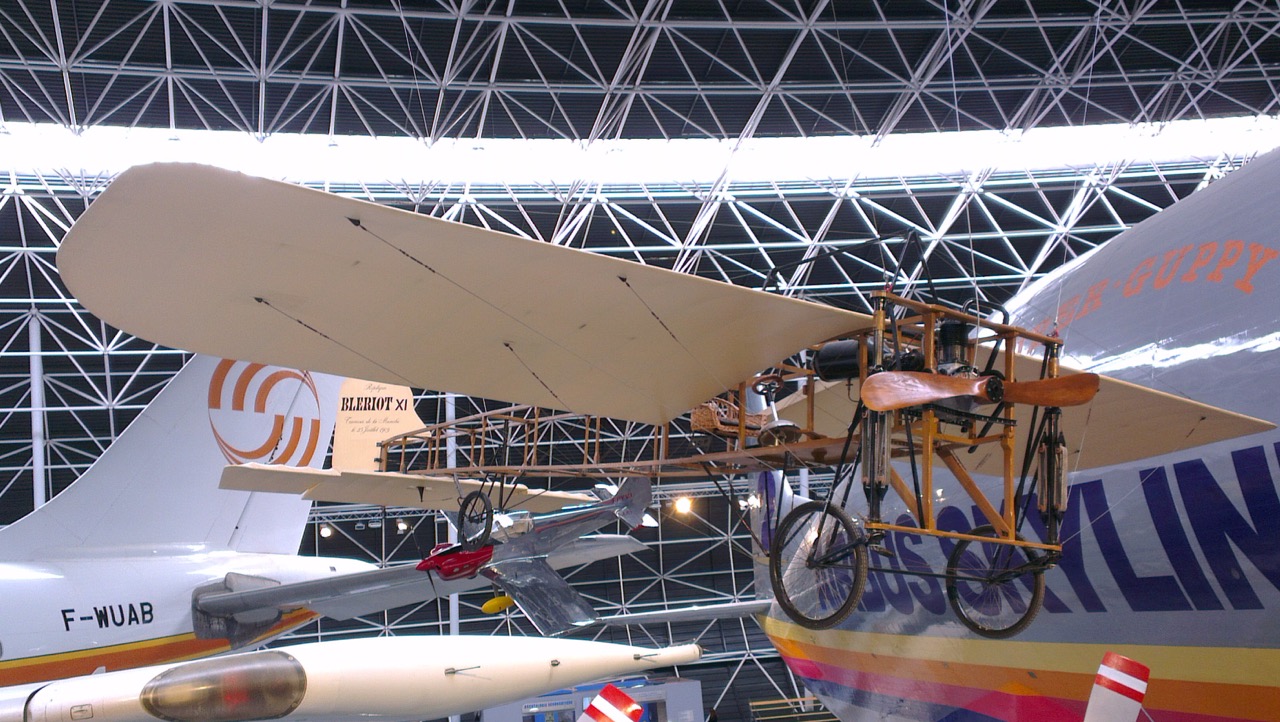 Something that I didn't know until visiting Toulouse is that the city is home to the Airbus headquarters (JL Lagardère Airbus factory). And what's even cooler is that you can take a tour of the working factory and its on-site museum.
The main factory tour includes a visit to the A380 and A350XWB production lines, as well as the inside of a real A400M. The tour begins in the new Aeroscopia Museum which is housed in a large hangar near the Airbus A380 facilities. The museum features over 25 restored planes, including two examples of the famous Concorde. Included in the Toulouse City Pass.
How to do it: Tours of the Airbus factory in Toulouse must be booked in advance online or by phone. Each of the four visitor tour circuits last 1h30 (excluding time at the museum).
10. Grab a Glass of Wine at the World's Best Wine Bar
For the previous two years, No.5 Wine Bar in the centre of Toulouse has been voted the best wine bar in the world. The unassuming little bar is easy to miss when walking past, and inside has a simple charm to it, with exposed brick walls lined with bottles.
No.5 has over 500 wines from across the world and uses the innovative Enomatic concept, with wine dispenser machines which you can pour samples from using a pre-paid card.
The bar also has one of the oldest and rarest bottles of wine in the world sat proudly on display in a glass cabinet. If you've got €10,000 to spare, you can even sample a small glass.
How to do it: You can't make advance bookings to visit for wine and tapas so it's best to just turn up when the bar opens at 6pm. The restaurant has two sittings, 7pm and 9:30pm, and bookings are necessary. Get a 10% discount with the Toulouse City Pass.
Like wine? What about a trip to Prosecco in Italy – just one hour from Venice which is packed with bars and restaurants.
---
Best Restaurants in Toulouse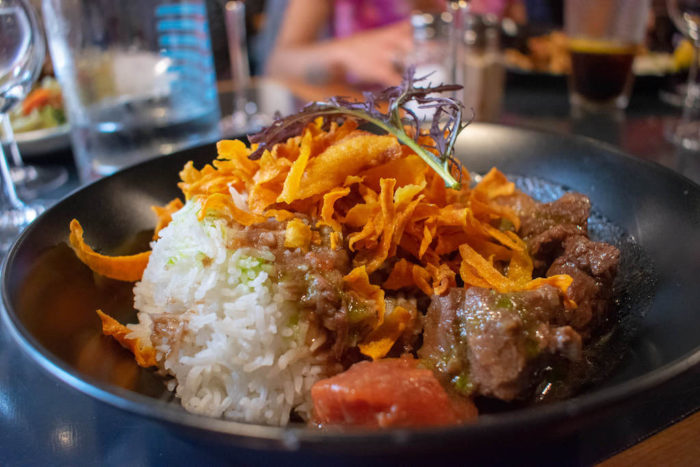 You could spend a whole weekend in Toulouse focusing just on the food. Here's my list of suggestions for where to eat in Toulouse:
Aux Pieds Sous La Table – A lovely little restaurant in the north of the city which is particularly popular with locals, serving a constantly changing menu of fresh, seasonal dishes. The beef bourguignon with vegetable crisps was one of the best things I ate during my trip to Toulouse, while the French toast dessert was a table-wide hit. But don't feel obliged to only order traditional French dishes, Aux Pieds Sous La Table is also known for its delicious fish and chips.
Ma Biche Sur Le Toit – As one of Toulouse's most popular restaurants, Ma Biche Sur Le Toit is so much more than it's food (which is also fantastic FYI) – it's an entire night out. Located on the 6th floor of shopping centre Galeries Lafayette, the restaurant's extremely chic and extravagant interior is surrounded by a large outdoor terrace with stunning views out across the city. On Friday and Saturday nights from 9pm, dancers make their way around the restaurant while you eat.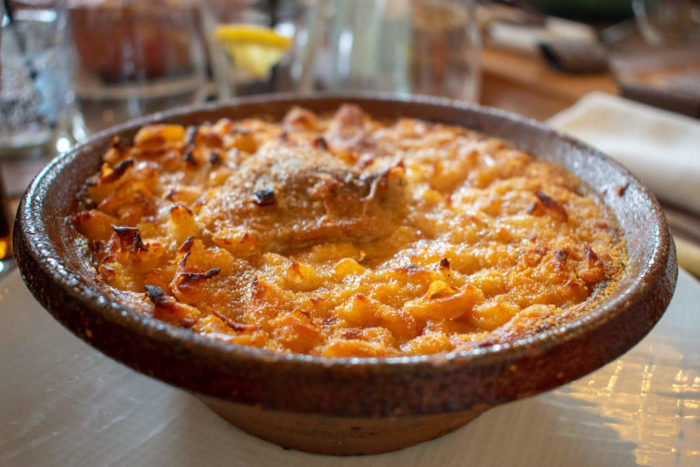 Le Bibent – Located centrally on Place du Capitole, Michelin-starred restaurant La Bibent is famous for being the location where three Serbian students plotted the assassination which triggered WW1. The room's regal 19th-century interior with high ceilings and gold-coated furnishings has been recently restored and is now a bright and beautiful spot for breakfast, lunch or dinner. The menu is filled with local delicacies, including one of Toulouse's most prominent local dishes, cassoulet (slow-cooked casserole with lots of meat and white beans). 
Where to stay in Toulouse
Hotel Innes by Happy Culture – Hotel Innes is part of the Best Western chain, yet has the feel of a chic boutique hotel. The stylish interiors, from the lobby and breakfast area to each of the en-suite bedrooms, are all entirely furnished by Habitat and are sure to give you serious decor-envy. The hotel is also conveniently located on a quiet street just a few minutes' walk from the busy city centre.
Grand Hotel de l'Opera – A beautiful boutique 4* hotel right on Place de Capitole, Grand Hotel de l'Opera is opposite the famous Theatre du Capitole. As well as it's unbeatable location, the hotel has an on-site spa and two large restaurants. 
That's my guide to the best things to do in Toulouse France. Let me know in the comments below if you have any questions or other recommendations for things to do in Toulouse.
Related articles:
If you like this guide to the best things to do in Toulouse, share it on Pinterest…
Emily visited Toulouse on behalf of Indiana Jo and courtesy of Visit Toulouse.