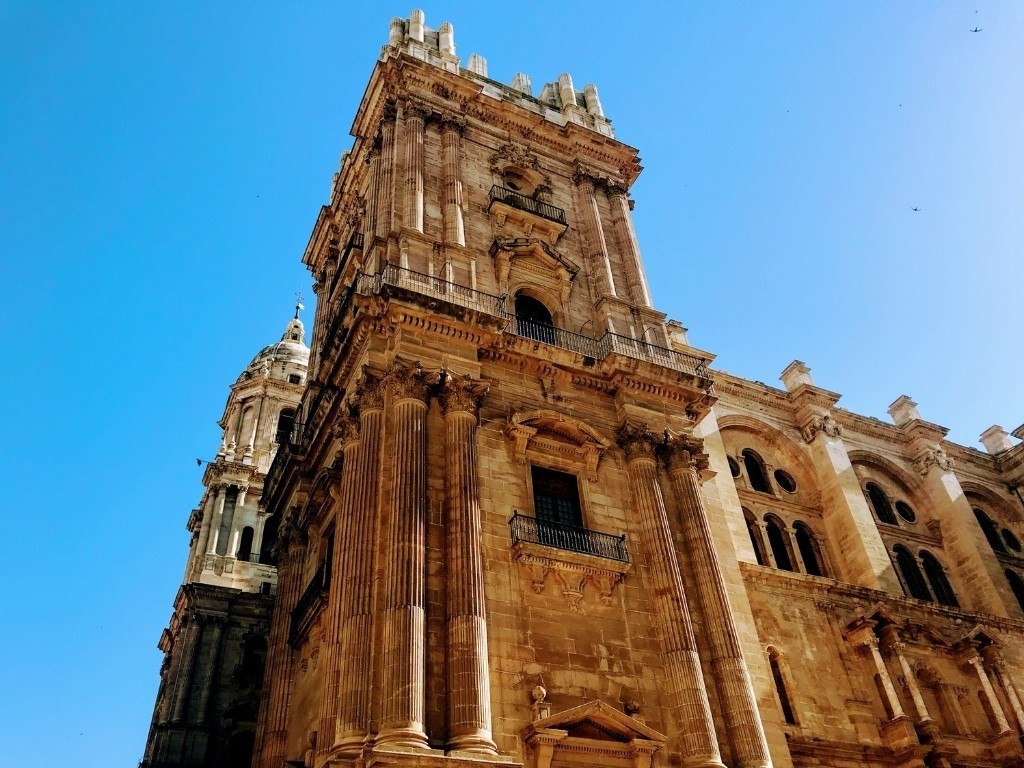 I confess: I was so underwhelmed at the idea of visiting Malaga the first time, that I considered paying more for a flight so that I didn't have to touch down in what I assumed was Brits Abroad Central on the Costa Del Sol. Fortunately, an enduring desire to get the best flight deals possible was inevitably coupled with a flight time that involved arriving close to midnight. So, I had no choice but to stay in the city. And what a stay it was. One night turned into one week; a repeat visit and, this summer, my third return to this coastal city.
You can read about my initial impression of Malaga here, together with how this Roman city swept away my stereotypes within hours of landing. In fact, I became so enamoured with Malaga that it's made it onto my list of the best cities with beaches. Perhaps most important, I've written a separate guide to where to eat in Malaga and it's not just tapas.
So, what does Malaga offer besides using it as a jumping off point for the resorts of the Costa Del Sol? The answer – plenty. From museums (Malaga has some of the best museums outside Madrid), to magnificent meals to Roman ruins, here are my 30 best things to do in Malaga.
Free entry on Sundays: Several of the best Malaga attractions are free for the final hours on Sunday afternoon. I've specified below if there is a free on Sunday option. Check the relevant museum website for the correct times, which are often seasonal and range from after 2 p.m to after 5 p.m.
1. See panoramas from Castillo de Gibralfaro
Castillo de Gibralfaro is a giant castle sprawling over Malaga's hillside and is one of the most impressive Malaga attractions. It's a steep, winding and seemingly endless pathway to the top. There is a bus, but the ever increasing panoramas justify the effort – if not up, then at least on the way down.
Once there, the Gibralfaro really is sprawling and to get the full panoramas, make sure you circle the entire perimeter. Built in the 8th century (and later re-built in the 14th), the site is a complete contrast to the modern-day condos that line the coast. I particularly enjoyed the mini military room – a small museum showing men toting muskets. The interior of the castle is not original but is still impressive.
Take the road from the side of the Alcazaba, Paseo Don Juan de Temboury, and you'll naturally weave your way to the top. Free entry on Sunday afternoon.
2. Explore Malaga's Moorish past at the Alcazaba
I don't know whether it was because the one in Malaga was my first experience of an Alcazaba in Andalucia, but out of all the Moorish palaces I visited in this region of Spain (the Alhambra included) this 11th century version was my favourite.
The sun was shining as I strolled through the grounds and after months in the grips of Britain's winter (I visited on my first trip to Malaga), the orange trees in full green and orange bloom gave me a summer-time high. The crowds were small, the expanse just large enough to enjoy without being overwhelming and the sights over the city and shoreline were flat-out stunning.
Free entry on Sunday afternoon. You can take a guided tour of the Alcazaba (including the Roman theatre – see below).
3. Meet the one-armed lady, La Manquita, at Malaga Cathedral
I don't think I could tire of looking at Malaga cathedral. It's grand, like many of its European counterparts, but it's probably the lop-sided quirky oddity that really captured my heart. The cathedral was under construction from the 16th century for over 200 years. During that time, the project, unsurprisingly, ran out of funds. As a result, the cathedral tower is only completed on one side, leaving the other tower looking like it has been severed. This quirky construction feature has earned the cathedral the colloquial term La Manquita, meaning the one-armed lady. Very appropriate.
If possible, see the cathedral during the day but also when it is lit at night. You can climb up 200 streps to the roof but plan your time – the climb is by a guided tour only that happens every hour in the last few hours of the day. Best bet: swing by the cathedral and check the timings on the day you want to visit. There is a fee to enter the cathedral (more for the climb). I believe you can enter for free on Sunday afternoon when there is mass but do check. You can book a 2-hour guided tour of Malaga centre and cathedral.
Solo female traveller safety: I felt completely safe in Malaga after dark. In fact, one of my favourite things about the city is how busy it is with families enjoying post-dinner ice cream, wandering around as midnight approaches. If you'd rather not walk alone after dark/wine, Uber and taxis are cheap and abundant.
4. Explore the Roman ruins at Theatro Romano (Roman Theatre)
I've wandered past these ruins many times, usually passing between tapas bars and, TBH, I've never felt compelled to take a closer look. I suppose I just have a lack of vision when it comes to ruins – I struggled at the Forum in Rome. Still, this is the oldest sight in Malaga (1st century) and the story of its discovery is fascinating – it was unearthed in the 1950s during work on a new cultural museum.
There is a Centro de Interpretación (visitor centre), which is free, though I've not been. It's also possible to attend a concert in the theatre which, on the one hand, strikes me as a much better idea than the visitor's centre but, on the other hand – letting 21st century tourists trample over 1st century relics? Correct me if I'm wrong on how this works. You can book a tour of the Roman Theatre and Alcazaba.
5. See Picasso's work at the Museo Picasso (Picasso museum)
Given Malaga was Picasso's place of birth, if you make it to only one museum during your trip, this is a Malaga must see. Not only that, who doesn't love the oddities of a work by Picasso? The museum features over 200 exhibits that take you on a chronological journey through Picasso's work and artistic development. The museum does an amazing job of explaining what was so spectacular about Picasso's work given the main artistic themes at the time.
How to do it: If you visit in peak season, make sure you have enough time (a couple of hours) to do the museum justice. Personally, I think the audio guide rambled (and this from someone who is a bit verbose). Better option: you can get most of the information from the plaques in the museum. Check what temporary exhibitions are on. For just €4 more I was treated to an excellent display of Andy Warhol's work. Free entry on Sunday afternoon. You can pre-book Picasso Museum tickets (includes an audio guide).
Watch out for Monday closures: Like many cities in Europe, many of the museums and attractions take a day-long siesta on Mondays. Plan your trip around this. To make it more confusing, some sights prefer to close on Sunday or Tuesday so, again, check.
6. See where Picasso lived at Museo Casa Natal
Although I was pleasantly impressed by Museo Casa Natal, I would suggest keeping your own expectations low because the house is pretty small (it is a house turned into a museum after all), but above all, there is very little of Picasso here – he and his family moved from the house when he was a small child.
All that said, the main room did an excellent job of replicating what life might have been like in this painting household (Picasso's father had also been a painter, though not so successful) and there are some interesting photographs and artefacts.
You'll find the museum in Plaza Merced. The audio guide is included in the price but unless you have a deep fascination with the detail, it goes on way too long so I wouldn't plan your visit by it. Free on Sunday afternoon. You can pre-book tickets to Casa Natal.
7. Enjoy modern art at Centre Pompidou Malaga (Pompidou Centre)
My complete lack of understanding of modern art aside, the exhibitions in the Pompidou centre were enough to give me nightmares. For a week. I can still picture a floating head spinning slowly to a melancholic version of the Lambada – I can send you the video if you're in the mood for being spooked. But, as modern art goes, Malaga's Pompidou features some well-known names that even a contemporary art heathen like myself has heard of (Damien Hirst and Tracey Emin). Also, I really appreciated the little explanation plaques that accompanied each piece, allowing me to at least glean some small understanding of what I was looking at (headless sheep, anyone?). Located near the port, the Pompidou makes a great post-lunch or post-beach visit (assuming you're not shedding sand and dripping sea everywhere). Free entry on Sunday afternoon.
8. See the Old Masters at Museo Carmen Thyssen (Carmen Thyssen Museum)
Split over four levels, what I particularly like about the Carmen Thyssen is that it's perfectly pitched at people who don't know a great deal about art (me). Short descriptions of the artistic style ("cubism" for example, and what it represented at the time), the museum could be considered a real life "Idiot's guide to art" – which perfectly satisfies my intrigued, but highly uneducated art-status. If nothing else, the first floor collection depicting life in Spain hundreds of years ago, complete with gypsies and fiestas, is worth the entrance fee. Free on Sunday afternoons. You can pre-book your Carmen Thyssen tickets.
9. Explore glass history at Museo del Vidrio y Cristal (Museum of Glass and Crystal)
The Museo del Vidrio y Cristal (Museum of Glass and Cristal) was recommended to me so along I went. However, it was my 3rd museum that day and the only option is a guided tour. That would have been fine – the guide was a great mix of interesting and amusing and the house and exhibits are beautiful. However, there were two ladies in my group having a smack down about who knew the most about glass and, when they ran dry on that topic, carpets. After an hour and a half, stomach rumbling, I skipped out on the last room. Guess you can't pick your tour mates on these things. I wish you better luck.
It takes a bit of finding but the city signs will get you there if you just have faith when the route seems to run dry. You're just outside Malaga city centre's pretty parts but only by a few minutes.
10. Visit CAC, the Centro de Arte Contemporáneo (Contemporary Art Museum)
I still don't get modern art. I stand there, I look, I try to appreciate what's before me. And I still don't get it. But my quest to understand will continue. And, given this museum is free and, in July, was blissfully devoid of other visitors, it was a great chance to enjoy some silence, crisp air conditioning and muse the complexities of an art I'm still yet to 'get'. Unlike most of the museums in Malaga, CAC is pretty small and can be visited in under an hour. It's located near the Malaga Centro Alameda train station. Free entry.
11. Understand Malaga's history at Museo de Malaga (Malaga museum)
Opened in 2016, Museo de Malaga is a combination of archeological artefacts and fine arts. It's a small enough museum that offers a nice short visit and contrasts to the 'big art' found elsewhere in the city.
12. Take a tapas tour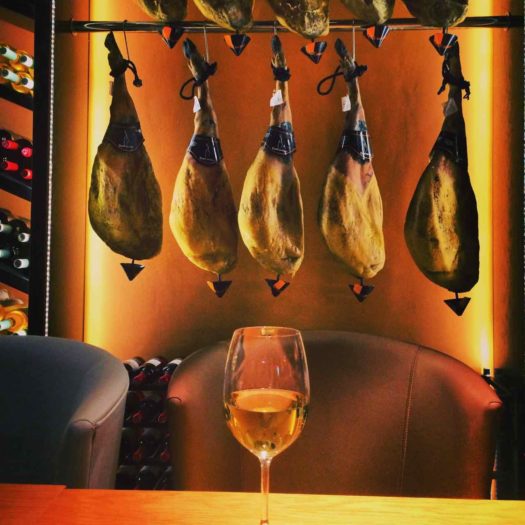 Malaga old town is fantastically walkable. In fact, with its winding alleys, getting around by foot can sometimes seem like the only way. Here's the problem: Malaga is anything but a grid system and even after three visits I always pop out in curious places that I didn't expect when I take a winding wander. If you prefer to cover more ground, a bike tour will get you to more of the city. But best of all, if you prefer to have a purpose to your city walks, why not go on a tapas crawl. There are literally hundreds of tapas bars in Malaga and having a local show you around, you'll be ahead of every other visitor. A tapas crawl under the supervision of a local can help with the ordering too, if tu no hablas español (you don't speak Spanish).
Here are some of the top rated walking, bike and tapas crawls you can book in advance:
Like wine? Check out my list of Prosecco cocktails on my Italy website.
13. Hop on the Malaga sightseeing bus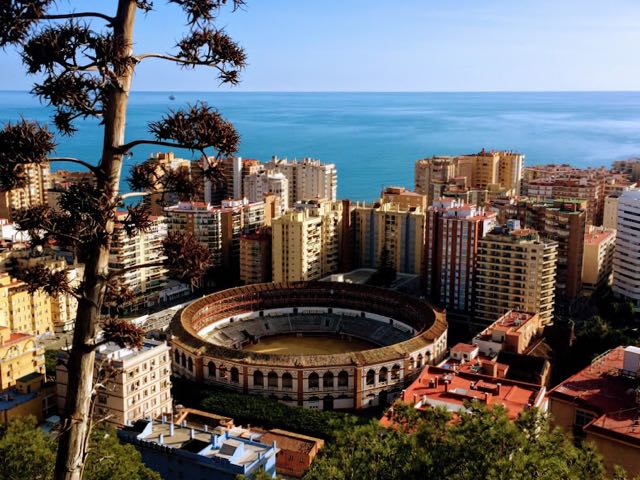 Don't fancy the effort that comes with walking around the city? You'll be pleased to know that Malaga has one of the popular red city sightseeing buses. It's a great way to get a feel for the location of the various Malaga attractions before hitting the city by foot. You can book City Sightseeing Bus tickets in advance (usually cheaper) here.
14. Enjoy lunch at Mercado Ataranzas (Ataranzas Market)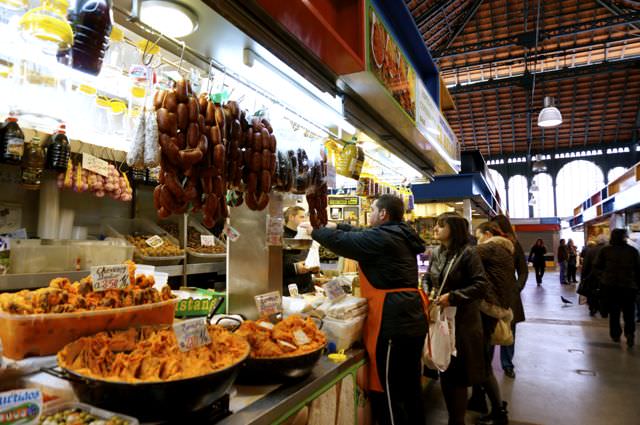 I can devour consecutive plates of tapas as quickly as the next food hog but it doesn't take long before my body is crying out (often in the form of zits on my face and a widening of my hips) for fresh fruit and veggies. With avocados bigger than your hand, tomatoes you need a sword to carve and melon you won't be able to carry, Ataranzas market has all your fresh food needs.
This is a traditional market (compared to the likes of Mercado San Miguel in Madrid) so ask before taking photos and practice your Spanish if you have some to hand. Go in the morning as it closes after 2 p.m. and is also shut on Sundays.
15. Relax at traditional Araba baths at Hammam al Andalus
If my budget was endless, I'd visit these Arab baths every day. As well as the usual variety of different temperature pools, there is a steam room and mint tea area. The building itself is a beautiful exhibit of Moorish architecture – float on your back and stare at the ceiling. If you're after a Malaga spa, choose this – perfect especially if you're on a Malaga city break.
Entry to the baths is on a time-slot basis so I recommend booking in advance. I can highly recommend the 1-hour deep tissue massage. The masseuse worked out knots in my shoulders that even a Thai masseuse failed to unravel. Go for the earliest session you can book. The crowds get bigger as the day wears on. You can book entry and a massage at Hammam Al Andalus.
16. Swim in the Mediterranean at Playa Malaguetta (Malaguetta Beach)
Ok, it's not the prettiest stretch of sand to front the Mediterranean Sea but if you're in need to some beach time or want to take a refreshing dip (the water was bracing even in July), get to Malaguetta beach.
The beauty of this Malaga beach is its proximity to the city – just 10-15 minute walk from the centre. The beach is tucked away at the end of the port area. Head towards the lighthouse and then follow the trail of beach-bag toting people down to the sand. Budget tip: Some of the cheapest water in the city can be found at Belros, a candy shop at the port, on the way to the beach. At only €1.50 for a 2-lite bottle, pick one up before you get comfy on the sand. You'll pay €1 for 500 ml almost everywhere else.
17. Go stand-up paddle boarding at Playa Malaguetta (Malaguetta Beach)
I didn't get round to this on my last trip, which is such a shame as it would have been the perfect counterbalance to all the food I ate. Also, last time I tried stand up paddle boarding, I was in Texas and it was one of those spur of the moment things where I ended up on a board on a lake in a dress. You know how these things go?! Personally, I'd like to try it again without fear of getting my underwear wet. Whether you're bored of the beach or just want a bit of movement, stand up paddle boarding has got to be one of the more fun Malaga activities to try. Rent your board at the beach.
Want adventure? Book a day trip to hike the staggering Camino del Rey – a suspended cliff-face walkway.
Want to be on the water rather than in it? Book a Catamaran Sunset Cruise with Cava.
18. Have a massage at the beach
Don't want to spend €100 on a massage at Hammam al Andalus? Why not pay €20 for a thirty minute massage at the beach. You'll have to be open to the idea of having the very, very bottom of your back (bottom crack) on display in public but this is Spain where women of all ages, shapes and sizes confidently sunbathe topless, so you're not going to raise a glance.
How to do it: lie down, wait for one of the many masseuse ladies to come by. Beware the bait and switch. The €10 massage you agree to is for your back only and lasts around 15 minutes. The full-body massage is €20 and the up-sell comes after they finish with your back.
19. Take a stroll along Paseo de España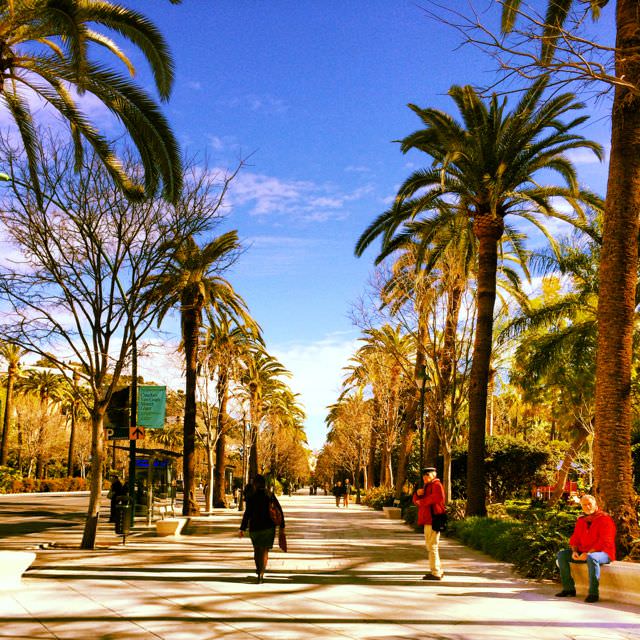 Malaga is probably most famous for its coastal stretch but there is also a beautiful palm-lined area just before toward the port. Trying to add some much needed sporting activity into my travel life, I spent a fair bit of time running down this lovely, straight, long path. With the sun on my back and Spaniards going about their daily life – walking their dogs or reading a newspaper on a bench – there was something instantly calming about this space. Surprising given the area is flanked by major roads on each side. The roads can seem near impossible to cross as you head down to this area of the city but there are designated crossing areas. Keep any eye out and cross with the waiting crowds or run the risk of getting squashed.
20. Enjoy a long lunch at Muelle Uno, Malaga's port area
It's possible your evenings are being spent hopping from one Malaga bar to the next, chomping on tapas, but aren't you craving a long, languorous meal? Why not take shade in the heat of the day and indulge in a long lunch. The port area, Muelle Uno, has a plethora of upscale (and some budget) lunch options. Kick back, dine slowly and take in some excellent people watching over a cool glass of white wine. Head towards the lighthouse and the range of restaurants will open up before you.
21. Get out into Malaga's bay with a boat trip
Sure, with its big ferry terminal and a few high-rises dotting the horizon, Malaga bay isn't as beautiful as it once was but the Mediterranean sea is still spectacular and you can't argue with the pleasant breeze in your hair. There are two main options – the city sightseeing boat tour, which is is included if you buy the Experience Card (offering a discount across a host of Malaga attractions) or Anne Bonny, which is the boat I took. I imagine there is little difference between the two cruises and mine wasn't such a great trip so I'd try the City Sightseeing Cruise. Do check the departure times as they can be a bit sporadic. Also, take note of the departure times posted – I was told 'leaving in 5 minutes' to get me paid up and onboard – we didn't end up sailing for a further 30 minutes; at the designated departure time, funnily enough.
22. See the sky with Malaga's ferris wheel, Mirador Princess
Rising 70 metres and offering 360 degree panoramas over 30 kilometres, you are not going to get a better view of Malaga than on the Mirador Princess. Located near the port, the ferris wheel is one of Malaga's iconic attractions and, if nothing else, is a great way to escape the heat, thanks to its air-conditioned cars. This is one of my favourite views because I know I'm finally near the Mediterranean sea.
23. Explore Spanish wine at Museo del Vino (Museum of Wine)
I run a wine website and I regularly travel out of my way to find wine in unexpected places (I found vineyards in Thailand) so visiting the Museo del Vino in Malaga was an obvious choice. Especially when the €5 entry fee includes two tastings.
24. Sip a sunset cocktail at one of Malaga's rooftop bars
With such a thriving tapas scene, it's easy to ignore the bars that lie above. Which is a shame because Malaga has an excellent choice of rooftop bars that offer splendid views over the city. Perfect at sunset – just don't forget your sun cream in summer. The sun is still scorching until it finally disappears well after 8 p.m. A few of my favourite rooftop bars include those at the top of the AC Marriott Hotel, the Molina Lario Hotel and Alcazaba Premium Hostel.
25. Taste Cruzcampo's craft brews in the Cruzcampo Fábrica
For those of you who enjoy a cold beer on a warm day, it won't take long to find a Cruzcampo beer in your hand in Malaga. But did you know there is a Cruzcampo microbrewery in the city? Located in the SoHo area of Malaga, a short walk from Ataranzas market, the 'fábrica' is a huge space that serves premium craft brews that have been created on site. It also features a gastropub, making it the perfect night out when you're sick of tapas.
26. Watch a Flamenco show at Kelipe Centro de Arte
Did you know that the traditional Spanish Flamenco dance originated in Andalucía, the region of Spain that contains Malaga? So, what better place to take in a Flamenco show? This Flamenco show includes flamenco dancing, guitar, tapas and drinks – it will be a memorable evening.
27. Watch a performance at Theatro Cervantes de Malaga
If you're looking for a more local dance performance, get to Theatro Cervantes de Malaga where you'll find a full programme of theatre, music and dance.
28. Take the train up the Costa del Sol coast
Malaga is the gateway to the famous Costa del Sol and if you want to get out of Malaga centre and find out what all the fuss is about, there's a very handy rail and bus network that will help you do it. I'm still yet to take this trip myself. Still working my way through all the museums. Catch the train from either Malaga Centro Alameda or Maria Zanbrano, both of which are walking distance from Malaga old town. If you want to do a bit of research on where to visit along the coast, check out the Andalucia copy of the Lonely Planet guidebook.
29. Take a day trip back to England, in Spain (i.e. visit Gibraltar)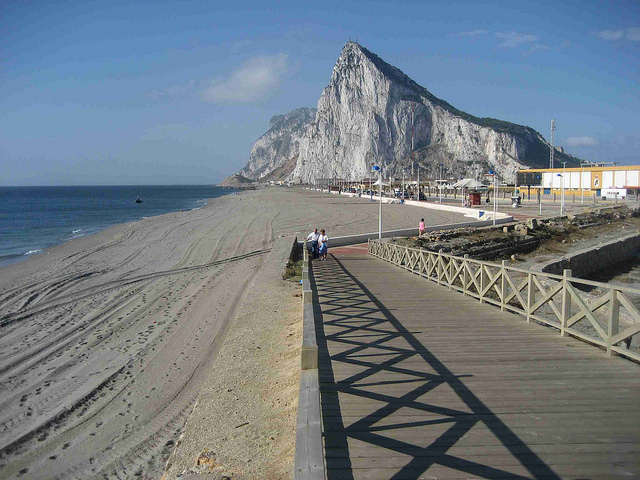 A British overseas territory, tiny Gibraltar is located only 2-hours away from Malaga by car, just a bit further south west than Fuengirola. A throwback to British seaside resorts in the 1950s, don't forget to knot a handkerchief on your head (1950s sun hat) and eat an ice cream by the sea. And if you really want to confuse those back home, don't forget to post your postcards from a British postbox. You can either hire a car for the day or, if you prefer, you can take a guided tour which includes transport from Malaga as well as a tour of Gibraltar. I usually default to RentalCars.com where you can search several rental companies in one go. For tours, there are several available through Get Your Guide.
30. Go shopping on Calle Larios
Personally, I only go shopping if I'm forced to (i.e. my shoes have broken and I don't have a spare pair/glue/blue tac/chewing gum to fix them) but I appreciate that shopping is a popular past time for many and so I present to you Calle Lario. There, you'll find myriad high-end retail brands and if you wander down the side streets, you'll find some local brands too. Although I don't like shopping, taking a post dinner stroll down this impressive street is a nice way to end the day while getting in some good people watching.
Where to stay in Malaga
I've also bunked down in a few hostels in Malaga (you'll come to realise I waiver between luxury and budget when I travel – I don't really get on with 2 and 3 star spots).
Related Articles:
Like this? Share it on Pinterest...
Photo credit – Gibraltar