If I asked you what there was to do in Austria in winter, what would be the first thing that came to mind? For most people, it would probably be skiing or snowboarding in the snowy Alps. And don't get me wrong, Austria does have many fantastic ski resorts and slopes for skiers of all levels. But what about for people who don't ski? Or for those who only want to make skiing a part of their trip? Is Austria a good all-around winter destination?
I headed out to the beautiful Tirol region where I quickly realised that there is plenty to do other than just skiing. Here's my list of the the best things to do in Austria in winter.
At the end, I've included a map of all the places in this post.
1. Go Tobogganing in Tirol
Tirol is a western Austrian state in the Alps, known for its snowy ski resorts in the winter and beautiful hiking paths during the summer. What many people don't realise is that Tobogganing ('Sledding' or 'Rodeln' in German) is one of the most popular things to do in Tirol in winter (other than skiing) among the locals and is becoming increasingly popular with tourists too.
There are over 750 kilometres of well-groomed toboggan runs across the Tirol region and the somewhat more unusual winter sport is easy for anyone to pick up. Unlike skiing, Tobogganing doesn't require prior experience of the sport or for you to take beginners classes. All you need is a quick run through of how to brake and handle corners, then you'll be whizzing down the runs at speeds of up to 20-30mph almost immediately.
Don't let the speed put you off – as someone who fell off her sled several times in the beginning, all you'll do is roll into a soft pile of snow at the edge of the run which is actually more fun than scary.
Many Tiroleans buy their own toboggans from master craftsmen in the region who specialise in making the special sleds by hand, such as family producer Gallzeiner Rodeln who I had the pleasure of visiting at their factory. However, it is also possible to hire toboggans from local sports shops, chair lifts/cable cars or even the small mountain huts on many routes.
Some routes are accessible by cable cars or chairs lifts, while some require hiking for around an hour or two in the snow to reach the starting point of the route. The lifts may sound tempting, but hiking can be great fun too and is all part of the experience. Plus the amazing views are definitely worth the extra exercise.
Where to go tobogganing in Austria
Mieders, Stubai Valley – The Serles run in Mieders in Stubaital is a great option for daytime tobogganing for those who want to do numerous runs continuously. Take the Serlesbahnen Mieders lift (you can hire toboggans from here) to the top then sled down the 6km run where you can jump straight back on the lift and go again and again.
Kellerjoch, Schwaz – At 9.1 kilometres long, the toboggan run from the Kellerjoch down to Schwaz is the longest in Tirol and the second longest in Austria. Take the chair lift up to the mountain station of the Kellerjochbahn, where you can pop inside Hecherhaus for a shot of local Schnapps with enthusiastic manager Wolfgang "Wuff" Schulze-Boysen, then jump on the toboggan track which winds its way through Grafenast down to the Schloss Freundsberg on the outskirts of Schwaz.
2. Go Night Tobogganing
One of the greatest things about tobogganing is that just because the sun sets doesn't mean the fun has to stop. In fact, one of the most common times to go sledding in Austria is during the evening.
Night tobogganing is an extremely popular activity with locals, where groups will hike up the mountain after dark, stop at a mountain lodge or hut for a warming dinner and a few local beers or schnapps, then head back down on the illuminated tobogganing tracks. For those who are heading to Austria to spend their days' skiing, tobogganing makes a fun extra evening activity.
Elferbahnen, Stubai Valley is one of the best places for some winter night tobogganing. There are several toboggan runs in Elfer in Neustift im Stubaital, including the longest run in the Stubai Valley at 8km long. The toboggan run is lit up at night three times a week (Monday, Wednesday, Friday from 7.30pm to 1am) and is a great option for night tobogganing. If you fancy stopping for dinner or drinks at the peak, try the Elfer Panorama Restaurant.
3. Grab some Snowshoes and Go Hiking
Snowshoes are special footwear designed for walking in deep snow that work by distributing your weight over a larger area to avoid sinking. There are plenty of great places for snowshoeing, particularly throughout the Austrian Alps. Snowshoeing is a good alternative to skiing or tobogganing for people who like to take life at a slightly slower pace.
You can rent some snowshoes at equipment rental stores then take a slow walk in snowy wilderness and explore the more off the beaten track locations. The untouched terrain of the Tannheimer Tal Valley in Tirol is a particularly popular location for snowshoeing.
4. Go Bobsledding on an Olympic Track
Ever since hosting the 1964 and 1976 Winter Olympic Games, the Bobsleigh, Luge and Skeleton Track in Innsbruck Igls has become one of the most popular places to visit in Tirol for winter sports enthusiasts. The track is still used today to host important international competitions for all three sports, such as the Winter Youth Olympic Games in 2012.
Guests can visit the on-site Bobcafé where you can warm yourself up with a hot drink while watching the training or competitions taking place on the live TV screens or out of the panoramic windows. Personally, I prefered getting right up close to the action at the side of the track, catching a glimpse of the racers woosh past at impressive speeds of up to 90mph.
On certain dates from December to early March (unfortunately not during our visit as training for the Youth World Championships was taking place), guests can even experience the ice-track for themselves. Along with a professional bobsleigh pilot, you can either experience riding a guest bobsleigh from the 800m women's start, or go all out and experience the full 1,270m long track on a race bobsled ride. This is certainly something I'll be returning for one day!
The Bobcafe is open from Tuesday to Sunday 10am to 6pm. For the guest bobsled rides, check dates and times here. The 800m bobsled rides don't need a reservation (just go to the Bobcafe) but the race bobsled rides do. These can be booked by emailing or calling – details can be found here.
5. Visit the James Bond Spectre film location at ice Q
For a rather special experience, take a cable car up to the ice Q restaurant, Austria's highest located toque-rated gourmet restaurant at 3,048 metres above sea level. Sat on the peak of the Gaislachkogl mountain in Sölden, the ultra-modern building is most well known for being the location where James Bond's 'Spectre' was filmed.
Even without its movie fame, the ice Q's impressive modern architecture, spectacular mountain views and high-quality 'Alpine cuisine' are enough to make this amazing spot one of the most luxurious restaurants in the Alps and a star in its own right.
Bond fans can ride in the cable car ridden by Ben Whishaw (who plays Q) and walk in the snowy footsteps of Daniel Craig himself. In 'Spectre', ice Q was the location of the futuristic clinic where Bond's opponent Christoph Waltz forged his sinister plans.
The restaurant can be reached using the Gaislachkoglbahn cable car and takes 12 minutes. During the winter, ice Q is open daily from 9am to 4pm, with warm meals served from 11.30am to 3pm. Every Wednesday the restaurant hosts a 5-course gourmet 'Summit Dinner' from 6pm to 10pm. Reservations are recommended.
6. Relax in a Thermal Spa
With winter temperatures getting down as low as -15, the idea of outdoor pools during winter didn't initially sound too appealing to me. That's until I got a glimpse of the Aqua Dome Hotel & Tirol Therme Längenfeld, an extremely chic spa hotel overlooking the Ötztal alpine valley.
With 12 indoor and outdoor heated pools and 7 saunas in an extremely scenic location among the snow-covered mountains, Aqua Dome is a beautiful place to unwind and relax in the Austrian Alps.
Unfortunately, I was unable to stay at this unbelievably swanky hotel during my recent trip to Austria, however, I definitely plan to return in the future for several days of ultimate relaxation at the Aqua Dome because I really love a spa hotel break.
If you're not staying in the hotel itself, you can purchase a 3-hour ticket or an unlimited day ticket to access the thermal baths and saunas.
7. Stay snug in your hotel and enjoy the views
Is there anything more cosy than sitting inside, all toasty, watching the snow fall? And what better place to do it than Austria. The country has an abundance of hotels with beautiful views, restaurants overlooking the snowy peaks and relaxing spa facilities. So why not spend a day indoors?
One of the highlights of my time in the Tirol region of Austria had to be staying in the 4-star Biohotel Grafenast in the Karwendel Silver Region in Schwaz. Not only is the cosy alpine property Tirol's first CO2 neutral hotel, but all of the products used within the property are organic and local.
My room had one of the most breath-taking views I've ever seen over the Inn Valley (you can see as far away as Innsbruck), while the hotel also had a large forest sauna, a Hamman, yoga classes and a massage parlour. Even in the freezing temperatures, I could have happily spent an entire afternoon cosied up in a blanket on my balcony with a good travel book and a warming cup of tea (made from the hotels own herb garden).
8. Eat the local Austrian food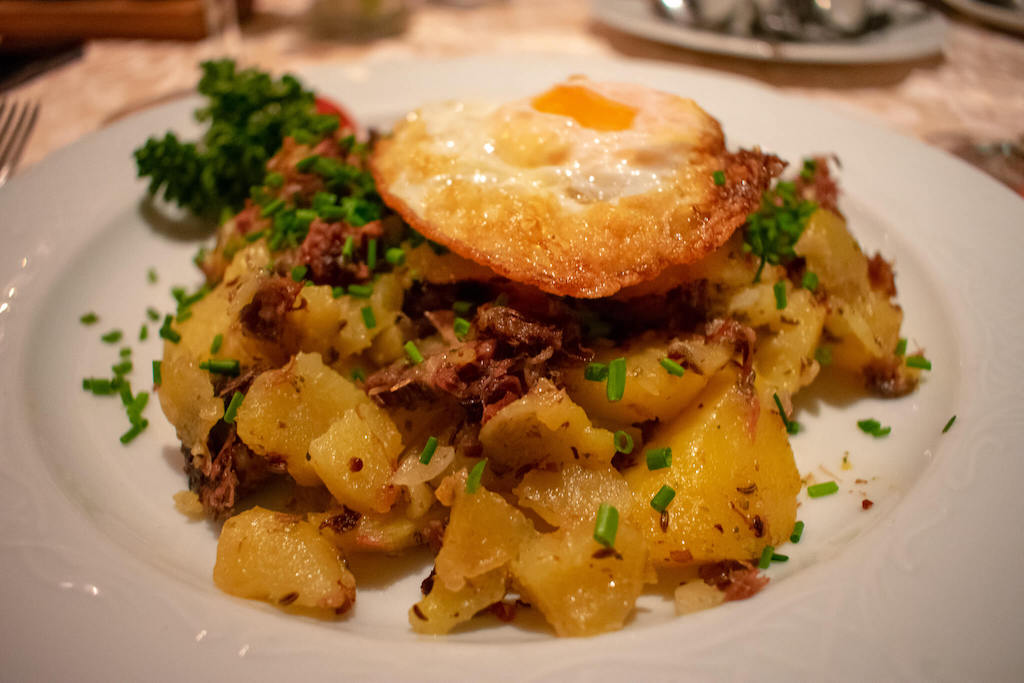 I love trying the local foods (like I did in Greece, Jamaica, Rome, Ireland and Japan). Between the minus temperatures and labour-intensive activities such as hiking up mountains and tobogganing back down, it's safe to say I had a pretty hearty appetite during my time in Austria, and the local Austrian dishes I got to try certainly succeeded in satisfying this.
At the very least, put these three dishes on your Austrian food bucket list.
Kaiserschmarrn – Also known as the emperor's pancake after the Austrian emperor Franz Joseph I who was particularly fond of them, Kaiserschmarrn are thick, fluffy pancakes which are served shredded with berries, nuts and/or fruit sauce or compote. This dish is particularly popular at the huts and restaurants in the Austrian Alps.
Käsespätzle (my absolute favourite) – Often described as the Mac & Cheese of Austria, Käsespätzle consists of soft egg noodle (more like pasta) with local cheeses produced in the Alps and topped with crispy onions. A warming comfort-food dish which is perfect after a long winter walk in the mountains.
Tiroler Gröstl – A delicious dish from the Tirol region of Austria which was traditionally a way of using up yesterday's left-overs, Tiroler Gröstl is a filling pan-fried dish consisting of bacon, onion and potato, topped with a fried egg. Try the Alpengasthaus Gleinserhof in Schönberg im Stubaital for the most delicious Tiroler Gröstl and other tasty local dishes homemade using ingredients from their own farm.
I love trying the local foods, like I did in Greece, Jamaica, Rome, Ireland and Japan. And now I've added Austria to the list.
9. Enjoy the aprés-ski
In Austria, you certainly won't be judged for enjoying a little apres-ski – whether you're actually skiing or not. Cosying up in a mountain hut with a local tipple is a great way to take a break from the activities and to escape the unavoidable chilly weather.
These were a few of my favourite local tipples that you should definitely try.
Weissbier – A top-fermented wheat beer popular in Germany and Austria. There are a number of breweries in Austria making good weissbier so make sure to try a local brand. Edelweiss was my personal favourite.
Radler – A mixture of beer and lemonade or citrus soda (such as grapefruit). Similar to a British shandy, Radler is a tasty and thirst quenching beer perfect for people who aren't fans of the heavier beers.
Schnapps – Described to me by a local as Austria's favourite winter tipple, Schnapps is a type of distilled fruit brandy often called Obstler which comes in a number of flavours such as apple, pear, cherry and plum. Schnapps is usually enjoyed straight as a shot on its own or at the end of a meal.
10. Take the Tirol Schnapps Route
Talking of Schnapps, the region of Tirol has been home to craft distillers since the 1700s, with some 5 million kilograms of fruit now being used each year to produce the signature hand-crafted schnapps, spirits and liqueurs.
The area even has its own 'Tirol Schnapps Route' where you can stop by some of the 41 artisan distilleries and sample some tasty Austrian schnapps. At a distillery tour you'll be taught all about the creative science of Schnapps production, learning about the entire process from fruit to bottle.
Discover some of the best routes and distilleries in Tirol here. Most distillery tours require calling or emailing a couple of days in advance to book. Distillery tours start at roughly €15 per person.
Like a tipple? Add Italy's Prosecco Region to your bucket list. It's only an hour from Venice.
11. Visit Austria's cities – Vienna, Salzburg and Innsbruck
A great activity is to visit one of Austria's popular cities; Vienna, Salzburg, and Innsbruck. Austria's colourful and historic cities look extremely beautiful coated in a fresh layer of snow, plus they're far less busy than in the summer months so you can enjoy the sights without crowds of other tourists.
In Vienna there's Schönbrunn Palace and the Opera House. It's a good idea to pre-book skip-the-line tickets for Schönbrunn Palace.
In Salzburg you can stroll down the charming streets of Old Town and marvel at the interior of Salzburg Cathedral. This is an excellent guided walking tour of Salzburg Old Town. Otherwise, you can take a guided tour of just the cathedral.
While in Innsbruck (in the Tirol region) you can explore the Imperial Palace and the 16th-century Ambras Castle (book tickets in advance here). And if you're visiting Austria in December, you'll also be able to check out the amazing Christmas markets in all three cities.
If you're visiting the cities during the winter and plan to tick off many of the museums and main attractions it might be worth investing in the city card – The Innsbruck Card, the Salzburg Card and the Vienna Flexi Pass.
Useful Information for visiting Austria
I've created a map of things to do in Austria.
With many of the best winter activities located in the Alps in the Tirol region, Innsbruck Airport (Kranebitten Airport) is the most convenient to fly into and is served by many low-cost airlines.
Stubaital in Neustift im Stubaital is a great area to base yourself in and is around a 45-50 minute drive from Innsbruck Airport. There is a Stubaital Bus which travels between Innsbruck Central Station and Stubaital, however, many hotels and resorts offer free transfers for those who decide not to drive themselves.
Related Articles
Love winter travel? You might be interested some of my other posts:
20 Things To Do In Verbier In Winter
Snowboarding For Beginners: A Complete Guide
The Only Packing List You'll Ever Need (with printable checklist)
15 Long Haul Flight Essentials: What to Take Onboard
Share it on Pinterest.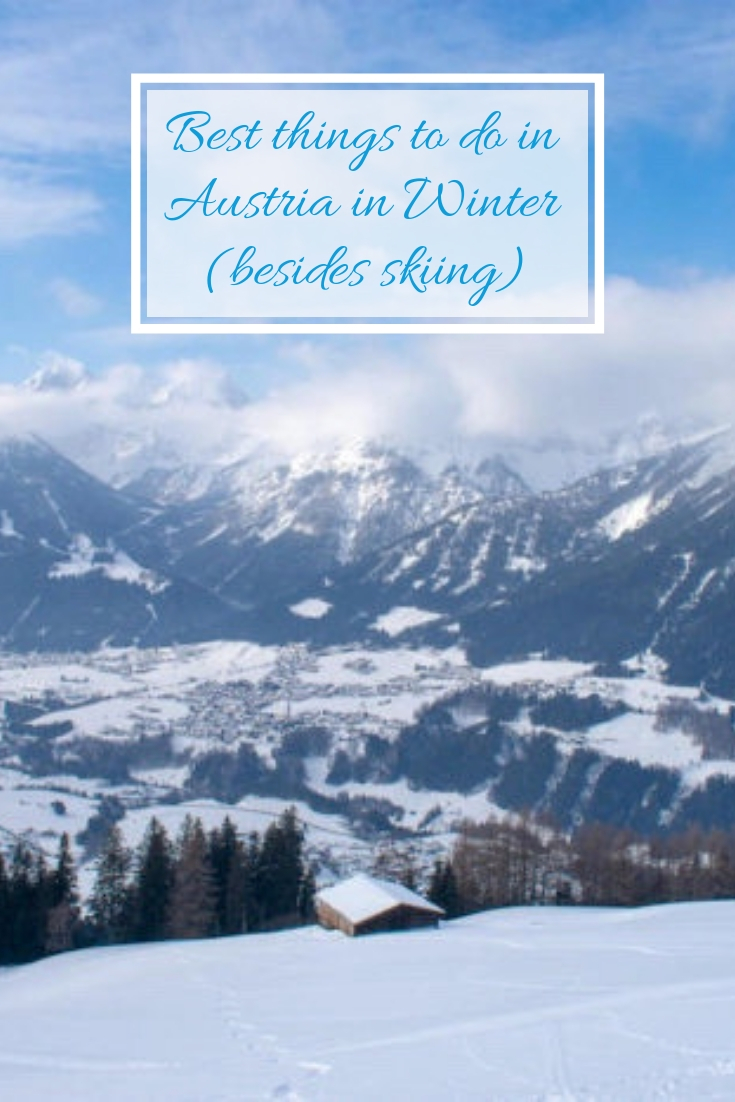 Emily visited Tirol courtesy of the Austrian Tirol Tourist Board