During four years as a full-time wanderer, I've been on an endless search for the best shoes for travelling. From trekking to every day wear to smart shoes that travel well, here's my tried and tested review of the best travel shoes.
Note: Guys, this article works equally well for you too…except you might not agree with my colour choice of pink…
If you'd have asked me back in 2010 what were the best shoes for travelling, I'd have said flip-flops and the conversation would have quickly moved on. That year I travelled for nearly 14 months moving between cities, beaches and adventure travel spots, and while I packed four pairs of shoes in total, I spent the vast majority of the time with my flip-flops attached to my feet.
Nearly four years later, several toenails lost, countless incidents of cracked heels, stubbed toes, athletes foot, a bout of verrucas and, worst of all, an (as yet undiagnosed) pain in my feet and lower calves when I walk, and "my flip-flops" no longer flies.
My nan always used to say "Look after your feet because you've only got one pair." And how damn right she was. For someone who likes to wander as much as I do, messed up feet is far from ideal.
After that first year of travel, moving around with around 15kg on my back and nothing more than a flat, barely spongy base for support, I came to realise that my permanent flip-flop wearing was progressively ruining my feet.
In fact, my foot pain became so bad that I became obsessed with finding an alternative form of everyday travel footwear. From trekking sandals, to running shoes to high heels, I've tried a lot of different styles and brands in my quest for good travel shoes. And this year, after almost as much research as I've done sightseeing, I finally found what I was looking for.
What follows is my well-trodden, tried and tested view on what really are the best shoes for travelling with, together with a summary of the perfect number and type of shoes to take on any travel adventure.
Flip-flops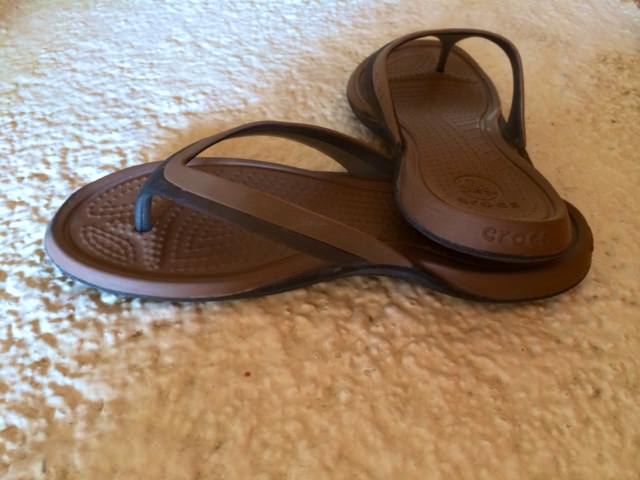 Why travel with flip-flops
I've already shared my view on flip-flops and how their lack of arch support is a recipe for misery later down the travelling line, particularly with long-term and extended use. That said, flip-flops are absolutely an essential item for any long-term trip. From communal showers to beach use to providing comfort after a long day of hiking, you're going to be very glad you packed a pair of flip-flops for your trip.
So, here's the flip-flop Brands I've tried.
Havianas
Havianas are by far one of the prettiest, most fashionable and funkiest flip-flop brands out there. And if you're after style and choice (let's face it, wearing the same shoes everyday you'll want to swap colours every now and again), then Havianas are the go-to brand.
They are easy to pick up around the world and you'll have no trouble find a pair to match whatever style you want to rock. Sure, they are more expensive than almost every other flip-flop brand on the market but the huge upside is that they are going to hold up a lot longer than that £2 pair you saw in Primark.
…yet Havianas, as beautiful as they are, come with a major downside – a total and utter lack of foot support. While the Haviana sole may be that bit thicker than a £2 pair you can pick up anywhere, and some of the Haviana styles do give a bit more support than others, overall they are a bad choice for long-term, everyday wear.
Crocs
Please don't click-off with disgust. I'm am not a Croc fan. Not in the slightest. I'm not, I'm not, I'm not (doth she protest too much?). However, after a lot of research, I recently found myself buying a pair of croc flip-flops.
Gasp.
I know. I cringed too as I hit the buy button.
They may not win in the style-stakes, but you have to admit that the branding (picture above) is more subtle than you might expect (they certainly don't look like other Croc shoes), and, most essentially, the support given by Croc flip-flops is way better than Havianas.
I bought the Croc's Women's Really Sexy Flip-Flop (their words, not mine – I think "Relatively Sexy Flip-Flops" is more accurate). I chose them because I wanted a lightweight, non-chunky flip-flop but one that could provide the most amount of support. The Crocs have a Croslite footbed for maximum comfort which gives a noticeably enhanced amount of arch support compared to my havianas of years gone by (though keep in mind they are still flip-flops).
The Crocs also offer, a good grip on the sole, and a relatively pretty style. Apart from being "Crocs", these flip-flops have another downside – there is have a slight well around the inner rim of the insole. Together with the textured footbed, moisture lingers longer than I would like after a shower, which can be annoying.
That aside, function (of my Crocs) has definitely won out over form (of my Havianas).
Update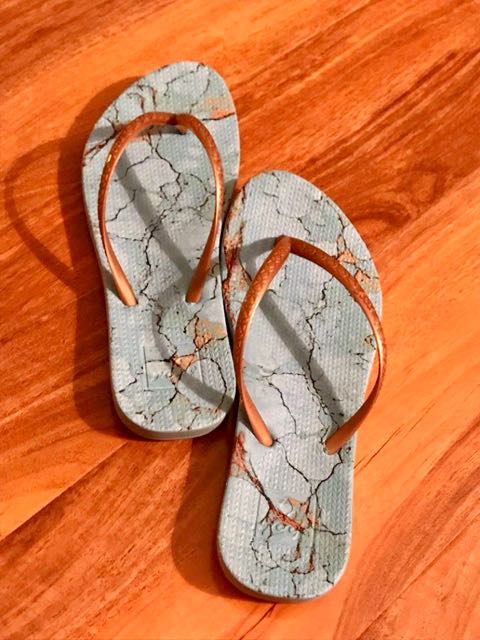 Try as I did, I just couldn't get on with my Crocs. Part of it was shame (you understand, right?) but mostly it was function. The Crocs (I shudder every time I type that) have a little well around the side. You can see in the picture above – upshot, it acted like a moat, keeping a level of liquid on the shoes after every water adventure.
I'm currently packing a pair of Reef and I love them. With more cushioning than Havianas, though not much less by way of price, I'll definitely be buying a new pair when I wear these out.
Buying tip: make sure you don't get one with a suede/material foot bed.
Winner: Reef
Buy them on Amazon:
Pro Travel Tips:
Why you shouldn't buy cheap flip-flops
So many travellers I meet spend their days wandering around in the cheapest pair of flip-flops they can find. While that may be healthy for your budget, it's certainly not healthy for your feet. If you are going to spend a lot of time in these all-purpose shoes, I'd highly recommend spending a bit of extra money for a decent pair.
Flip-flops in Asia
If you're going to Asia, pack a pair of flip-flops exclusively for indoor use. Arrive in a hostel or hotel in most parts of Asia and you'll be asked to go barefoot. That bout of verrucas I mentioned – I acquired it Japan when I'd forgotten to pick up a pair of indoor shower shoes and took the risk of going bare foot. Bad. Decision.
Running shoes
Why travel with running shoes
Apart from the obvious function (running), I recommend travelling with running shoes for those more strenuous activities where trekking sandals or flip-flops just won't cut it. Running shoes can be great for hiking volcanoes, heading into the jungle, and other travel adventures where you want a closed-foot shoe, better grip or more foot support. Running shoes are also a good cold-weather option when your toes might freeze in a sandal e.g. at altitude or in winter weather.
Brand I currently travel with (and why I want to switch): Brooks
For a long time, I've been a huge fan of Brooks running shoes. Back in my lawyer days I was a regular runner and gym go-er and Brooks kept shin pains at bay (something I acquired when I was running in Ascics). And for that reason I have packed a pair of Brooks on all of my trips.
I was moderately happy with my old Brooks (a style that is no longer available) and despite a bit of underfoot slippiness on the Inca Trail (a task they were not designed for), they have served me well. However, they reached the end of their life this year and I found myself in the market for a new pair.
Trusting the Brooks brand and after a consultation with the folks at Natterjack Running in the UK, I selected a replacement pair. Sadly, I've never been more disappointed and unconfident with a pair of running shoes in my entire sports shoe wearing life. From wet plazas in Spain to leaves underfoot, metal grates and even my mum's tiled kitchen floor, I can't seem to pass more than a few paces without taking a slide in these shoes when there is water in play.
In short, my Converse (which are notoriously bad for slippery soles) felt like they gave me more grip than my Brooks running shoes. Sure, my Brooks work fine on a treadmill, but that's not the extent of my requirement.
Returning from Spain, I contacted Natterjack Running to see about a replacement (I genuinely thought my pair was faulty) and I was met with the rudest display of customer non-service. Biting my tongue, I turned to Brooks who, in fairness had exemplary customer service and within a few days a replacement pair arrived ready for my trip.
I'd like to be able to end this story with a happy note that I've fallen back in love with my Brooks but the opposite is true – the replacement pair were just as slippery as the first set. Sigh.
Upshot: I'm currently travelling with my Brooks running shoes because I didn't have enough time to find a replacement but I'm in the market for a different pair if anyone has any recommendations.
Note: I'm sure Brooks have lots of other good versions of their shoes, I just wouldn't recommend Brooks Glycerin 11 for outdoor activities that may involve rain.
If you do decide to buy a pair of shoes, I'd recommend avoiding Natterjack Running. Bad customer service. Bad shoe advice. Bad experience all round.
Update
Winner: Asics
Ever researched something so much you can no longer see the wood for the trees? Well, I got a bit like that with trying to find the perfect running shoes for travel. I got so bogged down in weight and treat and waterproofing that I struggled to make a commitment, leaving me with my crappy old Brooks and enduring dissatisfaction. And then life happened and forced my hand. Actually, it forced my knee: I ruptured my ACL on a beach in the British Virgin Islands (don't ask).
Surgery followed, along with physio. Getting back to walking was a process and you can bet that tread was at the front of my mind. And just like that, I had clarity – I returned to my once favourite brand, Asics. I can't remember why I ever moved away from Ascis which used to be my favourite 10k road running shoe. Probably something as simple as wanting a change. With shopping on the 'too difficult' list, I went to one shop, bought the first pair they showed me (which happened to be on sale) and I've been a happy runner ever since (well, as much as one can after knee surgery).
I've worn through one pair since then (mud, hikes and general travel) and I replaced them with another pair of Asics. The best part, I trust the brand so much, I just buy the cheapest sale version of runners I can find on Amazon and I'm happy.
It took a while and surgery (a bit extreme, I know) but I finally have me some running shoes I would highly recommend – anything by Asics. Phew.
Buy them here:
Asics – Amazon
Brooks –Amazon
Hiking boots versus running shoes
There have been only two occasions during all of my adventure travels when I wished I had hiking boots instead of running shoes.
First, when I hiked Macchu Pichu – it wasn't that I needed the extra ankle support, it was the grip on my running shoes that let me down (Brooks, again). The second time I wished for some heavy duty boots was when I ended up climbing down a volcano barefoot…though in fairness, any kind of footwear would have been good at that point.
On balance, I'm happy travelling just with running shoes instead of hiking boots. They are a significantly smaller to fit in my bag, lighter (both to carry and wear) and double up as hiking and…well, running shoes.
Unless you are going to engage in some serious off-path hiking, I'd say a good pair of running shoes will be enough to get by. And, if you do suddenly find yourself in Torres del Paine or somewhere similar, you can usually pick up a pair of hiking boots locally for a decent enough price (take the time to break them in, though).
Never having travelled with hiking boots, I'm unable to comment on a specific brand. However, based on friends' experiences I don't believe that a higher price or a good name are necessarily indicative of good quality. In fact, one guy I walked a large part of the Inca Trail with cursed his few hundred dollar boots the entire way. Do your research and get a recommendation if you can.
Trekking sandals
Photo from: Teva. Tirra sandal.
Why travel with trekking sandals
Trekking sandals are the perfect solution for trips that involve a full-day of walking or require more support/thicker soles than flip-flops can provide but without having the sweaty yukkiness that comes with wearing a closed shoe in hot conditions. When my foot pains progressed, I turned to my trekking sandals more and more for everyday wear just for the extra arch support they offered.
Brands I've tried:
Merrell
Merrell is the brand I chose for my first pair of trekking sandals and, I'll be honest, I chose them predominantly for their relatively pretty nature. But not only that, the grip was good and so was the arch support.
However, as I wore my Merrells around the world, I came to realise that the shoes had two major downsides. First, the insole had a sort of brushed moleskin and after several wears in hot, sticky weather, the inevitable happened – they started to smell.
Worse, the second they got wet (kind of inevitable for trekking sandals), they took on the scent of wet dog. Nice.
And that wasn't the half of it.
I (unintentionally) put my Merrell's to the ultimate adventure travel test when I took them up a muddy, damp volcano. Within a couple of hours of extreme adventure, they promptly broke. As the insole sucked up moisture, thanks to that absorbent footbed, my feet began to slip around in the sandal, pushing the pretty yet fragile criss-crossed toe post to its limits. Less than half way into my hiking (admittedly in rough conditions), the shoes failed me and I ended up on my infamous barefoot volcano climb.
Call me paranoid, but I've not tried a pair of Merrell's since…which is a shame because out of all the trekking shoe brands on the market, they have some of the prettiest styles around. Sigh.
Note: Merrell no longer stocks the style I tried…perhaps I wasn't the only one who had issues? If you've tried Merrell sandals and can recommend another style for me to try, let me know.
Teva
When I returned briefly to the UK to restock my bag, I replaced my Merrell's with a pair of Tevas and as trekking sandals go, I really can't fault them.
Unlike the Merrell's they have a waterproof footbed and great, strong sturdy straps that I've still not been able to break (not through lack of trying). The arch support is excellent, too. The only downside to my Tevas is style. Despite buying a pink pair of the Tirra sandals, which were the prettiest on offer when I bought they (they have since introduced a few more feminine styles to the range), there is no disguising the fact that these are trekking sandals. When I wore them in Florence, I really started to feel self-conscious.
Winner: Teva
They may not win-out compared to Merrell's prettier styles, but the core function of Teva trekking sandals – grip, footbed, support and sturdiness set them head and shoulders above the competition.
Buy them here:
Teva – Amazon
Merrell – Amazon
The trekking sandal embarrassment factor
The biggest downfall of all trekking sandals is an aesthetic one, particularly if you're using them for everyday wear in cities. As it dawned on me that long-term travel is now my lifestyle and as I took to Italy for a month last summer, where everybody dresses so beautifully, I became unable to stomach the clunky ugliness of my trekking sandals. Reaching the point where I was hiding my feet, I knew it was time to search for a more visually appealing alternative. Fortunately, I found one – details below.
Smart shoes (guys and gals)
Photo from: Butterfly Twists. Folding Ballerina Flats
Why travel with smart shoes
Even if you're on a tight travel budget, there are going to be times when you want a smart pair of shoes – from that fancy rooftop cocktail bar to a swanky club with a serious dress-code to a job interview. Most long-term travellers won't need to pull out their smart shoes too often, but when you do need them, you'll be glad they've been idling in your bag. The real trick, then, is finding a pair that is as lightweight and small as you can find them without compromising on smartness or style.
Brands I've tried (and a suggestion for you guys):
Gap City Flats Foldable Ballet Shoes
I hit the jackpot a few weeks before my first around the world trip, discovering a pair of fold-up ballet pumps from Gap. In total, I've owned three pairs of these ballerina pumps in a range of colours and would highly recommend them. The outer material is soft, they generally look good, they fold small, come with their own travel bag and are super lightweight. Plus, as Gap is an international brand, I've been able to replenish my stock on the road.
On the downside, the material is a bit prone to scuffing (particularly on the lighter colours and hence the need to replenish), the material in-soles can become unpleasantly "scented" over time, they offer barely more support than my flip-flops and the fit isn't ideal (I usually end up with a strange shape on the elasticated back and a turned-in shape at the front).
However, for the price, and given you're unlikely to wear them often, these are great value shoes that offer the perfect compromise of smart and travel friendly.
Butterfly Twists
I saw this alternative brand of foldable ballet shoes on a British Airways flight in the onboard shop magazine. I tried to buy them but they didn't have them available in my ridiculously child-like shoe size.
However, a few days later I spotted them in a shop in Tokyo and instantly snapped up a pair to try them out. Compared to their Gap counterparts, the Butterfly Twists come in a more extensive range of colours/styles, have a broadly better shape, sport slightly thicker sole and seem to have lasted longer before the foot-odour stench set in. On the flip side, they cost more and are overall bigger and heavier when folded down.
Wedge heel sandal
Wondering if the change from flats to heels might make a difference with my foot pain and, frankly, getting sick and tired of my ugly trekking sandals in Italy, I decided to give backpacking in heels a whirl.
Pink, pretty, wedge sandals were my high-heels of choice. The wedge heel gave me greater support than a stiletto, meaning I could clomp around the city wearing my backpack, and the prettiness made me feel happy inside.
Before I tried it, I didn't think backpacking in heels was a smart move, but it worked pretty well (assuming you're carrying under 10kg on your back. I wouldn't want to try it with any more weight).
However, over time, my sandals started to show a lot of wear and tear under the weight of my bag and more than the average amount of walking.
In short, my shoes were not well designed for everything I put them through (5 hours walking around the Boboli Gardens equated to a lot of blisters).
Sure, these shoes looked pretty, but they were too chunky to pack into my bag and as a long-term smart shoe solution, they were sadly a bad choice…unless you're spending no more than a month in Europe, then absolutely go for it.
Smart shoes for guys
Well, clearly this is a topic I can't talk about from experience. So I'm not even going to try. A fellow traveller, Snarky Nomad, on the other hand, seems to have a lot of useful things to say on the subject together with some excellent recommendations.
Winner: Gap Foldable Ballet Shoes AND Butterfly Twists
I'm not trying to sit on the fence here – you'd be doing equally well if you travelled with either of the Gap or Butterfly Twist shoes.
Buy them here:
Butterfly Twists (Silky Toes do an equivalent folding ballet flat in the USA) – Amazon
Gap City Flats are no longer available from Gap online but there are a few pairs knocking around on eBay.
The ultimate winner and best travelling shoe. Ever: Birkenstock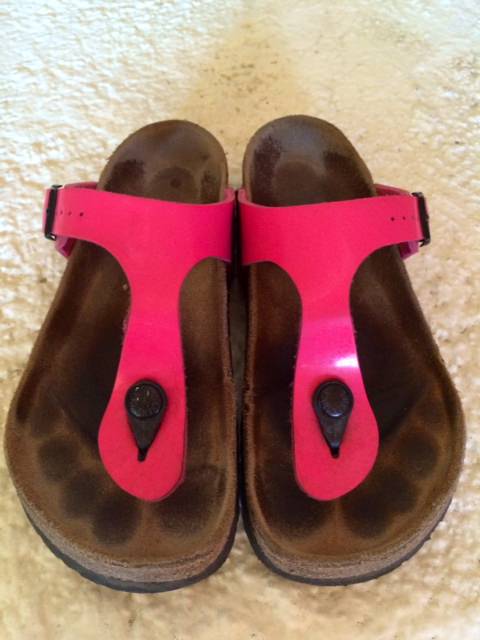 Why travel with Birkenstock
After a lot of searching I have finally found the ultimate travel shoe – Birkenstock. Not only are they perfect for day to day wear (something my flip-flops were failing at), they can take on my travel sandals in a robustness challenge and when the disco lights come on, I'm comfortable taking them out to a smart club or bar.
I confess I was previously turned off by Birkenstock because in my mind's eye they were clunky, heavy and seemed uncomfortable. But the reality couldn't be further from the truth. After three months of trialling my Birkenstock sandals, I'm delighted with them in every way.
The Birkenstock website does the best job of describing why their shoes are ideal for your feet. In short it comes down to the many areas of support built into the very smartly designed insoles. In the first instance, what I wanted from these shoes was support, but coming a close second, I wanted a pair of shoes that could double as my trekking sandals but in a much more stylish way.
Thankfully, Birkenstock's range is much more extensive and prettier than my pre-conceptions had…pre-conceived… and as I did my research I came across more colours, prints and designs than I could choose between.
Size was important for me, too. As a person with very small feet (I wear a UK size 2 in Birkenstocks), I was delighted to find that they offered a wide range of sizes and widths.
After trying several pairs, I choose the bright pink patent leather Gizahs. I will say that it took a while to get used to wearing such a big sole on a day to day basis (compared to the flimsiness I was used to with my flip-flops) but as soon as my feet settled into the shoes (less than 2 weeks and zero blisters in the process), my Birkenstocks feel as comfortable as slippers. Plus, their more robust construction means I don't worry about stubbing my toes or the risk of broken pavements cutting the side of my feet.
So far the insole has done well despite the heat (you'll be pleased to know that I continue to sniff my shoes on a regular basis – for research purposes, of course). They've also held up pretty well despite me getting them unavoidable fully immersed in some puddles during a couple of Caribbean downpours. I wasn't sure how the soft material in the footbed sole would cope but the shoes dried out quickly and, unlike my Merrells, havent't thus far adopt the scent of a wet-dog. Yay.
My only complaint is the sole. For such a chunky tread I would expect excellent grip, which I get most of the time until…like my Brooks running shoes, they hit water. So, there is a bit of room for improvement but otherwise I'd say they are faultless and definitely fit for all the adventures Indiana Jo can throw at them.
Buy them here:
Birkenstock – Amazon
How many pairs of shoes do you need for travelling?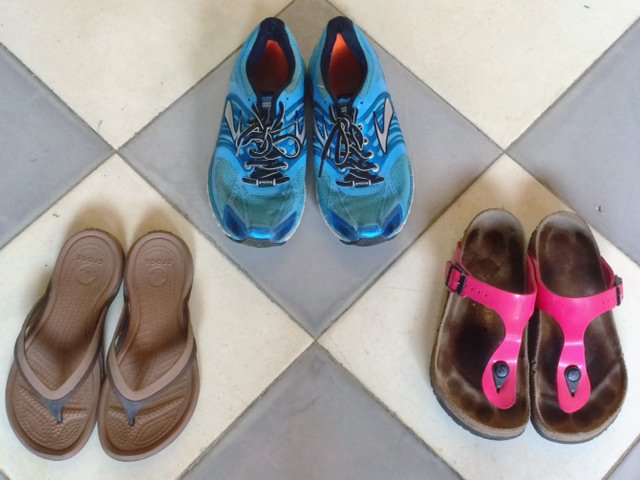 So, they are the shoes I've tried and tested throughout my travels, but there's no way I'd recommend taking all of them with you. I started my travel adventures with four pairs of shoes but these days I'm down to only three and I'd like to keep it that way.
When deciding how many and which pairs to take, it's important to make a list of the activities you expect you'll mainly engage in while you're away and therefore the functions your shoes are going to have to perform. In most cases, the lists below will do, but you can adapt it depending on your needs. What you shouldn't do, however, is pack shoes for all anticipated occasions – just focus on what you'll mainly be doing, not what you might, possibly, perhaps do while you're away (e.g. start rock climbing).
When I packed my bag in 2010, I had whittled my overstuffed shoe cupboard (yes, I had an entire cupboard in my house that contained shoes) down to just four pairs.
In a 65 litre pack I carried:
a pair of flip-flops for the beach, communal showers and every day walking around
a pair of running shoes for serious hiking and…well, running
a pair of trekking sandals for less serious hiking and trails in hot places; and
a pair of fold-up ballet pumps for smarter occasions.
When I packed my four pairs, I thought I had it absolutely right and for the next couple of years that's the formula I stuck with.
These days, having an increased need for better foot support and the desire to carry a smaller bag…
I carry the following in my 46 litre pack:
a pair of Birkenstock for everyday wear, less serious hiking and trails in hot places, and smarter occasions (one pair of shoes – three functions – WIN);
a pair of flip-flops for the beach and communal showers;
a pair of running shoes for serious hiking and…well, running.
Pro packing tip
Cover your shoes in shower caps for a lightweight way to protect your clothes from dirty soles without adding any extra packing bulk.
With one pair on my feet and only two pairs in my bag, that's some pretty efficient packing on the shoe front.
Ultimately, though, it's not about the number of pairs of shoes you take, but finding the right shoes for you. Hopefully after reading this article, you need to search no more….though don't ever let me stop you from shoe shopping…not if it makes you happy.
Related Articles:
What brands and styles do you think are the best shoes for travelling? Any other recommendations (or suggestions of shoes to avoid)? Let me know in the comments below.