Beaches, volcanoes, rainforests, jungle, cloud forests, zip-lines, coffee, chocolate, eco-lodges, surfing, sunsets, sloths, whales, turtles and toucans – Costa Rica is a tropical wonderland that deserves a spot at the very top of your travel bucket list.
Having just returned from my 3rd trip to Costa Rica and having spent a few months in total exploring this small but bountiful country in Central America, I'm going to give you the low-down on the best places to visit in Costa Rica.
I've had three pretty distinct trips to Costa Rica: first, an extended stay backpacking through the country, a second trip with my dad on a package tour (Intrepid Travel does great Costa Rica tours if you're interested), and a third trip luxuriating in the slow travel I enjoy when I use a country as a base for work. I therefore have a pretty good idea on where to go in Costa Rica – where's good, where's popular and less touristy spots.
In this guide I'll give you the list of the best places to visit in Costa Rica and the best things to do in Costa Rica in each of those places. You should be able to fit most of these places into a two-week itinerary, with the exception of the more remote National Parks.
Related: A Simple Costa Rica Packing List | Your Ultimate Guide to Travel in Costa Rica
San Jose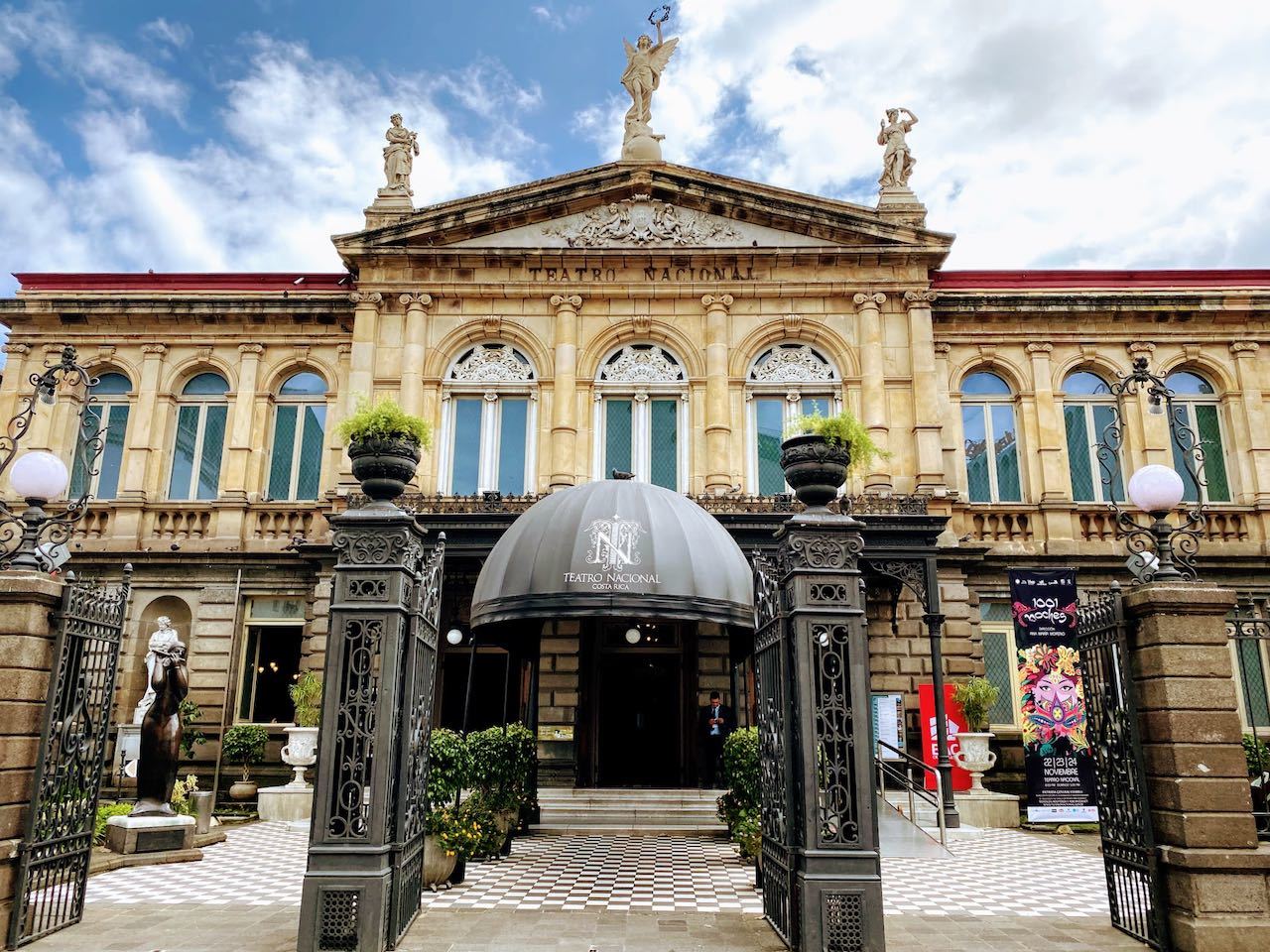 I was in two minds whether San Jose should be on a list of the best places to visit in Costa Rica – if you're on a short trip, there are definitely better places to spent a night. However, since most visitors will land or leave from San Jose, I've included it. It's actually a pretty fun city if you make a plan to visit the highlights rather than wandering round aimlessly.
Things to do in San Jose
Shop at Central Market – whether you stop at a stand an sample a freshly baked empanada, pick up some tropical fruit or bargain for souvenirs, Central Market is a thriving hub of Costa Rican life.
Learn about Costa Rica at the Jade Museum – this interactive museum is part display of Jade, a stone native to Costa Rica, part walk through of pre-colombian tribal life, this is my favourite museum in San Jose.
Be dazzled at the Gold Museum – more commonly visited than the Jade Museum, the Gold Museum is a museums of …well, gold. For me it was a bit static with lots of similar displays. If you only have time for one, go to the Jade Museum.
Visit Teatro Nacional – the neoclassical frontage with grand columns flanked by palm trees is impressive enough. If you want more, you can have a look inside and if you're lucky, there might be a performance playing while you're there.
Get some green in Metropolitan Park – if you have extended time in San Jose or are just killing time before/after a flight and don't want to explore the city, catch an Uber or taxi to this vast green oasis in the city.
Barrio Escalante – If you want a hip place to go for some drinks and food, head to Barrio Escalante. Do get a taxi or uber back as the surrounding neighbourhoods aren't good for a late-night drunk stroll.
For more info, check out my guide to Things to do in San Jose Costa Rica.
La Fortuna & Arenal
La Fortuna is one of my favourite non-coastal spots in Costa Rica. Arenal volcano is the main attraction, visible from the town but there's lots more on offer. For tourists, La Fortuna is the town and Arenal is the surrounding area.
Things to do in La Fortuna & Arenal
Mistico Arenal Hanging Bridges Park – Mistico Park is a forest sanctuary that has 15 bridges (6 hanging over the forest) and is one of the most fun things to do in Costa Rica.
Arenal Volcano Hike – Arenal volcano is an imposing sight. It's visible from the town but you can also take a hike on part of the volcano. Do note, you aren't allowed to summit this one.
Arenal Hot Springs – thanks to Arenal volcano, there are a lot of hot springs to visit in La Fortuna and Arenal. You can choose your level of luxury (and expense) to soak your muscles after all your Costa Rica adventure activities.
Day Trip To Caño Negro – this is one of the best things to do in Costa Rica in my opinion. I spent a wonderful day on a riverboat and in all my time in Costa Rica, this is the trip where I saw wildlife in it's most natural habitat with the fewest people. Think: monkeys bathing and swimming and playing in the water.
White Water Rafting in Rio Balsa – if white water rafting is on your list of things to do in Costa Rica, La Fortuna is your base for planning your rafting experience and Rio Balsa is the best place to whitewater raft.
La Fortuna Waterfalls – this 70 metre / 230 feet waterfall is a short drive from La Fortuna.
For more info on how to do all of the above activities in La Fortuna, check out my more detailed guide to Things to do in La Fortuna & Arenal including how to take the scenic trip to Monteverde.
Monteverde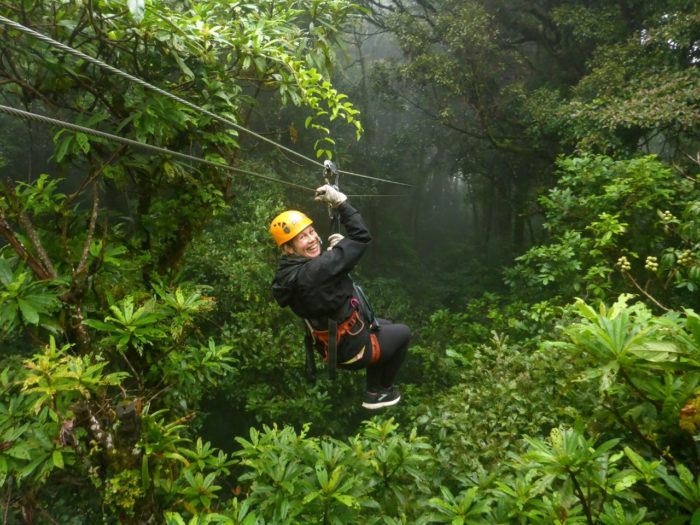 If you're in Costa Rica to exercise your adrenaline, head to Monteverde. This part of Costa Rica is adventure park central and a playground for all things fast and fun. Even if you're not so keen on extreme sports, Monteverde is a lush area of cloud forest where you can take beautiful walks and generally enjoy the cooler air mountain.
Things to do in Monteverde
Go zip-lining – for me this was the single best thing to do in Costa Rica. There are plenty of adventure parks to choose between. I've got more details comparing them in my guide to Monteverde here.
Hike in the cloud forest – there are a few forest reserves to choose from. Otherwise, most of the adventure parks are set within the cloud forest and offer a chance to walk a trail or two while you're there.
Visit the hanging bridges – if you don't have time to visit the hanging bridges in Arenal, don't worry – Monteverde has you covered. Although Arenal has more bridges, the ones in Monteverde will be experience enough for most.
Go Resplendent Quetzal spotting – a bright red, blue, green and white exotic bird with a long tail and National Geographic-worthy wings is most often spotted in Monteverde. This rare bird is an amazing sight (though I had to wait until I got to Panama before I saw it).
Explore a Costa Rica coffee and chocolate farm – all that fresh mountain air makes Monteverde perfect for coffee and cacao (chocolate) growing. Visit a plantation then head back to Monteverde town to enjoy the end products in the many cafes and chocolate shops.
Dine in a treehouse – while you don't technically sit inside a house in a tree, the Treehouse restaurant has a ginormous tree taking up much of the space this restaurant's interior. If you want an unusual thing to do in Costa Rica, this is it.
For more info, check out my more detailed guide to Things to do in Monteverde including a guide to the adventure parks in Monteverde.
Nicoya Peninsula
The Nicoya Peninsula is a bit harder to get to than most parts of Costa Rica (it requires a ferry or a long drive) and is the ideal destination because of it. It's the part of Costa Rica to visit if you're looking for a beach break that you can punctuate with yoga, surf or just a long, lazy lunch in a beach-front cafe. If you're on a Costa Rica honeymoon or looking to recharge, Nicoya Peninsula is one of the best places to visit in Costa Rica.
Things to do in Nicoya Peninsula
Book a yoga class or retreat – Santa Teresa has become a hot-spot for all things yoga in Costa Rica. And I can see why. As a yoga and beach lover, it's the ideal spot to practice your sun salutations while watching the sun rise or set over the ocean.
Learn to surf – if you're already an accomplished surfer, you already know that the Nicoya Peninsula is another surf Mecca in Costa Rica. It's also a great place to learn to surf with bubbly, safe white water.
Hit the beach – Nicoya has the best beaches in Costa Rica and from my perspective no other Costa Rica beaches compare.
Don't miss the sunsets – Nicoya Peninsula has the kinds of sunsets that draw a crowd (though not too much of a crowd) and will keep you coming back daily just to see it one more time.
Dine like you're 100 years old – did you know Nicoya Peninsula is one of the Blue Zones – one of the areas in the world noted for having exceptionally long living residents (Sardinia in Italy is another). Some of it is attributed to the lifestyle and some of it to the local food. So, if you were ever going to dine local, here's the place to do it.
Quepos & Manuel Antonio
Manuel Antonio town and the surrounding area of Quepos really does have it all – a stunning coastal spot with large, white-sand beaches, and a lush national that is one of the most accessible ways of seeing wildlife in Costa Rica.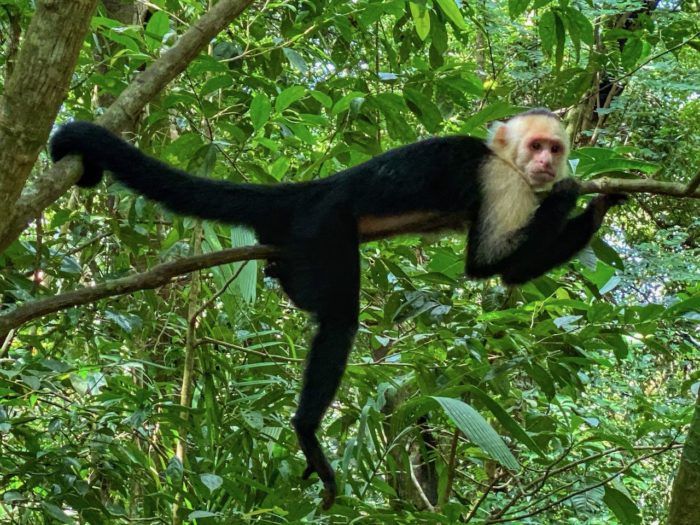 Things to do in Quepos & Manuel Antonio
Explore Manuel Antonio National Park – if you do one thing in Manuel Antonio, visit Manuel Antonio national park. As well as wildlife (sloths and monkeys are key attractions), there are beautiful beaches reached by easy trails.
Watch the sun set over Espadilla beach – simply sitting and watching the sun fade over the ocean is one of the best activities in Manuel Antonio. Perfect after a day of hiking, with cocktail in hand.
Take a booze-cruise Catamaran – looking for some fun in the sun? There are several catamaran companies offering bottomless fruity punch (high on the punch, low on the fruit) booze cruises around Quepos from afternoon until sundown.
Dine in a plane restaurant at El Avion – as restaurants go, this is a unique one. El Avion restaurant has a plane in it's centre – grab a drink at the bar, get a pic of you with a cocktail in the cockpit then dine on some pretty amazing food.
Sleep in a container hotel at El Faro – if you've dined in a plane restaurant, why not sleep in a sea container? Don't worry, the containers have been 'upgraded' and feature floor to ceiling windows on one side so you can see the sea when you wake.
Beach hop to Jaco – another bustling beach town along the same stretch of coast, popular with surfers and backpackers, Jaco is a short hop from Manuel Antonio.
For more details on the above activities, check out my guide to Things to do in Manuel Antonio including how to visit Manuel Antonio National Park.
Puerto Viejo & Cahuita
You'll notice a different vibe when you reach the Caribbean coast of Costa Rica and if you're looking for somewhere to chill out and slow your pace, Puerto Viejo is one of the best places to visit in Costa Rica to do it.
Things to do in Puerto Viejo & Cahuita
Visit the Jaguar Rescue Centre – by far the best thing to do in Puerto Viejo (IMO) is the Jaguar rescue centre. No, there aren't any jaguars but if you want to visit a sloth sanctuary in Costa Rica, you'll find it here as well as plenty of monkeys, reptiles and exotic birds all being rehabilitated to go back into the wild.
Hike through Cahuita National Park – An 8km (5 mile) trail that occasionally spits you out on wild black and white sand beaches would be amazing but Cahuita is also teeming with wildlife – I stumbled across plenty of monkeys.
Go shipwreck diving – sadly I can't dive (ear issues) but I believe diving The Wreck in Puerto Viejo is a real highlight for people who can. I have to say, I'd be pretty excited about swimming around a sunken (pirate?) ship if I was able.
Surf the Salsa Brave (or take surf lessons) – the salsa brava is so named because this reefbreak will turn your skin to salsa if you topple off your board at the wrong time but for experienced surfers it's quite the ride. For the rest of us, there are surf lessons available on much safer white water.
Beach hop – from white sand beaches to black sand beaches to beaches for kayaking and beaches for surfing, the ocean really is your oyster in this stretch of Costa Rica.
Party Caribbean Reggae style – cool cafes and international restaurants might have moved in but the nightlife in Puerto Viejo still has the original reggae vibe. If you're ready to party, Puerto Viejo is a place to be.
Cross the border into Panama for Bocas del Torro – in half a day you can be in Panama's stunning archipelago or Caribbean islands. Local shuttles do the run daily. Isla Bastimentos is my favourite of the Bocas archipelago.
Sleep in a hammock hostel – want to sleep cheap? Puerto Viejo has one of the original hammock hostel where you can swing in the breeze – a pretty fun experience.
For more details, check out my guide to Things to do in Cahuita and Things to Do In Puerto Viejo.
Tortuguero National Park
Tortuguero National park is one of the best places to visit in Costa Rica if you want to see turtles – just make sure you visit in the right season (more details in my Tortuguero post here). While it's easier to get to Tortuguero National Park than Corocovado National Park (below), it does take a bit of effort. But don't worry, there are package tours available and any effort will be rewarded.
Things to do in Tortuguero National Park
Take a boat ride to Tortuguero National Park – a 'you can only get there by boat' destination in Costa Rica, this activity is therefore kind of compulsory. Still, it's a wonderful journey so sit back, relax and see what you can spot.
Take a turtle tour – seeing the hatching turtles is strictly regulated so you will need to take a night tour but watching the little baby turtles hatch then run to the sea is the highlight of Tortuguero.
Take a morning wildlife spotting tour by canoe – even if you're visiting out of season you will see the occasional turtle as well as other wildlife while exploring the backwaters in a canoe.
Bathe on the black sand Tortuguero beach – wide and wild, Tortuguero beach is as beautiful to look at as it is to sit and sunbathe on.
Explore Tortuguero Village – before the tourists arrived by the boatload, Tortuguero was a small fishing town. Today it's morphed to accommodate the visitors but look closer, explore the village and you'll see local Costa Rican life unfolding.
For more details check out my guide to Visiting Tortuguero National Park.
Corcovado National Park
Corcovado, like Tortuguero, is one of those places that is pretty inaccessible relative to other places – it requires a combination of buses and a boat. Whether you choose one or both of these remote parks, they're worth the journey, mostly because of how untouched they felt.
Things to do in Corcovado National Park
Go wildlife spotting in Corcovado National Park – take a guide. The wildlife is wild and can be hard to spot – an expert pair of eyes will save you spending the entire trip searching and not finding. What will you see? Sloths, monkeys, macaws, toucans, and turtles are common.
Explore the jungle – as one of the most untouched national parks in Costa Rica, it's a great place to visit if you want that lost in the jungle feel.
Take a boat to Drake Bay for whale watching – if you are in Corcovado from August to October you might spot humpback whales on the boat ride to and from Drake Bay.
Laze on untouched beaches – the upside of a hard to reach destination is the lack of people, and the beaches on the Osa Peninsula are pristine because of it. Take advantage.
So, that's my guide to the best places to visit in Costa Rica. Got any questions or recommendations, let me know in the comments below.
Find more in my: Guides to Central America and Guides to South America
Like this? Share it on Pinterest