Looking for where to eat in Key West? You're in the right place. If there's one thing I've done a lot of in Key West, it's eat. From conch fritters to Key Lime pie to an abundance of fresh seafood and fish, here's a list of some of the best restaurants in Key West (according to me and my taste buds). Keep in mind some of the best food will come out of the water. But don't worry, there's plenty of non-fish and veggie options to be found. In fact, a girl can survive on Key Lime Pie alone, right?
These eateries are in no particular order (promise). At the end I've got a link to a map showing you where to find all of the places listed in this post.
1. La Grignotte for breakfast
A great choice of carb-loading but also healthy breakfasts with coffee aplenty and fresh juices, it's a good way to fortify yourself for the day. La Grignotte is one of my favourite breakfast places in the Keys.
2. Kermits for key lime pie
You could probably start a bar fight in Key West just by raising the question: where's the best key lime pie? Everyone has an opinion and everyone believes they're right. Including me. I've tried several pies in Key West and Kermits is my stand-out winner. If you want to try an alternative, my runner up is: Key Lime Pie Bakery. To mix it up, try key lime pie (regular) as well as frozen and dipped in chocolate – available from Sugars. There are other cakes in Key West but honestly I had my Key lime pie blinkers on and they didn't even register. Sorry!
3. Mallory Square for street food snacks
Grab a box of something deep fried, pour a beer into a plastic cup and go and see the sunset while you sip and feast. If you haven't tried conch fritters in Key West but are not sure whether you'll like them, Mallory Square is a good place to try them. Low cost, a quick bite and a shareable box, you don't need to ruin your appetite or a good meal on something that can be a bit rubbery and flavourless (in my humble opinion. Cue: conch fritter trolls).
4. Pepe's Cafe for the specials and dining with locals
Dine at the bar. Chat with the locals. Eat the specials (they know what sells and they sell it cheap). Pepe's Cafe is an institution. They've been serving since 1909; the year, not the time. However, turn up at 9 a.m. and the liquor bar is doing business like it's 5 minutes from closing.
5. Harpoon Harry's for diner dining
Round the corner from Pepe's is Harpoon Harry's, another local haunt. You might not get the best quality food but it's ultra cheap and offers a proper 1950s diner experience with booths and bar dining to boot. Very friendly staff.
6. Half Shell Raw Bar for catch of the day
The fish at Half Shell Raw Bar is so fresh even the pigeons hang around hoping to catch a bite (the wait staff spend half their time chasing them away). I tried the hogfish and it was perfectly cooked. Don't worry if you see dolphin on the menu, it's what they call mahi mahi in Key West.
7. Commodore Waterfront for happy hour bites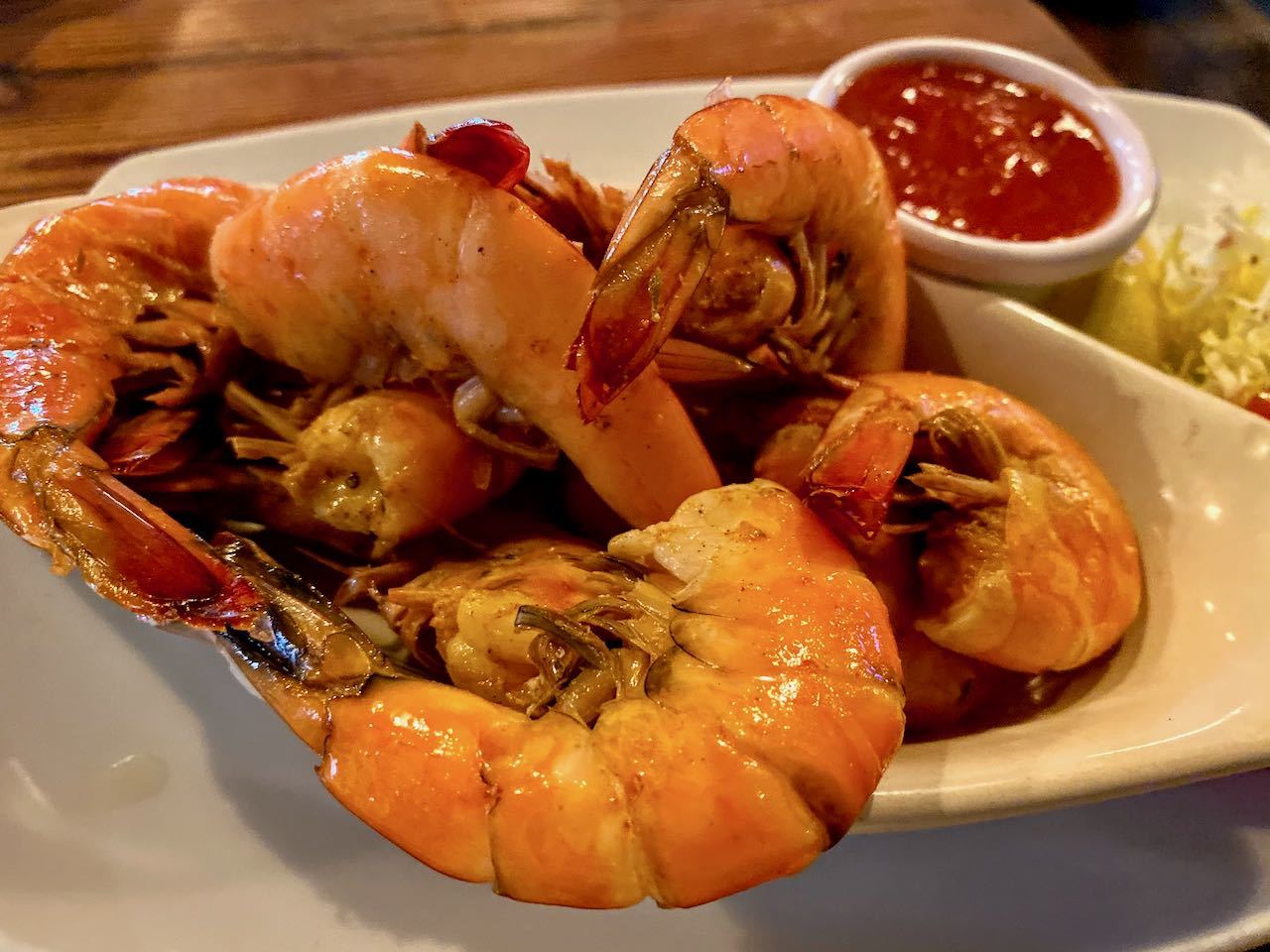 A real insider tip for Key West is to dine in the restaurants on the waterfront during happy hour (usually around 4 p.m. to 6 p.m.) when you'll get 50% off a good range of small plates. I had a 1/2 lb of peel and eat shrimp plus lobster bisque for $12. It's a great, cheap way to get a seafood or oyster fix. I chose Commodore Waterfront because it was a large place and could seat me (happy hour is popular) but all the waterfront eateries have an offer on.
I tried to eat at Turtle Krawl but they didn't like that I was a solo diner and would only give me a spot in the back despite having lots of sea view seats available. Boo. Hiss. I took my business elsewhere. If you want tips for eating out as a solo diner, see my guide here.
8. Sloppy Joe's tap room for a chilled bite with beer
Want a bite without the frenetic noise of Duval Street? Pop into Sloppy Joe's Tap Room. Same great beer and service but in a slightly more sophisticated surrounding just off Duval Street.
9. Alonzo's Oyster Bar for oysters (and lobster roll)
I've swerved oysters since I got food poisoning that time in Scotland but they looked good and if my lobster roll was anything to go by, Alonzo's Oyster Bar is a good oyster choice. It's also considered one of the best seafood restaurants in Key West. And if you're looking for the best lunch, you won't go wrong with a lobster roll from Alonzo's.
10. Curry Mansion (Hard Rock) for historic house dining
I'm not going to recommend a Hard Rock Cafe very often (ever?) but you do get the chance to dine in the beautiful surrounding of the historic Curry Mansion (which is also reputed to be haunted). It's also one of the few eateries open late on Duval, without having to eat something from a street vendor.
11. Dirty Pig for BBQ
Dirty Pig was recommended to me but I was so busy working my way through the fish and seafood menus in Key West that I didn't have time to try it until my second visit. Definitely the place you want to visit if you're after a meat fix.
12. Fogarty's for fish tacos
If you're looking for somewhere to eat on Duval Street, try Fogarty's. Right on Duval Street with an outdoor patio, Fogarty's is a great spot for people watching while you eat. Unlike many of the bar-eateries on Duval, you get a proper seat and won't feel jostled or rushed. You're supposed to eat the tacos. I went rogue and ordered the fish plate, which was lovely.
13. Pinchers for cheese and crab dip
I spent a fun birthday at Pinchers gorging on their famous cheese and crab dip (sounds disgusting but completely works) washed down with a couple of cold beers. They have all manner of selfish and deep-fried fishy foods but I was full just from the endless chips that flowed with the huge vat of dip.
14. Peppers of Key West for chilli tasting
Not so much an eatery but Peppers has scores of different chilli sauces at various intensities on the scorville scale, it's a fun way to spend 15 minutes to challenge your chilli tolerance. The staff will temper the chilli to your tastebuds so don't be too scared.
15. Antonia's for Italian food
When in Rome….or Key West, and craving Italian food, go to Antonia's Restaurant. I'm seriously picky about Italian cuisine (what with me running a separate website all about the Prosecco region of Italy) and this was the best Italian food I found in Key West.
16. Amigos Tortilla Bar for tacos
I visited Amigos about 10 years ago when it was newly opened and I'm pleased to see it is still going. It's no longer serving the famous square tacos, but the round ones are still pretty good. And this from the girl who has eaten her way from coast to coast in Mexico.
17. Salsa Loca for authentic Mexican food
I wouldn't have found this place if I wasn't pretending to my dad that I totally knew where I was going. Anyway, we ended up here and dined on very authentic Mexican food at surprisingly good prices. A real find, tucked off Duval Street with very nice staff (that served us even though it was closing time).
18. Cuban Coffee Queen for Cafe Con Leche
Serving some of the best coffee in the world (IMO), Cuban Coffee Queen is a must stop in Key West. Don't be a gringo – order the cafe con leche or don't order at all. Tip: Visit the one at the end of Margaret Street and you can grab a picture in front of the Key West sign while you wait for your brew.
19. Cuban Coffee Queen for Cuban Sandwich
I'm not a fan of Cuban food (spent too much time in Cuba) but if you forced me to eat the stuff, I'd be going to Cuban Coffee Queen for a Cuban sandwich. Beyond that, I'd be heading to Calle Ocho in Miami but that's too far to drive.
20. Fisherman's Cafe for lobster tacos and quick bites
If you want a quick bite, head to Fisherman's Cafe, a small hole in the wall eatery that serves up large lunch portions at good prices. I had the lobster tacos (not bad considering I don't think you should batter lobster). The food was fresh, quick and tasty and this was one of the best lunches I had in Key West.
21. Blackfin Bistro for fine(r) dining
Whenever someone French recommends a restaurant, I take it seriously. And Blackfin Bistro is definitely a great place to go for French food as well as some fine(r) dining on Duval with a good wine list.
22. Bagatelle for brunch
Serving brunch seven days a week and with prime people-watching on Duval, Bagatelle is so popular it won the open table Diner's Choice Award. If you can't get a spot for brunch, they have a good range of fish and meat options for dinner. It's definitely one of the best restaurants and best brunches you'll find in Key West.
23. Date & Thyme Organic Cafe for nutrients
Abundant booze and bedlam can really slam your body so if you want to feed yourself some nutrients, visit Date & Thyme. They will let you off-menu order juices and smoothies (I know, I'm picky) and their sandwiches are divine (Asian tuna: recommended).
24. Fausto's Food Palace for supermarket shopping
Forgotten what fruit and vegetables look like? Get to Fausto's. An upscale supermarket, you won't find much pre-prepared food but if you have access to a kitchen or just want to refamiliarise yourself with whole foods, this is the place to do it. Probably because there are so many great places to eat, there aren't many grocery stores within walking distance of the centre. Faustos is one of them and a good one at that.
25. Take a food tour
I was so caught up in my own self-guided food tour that it wasn't until another tourist recommended this to me that I thought 'oh yeah, that would be a good idea'. Anyway, here are a few tours focusing on food.
Small-Group Key West Food Tasting and Cultural Walking Tour
Seafood Lover's Food Tasting and Cultural Walking Tour
Map of the best places to eat in Key West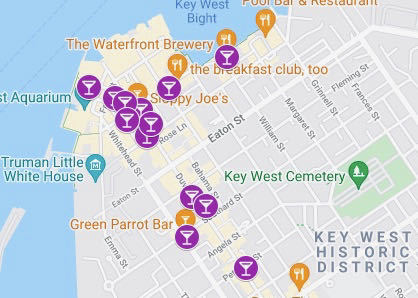 You can find a map of my recommended best places to eat in Key West here.
I've been working on creating some 'printables' – lists you can print and take with you. I have lots of packing lists and created a bar crawl list for Key West here. Let me know in the comments if you'd find it useful to have a printable for this list of places to eat in Key West.
That's my guide to the best places to eat in Key West Florida. Got any questions or suggestions? Let me know in the comments below…
Related Articles: