Eastern Europe is a great place to visit all-year-round but the cities come alive during the weeks leading up to the Christmas holiday.
Almost overnight the quaint and quiet old town squares transform into festive spaces packed with holiday spirit.
Thoughts of Christmas in Europe might conjure up ideas of places like Nuremberg, Vienna, and Paris. But if you're looking to beat the busy crowds and enjoy yourself a little more without having to worry so much about costs then it's the Eastern European Christmas markets that you're going to want to check out.
From mulled wine and hot apple cider to handmade gifts and amazing displays, let's take a look at some of the best Christmas markets in Eastern Europe.
The Ljubljana Christmas Market in Slovenia
It may seem a little off the beaten path but the Ljubljana Christmas Market in Slovenia is one of the best you could ever visit. The moment you step into the old town you won't be able to help but revel at all the incredible light displays.
It seems that Christmas lights are covering the entire city center. Around every corner, down every alley, and covering every square are thousands of Christmas lights. You'll also find countless holiday displays and ornaments that both locals and visitors come to enjoy.
Right in the very center of Ljubljana is where you'll find Preseren Square and this is the biggest market in the city. The stalls start a few hundred feet away from the square. They line the river and streets on all sides – culminating in an incredible display right out front of the picturesque "Pink Church".
While you're wandering around you can stop and sample a variety of local delicacies. Mulled wine, Slovenian honey, grilled sausage, ginger cookies – it's all waiting for you to try out.
Of all the different Eastern European Christmas markets the one in Ljubljana is bound to leave a lasting impression. You'll never forget your experience in the magical Slovenian capital city during the holidays.
The Zagreb Christmas Market in Croatia
A short bus or train ride away from Ljubljana and you'll find yourself in Zagreb.
It might seem surprising to you considering that Croatia isn't known as a winter destination. However, the Christmas market in Zagreb has been rated one of the best in Europe. It's definitely worth visiting if you're looking for a more unique holiday experience.
In Zagreb there isn't just one market. Instead there are a few different holiday markets spread throughout the city center. There's also a variety of events, concerts, and advent-related festivities going on through December.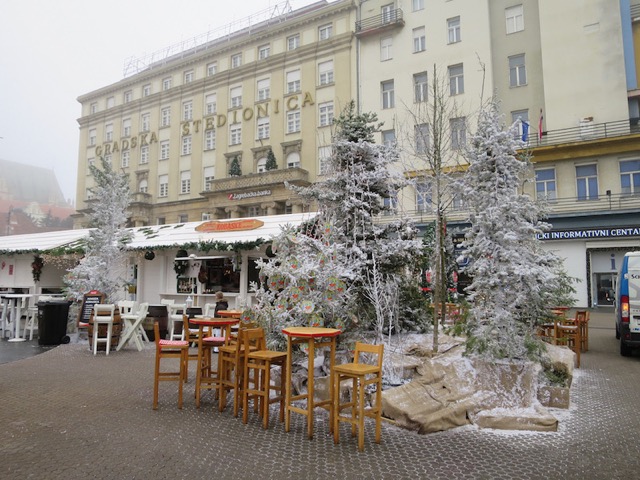 The biggest and most popular market is held in Ban Jelacic Square. This is the largest and most well-known square in the city. It's here that you'll find assortment of market stands and an enormous Christmas. These heated stalls will selling a variety of local specialties. There's even an open air stage where you can enjoy live music throughout the week.
Even the parks in Zagreb can't escape the holiday spirit. The famous Zrinjevac Park transforms into a Christmas miracle. The avenues are lit up with lights and decorations are covering every square inch of the park. There are even more stands where you can sample some local baked goods, mulled wine, and more Christmas cookies than you could ever want.
Finally, one of the best things about visiting Zagreb in December is the enormous ice skating rink in King Tomislav Square. You wouldn't ever imagine yourself going ice skating in Croatia but what better time to experience this than in December when the city comes alive with holiday spirit. Even if you don't know how to skate you can grab a beer or a warm drink and watch everyone else having fun trying to stay on their feet.
The Belgrade Christmas Market in Serbia
Even further off the beaten path is Belgrade. It's here where you'll find yet another magical Christmas market in Europe where you wouldn't expect.
Christmas in Belgrade falls on January 7th as they follow the Orthodox calendar for holidays. Thankfully, the Christmas festivities start happening at the end of November. Decorations go up and market stalls get installed along the main pedestrian area in the city. You'll even start seeing Christmas lights on light posts throughout downtown.
Right in the city center is the main square in Belgrade, Trg Republike. The entire area gets transformed into an ever so festive holiday scene. As a visitor you'll be able to wander through wooden stalls and colorful huts. Here you can check out some local souvenirs, mulled wine, roasted chestnuts, and Serbian desserts.
The good thing about Christmas in Belgrade is that most of the holiday related festivities and events are held on and around Knez Mihailova. This is the main pedestrian shopping street in the city. This is where you'll find the best decorations, light displays, and most of the market stalls.
It might seem counterintuitive but don't forget to visit the main shopping mall in Belgrade, the Usce Shopping Center. They go all out when it comes to the holidays and it's here that you'll find some of the best light displays in the city.
The Budapest Christmas Market in Hungary
Making your way a little bit further West is where you're going to find the stunning Budapest Christmas market. For many people this is the farthest east that they're going to travel. And you should travel here because it's an eastern European Christmas market that you're definitely not going to want to miss.
On its own Budapest is an incredible place to visit. It becomes so much better with the lights and decorations across the entire city as well as the various markets and other holiday setups.
The biggest Christmas market in Budapest is set up in Vörösmarty Square. This is in the center of the old town. Here you'll find the market stalls and other holiday related decorations radiating outwards throughout the entire downtown pedestrian area.
If there's one thing they do right in Budapest it's amazing food. Just about every other market stall is selling some local Hungarian delicacy that you won't be able to resist. The chestnuts are being roasted in abundance and the mulled wine seems to be flowing freely. If you're looking for baked goods like cookies, cakes, and other delicious sweets then Budapest should be one of the first stops on your list.
Also in the main square is an enormous Christmas tree decorated with hundreds of lights and decorations. The main streets in the city also have their own light displays and holiday cheer. Being such a pedestrian friendly city there are also many stores and small shops with incredible window displays. Don't hesitate to walk around and get some window shopping done as well!
For delicious food, tasty drinks, and holiday spirit everywhere you go you're definitely going to want to visit the Christmas Market in Budapest. Especially if you're hoping to get a taste of eastern Europe on your holiday trip abroad.
The Cesky Krumlov Christmas Market in Czech Republic
Tucked away in the Czech Republic, just a few hours from Prague, is the magical Christmas market in Cesky Krumlov. For many people this sleepy town is a day trip from Prague but it's definitely worth spending a night or two. You'll want at least one night to explore the city and admire the advent festivities, market stalls, and displays.
This is also where you'll be able to see what an old-fashioned and traditional Czech Advent Market looks like. You can try out a variety of different Czech delicacies including things like goulash, mulled wine, honey wine, and various cakes and sweets. What's great about visiting the Czech Republic in December during the holidays is that it's not as busy as it is the rest of the year. It's much more affordable than other popular destinations in western Europe as well.
During December there are various live holiday events in Cesky Krumlov. These include the lighting of the Christmas tree in the city center and various Christmas concerts. There's even a live nativity scene with real sheep and other small animals. As you're wandering around you might even get lucky and hear a group of people singing Czech carol. The whole experience is made even better with the medieval vibe that visitors to this picturesque small town get to experience.
After the tour buses leave in the late afternoon Cesky Krumlov turns into a much quieter place. It's very likely that you'll have the place to yourself without having to worry about bumping into anybody or waiting in line for some tasty goulash. With the small town being accessible from Prague and even Vienna it's definitely a Christmas market in eastern Europe that you're not going to want to miss.
Making the Most of Christmas in Eastern Europe
So there you have it – a quick look at some of the best Eastern Europe christmas markets!
The Christmas markets and holiday festivities that you can find in Eastern Europe offer a unique travel experience. They're more of an off the beaten path adventure and friendlier on the wallet as well. Not only is the food in this part of Europe delicious but the cultures are interesting, the cities are beautiful, and you don't have to deal with the huge crowds of tourists.
Keep in mind that a lot of the markets don't start until the end of November or the beginning of December. You're going to want to plan your trip around those dates especially if you're hoping to check out the different festivities. You're also going to want to consider booking your accommodation well in advance. A lot of local families travel during the holidays so the hotels and apartment rentals might fill up quicker than usual.
Depending on where you're visiting most markets are going to finish up on the 23rd of December or on the morning of the 24th. Most businesses will close from from the 24th to the 26th so don't forget to stock up on anything you might want so you don't miss out.
Other than that, pack your camera, take a lot of photos, and have fun
Have you visited any Christmas markets in Eastern Europe that you fell in love with? Feel free to share your thoughts down in the comments below.
Written by Stefan Pidruczny: All images in this post are by Stefan and may not be used without his written permission.
Related Articles: