What are the best destinations for solo female travelers? It's a good question and one I've given a lot of thought to. I travel as a solo female traveler about 98% of the time. I travel around 9 months per year. And I've been doing that for over four years. Oh, and I've visited over 50 countries.
I'm not telling you this because I want to be that idiot that you meet when you travel who can't wait to tell you how their travels have been sooooooo much better than yours (bigger, faster, further). I'm telling you because I've been to a lot of destinations – as a female – alone.
And from my travels, here's my list (in no particular order) of…
1. England
Really? You're going to list your home country? Yes, yes I am. And here's why:
England is very easy to travel around – the public transport is clean, safe and affordable (but do book in advance).
the country small enough to cover a lot of ground in a short time. And if you're keen to add more countries to your 'visited' list, you can easily pop to Scotland, Ireland or Wales.
if English is your first language, you don't need to grapple with a phrase book on top of all the other challenges of travel.
the people are friendly (*excludes Londoners). Head up North (unofficially designated as beyond the Watford Gap) and you'll find yourself making friends with any Tom, Dick or Harry.
there's a pretty well-established hostel scene if you want to use that as a means of meeting people/sticking to a budget. Otherwise, Bed & Breakfasts are good value, easy to come by and more inviting than hotels.
there's a sh*t tonne of things to do (navel gaze at Stonehenge, surf in Cornwall, take cream tea in Dorset, get literary in Stratford-upon-Avon, go hipster in London, visit Roman baths in Bath…the list goes on), England is a very interesting country to travel around.
Best for: history, culture, quirky regional differences, quick travel, ease of travel (language, transport).
Don't go for: making local friends in the capital, budget travel, sun.
Check out my related travel blog posts
2. Hawaii
I was nervous about visiting Hawaii as a solo female, assuming it was going to be shore to shore packed with honeymooners. As expected, there were a good number of loved-up couples but there is a thriving solo traveler scene too.
Why visit:
four (main) islands to choose from, each with different vibes and activities. Island hopping is easy and affordable (again, book in advance).
12 out of 14 of the world's climates in one place – if you're after diversity, Hawaii has it in spades. Surf, trek into volcano craters, skydive, lie on a beach: Hawaii has it all.
Polynesian culture – despite Hawaii's history and now being part of the USA, it's possible to dig deeper and get closer to this fascinating and spiritual culture.
like England, you're going to get along fine without having to pick up a Hawaiian phrase book (though get one anyway because trying to figure out how to pronounce the Hawaiian language's words that are formed from just 13 letter is mind-bogglingly fun).
Hawaii felt safe enough to wander alone at night (in busy areas) but with a good backpacker scene and hostels with very high standards, you can sleep on more of a budget than you might think.
the fish: swim with them, catch them, eat them. Whatever your preference, some of the best things about Hawaii go on under the waters…apart from the surfing, of course.
Best for: outdoor types (active or beach basting), island hopping, English speaking, making hostel friends.
Don't visit for: budget travel, just a few days en-route to Oz (you'll regret it), culture shock (there's a lot of Polynesian culture but the islands feel predominantly like an extension of the USA).
Check out my related travel blog posts
3. India
I know. You're going to read way more articles telling that you shouldn't visit India. And that you certainly shouldn't do it as a female. And Heaven forbid you might go on your own. But guess what, many women go to India alone each year and have a trouble-free visit. I spent over 6 weeks there and although it wasn't the easiest destination I've ever been to and there were a couple of scrapes, it's still a county I recommend to women time and again.
Why?
The sights: I'll start with the Taj Mahal then go on to mention the forts, the palaces, the ganges (river), the beaches, the mountains, the temples, the desert, the parks…you get my point.
The food: ok, so I suffered from Delhi belly when I was in India but the fact that I kept going back to the same street vendors and restaurants is proof that the food was addictive regardless of the effect it had on me.
Can you think of a more spiritual place? Whether you're looking to practice yoga, learn how to meditate or just indulge in an Ayurvedic massage and get a henna tattoo, there's nowhere more authentic to experience it than Indian. Plus, where else are you likely to get your legs waxed using strips of denim (true story).
It will confront you on every level. The cities can be noisy and dirty, the people can be in your face and the levels of poverty are probably unlike anything you've ever seen, but you'll go home with a whole new perspective – the kind you won't get from any book or, in fact, any other destination.
It's safer than you think, so long as you use your street smarts, stay in the central locations and don't wander down dark streets/get on empty buses at night, you should be fine.
If you have a minuscule travel budget, you can visit India and still leave with change. Eating for under $1 is easy, as is sleeping for under $7. You can ride the trains across a good chunk of the country for just a few dollars and all prices are open for negotiation.
Best for: culture shock, food, getting a spiritual fix, testing your patience, highly affordable travel.
Don't visit for: cleanliness, your first solo trip (it might be a bit too confronting), well organised, peaceful travel.
Check out my related travel blog posts
4. Italy
I don't think I've ever met a person who didn't enjoy their time in Italy. It's a country that draws me back time and again (I'm writing this while I'm in Puglia) and even when you're done exploring the big hitting sights, there's still so much more to explore. Italy is everything you might imagine and much more besides.
Why visit:
I have to start with the food. You might think you've had amazing Italian food in your home country but I promise it will not compare with what you will eat in Italy.
Rome, Florence, Venice, Milan, the Amalfi coast: Italy is formed from one superlative after another. Sure, you're going to meet a lot of other tourists if you turn up in mid-summer, but there's a reason all of these people have travelled from all over the world to see the same things.
Getting around: despite Italy's penchant for bureaucracy, it's incredibly easy to get around Italy on your own. There's an excellent train system and you can book online in advance.
Getting off the tourist hamster wheel is so rewarding: heading even a few miles north, south, east or west of the big hitting destinations can take you to tiny towns where you can see real Italian life without the crowds and truly get to understand how this country epitomises the dolce vita (sweet life).
With so many tourists turning up each year, Italy does a great job of keeping them safe; basic common sense is enough to keep you well.
"Ciao bella" (hello beautiful): get used to hearing this in Italy, even if you've reached the point where you can only fit into those ugly fat pants you packed as a last resort. Put on a slick of lipstick, a nice bit of jewellery, hold your head high and be ready to feel adored.
Best for: food and indulgence, some of the world's most iconic sights in one country, confidence boost, culture, diversity (old, new, cities and beaches).
Don't visit for: weight loss, solitude (unless you go ultra rural/local).
Check out my related travel blog posts
5. Japan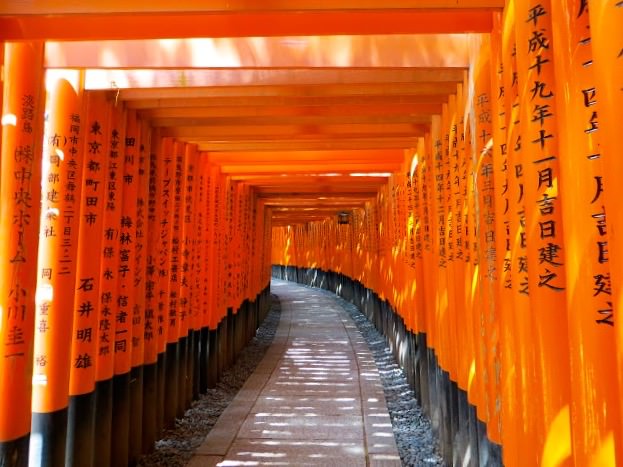 Confession first: my month in Japan was the rare occasion when I didn't travel by myself, apart from a couple of days.  So, feel free to skip on by this recommendation if you wish, but hopefully you won't because Japan is awesome and all of my traveling alone has given me an eye for a good solo female destinations, even when I have company.
Why visit:
Japan is so much more than Tokyo and Kyoto. Did you know the country has a bunch of islands off the south coast making it perfect for a beach break. From big cities to smaller stops, Japan will keep on surprising you turn after turn.
Japan is one of the safest countries in the world. Ok, so there might still be a pretty big disparity between men and women when it comes to gender equality, particularly in the workplace, but if you can get past that, crime rates are low and if you leave your phone in a bar, it's most definitely going to find its way back to you.
The people are helpful beyond compare. From the sales assistant who walked me through a mall and helped me buy a SIM card at a competitor store to the countless people who didn't just give me directions but got on the metro (carrying my bag) to deliver me to my destination, I've never meet such a helpful nation.
Despite the language barrier, most Japanese people (at least in the main tourist areas) speak a little English. They'll tell you otherwise, then continue to answer you with perfect English vocabulary and grammar.
The food: you might be sensing a theme here but I do love to eat when I travel and Japan very quickly became one of my top foodie destination. And it's not just about raw fish. Kobe beef, okonomiyaki, tempura and ramen, this country fed me well and it was even possible to find a few budget eats.
The Shinkansen trains: no, the Japan Rail Pass is not cheap but the train windows are squeeged clean before each ride and, damn, the trains are fast. In fact, they're among the fastest in the world!
Best for: history, sights and culture, surprising natural beauty, 21st century travel, kindness of strangers, food.
Don't visit for: cheap travel, making friends with locals (although friendly, the culture is pretty reserved).
Check out my related travel blog posts
6. Mexico
If you've visited my blog before, you'll know that I'm fanatical about Mexico and, like Italy, it's a country that keeps drawing me back. It upsets me deeply that Mexico has such bad street-cred – not just in terms of solo female travel but as a tourist destination in general. Yes, there have been some ugly deaths involving way too many people, but that's the drug business for you. The solution: pick one of the safer places to stay, and there are plenty of them.
Mexico's safety level varies greatly depending where you go. If you're not sure where is safe and where isn't, check out my two part article where I give you the facts, based on this 5ft tall solo girl's extensive travels through the country.
Now, why visit:
Mexico is probably the next most diverse place I've come across after Hawaii. From the Caribbean coast on the east to the Atlantic on the west with highlands, lowlands, jungle, desert and Spanish colonial pueblos in between, you can take your pick of the kind of trip you want in Mexico.
you can also pick your comfort level. Perhaps you're dipping your toe, taking your first solo trip, then try the Yucatan peninsula, which has many western facilities; more adventurous: Copper Canyon; feel like escaping? Isla Holbox; want adventure? go swimming with whale sharks.
The food: if I could only eat one food for the rest of my life, it would probably be Mexican…or Italian…or Japanese…or Indiana. But Mexican is definitely up there. Not entirely sure what Mexican food is (because it's probably not what you get at home), check out this article I wrote for BootsnAll.
Great value for money: Mexico may not be as cheap as India, but its a hell of a lot cheaper than most places. Step away from the popular beach resorts and you can eat for a dollar or two and sleep for $10-$20. Paradise isn't quite so pricey in these parts.
You can't beat a Mexican fiesta: all the horror stories you read about Mexico do a huge disservice to the vast majority of Mexicans who are warm, inviting and a hell of a lot of fun.
Best for: adventure, fun, a great value trip, a huge diversity of landscapes and experiences, fresh food.
Don't go for: I can't think of a sing le reason not to visit Mexico. Instead, I'd say don't visit without checking your facts and where you're going. That way you can have a safe trip with full peace of mind.
Check out my related travel blog posts
7. Spain
If there's one cultures that's nailed the secret to the way of life, it's got to be Spain. Several meal times a day, a huge long nap in the middle and partying until dawn. And that's all without a nod to the country's history and culture.
Why visit:
history isn't always the first thing you think about when you think of Spain, but the country's past is both fascination and complex, and has resulted in a country that has influences from the Romans to the Arabs. In a relatively short span of land, you experience real contrasts on your trip: just check out Andalucia region then Catalonia to understand.
like Italy, Spain is super easy to get around. Trains are your best bet, but there are also good bus connections. Sure, the timetable might not be so strictly adhered to as you'd get in Japan, but everything comes together…eventually.
Price: it's not very often that a western european country is touted for its good prices, but Spain is probably the exception. Compared to Italy across the way, food and drink prices are about 50% cheaper and rooms get you an even bigger saving.
Another culture where women are adored and somewhat idolised, if you're looking to be charmed and romanced, the Spaniards know where it's at.
flying in the face of its deep historical roots and the stereotype that Spain can be somewhat slower paced, the country has still managed to produce some world class services from clubs and bars to restaurants and hotels, there's a definite grown-up side to Spain if that's what you want.
Best for: European luxury on a budget, culture with a bit of beach thrown in, variety, long afternoon naps: no judgment.
Don't go for: light food (did you know Spain produces more olive oil than Italy – and it uses it, too), uncrowded beaches – Spain is one of Europe's top holiday hotspots for other Europeans.
Check out my related travel blog posts
8. Vietnam
Vietnam was my first love – the country I first visited alone that was entirely responsible for stealing my heart and causing me to return to the UK, quit my job and head out into the world in search of adventure. But that's not the only reason I think Vietnam is a great place for solo females.
Why visit:
Southeast Asia is a solo travel mecca and Vietnam is by far my favourite country out of them all. Thailand is popular if you want to lose a month or two face-down in a bucket of booze, but Vietnam offers a better blend – culture, parties if you want them and a vast strip of land that is mostly coastal and covers huge cities, old silk trade towns and green rice terraces.
brilliant bang for your buck: Thailand ain't so cheap and although Vietnam has been on the up and up since the 2006 Tsunami caused most Southeast Asia backpackers to re-route through Vietnam instead of Indonesia, it's still a lot better value than its nearby (tourism) competitor.
the reunification express: much of Southeast Asia's transport network is made up of privately run tourist buses. Not only do you pay tourist prices for the privilege, you spend your time with other tourists (is that what you travelled thousands of miles for?). Vietnam's north-south railway may not be the fastest way around but it's used by the locals and is a fantastic way to travel (safety tip: please don't take the buses in Vietnam – they're really (car-crash) dangerous).
ok, go on, I may as well stick with the trend – the food. Did you know that Vietnamese people commonly shop twice a day to ensure their food and herbs are fresh? And, of course, there's the coffee and the vast range of beer to get through.
shopping: I'm not going to feed the stereotype by assuming that all women love to shop (I'm not a huge fan), but tailored silk and beautiful lanterns are probably going to be in your bag on your way home, regardless of your usual propensity for material purchases.
Best for: an epic train journey, silk shopping, fresh food stalls, making backpacker friends along the way, getting more out of Asia than a hangover.
Don't go for: dinner invites from the locals (they're pretty reserved), getting off the backpacker trail – it's riddled, north to south.
Check out my related travel blog posts
9. USA
If someone would just hand me a Green Card, I'd make the USA my second home. Anyone who tells you the country has no culture and no history (and I've even heard that from some locals) is looking in all the wrong places.
Why visit:
I'm a firm believer that everyone should leave their home country at least once (if they can) but I'm regularly swung by the argument from US citizens "Why leave, we have everything here" because they kind of do: national parks, two humongous coastlines and an interior I'm going to call quirky in parts. Imagine any kind of experience you want and you can probably have it in the USA.
if you're an English speaker, there is zero language barrier.
although things get wobbly when you leave the cities, if you're content to stay on the Amtrak and Greyhound network, it's very easy and pretty affordable to get around. Plus, there are more car hire options than you can shake a stick at.
I grew up watching US TV shows and movies – if you're at all invested in stepping, even briefly, into the lifestyle that has glowed at you from the screen for years, there's no better place to do it.
culture shock is non-existent – if you're looking for an easy trip where you can focus on finding yourself as much as your feet, the USA is a good choice. Western services mean you don't have to deal with squat loos or Delhi belly.
(And you might have noticed that I intentionally didn't mention the food…though I could eat all day long in New Orleans).
Best for: an easy trip with a vast range of choices, more history and culture than you probably imagine.
Don't go for: value for money (bill+tax+tip everywhere), great travel infrastructure (transport and accommodation thin considerably as you leave the cities), a culture that understands your wandering instead of working.
Check out my related travel blog posts
10. Latin America
I know I've just listed an entire continent rather than a country so I'm kind of cheating but I'd highly recommend a trip to Latin America for any solo female traveler. It seems to be the one destination that many female travelers want to explore but many are too afraid to go. I get it – I was crapping my pants before I boarded the plan to Quito. But, as I've said to all of the women who've asked me – the time you're probably going to be most worried about a trip to Latin America is before you go. Once you get there, you'll realise things are a lot safer and easier than your CSI-fuelled imagination has predicted.
Why visit:
Because you really, really want to and the only thing holding you back is fear.
I don't want to over-use the diversity argument but if you were to hold Colombia and Costa Rica next to each other, you'd get the picture. Likewise Brazil and Guatemala. From cultural differences to landscape variants, you can literally travel from high altitude to flat wetlands on a Latin American adventure and meet a world of different people in-between.
To learn the art of tranquilo: if I learned one thing in Latin America it's that it will happen when it happens, if it happens at all. It's the perfect place to shake loose some of your inner control freak and carve away a bit of your frantic Type-A planner instinct and chill the f&ck out. You'll feel better for it.
Don't think of Latin American as a slap in the face but more of a refreshing douse of water when it comes to cultural change. Things don't always work so well but the people are resourceful. And there will be more than one story to take home about how strange this culture is (men beeping when they see a woman, not when they see danger).
To learn some Spanish – I'm no natural linguist and had two words (hola & cerveza) when I landed in Latin America and even I managed to bumble along without starving or going homeless. Now I can have a basic, drunk conversation in Spanish with a lot of (rum-based) confidence.
The travelers in Latin America are generally a good bunch – educated, interesting, friendly and it makes for a great traveler trail. Meet someone in one country and you'll no doubt bump into them days, weeks or even months later.
Best for: a more grown-up crowd than you'd get in Thailand, meeting people, pleasant culture shock, boosting your confidence (being brave enough to visit and doing it all on your own).
Don't go for: wild parties in the bosom of faux western culture a-la Koh Phangan, luxury travel or that feeling of being in a home away from home.
Check out my related travel blog posts:
Related Articles:
Like this guide to the best destinations for solo female travelers? Share it on Pinterest…