Flights booked. Accommodation sorted. Ski lift map downloaded. Now all you need to do is work out your après-ski plans. Don't worry, I've got you covered. Here is a list of the best bars in Verbier and the surrounding areas. I have even included a suggestion for great absinthe – trust me (thousands wouldn't).
I also have a guide to the best restaurants in Verbier. And, if you're looking for guides to the best things to do in Verbier, check out my separate Winter and Summer guides, as well as how to get to Verbier from Geneva.
Pub Mont Fort
Named in honour of the highest peak in Verbier, Pub Mont Fort is an ultra-popular pub in the centre of Verbier. Don't miss their happy hour from 4 pm to 5 pm. This place has been going since the 1970s and has only gained popularity. It's one of the best places for apres-ski in town and has a great range of cocktails as well as food for soaking up the booze.
Le Rouge Restaurant & Après-Ski
Thus far, I've only been to Le Rouge for dinner (shame on me), but the apres-ski is legendary. With a swanky interior and high-end food (definitely order the beef), Le Rouge is one of the most up-market options for apres-ski in Verbier. Start on the terrace at sunset and stay for dinner.
Big Ben Pub
As a Brit, I'm deeply conscious of not being one of those Brits abroad. Hence, I'm always a bit wary of recommending overtly British pubs. However, this list wouldn't be complete without a mention of Verbier's Big Ben Pub, which has earned the title of one of the best bars in Verbier. With two pool tables and flowing drinks in the centre of Verbier, Big Ben pub attracts a younger crowd. Perfect if you're after a rowdy, fun night.
Fer a Cheval
Fer a Cheval is an all-evening watering hole that's friendly, lively and relaxed. A cheaper option in Verbier, and always jammed with locals, it's the centre of Verbier's local social scene. A chalkboard menu featuring Swiss mountain favourites in the village's most popular bar-pub makes for a perfect low-key but lively evening.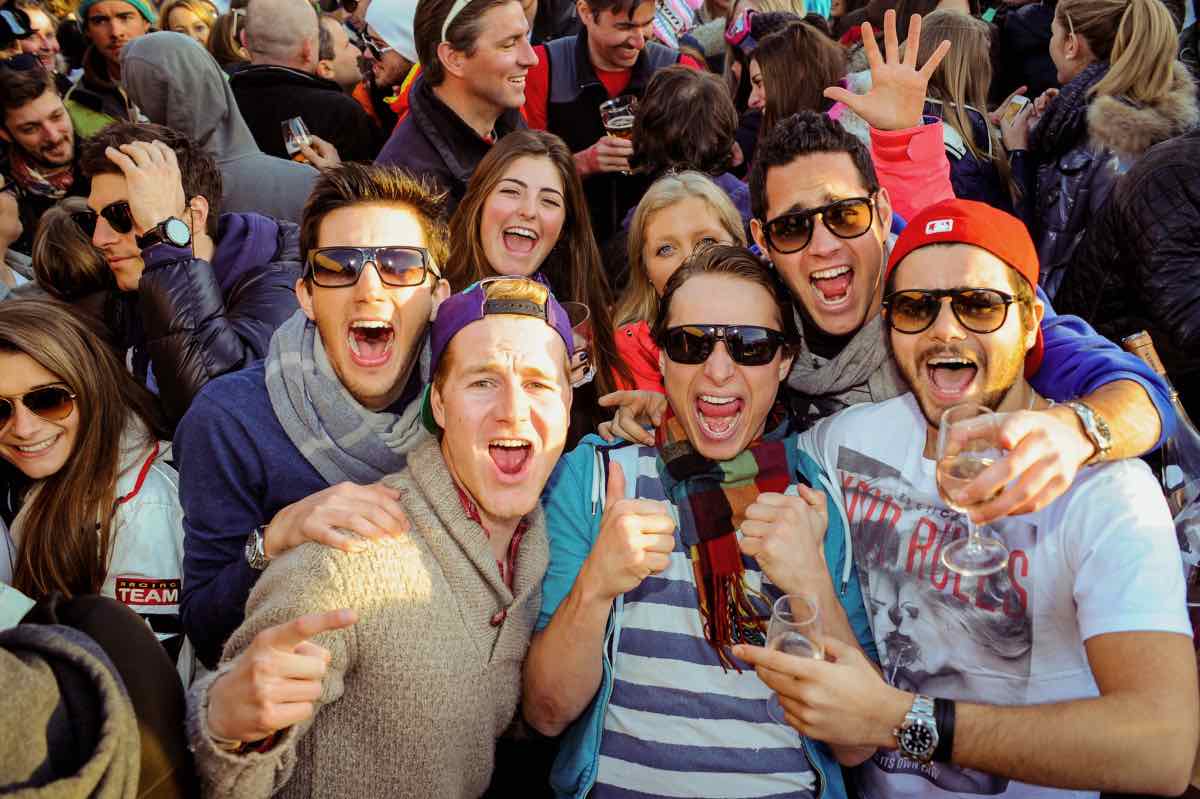 Le Mouton Noir
An on-mountain restaurant, Le Mouton Noir is at the top of the Medran gondola and is one of Verbier's best decks. You'll find an upbeat atmosphere and a modern menu featuring entrecôte, poke bowls, tuna tataki, charcuterie boards and burgers, all to excellent quality. Think magnums of rosé, DJs and dancing during an afternoon session here. Le Mouton Noir is easily accessed and can be reached by foot passengers with a lift ticket and an easy lift ride up to Les Ruinettes station for a scenic lunch.
Bar 1936
Bar 1936 is an on-mountain après spot. Ski down from Les Ruinettes lift to Verbier village, and you won't miss it. It's a relaxed yurt bar with a BBQ and live bands at 1,740m altitude, so watch your alcohol intake. I've heard rumours about an après-ski train from Geneva. More info is to be released as the winter season approaches, so keep an eye out for this gem if you're city-based looking for a mountain jaunt.
Alp&Horn Bar
Alp & Horn is a pub-style bar slap bang in the centre of Verbier. The bar has an impressive selection of beers on tap, but that's just the beginning. The bar is spacious, well-designed for groups, beautifully decorated, and the staff couldn't be more helpful. When one of your group gives one of those non-specific orders for a 'good but not too sweet kind of citrusy cocktail', and the staff bring over a concoction that fits the bill, you know you're in the kind of place worth staying for more than one round. There's food available, too (for when you have one too many of those staff-crafted cocktails).
Farm Club
Everyone has a story about the Farm Club, a Verbier institution and nightclub famous through the Alps and, in fact, the (ski) world. It's been going since 1971 and is expensive, but a must when visiting Verbier. Got a Farm Club story? Share it in the comments below.
Le Farinet
Head to Le Farinet for a high-energy, feel-good party. You won't miss it from the street, and it draws in many-a-punter this way. Live music, crowds and an indoor-outdoor dance floor mean après every night of the season. See the main image.
Cafe Sëtâ të
And if you're interested in Verbier's craft beer scene, check out Cafe Sëtâ të. Located in the small village of Vollèges, Cafe Sëtâ të is not your average cafe. In fact, you're more likely to want to order a beer than a coffee since the beers are brewed on-site by the owners. What started as a hobby project has become the best feature of the cafe. You can see part of the brewery production process from within the cafe. Whether you're there to work your way through Vollèges beer menu or sip on the excellent coffee, you're in for a treat. Sëtâ të is worth the short trip out of Verbier centre.
Macbirch
Want something a little more refined? Head to Macbird. For generations, Valais winemakers have been sculpting their "terroir" and cherished vineyards and fine-tuning their wines. To discover the wines of this mountainous region, head to Macbirch, the oldest wine cellar in Verbier, to find mountain wines from this southern Swiss region as well as the finest vintages from all over the world.
I'm a bit of a wine expert (got a certificate to prove it and run a separate Prosecco website), and I am always deeply impressed with the quality of Swiss wines. The wine is typically produced in quantities too small for it to be exported, so you'll just have to take advantage of these great wines while you're in Switzerland. Or maybe even take a few bottles home.
Edelweiss absinthe
Speaking of locally produced drinks, I can't call this article complete without mentioning Edelweiss absinthe. I used to have a (justifiable) fear of absinthe. You may have it too. But I promise you, the absinthe that comes out of the Edelweiss Distillery in Sarreyer is a smooth, almost soothing drink that might well tempt you to say 'another' without having to worry about the consequences. Like that time I learned how to drink Tequila in Mexico, visiting the Edelweiss absinthe and gin distillery taught me that expertly made absinthe is nothing like the hooch I'd tasted in the past. Matthieu, one of the producers, showed me how to mix, taste and even make absinthe. Watered down with fresh snow (true story), I finally tasted an absinthe I'd be prepared to say, 'give it a go'. Look out for Edelweiss Absinthe and Gin in the bio/organic shops in Verbier or buy them on the distillery website.
Related Articles: