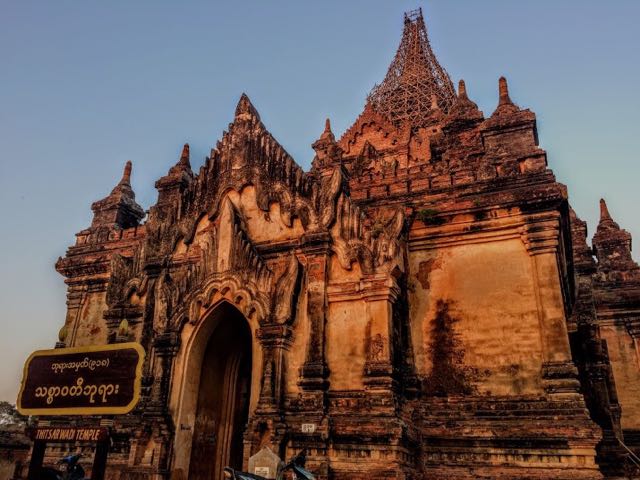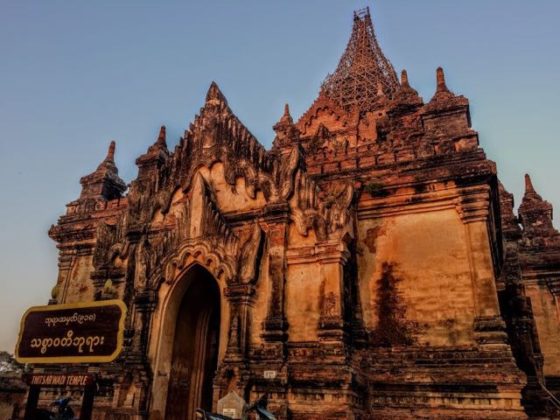 There are thousands of pagodas in Bagan – I know, because I'm pretty sure I saw them all. Ok, maybe not but swinging by almost 20 of them made it feel like I'd seen every pagoda that exists in the city.
While it may have been exhausting at the time, it gave me a good basis for comparing the various temples. From the vast to the deserted to those teetering on the banks of the river, what follows is my recommendations for the best pagodas in Bagan and which ones to see as a priority when you visit this wonderful part of Myanmar.
I've also included a couple of maps at the end (one local offline map and a Google map I've created with all the pagodas marked on) to help you plan your trip.
Times change: Since writing this guide, the political situation has changed in Myanmar. Some adventurous travellers are still visiting, so I'm keeping these guides online. Also, in the hope Myanmar will open once more. If you do visit, check your government's travel advice (it can impact your travel insurance) as well as local advice.
My two biggest tips for planning which pagodas to visit are:
look at a map and make a plan before you head out for the day. Many of the pagodas are clustered and you'll save yourself a lot of travelling in the heat if you know which pagodas you want to see and where they are.
make sure you see a mix of pagodas. The larger ones are spectacular but the smaller temples are less crowded, giving you a much more pleasant experience. I've included examples of both below.
So, let's get to it.
Ananda Pagoda
What makes it worth a visit? Finest, best preserved, most revered and with four towering gold Buddhas inside…what more do you want? Although it was under construction when I was there 🙁 it definitely deserves a top spot on this list.
What's the difference between a pagoda, a temple and a stupa? I was confused by this distinction too, so I asked my guide. Here's what she told me:
Pagoda is a generic term for a stupa or a temple.
Stupas are pagodas that you can go around but you generally can't go into – because there is no entrance. Shwedagon Pagoda in Yangon is a good example a stupa.
Temples are pagodas that you can go inside and typically they have four entrances and exits located north, south, east and west with a Buddha at each entrance.
Dhammayangyi Pagoda
What makes it worth a visit? If you want to tick off the biggest of Bagan's pagodas, this is the place to do it. You'll struggle to take a picture in Bagan without Dhammayangyi Pagoda in it – which isn't a bad thing. Plus, dogs playing in front of the twin Buddhas. Cuteness.
How to get around the pagodas? There are several options for exploring Bagan's pagodas. e-Bike is very popular. I hired a car and driver for the day, which I thought was better – I avoided the heat and dust, I got further, saw more and had a guide.
I booked a driver when I arrived in Bagan. However, since returning, I've noticed that it's possible to pre-book a driver on Get Your Guide and, in some cases, the prices is cheaper than I paid booking in Bagan. This comes with the advantage of being able to read other customer's reviews rather than going on the whim of the recommendation of the desk staff at your hotel the day you book.
You can see the full list of Bagan tours on Get Your Guide here.
You can find full details of how to get around and how to book transport in my post Things to Do in Bagan – The Land of Pagodas.
Thatbyinnyu Pagoda
What makes it worth a visit? Thatbyinnyu wins the award for the tallest of Bagan's pagodas. Its name means omniscience, interpreted as "knowing thoroughly and seeing widely." It was also one of my favourites – probably because the white temples make such a change to all the brown buildings. Also, it wasn't under as much construction as Ananda Pagoda when I visited.
Most easily confused with Ananda Pagoda.
Prefer a guided tour? If all this planning seems like a little bit too much, why not take a guided tour of the temples? With a driver and guide, that's how I explored.
You can find out more and check tour prices with GetYourGuide.
Shwesandaw Pagoda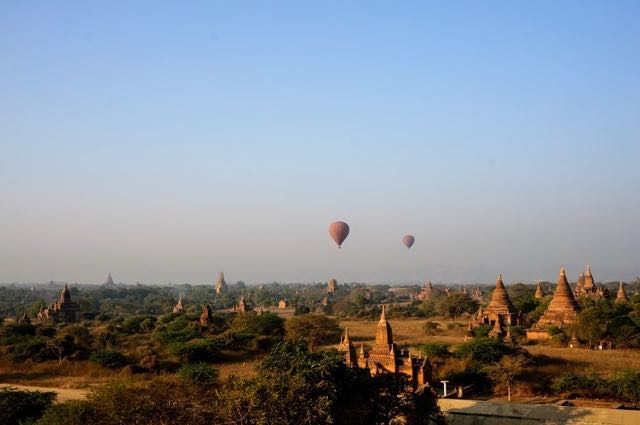 What makes it worth a visit? As impressive as Shwesandaw Pagoda is to look at, it's the vistas from the terraces (picture above) that make it so sublime. Beware: there are some pretty fierce steps to climb to get hold of those views. But it's completely worth it – this was my favourite view in all of Bagan.
Want to see the pagodas of Bagan by hot air balloon? There are several hot air balloon companies to choose from and I'd recommend doing your research before you go – here's a link to Tripadvisor where you can read reviews about the main companies offering hot air balloon rides in Bagan.
Sulamani Pagoda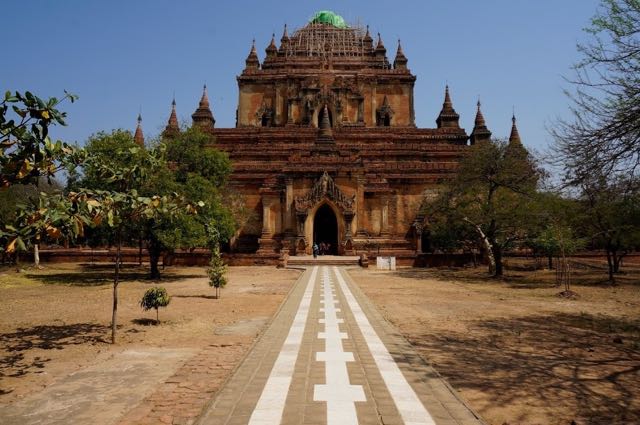 What makes it worth a visit? Known as "Crowning Jewel" there's something just so damn photogenic about Sulamani temple – the symmetry, the long leading pathway, the miracle of so few people when I visited (during the mid-day heat). If you're on Instagram (you can find me here, btw), you'll want to make a stop here. But even if you're not into photography – just look at it. Isn't it stunning?
Here for Myanmar travel inspiration?
Check out my videos – a day on Inle Lake…
…and taking the boat from Bagan to Mandalay…
Thitsawadi Pagoda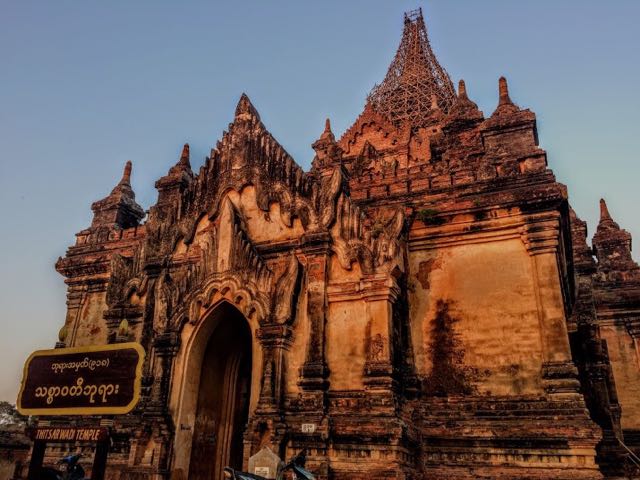 What makes it worth a visit? Thitsawadi pagoda doesn't make it onto many lists and that alone makes it worth a visit. Also, of all the temples I visited in Bagan, this one felt most like being at the Angkor Wat complex of temples in Cambodia.
Shwezigon Pagoda
What makes it worth a visit? Actually, can I change my opinion – this might have been my favourite? Or, at the very least was my favourite golden pagoda in Bagan. Shwezigon is a fine example of a stupa and is reminiscent of the Shwedagon pagoda in Yangon (yes, the similar names are very confusing). Best of all? The golden stupa isn't the only sight – there are four temples surrounding it; one flanking each side.
How many pagodas are there in Bagan? You'll probably read more than one article stating that there are over 4,000 pagodas in Bagan (over 10,000 if you look at Wikipedia, which includes monasteries in its count).
Over 4,000 pagodas would be correct…if you were visiting Myanmar in the 13th century when over 4,000 pagodas were commissioned by the reigning kings. However, courtesy of neglect, earthquakes and erosion, there are now only just over 2,000 pagodas within Bagan's archaeological zone. Still, it's more than enough pagodas to keep you busy during your visit.
You can read more about the history of the pagodas in Bagan.
Htilominlo Pagoda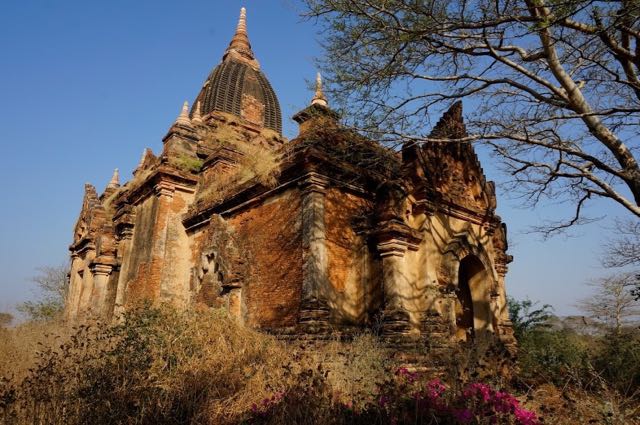 What makes it worth a visit? Perhaps I wandered a little too far from the crowds, but it gave a wonderful sense of adventure, exploring Htilominlo pagoda amongst the wildflowers that surrounded the less trampled areas. (And no, I didn't go anywhere I wasn't supposed to, before you start screaming 'bad tourist' at me).
Most easily confused with: Sulamani Pagoda.
What about the best pagodas for sunrise and sunset? You'll find recommendations and links to more information in my post about Things to Do in Bagan – Land of Pagodas.
Bu Paya Pagoda
What makes it worth a visit? The entrance is more impressive than the stupa at Bu Paya Pagoda but the real treat is the location by the Irrawaddy River. After hours of seeing one landscape backdrop after another, seeing water makes for a considerable change. And all of that is without mentioning the cooling breeze.
Gu Byauk Gyi Pagoda
What makes it worth a visit? I would never have put this tiny temple on my itinerary but neither did anybody else, which is what makes Gu Byauk Gyi worth a visit.
Alotawpyi Pagoda
What makes it worth a visit? Once again, you won't find this Bagan pagoda mentioned in many (any?) guidebooks and the internet don't throw up much information either (I can't even find it on Google Maps!). Consequently, I had Alotawpyi all to myself. I found this all very surprising given gold stuff usually attracts tourists like mosquitos to blood. Still, it doesn't seem to be on anyone's radar (yet?) so I'd put it on your list for that reason alone.
Looking for a travel guidebook? I used this one by Lonely Planet
Gawdawpalin Pagoda
What makes it worth a visit? Another of the largest temples in Bagan, Gawdawpallin is undoubtedly impressive. But, seeing it in close succession to Ananda and Thatbyinyu pagodas, it was a bit shrug-worthy. If I could do it again, I'd space the white temples out a bit.
Other Pagodas
Indiana Jo and the lost temples…And then there are the temples that have made it into my photos and despite all my best efforts (looking at the GPS data, Google image search, general internet search), I can't identify them. So, what follows is the case of Indiana Jo and the Lost Temples. If you do know their names, please leave a comment below – I'm sure some great travel karma will come your way for solving this little conundrum.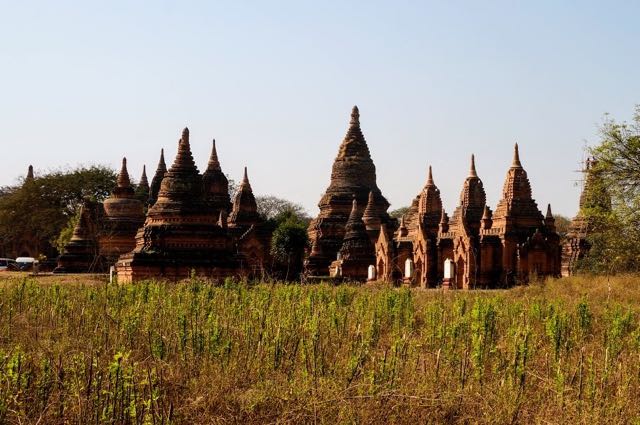 It's marked on my map as a 'small group' and it was fun wandering around this tourist-free area.
The one above was near the river…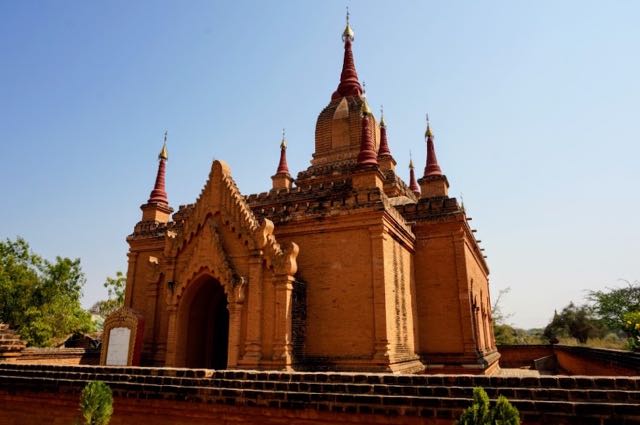 And the pagoda above was close to Shwesandaw pagoda.
Disclaimer: And while we're on this subject, I'm 99% certain the temples above are correctly named but after a while, all that brown, white and gold starts to blend. Plus, I am but only human and thus prone to mistakes. Let me know if I've inadvertently got any of my temples confused.
---
Map of the Pagodas in Bagan
As ever, the local map is the best kind of map and my guide helpfully numbered the temples she took me to as well as a few other stops (lunch and the local market). If you zoom in, you should be able to see the details.
Prefer good old Google Maps? Here you go…
I've made this map public so you should be able to access it on the go. You can also find a link to the map here.
Where to Stay in Bagan
There are 3 main areas to stay in Bagan – New Bagan, Old Bagan and Nyaung U. If you want to slap a price tag on them for the sake of convenience you could say that Old Bagan is best for budget, New Bagan is mid-range and Nyaung U has more luxury offerings.
Budget: Ostello Bello, Bagan – An Italian chain, I've stayed in the Ostello Bello in Milan more than once and they've definitely exported their high-quality offering to Myanmar. Favourite bits – the myriad temple-seeing tours they offer, the day beds available when you stumble off a night bus and can't check in until 2 p.m., the social scene – it's great for meeting people if you're a solo traveller. Ostello Bello is located in New Bagan. Dorms and private rooms are available. Click here for the latest prices and reviews.
Mid-Range: The Hotel at Tharabar Gate – Located in Old Bagan, this hotel wins for location and there is also a tour desk if you want some help planning your sightseeing in Bagan. Click here for the latest prices.
Luxury: Bagan Lodge – After a day of hot and dusty sightseeing, you'll welcome access to a pool – and Bagan Lodge has two of them, together with a spa and a shaded terrace off your room. Speaking of the rooms – closer to suites than hotel rooms. If you're after an oasis in Bagan, this place is it. Bagan Lodge is located in New Bagan. Click here for the latest prices.
Related Articles:
Like this? Share it on Pinterest…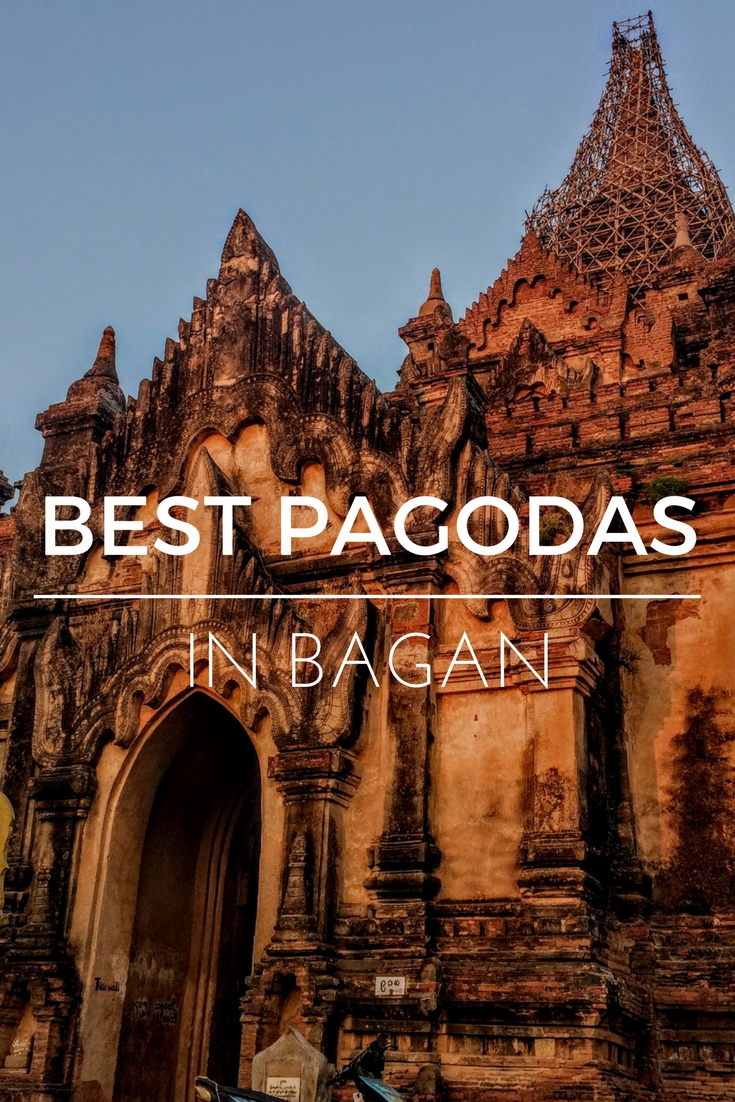 Photo credit: Ananda, Shwesandaw 1