There are a lot of articles on the internet about the best backpack for travelling, so why read this one? Because I travel. A lot.
I quit my job in 2010 and have been backpacking around the world ever since. From epic round-the-world trips to summers in Europe to long-stays in cities and weeks trekking through jungles, I've packed and re-packed more times than I can count. And I've worked my way through a few backpacks in that time, too.
What follows is a guide to choosing a bag together with a summary of my favourite bags. I'll look at top-loading backpacks, travel packs, cabin-luggage sized backpacks, convertible backpacks with wheels and daypacks, together with recommendations for my favourite bags. I'll even talk through the pros and cons of suitcases versus backpacks.
Best Backpack for Travelling
Classic Top-loading backpacks
This style of backpack is by far my favourite. I know, I know, you can't lock them and you have to delve to the very bottom to pull out that wrinkled top that's you've spent the last 5-minutes feeling around for, but trust me – there's a reason top-loading backpacks are as popular as ever.
Compared to travel packs (which zip open like a suitcase), I've consistently found top-loading backpacks better at maximising space, offering a better fit on your back (they tend to be taller and thinner to contour with your body so you don't get stuck in bus and train doors) and they overall feel more comfortable to wear over the long-term (probably because of the shape).
Pros
Great at maximising your packing space – you can really cram stuff down into the tightest corners.
Great fit for long-term wear.
Great shape that means you can zip around (without getting trapped in doorways or knocking people over).
Cons
Top-loading – and Sod's law has it that the item you want is always at the bottom.
You can't usually lock top-loading bags.
They don't tend to look as stylish, so shifting from dorm to designer hotel can be a bit awkward.
The Top-loading backpacks I've tried
Karrimor Panther/Munro, 65 litre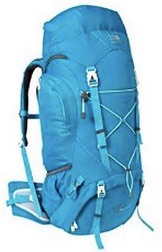 I travelled on my first around the world trip with this bag and I loved it. It was reliable, robust, packed well and had enough different spaces to be able to add order to my packing. The only downside was the size. Fully packed, it was way heavier than I wanted (getting up to 15kg – thanks to the 1000 incense sticks I bought in India). For that reason, I later bought a second top-loading bag, which was smaller and is currently my favourite bag (see below).
If you can't get hold of the Panther, the Munro (pictured above) is practically the same and is also available for men and women.
Buy the Karrimor Munro 65 litre (Women's) on Amazon.com
Buy the Karrimor Munro 65 litre (Women's) on Amazon.co.uk
Buy the Karrimor Munro 65 litre (Men's) on Amazon.com
Buy the Karrimor Munro 65 litre (Men's) on Amazon.co.uk
Osprey Kyte, 46 Litre
I've met a lot of people on the road who use Osprey backpacks and they had nothing but great things to say about the brand and the bags, "They've been designed by travellers for travellers" was the consistent message and, I have to say, having taken the plunge and bought one myself, that's a very fair assessment. (I bought the Kyte, which is designed for women. The Kestrel is the male equivalent).
Every inch of my Osprey backpack has been well thought out with zippered pockets and access areas all in the right places. But most importantly, the fit is far superior to any other backpack I've looked at – using a free app, you can photograph and then accurately assess the length of your back and then pick the right size for each pack type; you can then fit it even further with the usual adjustment straps on the bag.
I could wear my Osprey fully packed for hours and would barely notice it. For only 46 litres, this pack is smart enough for me to pack all of my travel essentials in it (including multiple pairs of shoes and cold-weather gear). Plus, I'm now travelling with a much more manageable sized bag (weighing a maximum of 11kg when stuffed full). It's technically a hiking bag, which makes it a lot lighter and means it includes a free rain cover protector and space for a water pouch if you want to add one.
Buy the Osprey Kyte 46 litre (Women's) on Amazon.com
Buy the Osprey Kyte 46 litre (Women's) on Amazon.co.uk
Buy the Osprey Kestrel 46 litre (Men's) on Amazon.com
Buy the Osprey Kestrel 46 litre (Men's) on Amazon.co.uk
Buying tips for top-loading backpacks

Don't worry about inaccessibility – buy packing cubes to sort your clothes. All the long-term travellers I meet swear by packing cubes. Here are the ones by Design Go that I use.
Security – sure, you can't lock most top-loaders – just buy an additional daypack (see below) and keep all your valuables in there.
Make sure you have a bottom access zip – I keep my running shoes and rain gear in there for quick access.
Osprey may come out a bit more costly, but having bought one, you do get better value for money in terms of the quality, comfort and overall design and practical use.
Travel Packs
Travel pack are an advancement in the bag department, addressing the two problems with top loaders – travel packs open like a suitcase (although are usually soft not structured material) and can be locked. It's also common to be able to tuck away the straps and carry a travel pack like a normal bag. I've tried two travel packs over the years. One I hated so much I gave it away (expensive mistake), the other I love and still use but I've included it under the cabin-luggage section below, because I bought the small version.
Pros
You can definitely manage the hostel to hotel transition with more style courtesy of zip away straps.
For the same reason, checking your bag is also more easy (no more hefting your bag to odd-sized luggage).
Finding stuff is a lot easier thanks to the wide opening front.
Cons
If you're taking a large bag, the overall fit can feel uneven and awkward compared to toploaders that do a better job of compressing your clothes into a uniform shape.
Over-packers beware: just like a suitcase, you've got to get that zip closed, which is hard to do when you don't have the inflexible sides of a suitcase to guide you.
The Travel Packs I've tried
Berghaus Jalan, 65 litre +10 litre detachable daypack
The first backpack I bought was the Jalan by Berghaus. It wasn't cheap but it got great reviews. Yay! Unfortunately those reviews were written by people who'd only taken the bag out of the plastic wrapping and tried it on; they hadn't packed it full and taken it on a trip for any length of time. Boo!
When I did take the bag on its inaugural trip (just two-weeks in Turkey) I rapidly realised that I dreaded having to put this bag on because the fit was awful – the bag could only be adjusted on one side, which meant it was permanently lopsided – not great when you're carrying over 10kg.
I eventually bit the bullet and changed to a top-loader for my around the world adventures and I'm so glad I did. I later met two girls who had the Jalan and their bags had both split at the seams in the same place.
This bag no longer seems to be available, which can only be a good thing!
Kathmandu Lighthaul
I also currently have this travel pack in my arsenal of bags – see the cabin-luggage section (below) for my review.
Buying tips for travel packs

Focus on the straps and back system – it's nice to be able to zip them away but most of the time you'll be wearing the bag so make sure the straps are up to the job.
Check the zip opening is high enough – I saw one bag where the zip was around the middle of the depth of the bag meaning you'd have a real job getting it closed.
Try to find one with compression straps to keep your items in place when you're packing light – it makes for a more comfortable fit.
Backpacks with wheels
I see a lot of travellers sporting the convertible backpack with wheels, particularly ladies, so I decided to try one out. These are aimed at travellers who don't want to wear their bag on their back all the time but come with the flexibility to wear it with straps if you need to (Think: stairs). Unfortunately, it turns out I'm not a fan of this style of bag – I prefer to travel light and having the additional 'baggage' of a wheel system to carry was just too much…but, hey, that's just me.
Pros
If you've got a bad back or don't want to carry the weight of a rucksack, having wheels is going to save you a lot of lumber pain.
Better than a traditional suitcase as they're often soft-sided and therefore more likely to squeeze under beds, fit in lockers and cram on buses.
Let's face it, they look a lot more grown up than a day-glow nylon rucksack.
If you're half travelling/half moving country (you know, that one-year visa in Australia kind of trip), wheelie rucksacks usually let you pack a bit more and for different seasons without worrying about the weight.
Cons
What you gain in ease of rolling, you lose in space for packing (those wheels and handle have to go somewhere).
If you buy one too big or pack it too full, you'll quickly lose the ability to wear it on your back.
Packing light can be a challenge as these bad-boys are often larger in size and are therefore almost always going to have to be stowed on planes and buses.
The Backpack with Wheels I've tried
Osprey Meridian, 60 litre
I thought I was going to love this style of bag but I couldn't get away from comparing it to my top-loader, which I love. Even though the Osprey Meridian has one of the best designed handle and wheel frames, I was frustrated by its very presence inside the bag and the extra weight it added. Packed, I notice I couldn't cram as much in as I thought I'd be able to for its 60 litre size – in fact, I did a comparison due to the flexibility of my top-loader (and my ninja packing skills with that style of bag), I could get the same items in my Osprey Kyte as I could in the Osprey Meridian.
All that said, and my prejudices aside, if you're hell-bent on buying a backpack with wheels (because you're looking for something smarter than a classic backpack or you want to save your back some effort, the Osprey Meridian is one of the best out there – the wheels are indestructible (I know, I tried) and can definitely take a bit of off-roading; there are clever inner sections for separating your items, as you'd expect from Osprey's designers and there is a zip-off daypack that has all the right spaces for a laptop, water bottle and sunglasses. As an added bonus, the dimensions are within range to use this as cabin-luggage for some of the 'better' airlines like British Airways – very impressive for a bag of its size.
Buy the Osprey Meridian 60 litre on Amazon.com
Buy the Osprey Meridian 60 litre on Amazon.co.uk
Buying tips for backpacks with wheels

This is a hybrid product so make sure you get the best of suitcase functionality with backpack flexibility.
Look at the wheels and make-sure they're fit for the terrain you'll be covering.
Check the weight of the bag both empty and full – can you actually carry it on your back if necessary?
try to buy as small a bag as you can – there will come a tipping point after which you simply won't be able to get it on your back (certainly don't go for anything over 70 litres).
Cabin-Luggage Bags
Everything about travelling with a cabin-luggage sized bag is smart – carry-on backpacks are small enough to wear for hours (carry-on suitcases, meanwhile are also super light to lift and roll around), they can be taken inside buses, backpacks aren't going to hurt your back with long-term wear and, of course, you don't have to pay any airline checked-baggage fees.
I spent a month in Italy with only a cabin-luggage backpack and whenever I have shorter trips I turn to my cabin-sized suitcase. My biggest complaint with cabin-luggage sized bags is that you're pretty limited – I can't fit my running shoes and cold weather gear in mine and travel-size toiletries are both pricey and quick to deplete.
That said, I have two cabin-luggage sized bags and I frequently switch between them depending on the trip I'm taking.
You can read about my switch to cabin-luggage here.
Pros
No annoying fees to pay for checking baggage when you fly.
Cabin-luggage offers the most freedom of any bag – you can fit it almost anywhere (lockers, on buses).
You can walk around for hours wearing a cabin-luggage sized backpack, making it easy to visit places en route to your destination.
Cons
It's hard to pack for a longer trip that involves multiple climates. I've never managed to fit my wet weather gear and running shoes into cabin-luggage alongside my usual travel clothes.
You'll do a lot of laundry – with limited space for clothes you'll be washing something (usually underwear) almost every day and you'll quickly come to hate your clothes (because you've worn the same shorts nearly every day for a week).
Travel size toiletries – expensive, environmentally unfriendly pack sizes, quick to run out, urgh. Of course, you can buy when you arrive, but you're unlikely to have space to fit your full-size shampoo, conditioner, toothpaste etc.
Cabin-luggage I've tried
Kathmandu Lighthaul, 38 Litre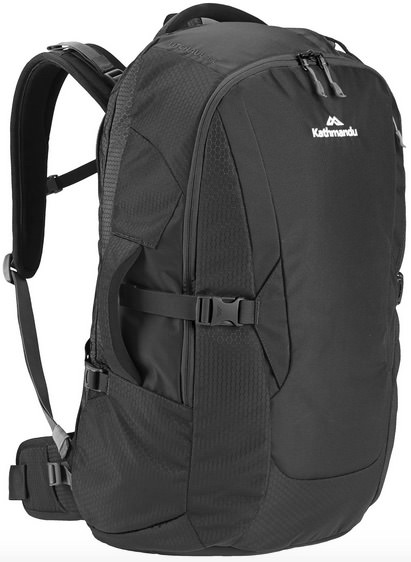 This bag has absolutely been designed with Ryanair in mind. In fact, I'd say it's more Ryanair friendly than the official Ryanair bag. The Lighthaul is technically a travel pack (it opens like a suitcase and you can zip away the straps) but in a small enough size, it also complies with even the most stringent airline cabin-luggage dimensions. It's even been thoughtfully designed for those frustrating one-bag only policies with an easy-access section for your laptop, a top pocket for your wallet/passport and a front section for other items you might want easy access to once you've boarded, (I keep my Kindle in there). Bonus: in black, this is one smart looking pack. Alongside my Osprey Kyte, I'd consider a fist fight with anyone who threatened to take these bags off me!
Buy the Kathmandu Lighthaul, 38 litre on Amazon.co.uk
Kathmandu is not available in the USA unless you can find a local stockist.
Samsonite B-Lite 3 (Upright 55cm/20in)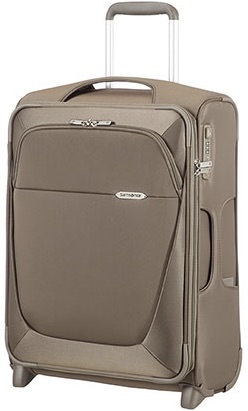 US customers seem to prefer a 4 wheel case so the more popular B-Lite there is a 4-wheel 'spinner'.
I can't make my mind up about this case. It's super lightweight, incredibly roomy and looks smart (when empty). However, I had to send my first bag back because the handle kept jarring when I tried to push it down and the lining of the external pocket started to fray on day one (probably to do with the fact there is a very small opening relative to the size of the space and it's easy to catch things, like my laptop case). For the price: disappointing.
I contacted Samsonite to get a repair or replacement (as the ex-lawyer in me knows I'm entitled to) and I had a few problems getting the company to agree. In fact, I had to switch from 'nicey-nicey' to 'I-know-my-rights' to get it solved. However, the company eventually helped and sent a new bag. The handle is better but not great and the front pouch is still useless (and looks like a badly fitted bra when stuffed full – lumps and bumps all over the place). Yet, the space available and exceptionally light body keep me packing this case again and again.
UPDATED 2018: I'm having more of a love relationship with this case these days. Yes, the original failings are there but I have not been able to fault it for weight and space which are the two most important factors for me.
Buy the Samsonite B-Lite Spinner on Amazon.com
Buy the Samsonite B-Lite on Amazon.co.uk
Antler Cyberlite M1 (a.k.a. the cabin-luggage I wish I'd bought)
I was in the market for new cabin-luggage when my trusty 12-year-old Antler that I'd dragged all over the place finally gave up. I was so happy with my Antler case (and its longevity) that I went straight to buy another…except the store didn't have the bag I needed in stock.
Considering this as a sign that it was time to try another brand, I opted for Samsonite. It was a decision I regret, not least because the bags came in at around the same price but only offering a 5-year warranty compared to Antler's 11 years.
I live – you learn!
Buy the Antler Cyberlite M1 on Amazon.co.uk
Tips for buying cabin-luggage

Do your size research before you buy – find the exact dimensions of the strictest airlines you'll travel with, write them down and make sure your bag is within those dimensions. Good bag shops should have a replica of the airline cabin-luggage frame that you find at airports.
Look for bags with well-designed pouches and pockets (like the Lighthaul, unlike the Samsonite) so you don't have to unzip your entire case if you want to grab your passport.
If you're buying a bag with wheels, get the lightest frame you can find. Most low-cost airlines have weight as well as size restrictions and it's not beyond ground-staff to walk around with luggage scales (if you're nervous, you can buy your own luggage scales here – I have a set and use them when I'm packing heavy).
Daypacks
Ok, feel free to call me a bag-lady, but I usually travel with 3 bags – my 'main bag', a daypack (smaller rucksack) and a handbag. My main bag contains all my clothes, shoes, toiletries etc; my daypack contains most of my valuables a.k.a my 'travel office' and is perfect for day trips and hiking; and my handbag usually contains my wallet, bottle of water, phone/camera and, quite often, half an eaten sandwich or some other form of food I've squirreled away in case I find myself stranded (I'm not good at being hungry).
Pros
By keeping all your valuables in a daypack, you don't need to worry when your main bag is stashed in the hold on buses, planes and trains.
You don't need to fuss around separating out your valuable to lock away in hostels – just dump your daypack in there.
You have a second bag for day-to-day use (handy for carrying water, guidebooks, snacks) and you'll definitely want something when you're on hikes or day-long trips.
Cons
Not only is it an extra item to carry and worry about losing, you're likely to pack more stuff than you might have needed.
If you have cabin-luggage bag plus a daypack, you'll fall fowl of the low-cost airline one-bag policy (thought Ryanair has recently phased theirs out – hopefully others will follow).
If your main bag is a rucksack, you'll end up walking around looking like a turtle – one bag on the front, one on the back – not cool, man…not cool (though we all do it).
Daypacks I've tried
Dakine "Wonder" Rucksack 15 litre and Dakine "Garden" Rucksack 20 litre
I'm a huge Dakine fan and I may (or may not) have found myself buying new Dakine bags when I didn't really need to. The designs are fun and regularly refreshed but more than that, like Osprey, Dakine does a great job of putting all the right pouches and pockets in all the right places – the people who design Dakine bags certainly use Dakine bags. Although they don't claim to be waterproof, I've taken mine through several downpours and it takes a lot for them to let water inside.
In terms of the 15 versus 20 litre, I got by fine with the 15 litre on my first around the world trip. It would comfortably fit: a netbook, chunky Lonely Planet Guidebook, a reading book, diary or notebook, passport, point and shoot camera, sunglasses, phone, fleece, litre of water and packed lunch, i.e. – a lot!
When I started to work and travel, I upgraded to the bigger bag so I could also carry my Macbook, Sony-Nex and other 'travel office' items.
You can buy the Dakine Wonder 15 litre Daypack on Amazon.com
You can buy the Dakine Wonder 15 litre Daypack on Amazon.co.uk
You can buy the Dakine Garden 20 litre Daypack on Amazon.com
You can buy the Dakine Garden 20 litre Daypack on Amazon.co.uk
Because you can't buy it separately, I won't put this bag under it's own heading, but the only backpack I've found to rival Dakine (and one I'd gladly use instead) is the Osprey pack that comes with the Meridian 60 litre. If you buy that bag, you won't need to make a separate daypack purchase – bonus!
Kathmandu Pocket Pack, 15 litre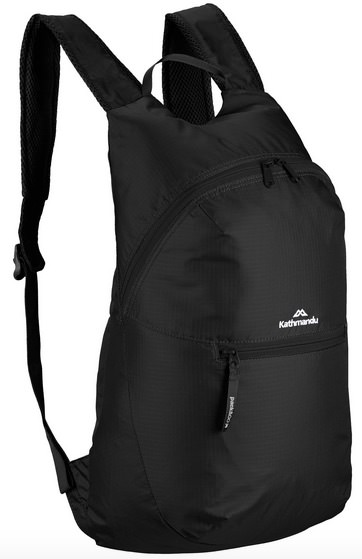 This was a bit of an impulse buy and I was a bit put off by the price relative to what you get but I've ended up using this packable rucksack so much it's about to wear out. I bought the Kathmandu Pocket Pack to accompany my Lighthaul for short trips and to deal with the fact that I could only take one bag onboard (meaning I didn't have a separate 'travel office' or place for my valuables when I arrived). It certainly did the job and I use this bag almost weekly, often as an environmentally friendly option when I visit a supermarket or market.
It's also great for the beach, day trips and for the times I want to visit a café to work but want a smaller bag than my Dakine. However, as much as I love this bag, I wouldn't recommend it as a long-term daypack – the straps can cut in when you pack it too heavy, it has as much water resistance as a sponge and as there's no structure, if you wear it for a long time your back's going to get very sweaty. Ewwwww.
Buy the Kathmandu Pocket Pack 15 litre on Amazon.co.uk
You can't buy the Kathmandu Pocket Pack in the USA but you'll find a range of foldable backpacks here.
Eagle Creek Crossbody
I regularly travel with (an older version of) this everyday bag from travel brand, Eagle Creek. It's good in rain, goes across the body (making it harder to snatch), has subtle anti-pickpocket toggles and lots of pockets, including a slot for a water bottle. It is passable in bars and clubs and just about big enough for the beach.
However, after upgrading my camera to something bigger, it no longer fits in this bag, so I usually need a backpack daypack as well, but if you're not packing lots of electricals and not going hiking (when you'll definitely want a backpack), this should do the job.
Although my specific version of the Eagle Creek crossbody is no longer available, the range appears to have expanded and there are more crossbody shapes and styles to choose from (well done, Eagle Creek!)
Buy an Eagle Creek Crossbody bag on Amazon.com
Buy an Eagle Creek Crossbody bag on Amazon.co.uk
Buying tips for Daypacks

Make sure your daypack has at least one space on the outside for stashing a water bottle – you'll probably use your daypack for day trips and hiking trips and you'll be glad of the easy water access.
Get a bag that has some water resistance outside and inside, particularly if you're placing any electronics in there (if you're super paranoid, you can always carry a dry sack around. I love the Sea to Summit Ultra-Sil Dry Sacks. They've spared my electricals on many occasions!
Buy a bag that has the right pockets and spaces – you don't want to have to fumble around a the bottom of a cavernous space to dig out your wallet when you're boarding a bus.
Check the padding on the straps – with all my electronics inside and a few books, my daypack isn't much lighter than my main bag.
Get a bag with two zips on the main compartment so you can add a padlock if needed.
If you're going on a lot of buses and trains, look at bags 15 litres and over – you'll have enough space to carry a laptop, lunch, a fleece (the a/c in buses can get very cold in some countries), travel guide and reading book.

Do you need a separate handbag (or 'about town' bag)?

As I've mentioned, I do travel with a third bag. That's because:

I don't want to carry my 20 litre (or even 15 litre) rucksack around town on a daily basis.
I don't want to keep emptying the contents of my daypack into my locker (passport, other valuables I don't want to stroll around with) – it's a pain and increases the chance that I'll leave something important behind).
I like something more casual (and girly) looking, especially if I'm off to a bar, club or beach.
I rarely buy things as I travel but locally made bags are a nice, relatively inexpensive purchase that can give back to the locals and add some change to my possessions (which can feel repetitively samey after a few months).
Not carrying a "backpacker-style" rucksack helps you blend better, reducing your risk of being targeted for theft.In the past, I've simply bought my "third bag" as I've gone along. Usually, they are cloth bags that can be washed and fold down easily for when I'm on the move.
Suitcase or Backpack?
If you've not been on a long-term trip before, you're probably struggling with the suitcase or backpack conundrum.
Once upon a time, the decision was simpler – a suitcase was the staple packing item for holidays and backpacks were the preserve of those heading to India on the banana pancake trail. However, as airlines have started to charge for heavier, bigger suitcases and backpacks have become sleeker and smarter, there is a lot more choice. Here's a list of the pros and cons of each to help you decide:
Suitcase
Best for:
Looking smart: Suitcases look much better when you're turning up at a 5-star resort (if that's something you care about).
Packing heavy: Should you want to pack the kitchen sink, or similar, you'll have a lot of space.
Protecting your stuff: The hard sides offer better protection, particularly when they are being tossed around at the airport and you can usually lock a suitcase.
Travelling over flat surfaces: wheels are incredibly handy when you've packed over 10kg of possessions and have some (flat-surface) distance to cover.
Backpack
Best for:
Light packing: with a smaller shell to start with, you're more likely to pack what you need than throw 23kg worth of stuff into a suitcase.
Stairs and cobblestones: With the ability to sling it on your back, backpacks are much more stair friendly. Likewise, if you're spending any time in Europe you can avoid the painful vibrations you'd get from pulling a case over cobblestones.
Fitting into smaller spaces: under bunks on sleeper trains, in lockers and in overhead compartments on buses – you're going to have more flexibility when travelling with a backpack
Low cost airlines: avoid the fees of checked baggage by taking a carry-on backpack. Even if you check your backpack, it's likely to be lighter (and therefore cheaper) than a suitcase.
Overall: suitcases are great if you're going to one or two destinations or somewhere upmarket where you need to pack a large range of items. Think: package holidays. Backpacks, on the other hand are best if you're going to multiple destinations travelling on a budget.
Tips for buying a suitcase

If you travel a lot, spend as much money as you can to get the highest quality you can – I've seen suitcase handles snap and wheels roll down the road. Buying a replacement at your destination can lead to an expensive and poor choice of replacement. (If you travel rarely, a cheaper suitcase will probably do).
When checking for quality, pull the handles, look at the seams, drag your potential purchase around a bit and make sure your zips are YKK or otherwise well branded for the best quality.
Check the weight of the case empty – a lightweight frame is going to make all the difference when you're packing a large amount of stuff. It can make the difference between putting your back out or not!
Get the smallest suitcase you can – it's tempting to think "the bigger the better" (it's common to have separation anxiety when you're leaving most of your possessions behind, and we can tend to compensate by packing on a "just in case" basis). However, the bigger the case, the heavier it will be.
Never buy a case that is likely to weigh over 23kgs when fully packed – you will have airline fees every time.
The only suitcase I possess is by Antler and although I haven't used it for a couple of years, it's light, robust and worth every penny.
Buy Antler Suitcases on Amazon.co.uk
Well, they're my tips for picking the best backpack for travelling. Do you have any other suggestions? Leave a comment below.
(Osprey Meridian provided courtesy of Osprey.)
Related Articles
If you liked this, you might also like:
How to Travel Light: 25 Quick Swaps for Packing Light
The Only Packing List Template You'll Ever Need
15 Travel Essentials – What To Take Onboard
Safari Packing List – Just the Essentials
What Are the Best Shoes for Travelling?
What Is The Best Mosquito Repellent?
The 10 Travel Gadgets I Wouldn't Travel Without
The 10 Travel Essentials I Wouldn't Travel Without
Trekking Kit – 10 Essentials for Every Long Hike
Tips for your First Time Stay in A Hostel
Travel Insurance: Don't Get Screwed by the Small Print
How Much Does it Cost to Travel?