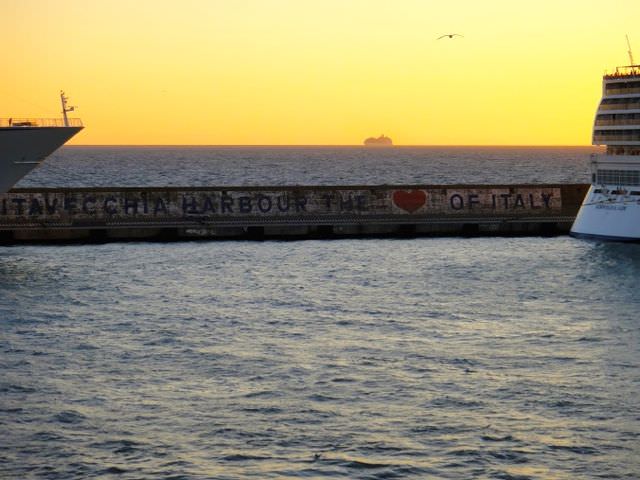 Last night I boarded the Grimaldi Barcelona to Rome ferry which leaves from the port at the end of La Rambla in Barcelona heading to Civitavecchia, a place about 45 minutes outside Rome. When I say ferry, really I mean a small crusie (think I've picked up the last leg of a holiday cruise which, for the price is not bad going).
I'm currently sat in the lounge on deck 10 listening to relaxing Spanish (or Italian – can anyone really tell the difference) ballads as the expanse of the Mediterranean twinkles as far as the eye can see. Poetic, I know. I've spent the morning catching some rays by the pool and tonight I think I may dine with the Captain – this truly is a decadent way to travel and beats anything Mr Ryanair (and the Spanish baggage crew strikes) can provide hands down. I can bring my bag on board for free. How very old school.
Having said that, my trip is not without its imperfections. Firstly, whilst the vessel is huge, the number of clients is making it feel somewhat like the Mary Celeste/ aftermath of the Titanic. Speaking of which, as few guests as there are, I've done a considered recognisance mission and can confirm that in the event of hitting an iceberg (chances pretty low in the heat, but you never know), there are definitely insufficient life boat spaces for everyone. This was a bit of a concern this morning when, mid-way out to sea, not a speck of land in view, a tannoy announcement said 'abandon ship, abandon ship' – of course this was said first in Spanish and Italian (can anyone really tell the difference?). Following the reaction of my fellow guests, I remained seated and waited for the crisis to pass, later finding out it was a drill – that bit only having been announced in Spanish and Italian (can anyone really tell the difference?)
Second issue is the additional layer of complexity added to my already challenging language barrier. It would seem that some point mid-way between Spain and Italy, neither language really applies and that there is a separate, at sea, language. Consequently, a latte means neither a café con leche (in Spain) or a latte (in Italian), but a glass of warm milk. Hmmm, 2pm and I'm ready for bed. Fortunately, there is a full compliment of ham and cheese wares on the top deck (choice of sandwich, ciabatta, wrap or classic pizza) so I don't need to go cold turkey on my thrice daily intake of queso y jamon.
Well, the warm milk is doing its trick so I think I will take a short nap before visiting the spa later – my feet are starting to resemble size 3 rhino feet. Nice.
Barcelona to Rome Ferry
The journey takes 20 hours and 30 minutes overnight with Grimaldi Lines leaving from the port in Barcelona and arriving in Civitavecchia, near Rome. From there, trains run hourly from the port to Termini train station in Rome. There is a short walk from the port (600 metres) to the train station or a shuttle is available. The train journey takes 45 minutes.
A one-way ferry ticket costs €70. This provides a reclining seat to sleep in. Berths cost (a lot) more.
The train into central Rome costs €15.
Click here to check ferry times and book your ticket.
Click here to check train times and book your ticket.
Want to read more travel planning tips for Italy? Click below.