Chances are, if you're a tourist taking the Baja Ferry from Topolobampo to La Paz, you've just rolled off Mexico's splendid Copper Canyon Train (El Chepe as it's known locally) and are looking to explore Baja California.
In this post, I'll give you all the information you need to take the ferry from Topolobampo to La Paz, starting in Los Mochis. Of course, you can do this trip in reverse. I took the ferry as part of a broader trip when I travelled from coast to coast across Mexico from Cancun to Baja California.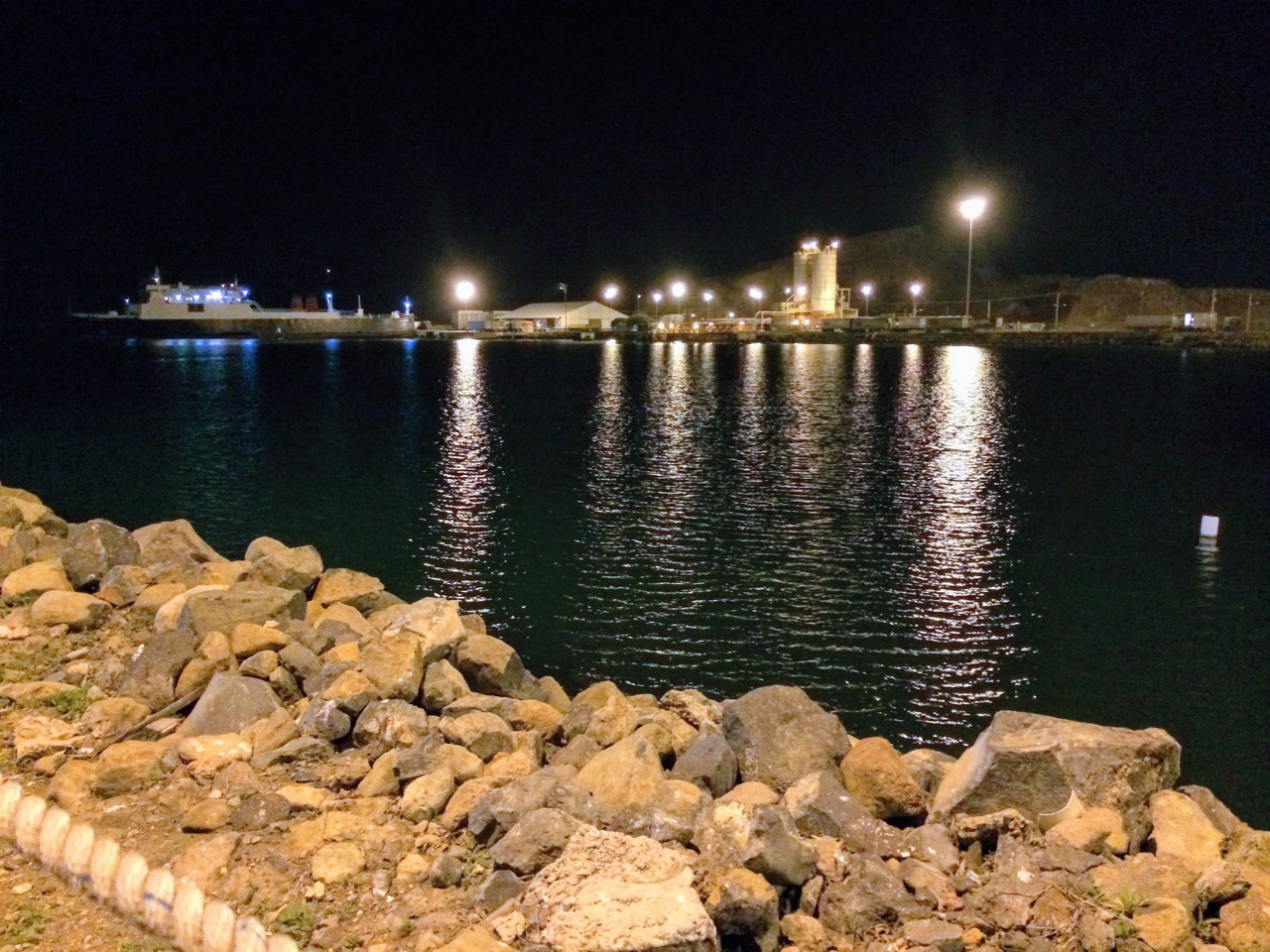 As an intro, I'd say that the Baja ferry is an affordable, fun and simple trip to take. It does require a bit of planning because the ferry doesn't run every day. And, because boarding the ferry can take a ridiculous amount of time, it may not work with your Copper Canyon train timing. I cover all of this in more detail below.
I've also created a Google map with all the locations mentioned in this post, including the Los Mochis Copper Canyon train station, the ferry terminals in Topolobampo and La Paz, some hotel options in each city and, in case you eventually decide to fly, the airports in each city. You'll find a link to the map at the end of this post.
What are the ferry routes to La Paz?
The Baja Ferry has two routes to and from La Paz. The one I talk about in this post is the route from Topolobampo (the closest ferry terminal to Los Mochis) to La Paz, on the Baja California peninsula.
There is a second route between Mazatlán and La Paz. Mazatlán is also on the mainland of Mexico but is much further south of Topolobampo so make sure you're looking at the right route and schedule when you book.
Does the ferry to La Paz run every day?
In short, no. The ferry sails six times a week from Topolobampo to La Paz, with no ferry on Saturday nights. However, do check for your specific dates as sailing days and times can change depending on the season and the whim of the captain (just kidding…I think).
What is the ferry schedule to La Paz from Topolobampo
The departure time from Topolobampo is usually 11:59 p.m. However, the ferry times aren't always consistent – I saw some departures at 11 p.m. and one at 2:30 p.m.
As I've said above – check for your particular dates.
A note on the reverse route from La Paz to Topolobampo – this is usually a day ferry departing La Paz at 2:30 p.m. Important word: usually. Do check.
Is the Baja Ferry still running?
I've had a lot of queries over the last two years (the peak pandemic years) about whether the Baja ferry is still running. I have checked and the ferry is available. The main change I've noticed, which might be confusing people, is that destination it is now the name of the ferry terminal rather than La Paz. The ferry terminal name is PICHILINGUE B.C.S. So, provided you can see a ferry running from Topolabampo to Pichilingue B.C.S., the ferry to La Paz is still running. But do let me and the other readers know in the comments below if you see a change to this.
How long does the ferry take from Topolobampo to La Paz?
The ferry takes 7 hours.
If you take the evening departure, the ferry leaves Topolobampo at 11:59 p.m. and arrives in La Paz the following day at 7 a.m…or thereabout.
Taking the reverse route, you'll hit Tompolobampo around 9:30 p.m. Overnight in Los Mochis and you'll be well placed to take the Copper Canyon train the next day (assuming it's a day when the train runs).
What's the best way to check the schedule and buy tickets?
I'm afraid to say the Baja ferry website sucks. Big time. In fact, I'd class the website as borderline un-useable. The issues are different each time I try to use it, which I suppose keeps things interesting. The catalogue of issues includes poor load speed, site security messages meaning the site won't load at all, search function not working, site crashes (usually on the last page before confirmation – Sod's Law). Just now, it wouldn't let me progress with a 'test' booking because it thought I indicated I was under 18. (I no longer get ID'd for alcohol but I can't buy a train ticket. The website really does suck.)
When I was in Los Mochis on ancient wi-fi, it took me a day to figure out the schedule (captain's whim), book a ticket and get confirmation. Ok, I didn't help myself because a) I was being tight trying to avoid booking fees, so stuck fiercely to the Baja ferries website; and b) I was trying to book the day before the ferry, leaving little time to chase down an absent booking confirmation email (I didn't get a reply/confirmation until a few hours before the ferry was due to depart – not ideal).
When you are looking to book tickets, I'd do it before you leave home (you'll get the cheapest fares that way, will most likely be on better wifi, and will have time to follow up if something goes wrong). Alternatively, you can book through a third-party website .
Benefits of booking direct:
Benefits of booking through an agent:
more reliable/less frustrating booking platform;
you'll get an email confirmation immediately;
tickets are more likely to be available at short notice (on the Baja ferries site, the next ticket was a few days away, on an agent site, it was the next day);
you can book/get customer service in English (Spanish only on Baja ferries);
prices aren't that much more.
The best website I've found is Direct Ferries – you can search for departure times and book tickets in minutes.
How to get from Los Mochis to Topolobampo?
Topolobampo is a 30-minute drive from the centre of Los Mochis. I got my hotel to arrange a taxi for me. The cost is around $7-$9 USD. There isn't a public transport option. Also, be aware that Uber can be more expensive in parts of Mexico.
How much does the ferry cost?
The price ranges from $1,100 to $1,800 pesos, around $60-$100 USD, one-way. You'll need to book quite far in advance to get your hands on the $1,100 rate.
Searching on Direct Ferries, the prices is about $1,484, around $80 USD, for a ticket the same or the following week. That is for a foot passenger ticket – expect to pay more for a cabin or if you're travelling with a vehicle.
What are the ticket/sleeping options on the ferry?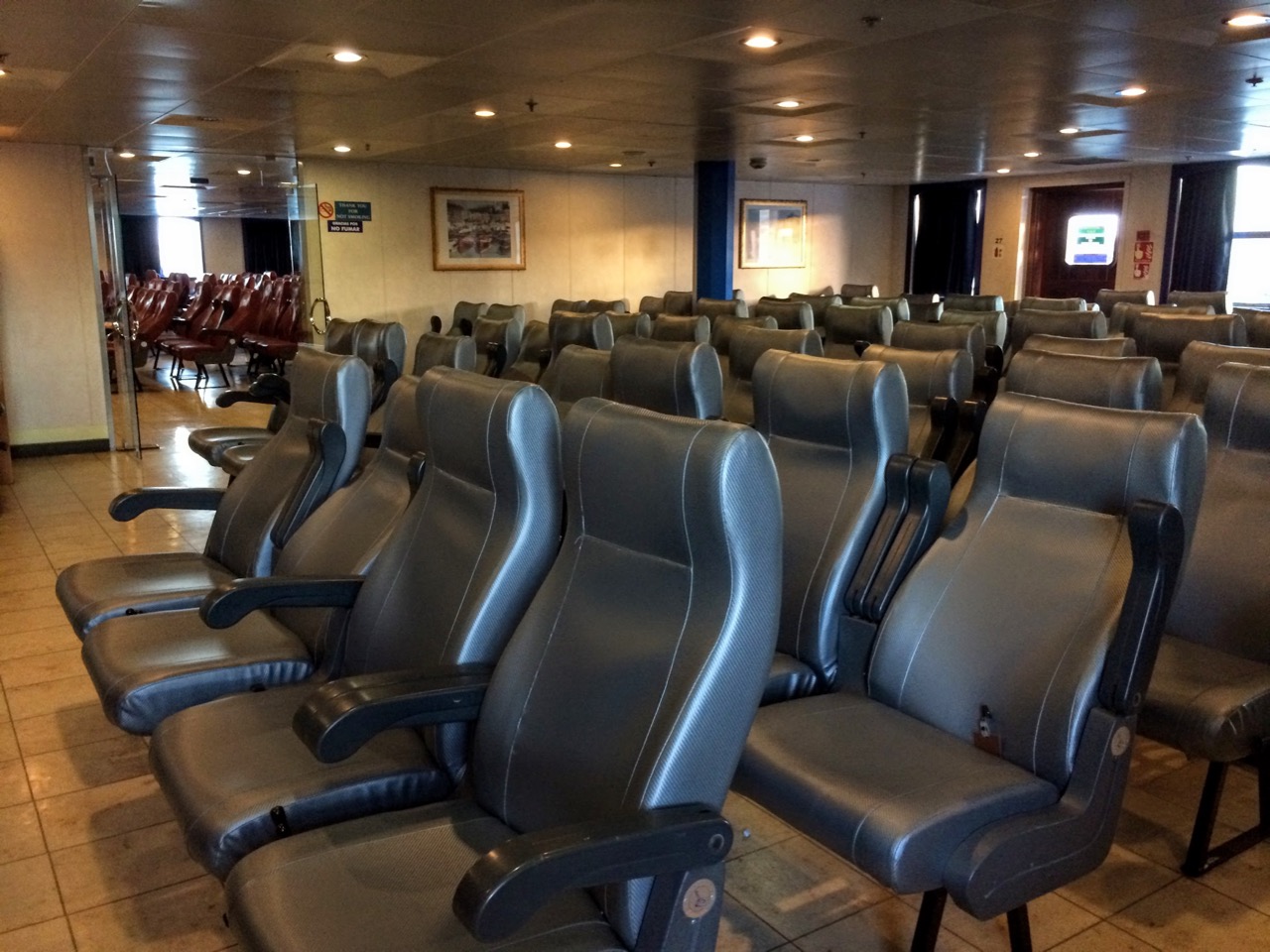 You can buy a single or return ticket.
The base fare is as a foot passenger and does not include a bed/cabin. However, you do get allocated a seat that is similar to a cinema seat but reclines. This is the option I went for. It was a bit more comfortable than a night bus seat and was quite a bit more comfortable than an economy class airline seat.
The main downside of being in the main area for sleeping was the noise. My allocated seat was, in fact, in the cinema area, so I was subject to a loud Mexican movie, complete with passenger chatter fuelled by beer, for the first few hours of the journey. Not ideal given the sailing is pretty late to begin with. However, I wasn't expecting the best sleep of my life and I always pack my ear plugs.
If you want to lie flat and/or avoid the noise of others, you can upgrade to a 4-berth cabin. There are three options: an interior cabin, an exterior cabin or the most expensive, a suite cabin. You have to book the entire 4-berth cabin rather than being able to bunk in with others. Also, you need to book far (weeks if not months) in advance to get a cabin.
Can you take a car/bike onboard?
You can. I took the ferry as a foot passenger so I can't talk about the experience directly but looking at reviews online, it seems that the best tip is to make sure you give yourself a lot of time to check in and expect a long wait to drive off the ferry.
How long should I be at the ferry terminal before departure?
I'd give yourself about half a day and I'm only half joking when I say that. I had an advance booking and had printed my booking confirmation. However, it still took close to two hours for me to advance through the ferry boarding queue.
There doesn't appear to be any particular reason why the boarding process should take so long except that every ticket purchased needs to be traded for a boarding ticket at the terminal. In my world (and also in Japan), this would be a very swift exchange. At Topolobampo ferry terminal, it seems to require two phone calls, a long exchange of dialogue, checking of reams of paper and a final phone call – for every single passenger.
Anyway, it seems this experience is pretty universal – you can read about it on TripAdvisor here.
Can you catch the ferry the same night as arriving on the Copper Canyon train?
It's hugely appealing to be able to roll off the Copper Canyon train and on to the Baja ferry that same night. However, all of the advice when I was looking at this combo was 'don't chance it'. That might seem strange on the page given the Copper Canyon train is slated to arrive into Los Mochis at 9:30 p.m. and the ferry isn't scheduled to depart until 11:59 p.m. Personally, I would chance it, depending on whether you can afford to buy another ticket/book a last minute hotel if you don't make the ferry.
Just keep in mind that the train will probably arrive later than planned and, as mentioned above, the ferry can take an age to board. I'd be interested to hear if you make made this work and how many cats whiskers of time you had to spare.
If you don't cope well with travel stress, I'd overnight in Los Mochis. And if you are taking the Copper Canyon Train, here are my guides: How To Plan A Trip To The Copper Canyon – Booking Tips | Where to visit in the Copper Canyon
What about luggage onboard the Baja ferry?
If you only have a foot passenger ticket or you don't want to cram your luggage into your berth, you can stow your luggage. You hand it over when you get on the ferry and it's stored in a locked cage. You're given a luggage tag which you need to keep hold of, so you can get you luggage back at the end. So, don't use the papery stub for your used chewing gum. It gets awkward later. Just saying.
Also, don't forget to decant everything you'll need for the night into a smaller onboard bag.
Although I wrote it for flights, you might find my list of overnight essentials useful.
What it is like onboard the ferry?
I was personally impressed with the ferry – it was large and had all the facilities you would expect – toilets (clean), a restaurant, a bar and, as I've mentioned, a cinema in my bedroom. Other reviews talk about there being live music and dinner served when you board. I didn't experience either of these things. I may have missed out on the latter (dinner) because I was last onboard. And with a cinema in my bedroom, I didn't feel much need to go and seek out other, potentially noisier noise.
In terms of the sailing, it was smooth the whole way.
How do you get from the Baja ferry port to La Paz?
It's around 20 minutes by taxi from the Baja ferry terminal in La Paz to the centre of La Paz. This should cost around $8 USD (taxis are more expensive on the peninsula than they are in Los Mochis). I managed to take the bus – there were several waiting when I got off the ferry and it dropped me at the main bus terminal in La Paz which is right on the main 'strip' (malecón). I'm afraid, due to the early morning and lack of sleep, I didn't pay attention to the bus number. Instead, I had my accommodation address written down, showed it to one of the ferry stewards and he pointed me to the right bus. It's a method I rely on a lot, that works 9 times out of 10.
Visiting La Paz? I have two additional guides: La Paz Mexico – Full Travel Guide & Attractions | 16 Very Best Things To Do in La Paz, Mexico
Considering a road trip in Baja? Here are my travel guides:
Where to Stay in Los Mochis
Hotel Fenix– this is where I stayed. Ideal if you're on a budget (it was under $25 a night).
Best Western Plus – if you want a bit more comfort, the Best Western is a good option in a central location.
Ibis Los Mochis – an affordable, cheap brand in the centre of Los Mochis.
Where to stay in La Paz
Hyatt Place – a beautiful spot in the marina with a trusted brand that gets great reviews.
La Perla – one of the most prominent large hotels that is slap-bang in the centre of La Paz.
Hotel Lorimar – just a block from the sea, this is a great budget choice for under $50 a night. This is where I stayed.
What about flights from Los Mochis to La Paz?
It is possible to fly from Los Mochis to La Paz and at the time of writing, I found regular flights for under $100 USD (assuming a booking weeks and months rather than days in advance). I would recommend the ferry for the experience but if you're short on time or energy, you can check flight prices here.
Is it worth taking the ferry from Topolobampo to La Paz?
As someone who spends a lot of time at airports, breathing in their generic air, and sleepwalking through the uniform processes, I'll almost always opt for an alternative mode of transport. And I have zero regrets about taking this route from Los Mochis to La Paz. Not only did it form part of my larger, almost by land, crossing across Mexico, it was a unique experience that gave me a wonderful memory and a story. In contrast, can you ever see yourself saying, "Did I ever tell you about that time I took another flight in Mexico?"
Map of locations
You can open the map in Google maps here.
Related Articles:
My other Mexico Blog Posts
20 Fun Things To Do In Tijuana Mexico
11 Best Things To Do in La Paz Mexico
Your Ultimate Baja California Road Trip Itinerary
Swimming with Sea Lions in Mexico – Isla Espiritu Santo Tour
Guide to Swimming with Whale Sharks in Mexico
How To Go Wine Tasting in Ensenada
Visiting Tijuana from San Diego – The Ultimate Guide
Things To Do In The Copper Canyon – Where To Visit
The Copper Canyon Travel Guide: Planning Your Trip
Best Things to Do in Yucatan Peninsula, Mexico
Is Mexico Safe? From Someone Who's Been
How to Drink Tequila Like a Mexican
Quick and Easy Guacamole Recipe: From Mexico
Blog posts and packing lists for planning your trip
The Only Packing List You'll Ever Need (with printable checklist)
15 Long Haul Flight Essentials: What to Take Onboard
Travel Insurance: Don't get Screwed by the Small Print
So, that's how to take the Baja ferry from Topolobampo to La Paz. Have you taken the route or do you have any questions? Let me know in the comments below.
Like this guide to taking the Baja Ferry to La Paz? Share it on Pinterest…