A 5th Century city of canals where romance oozes from the ornate buildings, Venice is a dream destination for most of us. I've visited many times (I even run wine tours from Venice). And each time I fall more in love with the floating city. With 118 islands lying across a web of canals, linked by 400 bridges, it can be hard to know what to focus on when you arrive in this UNESCO World Heritage Site city. In this guide I'll share the best things to do in Venice whether it's your first, fourth or four hundredth visit. I have included a map at the end to help your sightseeing.
1. St Mark's Square
St Mark's Square (Piazza San Marco) is a grand public square in Venice featuring covered walkways that lead to rows of restaurants, cafes and bars. It's so grand that Winston Churchill once termed it the drawing room of Europe, and it is a great starting point for your visit. Not only is it thriving with life (and pigeons!), the square is home to some of the main sights in Venice. Here, you'll find the Doge Palace, St Mark's Basilica, St Mark's Campanile, St Mark's Clocktower and the Bridge of Sighs.
2. St Mark's Basilica
If you thought Venice's main cathedral, with its gothic style, is impressive from the outside, wait until you go inside. You'll be wowed with grand domes and a staggering amount of gold leaf. Completed in 1092, Basilica di San Marco has a thick history. Visit the Mezzanine and you can see 2,000 year old copper horse statues which are thought to be the oldest in the world – they once sat on top of the Arc de Triomph in Paris when Napoleon stole them. Then, step onto the terrace for sweeping views of St Mark's Square.
Tip: Get Skip-The-Line tickets and make sure they include the terrace (not all tours include it. I took the St. Mark's Basilica and Doge's Palace Fast Track Tour (€84). It was the best tour I took in the city.
3. Doge Palace
Built in 1340, the Palazzo Ducale (Doge Palace) is an ornate palace that was once home to the Doge of Venice. Located in St Mark's Square, it looks like a lacy pink wedding cake on the outside. Inside, the palace is just as grand with a museum showing how the palace looked when the Doge lived there. To visit the Dodge Palace, I recommend another fast-track tour which includes skip the line tickets. The tour above includes the Basilica, the Doge Palace and, as a bonus, the Bridge of Sights which you really should see from the inside (more on that below).
What is a Doge? A Doge was the elected lord, head of state and main magistrate in Venice.
4. St Mark's Campanile
St Mark's Campanile (Campanile di San Marco) is the highest point in Venice at nearly 100 metres (98.6 metres – 323 ft). This beautiful bell tower was once a lighthouse for the ships in the Venetian lagoon. Today, you can go inside the campanile and take an elevator to the top. There, you'll get great views of St Mark's Square. Many people think you can climb to the top. You can't. It's only accessible by elevator. I highly recommend booking skip-the-line tickets on the official St Mark's Campanile website.
Tip: There are several panoramic view points in Venice and if you're short on time, you don't need to see them all. I prefer St Mark's Basilica terrace because there is more to see inside the Basilica than the Campanile. But my favourite view of Venice is from San Giorgio Maggiore island because you get to look back across the lagoon at St Mark's Square, including the Campanile. Details below.
5. Bridge of Sighs – outside from Ponte della Paglia
The Bridge of Sighs (Ponte dei Sospiri) is a white bridge in Venice that links the prison, interrogation and execution rooms inside the Doge Palace. The most popular and free way to see the Bridge of Sighs is to stand on the bridge opposite – the Ponte della Paglia. With your back to the lagoon, it does make for a great picture. However, it's not actually the best way to see the Bridge of Sights. The best way is to go inside. Read the next section to find out why.
Fun fact: Ponte della Paglia used to be one of the oldest stone bridges in Venice, dating from 1360, before it was reconstructed in 1847. Paglia means 'straw' and it's thought the bridge got its name from the boats carrying straw that used to moor nearby to unload.
6. Inside the Bridge of Sighs
Seeing the Bridge of Sighs from Ponte della Paglia, the bridge opposite, is one of the main mistakes tourists make in Venice. Why? Because the Bridge of Sighs got its name from the beautiful views inside the bridge, looking out across the lagoon of Venice. Prisoners would walk through the interior of the bridge on their way to be executed in St Mark's Square. That last view induced a final sigh at Venice's beauty before the prisoner died. Hence the name, the Bridge of Sighs. So, if you're standing on the bridge opposite, looking AT the Bridge of Sighs, you're looking the wrong way!
To see the Bridge of Sighs properly, take a tour inside the Doge Palace. That way, you can go inside the Bridget of Sighs, look out over Venice, sigh and be grateful you're not off to be beheaded! A visit to the prisons and a walk inside the Bridge of Sighs are included in the St. Mark's Basilica and Doge's Palace Fast Track Tour (€84).
7. San Marco and San Todaro Columns
Located in St Mark's Square are two columns topped with statues of the two patrons of Venice – San Marco (the winged lion) and San Todaro (St Theodore). They were erected around 1127 and the area between the columns was once used for executions – prisoners were walked through the Bridge of Sighs, to the columns, and to their death. The San Marco and San Todaro columns have therefore become a point of superstition and many Venetians won't walk between them for fear of bad luck. Most tourists wander between them without ever knowing the history of what happened there. Will you?
8. St Mark's Clocktower
St Mark's Clocktower (Torre dell'Orologio) is an elaborate clock tower that was built during the Renaissance period as a way of showing the wealth of Venice. At the top, there's a statue of the winged Lion of Saint Mark and every hour, two small statues (known as the Moors) ring the clock bell. The clocktower features a grand archway that serves as a connecting point between St Mark's Square and the winding streets that lead towards the Rialto Bridge. I love the blue and gold fascia of the clocktower that feature the signs of the zodiac, a nod to a time when the Venetian sailors would navigate the seas by the stars.
Prisoners faced the clocktower when they were executed. From this, there is an old Italian saying, "Te fasso véder mi, che ora che xe". It means 'I'll show you what time it is', and it usually reserved as a threat offered to arch enemies. Don't get that phrase stuck in your head when you're ordering coffee in Italy.
9. Caffé Florian
Dating back to 1720, Caffé Florian is the oldest cafe in St Mark's Square, and it's a great way to step back three centuries to a time to an old Venetian Coffeehouse. Caffé Florian is a place to slow down, unwind and take in the atmosphere of the square. With an extravagant interior and beautiful music from live musicians, its understandably a tourist draw. And you wouldn't be the first to have it on your must-do list.
However, the cafe comes with a price warning – there is a cover charge for the music. As well as steep coffee prices (nearly €6.50 for espresso and €10.50 for a cappuccino), you'll going to pay close to €20 for a coffee (even if you visit when the orchestra is having a break).
10. Cafe Ai Do Leoni
If the prices at Caffé Florian feel prohibitive, walk a few paces to the right of St Mark's Clock Tower to cafe Ai Do Leoni and the coffee price plummets to €1.20 for an espresso. You will have to shuffle in among the locals and drink your coffee standing (how the Italians do it anyway), but it's an excellent alternative for a quick caffeine fix while still enjoying being in the square. On a good day, you can hear the music drifting out of Caffé Florian for free. You might like my guide to How to Order Coffee in Italy.
11. Gondola Ride
Traditional Gondolas on the Grand Canal
Is there anything more iconic of Venice than punting down the Grand Canal in a Gondola? These wooden boats have been an integral part of the city since the 11th century and, during their peak, there were an estimated 10,000 gondolas in Venice. Today, there are only around 400 gondolas in the city, but their popularity hasn't waned among tourists. The question for many: is taking a gondola ride worth it in Venice? The answer really depends – on your budget and expectations.
Tips for booking a gondola ride: Prices aren't too high if you're happy to join a shared gondola ride – expect to pay around €35 for 30 minutes. Private gondola tours cost around €115, also for 30 minutes. The important thing to know is that many people feel disappointed with their ride. Either the gondolier is grumpy, the shared ride reduces the romance or the high price of a private gondola doesn't seem worth it. Check the reviews before you book and see if it's for you. If you just want to tick a box, go for a short, shared tour then separately take a boat tour on the Grand Canal. Details below.
Suggested gondola rides:
12. Grand Canal 2-Hour Speed Boat Tour
The Grand Canal (Canal Grande) is Venice's central canal that carves up the city, and exploring it by boat lets you view the equally grand buildings that line the banks. While a Gondola ride will give you a short trip on the Grand Canal, there is so much more to Venice's waterways – from deliveries to daily commutes, school boats and even ambulances, Venice is a city that functions on canals instead of roads.
On my last trip to Venice, I took a 2-hour boat tour. Take that tour and you'll sail along the Grand Canal, under the Rialto Bridge, past Basilica di Santa Maria della Salute, past the old customs house (which used to tax every vessel coming in to trade with the Merchants of Venice), past the House of Prada, the Aman Grand Canal hotel (where George Clooney got married) and out towards the smaller islands. Finally, you'll reached San Giorgio Maggiori where you can take the elevator to the top for the best views in Venice (IMO). Here's the tour. I highly recommend it: Venice 2-Hour Speed Boat Tour With Grand Canal & Tower Climb of San Giorgio Maggiori tower (2hrs, €119).
13. Gondola Boat Yard
Squero di San Trovaso is one of the oldest gondola boat yards in Venice and its the place where new gondolas are built and old gondola are repaired. The boat yard opened in the 17th century and is still operating today. It's a humble cabin relative to the art and skill that goes into creating the ornate black bloats. I saw in as part of the 2-hour boat tour I took (details in the section above). Otherwise, you can find it on my map below.
14. Explore Venice by Vaporetto
It takes visitors a bit of time to fully appreciate that Venice is a road-less island (with the exception of the one drop-off point in Piazzale Roma which connects the island to the airport). The rest of the time, you need to get around by boat and the best way to do that in Venice is by Vaporetto. It can feel complicated at first but you just need to equip yourself with two things. First, get a Vaporetto pass, it will save compared to one-way tickets. Then, look at the Vaporetto map. The lines are coloured and numbered for easy use. Just make sure you're catch the boat heading in the right direction. Otherwise, you might end up on a scenic tour of Venice you didn't plan (just like my brother!).
Tip: The ACTV website can be hard to navigate but it's the official place for tickets. The only other website I trust is Get Your Guide Vaporetto tickets which has the same price as ACTV (no hidden fees like many Vaporetto ticket sites).
15. San Giorgio Maggiore Island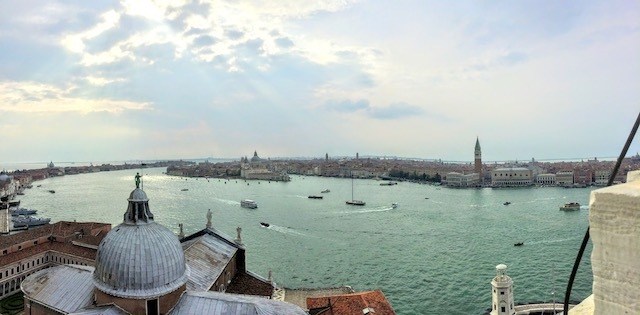 For the best views in Venice, head to the small island of San Giorgio Maggiore. Take the elevator inside the bell tower and from there you'll you get panoramic views across the lagoon towards Venice island, where you can see the famous Campanile and Doge Palace. This is hands down my favourite view in Venice. A visit to San Giorgio Maggiore island is included in the Venice 2-Hour Boat Tour With Grand Canal & Tower Climb tour I took (€119). Otherwise, you can catch Vaporetto Line 2 from St Mark's Square.
16. Basilica di Santa Maria della Salute
Basilica di Santa Maria della Salute is a highly ornate Roman Catholic church that's located at the edge of St Mark's Square, perched on the lagoon. Salute (as it's known locally) dates to the 1600s and was designed in the Baroque style. It has a fascinating history, built as a pledge to the Virgin Mary, Protector of Venice, following a sweep of the plague that ran through Venice killing approximately one third of the residents. Inside, this so-called minor church is anything but minor, with the same fine detailing you'll come expect in Venice. However, my favourite view is of Salute from the water, with the gondolas and lagoon in the foreground. You can get this view on the boat tour I took or by taking a Vaporetto.
17. Basilica de Santa Maria dei Frari
Basilica di Santa Maria Gloriosa dei Frari is Venice's largest church and is most famous for its gothic-style architecture. Unlike most of the churches and basilicas in Venice, Frari (as it's locally known), has a relatively plain brown exterior, but don't let that fool you. The inside is both impressive and imposing in equal measure. The church has a long history that dates back to 1231 when the land was donated to the church. Parts of the Frari have been added over the centuries and it's staggering to stand inside a building with such an extensive past.
18. Rialto Bridge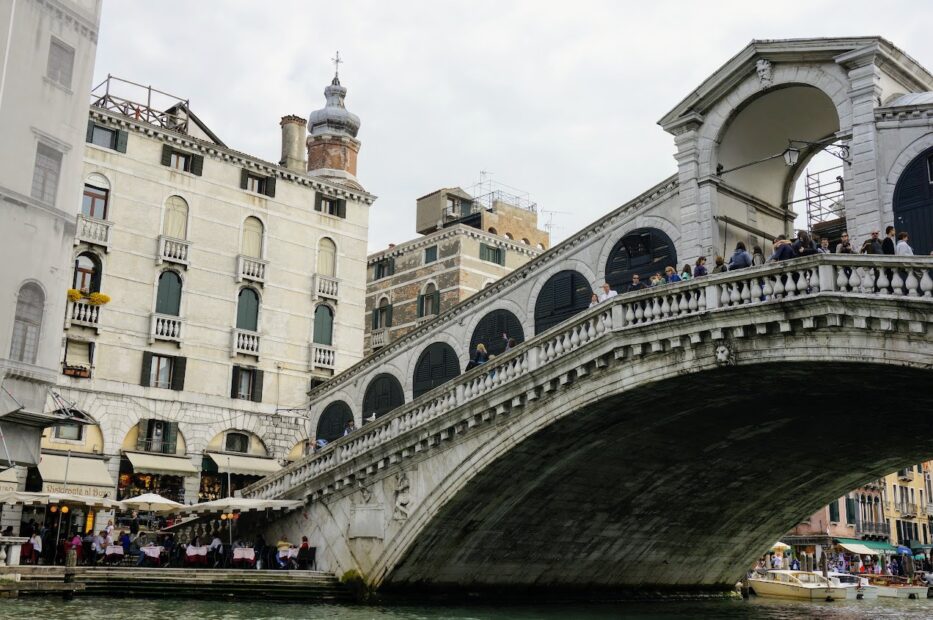 The Rialto Bridge (Pont di Rialto) is the oldest out of only four bridges cross the Grand Canal, and it is by far the most famous. Completed in 1591, walking over this stone arch bridge offers a unique view of the Grand Canal, that you won't get standing on the river banks. Yes, it is usually thick with crowds but it is worth the bustle. If you want an alternative view that's just as good, either take a boat tour or walk across one of the other four bridges (like the Ponte del Accademia, see below). The bridge connects the San Marco and San Polo areas of Venice. Did you know? The first water crossing platform in the location of the Rialto Bridge was a pontoon built in 1181.
19. Ponte del Accademia
Academy Bridge, Ponte del Accademia is another one of the four bridges that stretch across the Grand Canal and while it may not be as famous as the Rialto Bridge, in many ways it's the better bridge to visit. Not only it is beautiful, having 50 steps up and down on each side of the bridge, not nearly as many tourists visit Ponte del Accademia. Yet, the views are just as good. The closest Vaporetto stop is Accademia.
20. Rialto Market
Beneath the Rialto Bridge, on St Mark's side of the bridge, is the Rialto Market (Mercado di Rialto), a bustling fresh food market that has been running in Venice for nearly 1,000 years. Including fresh seasonal fruit and vegetables, rounds of cheese and plenty of Italian cured meats, it's a wonderful place to wander and sample the local flavours. The Rialto Market is technically two markets – the main produce market as well as the Rialto Fish Market (Mercado di Pescheria). Both markets are open Tuesday to Saturday, 7:30 a.m. to 1 p.m. The produce market is also open at the same times on Mondays. Both markers are closed Sundays.
21. Take a local food tour
Most tourists don't realise that Italian food is highly regional. We think that Italy means pizza and pasta but to have the best food experience in each part of Italy, it's really important to eat the local dishes. Yes, you can get pizza and lasagna almost everywhere, but the best dishes are those that use the local produce and generation-old recipes. In Venice, those dishes include risotto, polenta, seafood and tiramisu. And if there's one things you shouldn't do in Venice, it's order pizza. There's a law in the city prohibiting wood-fired ovens, to stop the city from catching fire. Save your pizza for Naples.
The food situation is even more complicated because Venice has lots of tourists and little repeat business, leading to high prices and low quality. The solution: take a local food tour really early on in your trip. Not only will you try several restaurants serving great local dishes, you'll get suggestions for where to eat for the rest of your visit. Find out more: Street Food Tour with A Local Guide & Tastings (€44/ 2.5 hrs)
You might also like my guide to the Best Bars and Restaurants in Venice as well as some of my regional food guides for Italy: 7 Traditional Dishes To Eat in Rome | 20 Puglia Foods You Must try in Italy | What To Eat in Sardinia
22. Libreria Acqua Alta
Libreria Acqua Alta is regularly described at the most beautiful bookshop in the world. It's also one of the wettest. Located next to a canal, the book store is victim to the seasonal acqua alta – the tidal floods that fill the city each year. As a consequence, the book shop decided to house its book collections in decorative baths and basins, giving a quirky feel to this small maze of rooms. Venice has a project, Mose, mobile barriers designed to protect Venice from high tides and in 2020 the project stopped the tide for the first time in 1200 years. Since Librera Acqua Alta translates as 'bookstore of high water', is it time for a name change? Perhaps not.
23. Teatro La Fenice
Teatro La Fenice is one of the most famous opera houses in the world, and its history is as dramatic as any performance you might see there. The theatre opened in 1792 and was named La Fenice, which means the Phoenix after the city's previous opera houses which were closed because of fire. In fact, La Fenice has itself suffered from flames when an arson attack ruined the theatre in 1996. Fortunately, impeccable restoration work has restored the theatre and the interior is as opulent as its ever been. You have two choices for seeing inside La Fenice: get opera tickets (though you will need to plan advance), or simply take a tour inside Teatro La Fenice (€12 includes audio guide).
24. Peggy Guggenheim Collection
Venice has some excellent options if you're an art lover, and the Peggy Guggenheim Collection is one of the best. The museum features modern art set in an 18th-century palace, Palazzo Venier dei Leoni, which is located on the Grand Canal and was once Peggy Guggenheim's Venetian home. From the collection, expect works from the 1950s onwards. There is also a picturesque sculpture garden and terrace that offers exclusive views of the Grand Canal. As with most things in Venice, it pays to book in advance. Closed Tuesdays.
25. Gallerie dell'Accademia
The Academy Gallery (Gallerie dell'Accademia) is Venice's fine art museum and is the museum to visit if you prefer to view art from the old grandmasters. The Academy has an extensive collection of work from before the 19th century with a focus on Venetian and Italian painters. Open daily but mornings only on Mondays. This is my favourite museum in Venice. Leonardo Da Vinci's famous Vitruvian Man drawing is in the Academy Museum in Venice. However, it's not on general display and you have to be quite important to see it. Sigh. I saw some of Da Vinci's anatomical drawings in his home town of Vinci, which is a great place to visit if you are going near Florence or Lucca in Tuscany when you're in Italy.
26. Scuola Grande di San Rocco
Scuola Grande di San Rocco was founded in 1478 and was the seat for a Christian confraternity (group of volunteers) established in the name of San Rocco, another Saint for protection from the plague. The palatial building has some of the most staggering interiors in the city and is often overlooked by tourists. The building is most famous for the many paintings by Tintoretto, a famous Italian painter. Don't miss the Sala dell'Albergo, Sala Maggiore and Sala Superiore. If you can't get inside the Doge Palace, Scuola Grande di San Rocco is an excellent alternative.
27. Lido Island
Given there are so many islands in Venice, it makes sense that there is a beautiful stretch of sandy beach somewhere. And, whether the crowds are wearing your nerves or the kids are ready for some time on the sand, heading to Lido island offers a great alternative to walking the city streets. Lido di Venezia is a hotspot and does get busy (like all of Venice). However, it has a resort feel with excellent restaurants, bars and cafes. You can reach Lido on the public vaporetto.
28. Murano Island
As well as Lido Island, there are four other islands that are a really short Vaporetto ride away and make for a great full or half day trip from Venice. What's great about exploring the islands is that you get to see how different they each are in terms of architecture and style. Murano is one of the most visited islands, made famous as it is the island where Venetian glass is produced. Many guided-tours include a visit to a workshop where you can see a glass blowing demonstration. Otherwise, visit by Vaporetto and shop for glassware gifts to take home. It takes around 20 minutes to reach Murano from Venice by Vaporetto.
29. Burano Island
Burano is another nearby island and has an entirely different feel with brightly coloured houses that seems like they're fresh from the pages of a Caribbean cruise brochure. In fact, the island has been dubbed one of the most colourful places in the world. However, that's not the only attraction on Burano – the island is famous for Italian lace making and there is a lace museum if you want to learn more. Don't miss the leaning campanile of San Martino's church. It's not as dramatic as the Leaning Tower of Pisa but it's still an impressive sight. It takes around 45 minutes to reach Burano from Venice by Vaporetto.
30. Torcello Island
Torcello is the most traditionally Venetian island compared to Murano and Burano The Basilica di Santa Maria Assunta Byzantine church is the most popular sight on the island. However, I love the Ponte del Davolo bridge. There are only two bridges without parapets (sides) in Venice. One of them is the Ponte de Chiodo on Venice Island (details below), the other is Ponte del Davolo on Torcello Island. Also, Torcello gives you great views over its neighbouring island of Burano. It takes around 50 minutes to reach Torcello from Venice by Vaporetto. It's a good idea to combine Burano and Torecello as they are so close.
Tour of Burano, Murano and Torcello Islands: If you want to explore the three island in one trip, you can take a guided tour: Murano, Burano and Torcello Islands with Glass Factory Tour (7.5 hrs €30).
31. Giudecca Island
Giudecca island is one of the closest yet least visited of Venice's nearby islands, and that's probably what makes it my favourite. It's not famous for anything like glass blowing or beaches or lace or pretty houses. And there aren't any dramatic sights to see. But what it does offer is excellent restaurants, much quieter streets and tremendous views of St Mark's Square, especially at night. Giudecca is also home to one of my favourite hotels in Venice, located in an old flour mill. Details below. Giudecca is around 300 metres from Venice island and is a short hop by Vaporetto from St Mark's Square.
32. Canareggio – Jewish Ghetto
The few locals left in Venice's historic centre tend to spend their time in the Canareggio district, which has a modern shopping street but also the history of the Jewish Ghetto. It feels like a different part of Venice, and it's where I tend to eat and sleep when I'm in the city.
It can be a little confusing to get there. Take a vaporetto to Ca' d'Oro and head to Strada Nova (New Street). Continue to Via Emanuele and ultimately onto Rio Tera S. Leonardo (it's all the same street, but the names change as you cross the bridges). Look out for a tiny sign above an alley written in Hebrew, which will take you into the Jewish Ghetto. You can loop back via Misericordia. Canareggio is an excellent option for food and drinks without the tourist prices.
33. Ponte de Chiodo
I've already mentioned that Venice is home to two special canal bridges that don't have parapets, sides. These old, traditional bridges are great for pictures but also for getting a feel for the history of Venice. One of the bridges it located on Torcello Island. The other, Ponte de Chiodo, can be found in Canareggio. You can find Ponte Chiodo on the map below. In case you're wondering, Chiodo means nail, which was the name of the family which once privately owned this famous bridge. It's nothing to do with the lack of nails holding up the lack of sides!
34. Bellinis at Harry's Bar
Harry's Bar is an institution in Venice. This 1930s bar is the place where the Bellini was invented and for many, it's a must-do when you're in the city. It was for me. Which is why I feel the need to warn you that there is the potential for disappointment.
The 1930s charm of the bar has long gone, and as tourists queue up to hand over close to €30 per Bellini, it's no surprise the process has turned into a conveyor belt. I sat with growing disappointment as I watched peach puree squeezed from a foil pack into glasses while Prosecco was squirted from a soda-style tap. No blending of peaches. No popping of corks. Not even a full 125ml champagne glass. If you visit Harry's bar, try to go when white peaches are in season (summer), to stand a chance of fresh fruit in your drink, not preserved puree.
35. Aperitivo at Bacaro Risorto
If you prefer to skip the touristy bars, head to a local bar for aperitivo (a pre dinner snack and drinks). Aperol Spritz is one of the most popular aperitivo cocktails in Italy, made with a considerable measure of Aperol (similar to Campari but much sweeter), topped with Prosecco, chilled with ice and served with a slice of orange and a dash of soda water. Be warned, it's hard to tell how potent this almost all-booze drink is, and it tends to evaporate (from your glass into your mouth).
I had a wonderful aperitivo experience in Bacaro Risorto. Otherwise, wander the streets, steer away from the waterfront and the Grand Canal, and head deeper into the historic centre to look for a local's bar. You can read more about the Italian art of Aperitivo on my Prosecco website.
36. Cichetti at Al Merca
Cichetti are small open-faced sandwiches usually on small slices of baguette, topped with antipasti, salted cod or cheese and cured meats. Typically they are eaten alongside your pre-dinner drinks, as part of aperitivo. However, they also make a great snack or light lunch with a glass of wine (when in Rome…or Venice as the saying goes). And one of the best places I ate cichetti was at Al Merca. I was taken there as part of my food tour, and I'm glad I was because I wouldn't have found it on my own, despite it being so close to the Grand Canal (don't worry, it's on my map below). How do you know it's good? The gondoliers go there. There is no seating for cichetti but there is an osteria area with tables if you prefer.
Tip: if you only have one day in Venice, and time for one quick meal near St Mark's Square, eat here.
37. Prosecco Wine Tasting Day Trip
Prosecco is one of the most popular sparkling wines in the world yet most visitors don't realise that the Prosecco vineyards are only an hour away from Venice – just a quick train ride from the central train station, Stazione di Venezia Santa Lucia. I mention this because many visitors kick themselves knowing they were so close yet they miss this stunning UNESCO World Heritage site with dramatic rolling hills and, of course, Prosecco tasting. I fell in love with the Prosecco the region so much that I connected with local drivers, vineyards and restaurants and now run wine tours in the area. You can easily fit a half-day or even a full day tour into your itinerary if you plan your time in Venice. You can find out more on my wine tour website Visit Prosecco Italy (from €250 per group).
38. Tiramisu in Treviso
I'm sorry I keep tempting you out of the city with day trips from Venice but, like the Prosecco region, many tourists don't realise that they are also very close to the original restaurant where Tiramisu was first invented. Located in Treviso, a 30-35 minute train journey from Venice, Ristorante Le Beccherie is home to this famous Italian dessert. There are two types to try – the classic and the modern, which is a little lighter than the original recipe. It's a wonderful restaurant with a full menu, and makes a great side-trip for lunch while you're in Venice. Even better: many low-cost airlines fly to Treviso Airport instead of Venice Marco Polo. Perhaps you can time a Tiramisu stop with your flight? Closed Tuesdays.
39. Venice Carnival
Famous around the world, the annual Venice Carnival is a display of extravagant costumes and flamboyant events. The carnival dates back to Medieval times and sees around 3 million people flood the narrow streets of the city. Timed for the period before Lent, visiting Venice Carnival is a bucket-list activity for many. But even if you don't happen to be in the city at the right time, you can still brush up against the tradition. You can buy a carnival mask to take home. They are works of art and will give you life-long memories of the city (or lifelong nightmares if, like me, you find the masks terrifying).
40. Wander the streets of Venice
Sometimes it's nice to rip up the sightseeing list, go for a stroll and get lost. In fact, stop looking at your map for a minute and it's very easy to lose your way in the labyrinth of streets and canals in Venice. And that is the beauty of it. Wander down the quiet alleys, cross over lesser-used bridges and explore Venice by foot. It's one of the most rewarding ways to enjoy the true charm of the city.
41. Fondaco dei Tedeschi Roof Terrace
This terrace at the top of Fondaco dei Tedeschi is an incredibly popular spot in Venice, thanks to it's panoramic views. For me, it's a little like Harry's Bar – you'll either love it or hate it. The building itself has a fascinating history – it was once home to the German merchants in Venice. These days, it's a Chinese-owned Department Store. Shop, then ascend to the 4th floor for drinks, but whatever you do, don't go without a reservation for the terrace – it's mandatory. The terrace closes at 6 p.m so don't plan on visiting for evening or even sunset drinks.
42. Venice sunset on the Grand Canal
Venice is spectacular at sunset. With the glimmer reflecting off the Grand Canal and the Adriatic sea turning a deeper shade of green, sunset is a time to sit, sip a drink and watch the magic of nature take hold. There are so many options for watching the sunset in Venice: anywhere along the Grand Canal or from the Rialto Bridge (if you can cope with the crowds). I like to take a wander as far as I can go before I fall into the lagoon.
43. Dinner at Cantina do Spade
If you want to try Venetian food, Cantina do Spade is the place to do it. It's been in business since 1448, so it's safe to say their recipes have stood the test of time. Conveniently close to Rialto Bridge, the Osteria is surprisingly well priced and the menu incredibly seasonal. With a focus on fish, shellfish and daily specials, you know you're eating the regional cuisine. I'd recommend booking a table. Otherwise, consider going for lunch.
44. Sleep in a pasta flour mill – Hilton Molino Stucky
Hotels in Venice can be very hit and miss. Not to mention overpriced for small rooms. The Hilton Molino Stucky is one of the great exceptions. Located on Giudecca island, the hotel is a converted flour mill that once milled the flour for the pasta that served the city and beyond. Today, the Molino Stucky has modern rooms, a rooftop terrace with spectacular views and, essential in summer, a swimming pool. Facing St Mark's, it's one of the best hotels for escaping the crowds. Your average boxy Hilton hotel this is not.
45. Explore Venice at night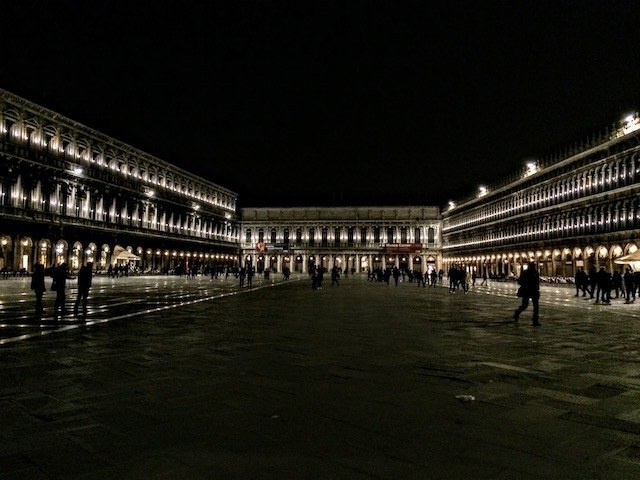 If Venice's day crowds make you want to jump into the lagoon, take some solace that once night arrives, the city quietens considerably. Venice at night is truly magical. St Mark's Square seems to expand back to its grand size; the bridges are passable, and the narrow streets are near empty and inviting. Go out, explore, get lost, and enjoy. Simply wandering the quiet streets is one of the best things to do in Venice at night. Take a Ghost tour. Or simply pop into a bar. Maybe I'll see you there.
Want more Venice tips? You might like my guide to visiting Venice including the best time to visit, the best hotels, how to get to Venice from the airport and more.
Map of Things To Do In Venice
Here is the interactive map to download: Map of things to do in Venice.
Like this guide to things to do in Venice? Share it on Pinterest.