I hated Venice the first time I visited. I felt cheated, hustled, robbed (some of Venice's prices should be criminal) and utterly underwhelmed. I couldn't get close to the sights thanks to the crowds and at €16 for a Bellini in Venice's most famous cocktail bar, I'd have expected fresh peaches. I left, I vowing never to go back. Venice wasn't the Italy I loved. It was an anomaly to be written off as a bad experience.
But, every city deserves a second chance so years later, I tried again…and again…and again. In those repeat visits I've learned how to explore Venice, how to avoid the crowds and the best things to do in Venice to have the magical experience you're hoping for. In this post, I'll share those things with you.
The 10 best things to do in Venice
Let's start with a quick rundown of the top 10 things to do in Venice that you'll find on every list out there. This will help if you're at the beginning of your trip research. But then we'll get into the useful tips – not just what to do in Venice but how to see the city to get the most out of your trip.
The 10 Best Things To Do In Venice Beyond The Expected
Now for my insider tips – not just what to see in Venice but how to explore this beautiful city.
1. Don't try to see all the top Venice sights – pick a few and see them well
I'm all for cramming as many sights into as short a visit as possible but Venice is an exception to that rule. Why? The crowds. Even in shoulder season (late April/May), the crowds are so vast it's impossible to speed around the city. Do yourself a favour: take the pressure off, pick a couple of must see in Venice attractions and see them well.
St Mark's Basilica and the Doge Palace were top of my sightseeing list and although it would have been nice to cram in a bunch of museums, I opted to take a locally guided tour of my top choices and see them properly. A good decision, it turned out because instead of queuing to get into the sights, the guide had pre-ordered priority access (part of the ticket) and we made our way straight up to the mezzanine. There, we got close-up access to the gold mosaic basilica, which was truly one of my Venice highlights (it's a mosaic because Venice is too humid for plaster and frescoes). But just as amazing, I got a thick slathering of history.
Venice has history in spades and it's best explored with an insider to take you through the stories that make up city's history right the way up to the 21st century. For example, did you know that the copper horses at the top of St mark's Basilica are replicas? The real ones, which are thought to be the oldest on earth at about 2,000 years old, are located inside the terrace. Life size, it's hard to imagine how these four horses have moved over the centuries from Constantinople to Rome and Paris (where they sat on top of the Arc de Triomph after Napoleon stole them). You can read more here.
How to do it: I took the St. Mark's Basilica and Doge's Palace Fast Track Tour (€74). The tour includes a guided visit to St Mark's Basilica and the Doge Palace with priority access tickets for both. For me, this was one of the best things to do in Venice. It also gave special access to the terrace (not available on most other tours), complete with spectacular views out over Venice.
Venice Travel Tip: The crowds can be overwhelming in Venice but are most significantly influenced by the number of cruise ships docked each day. If you want to plan your trip to collide with as few Cruise ships as possible, check out this Cruise Ship Calendar.
2. Go INSIDE the Bridge of Sighs – don't just stare at it from outside
If only Venice could triple the size of the bridge opposite the famous Bridge of Sighs, the congestion along the waterfront in Venice would ease around 50%* (*random guestimate). Clearly, that's never going to happen and in order to get a good look at the Bridge of Sighs you're going to need to battle with the masses.
What bemuses me most about the crowds in front of the Bridge of Sighs is that the significance of the bridge is the views it gives out over Venice. The bridge is named because prisoners inside the Doge Palace would walk through the interior of the bridge on the way to their execution in St Mark's Square. The bridge and the tiny lattice gaps gave prisoners their very last view out over Venice before they died. And that last view is thought to have induced a final sigh at Venice's beauty, hence the name: Bridge of Sighs. So, dear tourists, you might be stood at one of the most popular places to visit in Venice but – YOU'RE LOOKING THE WRONG WAY!
How to do it: Instead of sticking with the crowds, take a tour of the Doge Palace and the prisons. Wander through the Bridge of Sighs, take a look out over Venice (ignoring the crowds gawking in), sigh and be grateful you're not off to be beheaded! A visit to the prisons and a walk inside the Bridge of Sighs is included in the tour I took and highly recommend: St. Mark's Basilica and Doge's Palace Fast Track Tour (€74).
3. Don't pay tourist prices for coffee – spend €2 like the locals
Having a coffee in St Mark's Square was on my list of top things to do in Venice. However, a friend warned me about the coffee and drinks prices in St Mark's Square before I visited. "You have to pay for the music." I laughed. She was joking, right? Wrong. Sit for a mid-sightseeing coffee at Caffé Florian, the most popular and obvious cafe overlooking St Mark's Square, and you'll be charged for the music. I'm not talking about a collection hat that comes around. I'm talking about an actual cover charge. I took that picture a while ago – it's likely to be more than €6 now. That's in addition to your coffee price (€6.50 for an espresso and €10.50 for a cappuccino or Americano). Sure, it might be the oldest café in Venice, but pushing €20 each for a hit of caffeine and some accompanying music? When you consider it costs only €20 to see an entire recital in Lucca, home of Puccini, that doesn't feel like a great deal.
Walk a few paces to the right of Caffé Florian and the coffee price plummets to €1.20 for an espresso. You have to shuffle in among the locals and drink your coffee standing (which is how the Italians do it anyway) but for a quick caffeine fix while still enjoying being in the square, this is a much better option. Bonus: you can hear the music drifting out of Caffé Florian for free.
How to do it: Ask for a caffe (espresso) at Ai Do Leoni just to the right of St Marks Clock Tower, €1.20. If you're really interested in Italian coffee, you can enjoy this Lonely Planet Experience: Venice Bakery and Desserts Tour. There is a whole etiquette around drinking coffee in Italy – if you're confused about what to order and when, you can read more in my blog post How to Order Coffee in Italy.
4. Don't take a Gondola ride – take a Venice boat tour
Read almost any article about what to do in Venice and it will tell you to take a Gondola ride. I get it. They're iconic and compelling and some people feel entirely unable to go to Venice and not get in one – so do it, fulfil the dream and enjoy. But don't think that's where the waterways of Venice start and end. (I've got more details later on about booking a gondola tour in Venice).
One of the biggest appeals of the City of Canals is the water and how everything is conducted on it. Deliveries are made, commutes occur, children travel to school and even ambulances take the form of a boat. Once upon a time, Gondola's used to be nothing more than a reality of Venetian life. These days, with more tourists than locals, the gondolas exist largely for tourist purposes. What's more, unless you spend big, you're going to be sharing a small boat space with a lot of strangers for a very short (30 minute stint) on the water.
Instead, take a 2-hour, spacious boat ride down the Grand Canal, under the Rialto bridge and out towards the smaller islands. Let the guide point out the old custom house that used to tax every boat coming in to trade with the Merchants of Venice; get to know a bit more about the Republic of Venice, the Italian government of old, see where the house of Prada sits; and sail past the Aman Grand Canal hotel where George Clooney got married. And all of this without the bumps and jolts felt by the much smaller Gondolas.
How to do it: I took the Venice 2-Hour Boat Tour With Grand Canal & Tower Climb of San Giorgio Maggiori tower with Walks of Italy (2hrs, €98). Don't miss Basilica di Santa Maria della Salute (picture above), which is situated on the strip between the Grand Canal and Piazza San Marco and is best viewed from the water. Don't have the time or prefer to spend less? Here's a shorter, more budget-friendly, 1 hour Grand Canal cruise (€30).
Tips for booking a Gondola Ride in Venice
I get it. You can't go to Venice and NOT take a gondola ride. Fair enough – it's is an iconic part of Venice and tops most lists of Venice attractions. The question is, which one to choose? Here's my recommendations.
Private gondola tour: If you prefer a private gondola (trust me, you should), this is the best rated private gondola ride. It's €180 for 2 people / 20 mins but comes down to €30 per person if there are 6 of you. When I last checked the prices, there was a 25% discounted off the above price, which ran for months so do check.
Shared gondola tour: Here's the best rated shared gondola ride in Venice (€32/30 mins).
Romantic Gondola tour: Just 2 of you? Special occasion? Want to add some sparkle (literally)? Book this very popular Romantic Private Gondola Ride for Two, (€140 for 2 people /20 mins), which includes a bottle of Prosecco.
5. Don't climb San Marco Campanile – San Giorgio Maggiore has the best views in Venice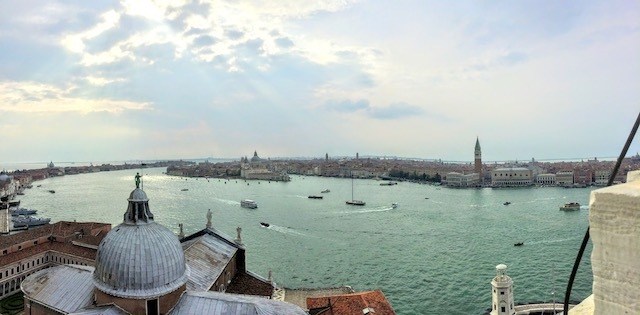 San Marco Campanile, the big, tall bell tower in St Marks Square is definitely one of the most iconic Venice sites and people queue forever to go up it. However, the best views aren't from the top of the tower, they're from across the water, looking back at San Marco campanile.
How to do it: Head over to the small island of San Giorigo Maggiore and climb the bell tower there instead (I say climb – it's actually a lift/elevator and there is no climbing option). By ascending the bell tower across the way, you get panoramic views across the whole of Venice island, including the famous campanile. This is one of my favourite views in Venice and always on my list when friends ask me what to see in Venice. A visit to San Giorgio Maggiore island is included in the Venice 2-Hour Boat Tour With Grand Canal & Tower Climb tour I took (€98).
6. Visit Canareggio for crowd-free Venice (leave St Marks Square to the tourists)
The few locals left in Venice's historic centre tend to spend most of their time in the Canareggio district. If you make the effort to head away from the water and the highlights of San Marco, where the main Venice tourist attractions can be found and therefore most of the day trippers tend to linger, you'll see the crowds thin significantly. As though another part of Venice has opened up, with a modern shopping street but also the history of the Jewish Ghetto, in Canareggio you can spend a few hours getting to know real Venice without the crowds. This is definitely my favourite way to do my Venice sightseeing, soaking up local life. It's also one of the best free things to do in Venice. Don't miss Ponte de Chiodo in Canareggio – one of only two bridges in Venice without a parapet.
How to do it: Take a vaporetto to Ca' d'Oro and head to Strada Nova (New Street). Continue on to Via Emanuele and ultimately onto Rio Tera S. Leonardo (it's all the same street but the names change as you cross the bridges). Look out for a tiny sign above an alley written in Hebrew, which will take you into the Jewish Ghetto. You can loop back via Misericordia. Canareggio is a great option for food and drinks without the tourist prices. Don't worry, it's all on the map at the end of the post. If you want a local to show you around this area, you can book this Venice: Jewish Ghetto 2 Hour Tour (€74) Otherwise, you can try this more general, Private Walking Tour, for just €40.
7. Take a Venice food tour with a local for the best Venice food tips
One of the reasons I didn't get along with Venice the first time was because of the food – over priced, hit and miss (at best) and served without much care (because, let's face it, tourists don't offer much by way of repeat-business). This time round, I promised my stomach I would do things better and I booked straight on to a food tour. I didn't want to waste countless attempts (and euros), trying to pick out what might be the best places for chicchetti (small pieces of bread topped with fish, meat, cheese or vegetables and eaten as a snack with an aperitivo drink), tracking down the best market to buy fresh produce (especially helpful if you're staying in a rental apartment) or scouring the warren of streets for a memorable dinner.
For 4 hours, I followed a local lady through the streets of Venice as she told stories, pointed out places of interest and, of course, shared all her inside info on the best places to eat in the city. With all the research in the world, I doubt I would have found the tiny chicchetti bar where gondola riders choose to snack and slurp their way through a quick bit of sustenance and a glass of wine on their breaks. Nor would I have taken myself down the narrow backstreets of old Venice, many of which are abandoned, and I definitely wouldn't have ended up at the perfect local dinner spot. Not only was this a hugely satisfying tour (that review is left by my stomach), it was also one of the most fun things to do in Venice. Wine at 11am? Wine not?
How to do it: Take a food tour. I took a Rialto Market Food and Wine Lunchtime Tour of Venice (€89). This tour is a wonderful blend of eating plus history along the way and includes 7 – yes, 7 eating stops – over 4 hours. Arrive hungry. Even if you don't take a food tour in Venice, do stop by the Rialto Market. Not only is it one of the best things to see in Venice, it is also one of the best free things to do in Venice…if you can resist buying 4 kilos of cheese.
8. Don't go for a Bellini at Harry's Bar – have an Aperol spritz
Having a Bellini at Harry's bar in Venice is a bit like taking a Gondola ride – for some people, it's a must do in Venice and, if that's you, I won't waste a second talking you out of it. But do be prepared.
If you didn't know, the Bellini was invented in Venice by the owner of Harry's bar. Sadly, the 1930s charm of the bar has long gone and as tourist queue up to hand over close to €30 per Bellini, it's no surprise the process has turned into a conveyor belt. I sat at the bar and watched peach puree squeezed from a foil pack into glasses while Prosecco was squirted from a soda-style tap. No blending of peaches. No popping of corks. Not even a full 125ml champagne glass. (I've become a bit of an expert in Prosecco in recent years and now know that Prosecco has to be served from a bottle, so whatever was in that tap was just bog-standard sparkling wine). If you do visit Harry's bar, try to go when white peaches are in season (summer) so you stand a chance of fresh fruit in your drink, not preserved puree.
If you don't want to set yourself up for an expensive disappointment, ditch the Bellini and get on the Aperol Spritz train instead. Perhaps the most popular aperitivo you will see in Venice (and the rest of Italy) the Aperol spritz is a cocktail made with a large measure of Aperol (similar to Campari but much sweeter), topped with Prosecco – actual Prosecco – chilled with ice and served with a slice of orange and a dash of soda water. Be warned, it's hard to tell how potent this almost all-booze drink is and it has a tendency to evaporate (from your glass into your mouth).
How to do it: Skip the waterfront (unless you want the view and are prepared to pay for it) and instead head deeper into the historic centre to look for a local's bar. My favourite was Bacaro Risorto where they also sell very tasty chicchetti for €1.50 a piece.
9. Don't order pizza in Venice – have risotto or seafood instead

Did you know that there's a law in Venice prohibiting wood-fired ovens? The rule makes sense given so much of the city is made of wood and we hardly want to see the the city of Venice catch alight. What also made sense, after learning about the law, is why the few pizzas I tried during my first trip to the city just didn't pass muster. Of course, the other reason to skip pizza in Venice is that pizza's not from there. In a country where food is highly regional, you'll do your taste buds a favour if you stick to what's local. So, head to Naples if you're really in Italy for good pizza, now every time I visit Venice I look out for risotto, polenta, seafood and tiramisu. If you're brave enough, try the sepe al nero – cuttlefish served with ink. It comes second place after tripe on my list of least favourite Italian foods but, hey, at least I tried it. Twice.
How to do it: Taking a food tour will give you a great introduction to the city's food scene and you can ask your guide for food recommendations. This is the tour I took and loved. Otherwise, wander through the back streets and follow your nose. Want to find out more? Check out my list of the best restaurants in Venice, covering every dining category I can think of.
10. See Venice at night when the crowds have left the sights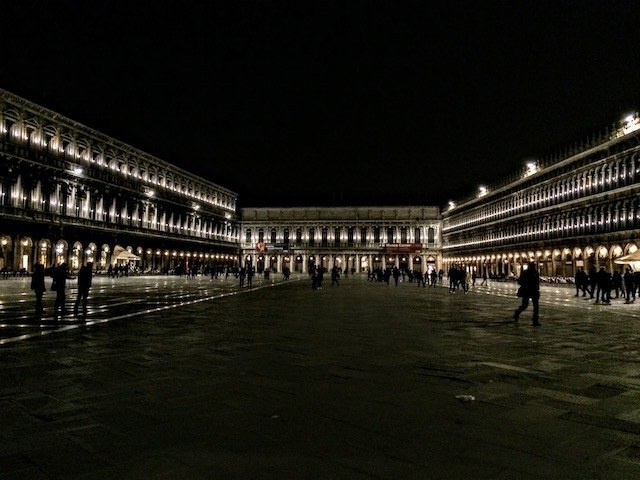 Finally, if all the day crowds want to make you jump into the lagoon and swim all the way out to the Adriatic sea, take some solace in the fact that once the night arrives, the city quietens considerably. Venice at night is truly magical. St Mark's Square seems to expand back to its grand size; the bridges are passable and the narrow streets are near empty and inviting.
How to do it: Go out, explore, get lost, enjoy. Simply wandering the quiet streets is on of the best things to do in Venice at night. Pop into a bar if you must. Maybe I'll see you there.
Want to find out about Venice's spookier side? Take this Venice: 2 hour Legends and Ghosts of Cannaregio Tour (€25). Accompanied by a guide, you'll explore the city's narrow streets and hidden spots while you listen to the legends that surround the city. Even if you're not a believer, you'll get to explore parts of Venice you wouldn't otherwise see, under the cover of night away from the crowds. Fun fact about Venice: it has a lesser known nickname, la serenissima, meaning serene.
After a few nights wandering through Venice at night, I came to a strong realisation about the city. It's not that I hate Venice – how could I? It's beautiful, majestic and riddled with history – it's just that I want to have it all to myself. Have you been to Venice? What do you think of the city? Any other recommendations for an alternative stay in Venice?
---
Want to reward the author?
I pay for 99% of my trips out of my own pocket. If you found this article helpful and want to make a small donation, it's appreciated. Even $1 can help me find a new coffee shop or street food stall to recommend. All funds will be poured back into my travels which will be fed back into this blog. Thanks, you wonderful people!
---
Map of Things To Do In Venice

More of my Italy blog posts
Planning a longer trip to Italy? You might be interested some of my other posts:
Blog posts to help you plan your trip
Like this guide to things to do in Venice? Share it on Pinterest…