If you're looking for things to do in Venice whilst escaping the crowds and make the most of this popular city, read on…
I hated Venice the first time I visited. I felt cheated, hustled, robbed (some of Venice's prices should be criminal) and utterly underwhelmed. I couldn't get close to the sights I wanted to see thanks to the crowds and at €16 for a Bellini in Venice's most famous cocktail bar, I'd have expected fresh peaches. As I packed up my bag, I vowed never to go back. Venice wasn't the Italy I loved. It was an anomaly to be written off as a bad experience, not to be encountered again.
But the thing is, every city deserves a second chance so 5 years later with a fresh set of eyes and a lot more experience at getting under the skin of places, I tried again and although I didn't become spellbound by the city (and I probably won't be visiting a third time…probably…*) I definitely had a more enjoyable experience this time because I chose to see Venice a different way.
* Guess what, I visited a third time…and a fourth time too. Learning to explore Venice without the crowds, the city has really gotten under my skin. Everything I've discovered from those subsequent trips has wound its way into this post.
What's in this post?
As well as the my list of 10 things not to do in Venice and 10 to do instead, I've included my favourite tips on where to stay, where to eat, how to get to the airport and some suggested day trips and tours in Venice. At the end, I've included a few FAQs and a Google map of all the places in Venice listed in this post. If there's anything missing, leave a comment and I'll add it in.
What's in this post
List of Top 10 Things To Do (And NOT Do) In Venice
Practical tips for visiting Venice
Booking Gondola Tours in Venice
Best Day Trips From Venice
Full And Half Day Tours In Venice
My Favourite Guidebooks For Venice
Getting to Venice from the Airport
Where To Stay in Venice
Where To Eat in Venice
When is the best time to go to Venice?
Map of Venice
Related: My Italy Blog Posts
Related: My Trip Planning Blog Posts
10 Things To Do In Venice (And 10 Things NOT To Do)
In this post I'll share with you what to do in Venice but it won't include your standard itinerary – that's where I failed the first time. Instead I'll be sharing 10 alternative ways to see the city while still enjoying the main Venice attreactions. Here goes…
1. Don't attempt to see all the top Venice sights – pick a few and see them well
I'm all for cramming as many sights into as short a visit as possible (Florence: 72 hours, 72 museums and the €72 museum pass: GO!). Venice is an exception to that rule. Why? The crowds. Even in shoulder season (late April/May), the crowds in Venice are so vast it's impossible to speed around the city – a pace that's required for maximum sightseeing. Do yourself a favour: take the pressure off, pick a couple of must see in Venice attractions and see them well.
St Mark's Basilica and the Doge Palace were top of my sightseeing list and although it would have been nice to cram in a bunch of museums, I opted to take a locally guided tour of my top choices and see them properly.
A good decision, it turned out because instead of queuing to get into the sights, the guide had pre-ordered priority access (part of the ticket) and we made our way straight up to the mezzanine. There, we got close-up access to the gold mosaic basilica, which was truly one of my Venice highlights (it's a mosaic because Venice is too humid for plaster and frescoes). But just as amazing, I got a thick slathering of history. So many times I've stood in a place of significance, looked up at something quite clearly of interest and thought, "what the hell is it?"
Venice has history in spades and it's best explored with an insider to take you through the stories that make up city's history right the way up to the 21st century. For example, did you know that the copper horses at the top of St mark's Basilica are replicas? The real ones, which are thought to be the oldest on earth at about 2,000 years old, are located inside the terrace. Life size, it's hard to imagine how these four horses have moved over the centuries from Constantinople to Rome and Paris (where they sat on top of the Arc de Triomph after Napoleon stole them). You can read more here.
The tour I took gave special access to the terrace (not available on most other tours), which comes complete with spectacular views out over Venice.
St. Mark's Basilica and Doge's Palace Fast Track Tour
How to do it:
I took the St. Mark's Basilica and Doge's Palace Fast Track Tour (€74). The tour includes a guided visit to St Mark's Basilica and the Doge Palace with priority access tickets for both. For me, this was one of the best things to do in Venice.
Venice Travel Tip: The crowds can be overwhelming in Venice but are most significantly influenced by the number of cruise ships docked each day. If you want to plan your trip to collide with as few Cruise ships as possible, check out this Cruise Ship Calendar.
What are the best things to do in Venice?
At the beginning of your research and not sure what are the top sights in Venice? Here's a list of the top 10 best things to do in Venice for you to choose from:
St Mark's Basilica (Basilica di San Marco): Venice's main cathedral in gothic style with grand domes and lots of gold leaf inside. Completed in 1092.
Doge Palace (Palazzo Ducale): A grand palace that looks like a lacy pink wedding cake outside, now a museum so you can glimpse the residence of the Doge of Venice from 1340. Pretty sweet life, if you ask me.
Bridge of Sighs – a white bridge best seen from inside (see how to below) linking the prison, interrogation and execution rooms in the Doge Palace.
St Mark's Square (Piazza San Marco) – main public square in Venice dotted with shops, cafes, restaurants and many of the best sights in Venice. Named 'the drawing room of Europe' by Winston Churchill, apparently.
St Mark's Campanile (Campanile di San Marco) – the bell tower to the Basilica and an iconic sight (best viewed from San Giorgio Maggiorie island, details below). Nearly 100 metres high. You can climb the tower.
St Mark's Clocktower (Torre dell'Orologio) – Clock tower in St Mark's Square from the Renaissance period.
Grand Canal – Venice's main canal that carves up the city. Best enjoyed by boat to view the buildings that line the banks.
Rialto Bridge (Pont di Rialto) and Rialto Market (Mercado di Rialto) – Rialto bridge is the oldest out of only four bridges that cross the Grand Canal. Underneath, Rialto Market is a bustling free food market.
Peggy Guggenheim Museum – Venice's best modern art museum set in an 18th century palace. Works typically from the 1950s onwards.
Academy Gallery (Gallerie dell'Accademia) – Where you'll find art from the old grandmasters. Venice's fine art museum collects work from before the 19th century and focuses on Venetian and Italian painters.
Venice Lagoon and its islands: Murano, Burano and Lido – Murano is the island known for its Venetian glass. Burano is famous for its lace and brightly coloured houses. Lido is most often visited for its sandy beaches. The islands sit within Venice lagoon and its famous turquoise waters.
2. Don't stare across at the Bridge of Sighs – Go INSIDE the bridge and stare out
If only Venice could triple the size of the bridge opposite the famous Bridge of Sighs, the congestion along the waterfront in Venice would ease around 50%* (*random guestimate). Clearly, that's never going to happen and in order to get a good look at the Bridge of Sighs you're going to need to battle with the tour groups, selfie-posing couples and people who are otherwise simply trying to squeeze by. Usually with a triple buggy.
What bemuses me most about the fracas to get a shot in front of the Bridge of Sighs is that the whole significance of the bridge is the views it gives out over Venice. In case you didn't know, the bridge is so named because prisoners inside the Doge Palace would walk through the interior of the bridge on the way to their execution in St Mark's Square. The bridge and the tiny lattice gaps gave prisoners their very last view out over Venice before they died. And that last view is thought to have induced a final sigh at Venice's beauty, hence the name: Bridge of Sighs.
So, dear tourists, you might be stood at one of the most popular places to visit in Venice but – YOU'RE LOOKING THE WRONG WAY!
Instead of sticking with the crowds, take a tour of the Doge Palace and the prisons. Wander through the Bridge of Sighs, take a look out over Venice (ignoring the crowds gawking in), sigh and be grateful you're not off to be beheaded!
How to do it:
A visit to the prisons and a walk inside the Bridge of Sighs is included in the tour I took and highly recommend: St. Mark's Basilica and Doge's Palace Fast Track Tour (€74).
Fun Venice fact: How not to be beheaded in Venice
Prisoners were once executed between the two columns in St Mark's Square. The columns are crowned with St Theodore and St Mark's lion. Superstitious locals won't walk between the two columns through fear it will lead to an ugly death. I didn't risk it either.
3. Don't pay tourist prices (€10) for coffee – spend under €1.50 like the locals
Having a coffee in St Mark's Square was on my list of top things to do in Venice. However, a friend warned me about the coffee and drinks prices in St Mark's Square before I visited. "You have to pay for the music." I laughed. She was joking, right? She wasn't.
Sit yourself down for a mid-sightseeing coffee at Caffé Florian, the most popular and obvious cafe overlooking St Mark's Square, and you'll be charged for the music. I'm not talking about a collection hat that comes around. I'm talking about an actual cover charge. I took that picture a while ago – it's likely to be more than €6 now. That's in addition to your coffee price (€6.50 for an espresso and €10.50 for a cappuccino or Americano). Sure, it might be the oldest café in Venice, but pushing €20 each for a hit of caffeine and some accompanying music? When you consider it costs only €20 to see an entire recital in Lucca, home of Puccini, that doesn't feel like a great deal.
Walk a few paces to the right of Caffé Florian and the coffee price plummets to €1.20 for an espresso. You have to shuffle in among the locals and drink your coffee standing (which is how the Italians do it anyway) but for a quick caffeine fix while still enjoying being in the square, this is a much better option. Bonus: you can hear the music drifting out of Caffé Florian for free.
How to do it:
Ask for a caffe (espresso) at Ai Do Leoni just to the right of St Marks Clock Tower, €1.20.
If you're really interested in Italian coffee, you can enjoy this Lonely Planet Experience: Venice Bakery and Desserts Tour.
And if you're after a taste of some Italian opera in Venice, you'll enjoy this travelling opera which takes place in various historic buildings along the Grand Canal – Venice: Traveling Opera in a Historic Palace on the Grand Canal.
If you just want a peak behind the scenes of one of the most famous opera theatres in the world, which is every bit as grand as you might expect, you can take the very popular 1hr tour of The Majestic Teatro La Fenice for just €20.
Venice Travel Tip: there is a whole etiquette around drinking coffee in Italy – if you're confused about what to order and when, you can read more in my blog post How to Order Coffee in Italy.
4. Don't take a Gondola ride – take a Venice boat tour instead
Read almost any article about what to do in Venice and it will tell you to take a Gondola ride. I get it. They're iconic and compelling and some people feel entirely unable to go to Venice and not get in one – so do it, fulfil the dream and enjoy. But don't think that's where the waterways of Venice start and end. (I've got more details later on about booking a gondola tour in Venice).
One of the biggest appeals of the City of Canals is the water and how everything is conducted on it. Deliveries are made, commutes occur, children travel to school and even ambulances take the form of a boat. Once upon a time, Gondola's used to be nothing more than a reality of Venetian life. These days, with more tourists than locals, the gondolas exist largely for tourist purposes. What's more, unless you spend big, you're going to be sharing a small boat space with a lot of strangers for a very short (30 minute stint) on the water.
Instead, take a 2-hour, spacious boat ride down the Grand Canal, under the Rialto bridge and out towards the smaller islands. Let the guide point out the old custom house that used to tax every boat coming in to trade with the Merchants of Venice; get to know a bit more about the Republic of Venice, the Italian government of old, see where the house of Prada sits; and sail past the Aman Grand Canal hotel where George Clooney got married.
And all of this without the bumps and jolts felt by the much smaller Gondolas.
How to do it:
I took the Venice 2-Hour Boat Tour With Grand Canal & Tower Climb of San Giorgio Maggiori tower with Walks of Italy (2hrs, €98).
Since my boat tour in Venice, I've become a huge fan of the City Sightseeing tours. Now, whenever I get to a new city, I hop on one of these tours because I know I will both get an overview of what is where as well as the best things to do in Venice. Of course, with Venice being a city of water, the City Sightseeing tour means your Venice sightseeing is done by boat. This is on my list for my next visit to Venice.
Don't have the time or prefer to spend less? Here's a shorter, more budget-friendly, 1 hour Grand Canal cruise (€30).
Venice Travel Tip: don't miss Basilica di Santa Maria della Salute (picture above), which is situated on the strip between the Grand Canal and Piazza San Marco and is best viewed from the water.
5. Don't climb San Marco Campanile – ascend San Giorgio Maggiore for the best views in Venice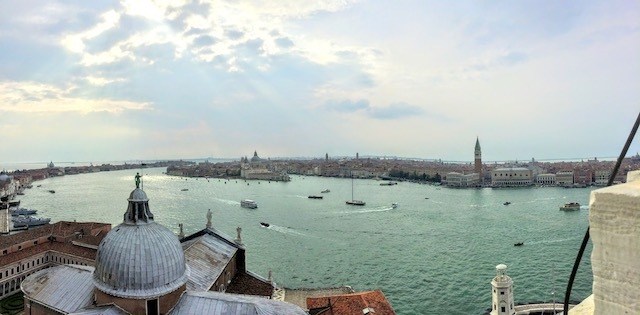 San Marco Campanile, the big, tall bell tower in St Marks Square is definitely one of the most iconic Venice sites and people queue forever to go up it. However, the best views aren't from the top of the tower, they're from across the water, looking back at San Marco campanile.
How to do it:
Head over to the small island of San Giorigo Maggiore and climb the bell tower there instead (I say climb – it's actually a lift/elevator and there is no climbing option). By ascending the bell tower across the way, you get panoramic views across the whole of Venice island, including the famous campanile. This is one of my favourite views in Venice and always on my list when friends ask me what to see in Venice.
A visit to San Giorgio Maggiore island is included in the Venice 2-Hour Boat Tour With Grand Canal & Tower Climb tour I took (€98).
6. Don't linger around St Marks Square – head to Canareggio for crowd-free Venice
The few locals left in Venice's historic centre tend to spend most of their time in the Canareggio district. If you make the effort to head away from the water and the highlights of San Marco, where the main Venice tourist attractions can be found and therefore most of the day trippers tend to linger, you'll see the crowds thin significantly. As though another part of Venice has opened up, with a modern shopping street but also the history of the Jewish Ghetto, in Canareggio you can spend a few hours getting to know real Venice without the crowds. This is definitely my favourite way to do my Venice sightseeing, soaking up local life. It's also one of the best free things to do in Venice.
How to do it:
Take a vaporetto to Ca' d'Oro and head to Strada Nova (New Street). Continue on to Via Emanuele and ultimately onto Rio Tera S. Leonardo (it's all the same street but the names change as you cross the bridges). Look out for a tiny sign above an alley written in Hebrew, which will take you into the Jewish Ghetto. You can loop back via Misericordia. Canareggio is a great option for food and drinks without the tourist prices. Don't worry, it's all on the map at the end of the post.
If you want a local to show you around this area, you can book this Venice: Jewish Ghetto 2 Hour Tour (€74) Otherwise, you can try this more general, Private Walking Tour, for just €40.
Venice Travel Tips: If it's your first time in Europe or Italy, the different names can be confusing. St Mark's Square is Piazza San Marco in Italian. As well, the general area around the square (piazza) is called San Marco.
7. Don't play Russian Roulette with the food – take a Venice food tour with a local
One of the reasons I didn't get along with Venice the first time was because of the food – over priced, hit and miss (at best) and served without much care (because, let's face it, tourists don't offer much by way of repeat-business).
This time round, I promised my stomach I would do things better and I booked straight on to a food tour. I didn't want to waste countless attempts (and euros), trying to pick out what might be the best places for chicchetti (small pieces of bread topped with fish, meat, cheese or vegetables and eaten as a snack with an aperitivo drink), tracking down the best market to buy fresh produce (especially helpful if you're staying in a rental apartment) or scouring the warren of streets for a memorable dinner.
For 4 hours, I followed a local lady through the streets of Venice as she told stories, pointed out places of interest and, of course, shared all her inside info on the best places to eat in the city.
With all the research in the world, I doubt I would have found the tiny chicchetti bar where gondola riders choose to snack and slurp their way through a quick bit of sustenance and a glass of wine on their breaks. Nor would I have taken myself down the narrow backstreets of old Venice, many of which are abandoned, and I definitely wouldn't have ended up at the perfect local dinner spot. Not only was this a hugely satisfying tour (that review is left by my stomach), it was also one of the most fun things to do in Venice. Wine at 11am? Wine not?
How to do it:
Take a food tour. I took a Rialto Market Food and Wine Lunchtime Tour of Venice (€89). This tour is a wonderful blend of eating plus history along the way and includes 7 – yes, 7 eating stops – over 4 hours. Arrive hungry.
Not got 4 hours to spare? Try this Chichetti Dishes and Wine Bar with A Local. In case you didn't know, Chicchetti is small bites like Spanish tapas and is best enjoyed with a drink. And with this tour, you get 5 eating and drinking stops in 2.5 hours (€90) – it's no surprise this tour is ridiculously popular.
Want a third, popular option? This Venice: 2.5 hour Street Food Tour With a Local Guide gives you the best of both worlds combining Rialto Market and Chichetti (€39)
Venice travel tip: Even if you don't take a food tour in Venice, do stop by the Rialto Market. Not only is it one of the best things to see in Venice, it is also one of the best free things to do in Venice…if you can resist buying 4 kilos of cheese.
8. Don't go for a Bellini at Harry's Bar – have an Aperol spritz with the locals
Having a Bellini at Harry's bar in Venice is a bit like taking a Gondola ride – for some people, it's a must do in Venice and, if that's you, I won't waste a second talking you out of it. But do be prepared.
If you didn't know, the Bellini was invented in Venice by the owner of Harry's bar. Sadly, the 1930s charm of the bar has long gone and as tourist queue up to hand over close to €30 per Bellini, it's no surprise the process has turned into a conveyor belt. I sat at the bar and watched peach puree squeezed from a foil pack into glasses while Prosecco was squirted from a soda-style tap. No blending of peaches. No popping of corks. Not even a full 125ml champagne glass. (I've become a bit of an expert in Prosecco in recent years and now know that Prosecco has to be served from a bottle, so whatever was in that tap was just bog-standard sparkling wine).
If you don't want to set yourself up for an expensive disappointment, ditch the Bellini and get on the Aperol Spritz train instead. Perhaps the most popular aperitivo you will see in Venice (and the rest of Italy) the Aperol spritz is a cocktail made with a large measure of Aperol (similar to Campari but much sweeter), topped with Prosecco – actual Prosecco – chilled with ice and served with a slice of orange and a dash of soda water. Be warned, it's hard to tell how potent this almost all-booze drink is and it has a tendency to evaporate (from your glass into your mouth).
How to do it:
Skip the waterfront (unless you want the view and are prepared to pay for it) and instead head deeper into the historic centre to look for a local's bar. My favourite was Bacaro Risorto where they also sell very tasty chicchetti for €1.50 a piece.
If you want more suggestions, check out my post about the Best Restaurants in Venice, which includes lots of chicchetti and bar recommendations
What about a day-trip Prosecco tasting? Just an hour from Venice, choose between a half day or full day tour of Italy's UNESCO World Hertiage Prosecco region (from €250 per group). These are tours I have put together with local drivers to bring you private tours to small, family owned vineyards where you can taste only the premium, DOCG Prosecco.
Fun Venice fact: the owner of Harry's bar is actually called Giuseppe Cipriani, not Harry and there's a warm and fuzzy story behind the naming of the bar?
Venice travel tip: if you do visit Harry's bar, try to go when white peaches are in season (summer) so you stand a chance of fresh fruit in your drink, not preserved puree.
9. Don't order pizza in Venice – have risotto or seafood instead
Did you know that there's a law in Venice prohibiting wood-fired ovens? The rule makes sense given so much of the city is made of wood and we hardly want to see the the city of Venice catch alight. What also made sense, after learning about the law, is why the few pizzas I tried during my first trip to the city just didn't pass muster.
Of course, the other reason to skip pizza in Venice is that pizza's not from there. In a country where food is highly regional, you'll do your taste buds a favour if you stick to what's local. So, head to Naples if you're really in Italy for good pizza, now every time I visit Venice I look out for risotto, polenta, seafood and tiramisu. If you're brave enough, try the sepe al nero – cuttlefish served with ink. It comes second place after tripe on my list of least favourite Italian foods but, hey, at least I tried it. Twice.
How to do it:
Taking a food tour will give you a great introduction to the city's food scene and you can ask your guide for food recommendations. This is the tour I took and loved. Otherwise, wander through the back streets and follow your nose.
Want to find out more? Check out my list of the best restaurants in Venice, covering every dining category I can think of.
10. Don't sweat away your day battling crowds – see Venice at night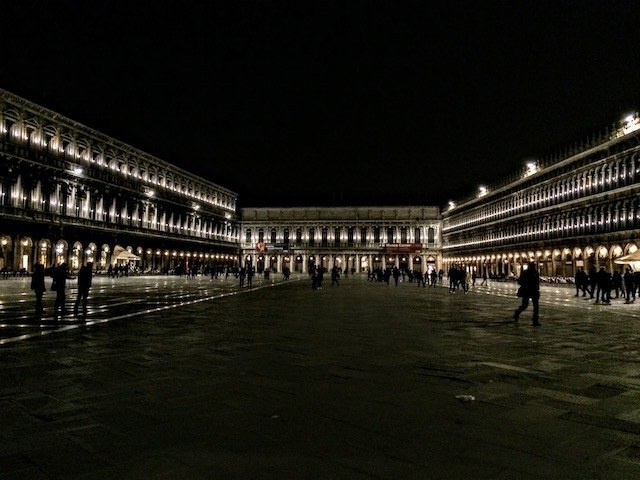 Finally, if all the day crowds want to make you jump into the lagoon and swim all the way out to the Adriatic sea, take some solace in the fact that once the night arrives, the city quietens considerably. Venice at night is truly magical. St Mark's Square seems to expand back to its grand size; the bridges are passable and the narrow streets are near empty and inviting.
How to do it:
Go out, explore, get lost, enjoy. Simply wandering the quiet streets is on of the best things to do in Venice at night. Pop into a bar if you must. Maybe I'll see you there.
Want to find out about Venice's spookier side? Take this Venice: 2 hour Legends and Ghosts of Cannaregio Tour (€25). Accompanied by a guide, you'll explore the city's narrow streets and hidden spots while you listen to the legends that surround the city. Even if you're not a believer, you'll get to explore parts of Venice you wouldn't otherwise see, under the cover of night away from the crowds.
Fun fact about Venice: it has a lesser known nickname, la serenissima, meaning serene.
After a few nights wandering through Venice at night, I came to a strong realisation about the city. It's not that I hate Venice – how could I? It's beautiful, majestic and riddled with history – it's just that I want to have it all to myself.
---
Practical Tips For Visiting Venice
That's my 10 tips for things to do in Venice. What follows is my tips for planning your visit including booking tours, where to stay, where to eat, how to get to Venice from the airport and more.
Booking a Gondola Ride in Venice
I get it. You can't go to Venice and NOT take a gondola ride. Fair enough – it's is an iconic part of Venice and tops most lists of Venice attractions. The question is, which one to choose? Here's my recommendations.
Private gondola tour: If you prefer a private gondola (trust me, you should), this is the best rated private gondola ride. It's €180 for 2 people / 20 mins but comes down to €30 per person if there are 6 of you. When I last checked the prices, there was a 25% discounted off the above price, which ran for months so do check.
Shared gondola tour: Here's the best rated shared gondola ride in Venice (€32/30 mins).
Romantic Gondola tour: Just 2 of you? Special occasion? Want to add some sparkle (literally)? Book this very popular Romantic Private Gondola Ride for Two, (€140 for 2 people /20 mins), which includes a bottle of Prosecco.
Best Day Trips From Venice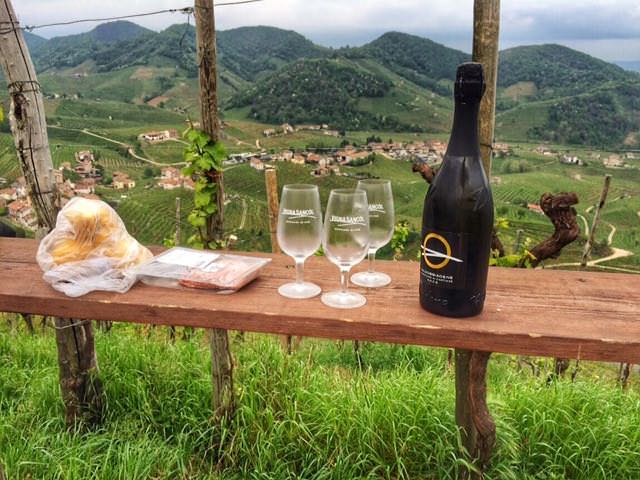 I'd definitely recommend adding in time for some day trips from Venice. It's really well situated and connected for exploring nearby. Also, all the crowds can leave you feeling a bit overwhelmed. A day trip from Venice is the perfect tonic. Here are some of the best day trips from Venice to work into your trip.
Italy's Prosecco Region – 1hr from Venice
Most of us are familiar with Prosecco, the Champagne of Italy, but did you know that the Prosecco region is just an hour away from Venice? If you have a day or night to spare, why not spend it tasting a glass (or two) while enjoying views over the rolling vineyards. Picture above.
I first visited in 2015 and created a post about How to Plan Your Own Prosecco Tour. It was so popular that I returned to the Prosecco region (as well as Venice). Since then, I've created a Prosecco themed travel blog (how was there not one already?) –Visit Prosecco Italy. And, as my contacts in the area have grown, I've connected with local drivers to offer private wine tours of the region, starting at €250 for up to 8 people. That price is per van, not per person so it's a great deal. You can find out more here and read reviews here. Otherwise, you can find more Venice travel blog posts over there.
Fun Prosecco fact: did you know there is a Prosecco vending machine nestled in the Prosecco hills? Just up the road from where the above picture was taken.
Best full and half day tours of Venice
Get Your Guide – If the tours above don't tickle your fancy, check out Get Your Guide. You'll find a whole host of full and half day tours in Venice and the beauty is you can compare prices and read reviews before you commit.
Intrepid Travel – And if you're looking for a more planned trip to Italy, my favourite tour company is Intrepid travel – above all else, they'll take you places where you're going to get those photo moments you won't get on most other tours.
Want to experience Venice carnival but not visiting in spring? There are some great activities on year round from a carnival themed walking tour, a carnival pub crawl to carnival mask making website. You can browse your tour options here.
My favourite guidebooks for Venice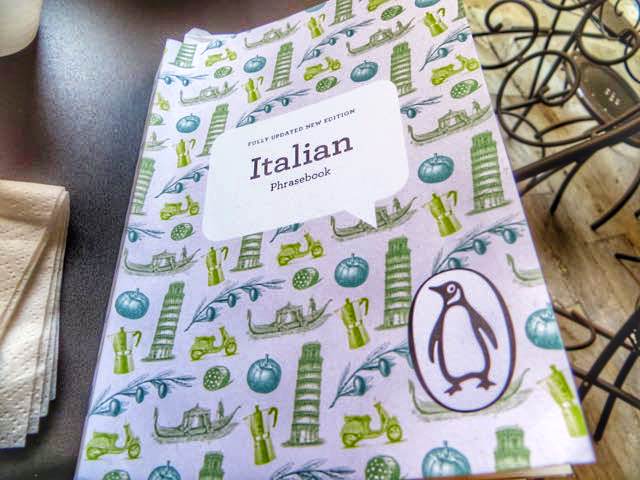 Any excuse to buy a book and I'll take it. Even though the web is filled with Venice travel blog posts (like this one), I always double up on my research with a good old, print travel guide. My favourites are:
Lonely Planet Pocket Venice – it really does fit in your pocket and costs under $10/£7. Perfect for a city or short break – here it is on Amazon. This one goes with me on every trip.
DK EyeWitness Venice & The Veneto – if you want a more detailed guide that covers a wider area, the DK books are expertly done. I especially love the 3D maps – here it is on Amazon.
Italian Phrasebook by Penguin (pic above) – this is one good looking (paperback) book. I learned extra Italian words just because I wanted to have it on show in cafes. I think the locals were impressed too. Or maybe they were laughing at my mangled Italian. Either way, it's one of my favourite travel books for Venice – here it is on Amazon.
How to get to Venice from Venice airport
The important things to note about Venice is it's a city of water and once you're within the islands of Venice, your main mode of transport is going to be boat. The main choices are private water taxis (just like regular taxis but on water) and water buses known as the vaporetto (just like regular buses…ok, you get it).
Private water taxi: On my first trip to Venice, I treated myself to the private boat transfer. It was relatively expensive at €200 for the transfer but I was celebrating my birthday and it was a memorable treat (how to feel like the glitterati in one fell swoop). It's actually a good deal if there are 4 – 6 of you. The major bonus – no waiting for other people or having to share your transfer. The journey takes around 50 minutes depending where your hotel is. The transfer will take you as close as it physically can. You can book a private boat transfer here.
Shared water taxi: The next best way into Venice is using a shared water taxi. That way, your first experience of Venice can be the magical, majestic arrival you've imagined (rather than taking the crammed tourist bus or public vaporetto ride along with the rest of the tourists). The price is around €30 and the trip takes about 50 mins with some waiting time if your fellow passengers take a while collecting luggage. You can book a shared water taxi here.
Public vaporetto: The cheapest water transfer is the public Vaporetto at just €8 per person one-way. Do keep in mind that the Vaporetto, just like a subway system, has different lines and you might have to change. You'll need to figure out the nearest stop to your hotel (usually mentioned on the hotel website). You can find out more here.
By road: I've never taken a transfer by land – Venice is a city of water. However, you can take a bus or hire a private car. Check a man, though because wheels can only go as far as Piazzale Roma. You might need a Vaporetto or to walk from there. You'll find a full choice of transfer options here.
If you want a full guide to how to get to Venice from the airport, you can find it over on my Prosecco website here.
Where to stay in Venice Italy
Best areas to stay in Venice: San Marco is the best area to stay in Venice if you want to be right in the heart of things but expect high prices. I tend to stay in Cannareggio because I love the location – old Venice, away from the crowds but still walkable to San Marco. However, I'm still searching for a hotel to recommend to you. The last one I stayed in smelt of feet. My next favourite suggestion is Giudecca island, also away from the bustle. A few minutes away by vaparetto, with a good handful of restaurants to feed you at night and excellent views across towards San Marco, the island had everything you need plus a more peaceful feel.
Best 5 Star Hotel in Venice: The Gritti Palace – Centrally located, this 5-star hotel has views over the grand canal if you want a beautiful luxury stay. Ok, prices are around €800 a night but that's Venice for you.
Best Boutique Hotel: Canal Grande – in a restored 18th century palace, this beautiful boutique hotel is everything you hope your Venice hotel might be. Oh, and it overlooks the Grand Canal (of course it does). At around €200 per night, this is fantastic price for a great hotel.
Trip Advisor's Travellers' Choice: Hotel Antiche Figure – Based on the reviews of other travellers, Hotel Antiche Figure has been voted the best hotel in Venice. It's a boutique hotel complete with four poster beds in my favourite area of Venice, near Canareggio. With prices around €175 a night, I can see why this is a winner. This is on my list for my next trip.
Best chain hotel in Venice: Hilton Molino Stucky Far removed from the boxy airport Hilton hotels you might otherwise be imagining, the building was once a flour mill and was integral to the city's pasta production. Today, the building has been converted into a luxury space and the roof top terrace is reason enough to stay. Prices around €300 per night.
Best Hostel in Venice: Generator Hostel – Perfect if you're on a budget in Venice. It's very clean and has a great value happy hour (Apreol Spritz for only €2.50). Dorms and private rooms are available. Prices around €15 for a dorm bed and around €65 for a private room.
If you want more details on where to stay in Venice, I've written a more detailed guide setting out the various areas in Venice together with some hotel recommendations over on my Prosecco themed blog.
Where to Eat in Venice Italy
Eating is one of my favourite things to do in Venice – in any place I visit for that matter – but wow is it difficult to find a good place to eat in Venice. Unlike most of the rest of Italy where you can walk into any eatery and almost always leave delighted, Venice has a lot of bad food. But don't worry, I've worked hard over several trip (and eaten far too much bad food) to find the food gems in Venice. You'll find them in my post about the best restaurants in Venice.
When is the best time to go to Venice?
Venice, like most cities, is a year-round destination so don't worry. If you can only get time off work at a particular time of year, go to Venice and enjoy. There are, however, a few times of year where you experience will be a little…different.
Visiting Venice during Acqua Alta (Oct-Dec): A lot of first time visitors don't realise but Venice floods once a year. It's called the acqua alta meaning high water. It's a natural phenomenon based on tides and atmospheric pressure and winds (rather than the common assumption that it's because Venice is sinking). When does it happen? Well, it can happen any time of year if the natural factors combine but you're most likely to experience it between late September and early April but more realistically, in November, December and October – in that order of likelihood. Does it mean you can't or shouldn't visit. Absolutely not. It's a normal part of life in Venice and the city is prepared with elevated boardwalks and, of course, there are street vendors galore flogging elegant (?!) plastic booties. My suggestion, expect it, embrace it and get set for a pretty amazing lifetime travel adventure you're not going to get in many other places. Just think of the photos!
Visiting Venice during peak summer season (Jul-Aug): honestly, I'd rather spend time in Venice during acqua alta than in July or August when the largest throngs of people descend upon the city. However, you can still enjoy the city at it's peak months – just be prepared to go slow, book hotels and tours in advance and get out at night when the temperature cools and the crowds decrease.
Easter over Easter and Christmas: I've visited Venice over Easter Sunday as everything was open and the city was very festive with a huge easter egg smashed up for breakfast (now that's my kind of breakfast). I did book ahead and there were more people but it was otherwise manageable. Over Christmas, many shops and restaurants will close on Christmas Day (25 December). Not a problem if you plan ahead but something to keep in mind.
Best time to visit Venice (Mar-May and September)? I would vote for the shoulder seasons – spring and autumn (fall) – as the best time to go to Venice. This will help you avoid the summer crowds as well as acqua alta. I've visited in both shoulder seasons and enjoyed these trips to Venice most.
---
Want to reward the author?
I pay for 99% of my trips out of my own pocket. If you found this article helpful and want to make a small donation, it's appreciated. Even $1 can help me find a new coffee shop or street food stall to recommend. All funds will be poured back into my travels which will be fed back into this blog. Thanks, you wonderful people!
---
Map of Things To Do In Venice
More of my Italy blog posts
Blog posts to help you plan your trip
Like this guide to things to do in Venice? Share it on Pinterest…
Have you been to Venice? What do you think of the city? Any other recommendations for an alternative stay in Venice?