Porto is the city of queues. I didn't expect that to be the opening line of this post. Before I visited Porto, everything I'd read about the city was described using a list of superlatives.
Historic. Medieval. Rich. Romantic. Grand.
Tick. Tick. Tick. Tick. Tick.
Porto is absolutely all of those things. And then some. And it has the tourism crowds to prove it. From 'that famous Harry Potter bookstore' to cafes to restaurants to Port cellars, everywhere I turned in Porto I felt like I hit a queue. So I saw Porto in two lights. First, hitting up the main attractions. Then, seeking out less touristy equivalents. That's what you'll get in this article – a mix of the best things to do in Porto covering the major attractions and less crowded alternatives. I've included a Google Map at the end of the post featuring all the locations listed.
1. Livraria Lello
Once upon a time, Livraria Lello was a plain old bookstore with a charming interior. Until some lady called J.K. Rowling decided to spend a few months in Porto in the early 1990s working on her first book. You might have heard of it – Harry Potter and the Philosopher's Stone.
Reputed to have inspired parts of Hogwarts, Livraria Lello has since been inundated with Potter fans from around the world wanting to catch a glimpse (and selfie) of the bookstore's interior. What has resulted is a street-long queue of people prepared to stand under the hammering rain for over an hour and pay to look at a set of stairs. Don't get me wrong, it's stunning. But you really need to plan your trip and book a ticket in advance. Is it worth it? The reviews are mixed. Read them yourself on TripAdvisor here. But don't worry, I have an alternative suggesting if you don't get a ticket and don't want to queue.
If you want to visit Livraria Lello and don't want to organise tickets, this private walking tour includes a visit to the bookstore as well as a guided walk around the city, seeing the highlights.
2. Vida Portuguesa Curiosity Shop
Whether you're visiting Porto on a budget or you're not enough of a fan to spend your morning queuing, there is a cheaper and quicker alternative to Livraria Lello. A Vida Portuguesa, just next door to the famous Harry Potter bookstore is a curiosity shop that has a broadly similar interior. Admittedly, it's not as grand but these shops look like they were built around the same time with the same twisting staircase. Bonus: there was no queue or fee to go inside. If it's not enough of a Harry hit, you can still join the queue next door with little time wasted.
3. Café Majestic
Located a convenient walk from Livraria Lello, Café Majestic is one of the most popular cafes in the city for two reasons. On its own, it's a stunning history cafe in the belle époque, art nouveau style with wooden carved decor and twinkling chandeliers. The cafe opened in 1921 and still serves coffee and pastries to patrons. But that's not its only claim to fame. Café Majestic was the favourite spot of a down and nearly out writer who chose this cafe to work on her early manuscript. You got it, it's another J.K. Rolling, Harry Potter spot. That, of course, makes it very popular.
4. Café A Brasileira
If you can't get a spot in Café Majestic (it really is popular and you'll most likely have to queue), a wonderful alternative is Café A Brasileira. It has all the old-world charm you could want without the line. Part of the Pestano Hotel in Porto, you have a much better chance of getting a seat and a coffee. Even better, it's not on the major shopping street so there are better views and less bustle.
5. Taylors Port Cellar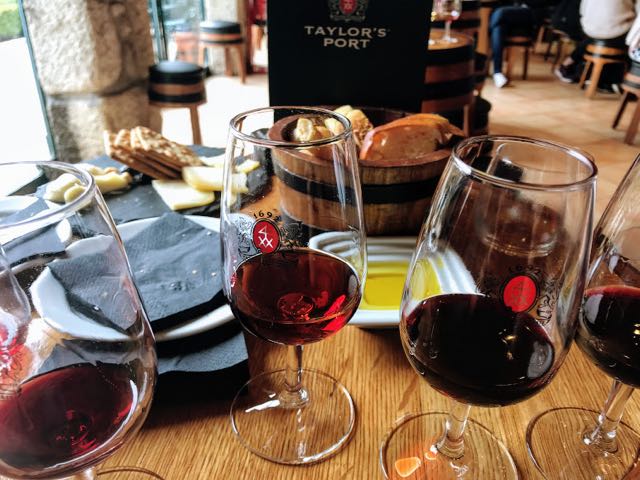 When in Porto, you have to visit a port cellar, right? For some reason, I ended up in Porto with two people who didn't want to drink port but I was able to drag them to the famous big brand Taylors Port cellar. Inside, settle into the tasting room. I ordered a tasting flight and some small food plates. The sommelier talked us through the difference between old, dry and sweet that was included in the flight of Ports I ordered. After that, we were left to enjoy this beautiful fortified wine in a grand setting.
6. Quinta da Macieirinha Victorian Museum & Port Bar
Quinta da Macieirinha is a Victorian house once owned by one of Porto's wine millionaires. These days the house has been turned into a museum of the Victorian period that has an impressive stock of port in the bar attached to the house. In fact, the port book available is as thick as something that would make George R.R. Martin (Games of Thrones author) proud. You also get a hands-on, personalised tasting experience if you want to deepen your port knowledge after visiting Taylors. I've done this in several wine hot spots and usually find it a more useful tasting experience than turning up at one of the mass production places.
7. Duoro Valley Wine Tasting
While you may not be in a hurry to leave Porto, since there is so much to see in the city, taking a wine tasting trip to the Duoro Valley is the exception. I recommend this tour of the Duoro Valley which includes port, local wine and olive oil tasting as well as indulging in a Portuguese lunch and (as if that's not enough) a boat trip on a Rabelo – a traditional sail boat.
Did you know that I'm such a huge fan of wine tours that I have set up an entire blog dedicated to planning a wine tour to the Prosecco region of Italy – it's just one hour from Venice.
8. Eat Francesinha at Casa Guedes
Casa Guedes is a snack bar opened in 1987 that's renowned for having the best sandwiches in Porto. The Francesinha, a local specialty in Porto, is the sandwich to try.
A Francesinha consists of thick white bread housing several layers of cooked meats (including ham, steak and pork), topped with a beer sauce and, if you want to go all-in, finished with a fried egg. It was a little heavy for my liking and I was pleased I shared one with my friends before ordering something else. In fact, looking up from the remains of our sandwiches, I realised that the locals had ordered much more enticing sausage in a bread roll.
9. Take the city sightseeing bus
I love a city sightseeing bus and with so many hills in Porto, and an often changeable climate outside summer season, it's a really good way to explore the city. The bus does get busy so start early. If you want to maximise your value for money, you can get a combo ticket that includes the hop-on-hop-off bus with a riverboat cruise AND port wine tasting.
10. Wander the streets of Porto
Porto is a charming city with plenty of meandering and winding streets that are perfect for getting lost in. Yes, its a hilly city but don't let that put you off. Some of the best local life is found in the backstreets of any European city. My suggestions is to plan your city sightseeing in a downward direction. That way, the walk is easy enough. And, if you do meet a hill or fatigue or rain (or all three in our case on more than one occasion), you can simply call an Uber. The prices were incredibly affordable and it made that 'back up the hill to the hotel' trek a complete breeze.
11. Explore by Segway
Want a more fun way to get around Porto? If you've never tried a Segway, I'd highly recommend it. It was the most fun I had when I did it in Washington DC. Not only is it a good way to zip around, you get a guide to point out the major sites along the way. You can book a 3-hour Segway tour of Porto here for around €65 each.
12. Take a city train tour
I get it, you don't trust yourself on a Segway. I had some hesitations the first time, too. But don't worry, there is fantastic alternative in Porto – taking a little train ride around the city. Similar to the sightseeing bus and Segway tours above, the Porto sightseeing train will take you past the major hot spots, with a guide to give you the low-down. You can even upgrade to add in a port tasting (there's a theme here), a riverboat cruise and a buffet lunch if you prefer. You can check out your options and book train tickets here.
13. Enjoy Ribeira Old Town
Ribiera is the beating heart of old town Porto. Riddled with winding lanes and cobbled streets all packed with cafes, bars and restaurants, Ribiera is a great place to chill out in Porto. I would suggest doing your research before eating in Riberia. I mean, we all know better than to eat in the tourist hub, don't we? Suggested alternative below.
14. Assador Típico – Eat local
Having suffered a couple of lack-lustre meals in Ribeira, I asked the lady behind the desk in our hotel to point us to a local restaurant, which is how we ended up at Assador Típico. The waiters spoke barely any English resulting in us ordering enough food for a football team and not receiving anything close to what we thought we'd ordered, but it was so darn good and even better because there wasn't another tourist in sight.
15. São Bento azulejos (tiles)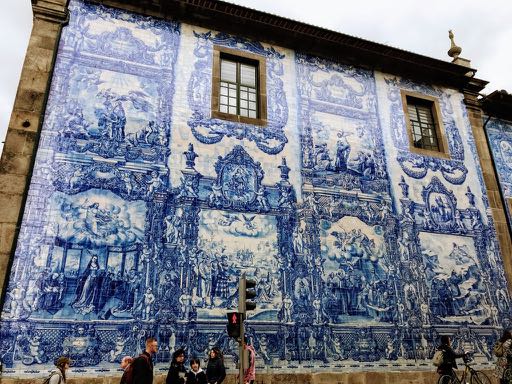 São Bento is arguably one of the most beautiful train stations in the world, thanks to the magnificent azulejos, hand-painted tiles adorning the walls. Not only is it one of Porto's best free activities, it doesn't involve queueing and it was the perfect retreat when we visited in the rain.
Do keep you eyes peeled in Porto – São Bento train station isn't the beginning and end of the famous tiles in the city. Look up, look behind and look around. The tiles are everywhere and while they may not be as polished and preserved, there's something more magical about spotting some azulejos amidst everyday Porto life. The tiles above – just your average street scene in Porto.
16. River Douro boat cruises
The Douro River is an impressive expanse of water that stretches 897 km (557 miles) and runs through both the centre of Porto and the nearby Douro Valley wine region. Like any city with a river at its epicentre, the water is a draw and taking a river boat cruise is a fantastic way to see the river bank sights from a fresh perspective. There are plenty of boat cruises in Porto. I recommend this 50-minute 6 bridge cruise (from €15 per person).
17. Yeatman Wine Spa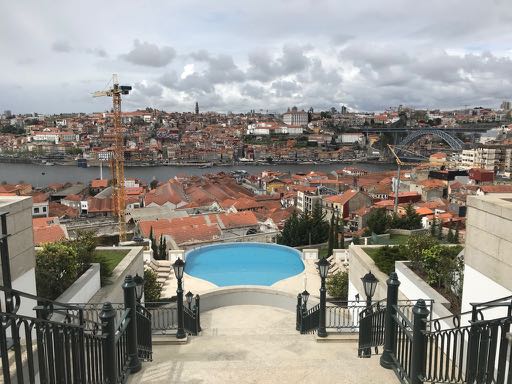 The Vinothérapie Spa by Caudalíe at the 5-star Yeatman hotel is a luxury spa with sweeping views across Porto and was by far one of the best things I did in the city. Languishing in the infinity pool with views over the Douro is a great way to enjoy the city sights if you're looking for a more relaxing style of break. Book a treatment and the spa facilities are included. Otherwise, it costs €35 for a day pass to use the pools, steam room, sauna and Roman bath.
18. Eat hot nata at Natas D'Ouro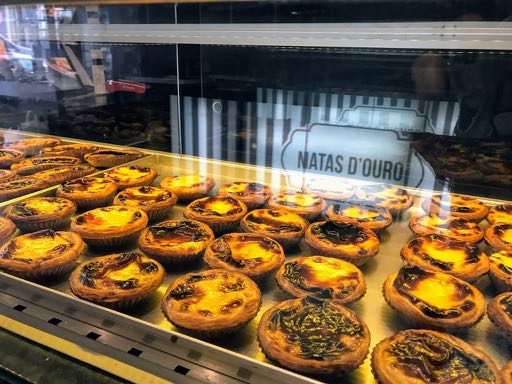 You're in Porto, so you have to eat at least one nata, right? (Well, you'll probably eat more than one but no judgement here). If you do, be choosy about where you eat it. Cold from behind a counter where it's been sat hours is one option. Fresh out of the oven is better. Head to Natas D'Ouro. Watch the nata made fresh and then eat one when it's hot from the oven. As well as plain nata you can try one with a chocolate or port centre.
19. Watch a fado at Terreirinho Restaurant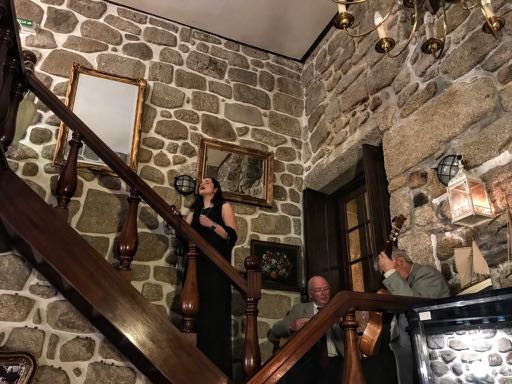 Snagging the last table in this tiny restaurant, Terreirinho Restaurant, one turn away from the Duouro in Ribeira was a stroke of luck. I was immediately delighted by the rustic, cosy setting and local-looking menu. And that delight doubled when a complimentary glass of local sparkling wine was presented (I'm sorry my beloved Prosecco, I had to cheat on you).
We decided on a tapas-style dinner but the real surprise came in the form of the Fado. The best way I can describe Fado is melancholy Portuguese music performed to acoustic guitar. I've probably just committed several cultural sins with that description so apologies to any Portuguese readers. The Fado will certainly give you something to remember.
If you prefer to just book a fado session, you can do that here for around €18 per person. It's only an hour-long and you get a glass of port thrown in.
20. Serralves
Serralves is a great place to spend an afternoon in Porto. As well as the Serralves museum, a contemporary art museum, you'll find a park and grand villa. The villa, Casa de Serralves, is a stunning example of Art Deco architecture while the park won an award (Henry Ford) for environmental preservation.
21. Church of São Francisco
The church of São Francisco in Porto is a 15th century masterpiece in the gothic style. Inside, you can expect wow-worthy guilted woodwork with a grand altar, columns and vaulted ceiling, all in the Baroque style. Personally, I prefer the ornate beauty of the church compared to Porto cathedral. And it's older.
22. Porto Cathedral
Completed in 1737, Porto Cathedral is a large, sprawling cathedral located in the historic centre of the city. It has a rather plain exterior style and you'd be forgiven fo feeling a little underwhelmed. However, the inside has more to behold with vaulted ceiling and a dramatic altar. Don't miss the Azuelo mural.
23. Igreja do Carmo
Igreja do Carmo is another Catholic church in Porto (Igreja means church in Portuguese). What's curious about this church is that it's actually two churches, Igrеjа dоs Саrmеlitаs аnd Igrеjа dо Саrmо, separated by a very thin, 1 metre house. Built in the 18th century, local legend has it that the church was constructed in this way to keep the Monks and Nuns apart. What most tourists visit the church for is the wall of stunning blue azulejos tiles.
24. Сlеrigоs Тоwеr
While I'm on a roll with the many religious buildings in Porto, I have to mention Сlеrigоs Тоwеr. The associated church, Clerigos church was completed in 1750 in the Baroque style but it is the 75 metre bell tower that draws the crowds. The tower was inspired by the campaniles of Tuscany in Italy. So, it's your chance for a glimpse of Italy in Porto.
25. Dom Luis I bridge
Dom Luis I bridge was a feat of engineering when it was completed in 1886 and remains impressive to this day. Spanning the Duoro river, its one of the main bridges crossing the river and an iconic sight in the city. The bridge is metal with two decks and many of the river cruises will give you the best views of the bridge.
26. Casa da Música
Casa da Musica is one of Porto's main music and concert halls. Unlike many of its European counterparts, the Casa da Musica is a contemporary structure shaped like a Polygon. It was built in 2005 and has a very modern interior. However, the music on offer is wide ranging and features orchestral performances as well as more modern and contemporary artists. It's a great way to spend an evening in the city.
27. Teleférico de Gaia
Located in Vila Nova de Gaia, the Gaia metropolitan area of porto, the Teleférico de Gaia is a cable car that will give you fantatic aerial views over the river and city of Porto. The ride lasts just 5 minutes and is a perfect activity for getting some sweeping panoramic views and photos. You can find it on the south end of the Dom Luís I bridge.
28. Stock Exchange – Palácio da Bolsa
Bolsa palace (Palácio da Bolsa) is Porto's Stock exchange and is a grand building worth adding to your sightseeing list. Located near to St Francis church, the Stock Exchange was completed in 1850 and has been classified as a National Monument. The architecture is stunning inside. Don't miss the Arab Room
29. Get the Porto card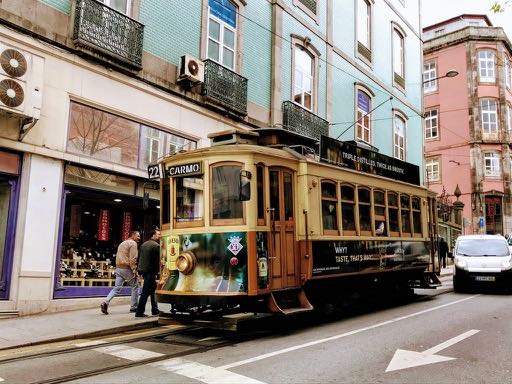 If you plan on getting around Porto by public transport and exploring the museums and other sites, check out the Porto Card from €13 per person. It's a combination of the Andante card (just public transport) as well as free or discounted access to Porto's sights. As you might expect, there's a free Port tasting included.
Alternatively, the Andante Tour Card will cost you €7 and gets you unlimited travel on the metro, buses and trains for 24 hours, whilst the trams will cost €3 per journey, or 2 days unlimited travel for €10.
---
Where to stay in Porto
Eurostars Das Artes Hotel – I stayed here. The hotel was ideal with a good location and good breakfast (two of my favourite hotel requirements) so I'd definitely recommend it.
Exe Almada Porto is ideally located in the União de Freguesias do Centro district and is within walking distance to many of the main historic landmarks
Porto River Aparthotel offers beautifully decorated apartments closer to the Douro River and Porto's many Port wine cellars.
The Yeatman – As well as having the wine spa I mention above, the views are hands-down the best in Porto.
The House of Sandeman Hostel & Suites is located right on top of the Sandeman wine cellars on the edge of the River Douro. The beds in this stylish little hostel are also shaped like wine barrels! Cool, right?
Where to eat in Porto
LA Ricotta – yes, it's Italian food in Portugal but when a smell wafts out of a kitchen and beckons me in, I'm hard pushed to refuse. And I've glad I didn't. From the setting to the service to the price and the food itself, I'd eat here again, which is saying something when there are so many Porto food places to explore.
Cafe Santiago – if you really feel the need to try Francesinha during your trip to Porto, Cafe Santiago is another place to go.
Vinhas D' Alho – combine delicious food with traditional Fado at this lovely little spot overlooking the river and Dom Luís I Bridge. It's central, reasonably priced, and just far enough off of the main riverfront walk to not be considered a 'tourist trap'.
Zenith – if you're looking for a great brunch spot in Porto look no further than the city's hotspot Zenith. A hip cafe in the centre of Porto, Zenith has a broad menu of brunch dishes including smoothie bowls, eggs Zenith, great coffee and a selection of delicious cocktails if you're after that kind of brunch.
How to get to Porto from the airport
The metro is the easiest way to get from the airport into Porto city centre. Take Line E (Purple) which runs every 20 or 30 minutes. A one-way ticket will cost you just €2.45. Alternatively, you could grab a taxi from outside the airport or call an Uber. A one-way journey to the city centre will cost around €20.
Map of things to do in Porto
Here is my Map of Things To Do In Porto.