Porto is the city of queues. I didn't expect that to be the opening line of this post. Before I visited Porto, everything I'd read about the city was described using a list of superlatives.
Historic. Medieval. Rich. Romantic. Grand.
Tick. Tick. Tick. Tick. Tick.
Porto is absolutely all of those things. And then some. And it has the tourism crowds to prove it. From 'that famous Harry Potter bookstore' to cafes to restaurants to Port cellars, everywhere I turned in Porto I felt like I hit a queue.
I don't know about you, but spending my weekend in Porto joining one line after the next is not what I suffered a Ryanair flight for. Surely the city has more than the handful of overly popular hotspots? And so I decided to explore some alternative things to do in Porto. What follows is my list of 10 things NOT to do in Porto and 10 to do instead.
I've included a Google Map at the end of the post featuring all the locations listed.
Solo female travellers: this was a trip I went on with two lovely lady friends for my birthday but everything on this list is doable and enjoyable as a solo female, and I had zero safety concerns in the city.
1. Don't queue for Livraria Lello – visit the curiosity shop next door
"That's the queue?" My friend asked as we snaked our way down the slope of the hill, all the way to the foot of the nearby church steps. Yikes.
Once upon a time, Livraria Lello was a plain old bookstore with a charming interior. Until some lady called J.K. Rowling decided to spend a few months in Porto in the early 1990s working on her first book. You might have heard of it – Harry Potter and the Philosopher's Stoner.
Reputed to have inspired parts of Hogwarts, Livraria Lello has since been inundated with Potter fans from around the world wanting to catch a glimpse (and selfie) of the bookstore's interior. What has resulted is a street-long queue of people prepared to stand under the hammering rain for over an hour and pay €5 per person to look at a set of stairs. And none of this is to mention that there is a second, long queue in the ticket office in the street up the road if you fail to buy your ticket online in advance. Is it worth it? The reviews are mixed. Read them yourself on TripAdvisor here.
How to do it differently: Perhaps you're enough of a fan to spend your morning queuing. I'm not, especially when there is a curiosity shop – A Vida Portuguesa – next door that has a broadly similar interior. Admittedly, it's not as grand but these shops look like they were built around the same time with the same twisting staircase. Bonus: there was no queue or fee to go inside. If it's not enough of a Harry hit, you can still join the queue next door with little time wasted.
(If you absolutely have to go to Livraria Lello and don't want to have to organise tickets, this private walking tour includes a visit to the bookstore as well as a guided walk around the city, seeing the highlights.) 
2. Don't queue for Café Majestic – visit Café A Brasileira instead
It's amazing the influence one woman can have on the trade of a place and I bet the owners of Café Majestic will be forever thrilled that this down and nearly out writer chose their cafe to work on her early Potter manuscript. The consequence for the rest of us is that Café Majestic, which happens to be a convenient walk from Livraria Lello, has almost the same queues. For coffee and a pastry? I think not.
How to do it differently: Café A Brasileira has all the old-world century charm you could want without the line and with the chance of actually getting a seat and a coffee. Even better, it's not on the major shopping street so there are better views and less bustle.
3. Don't go Port tasting in Taylors – visit Quinta da Macieirinha instead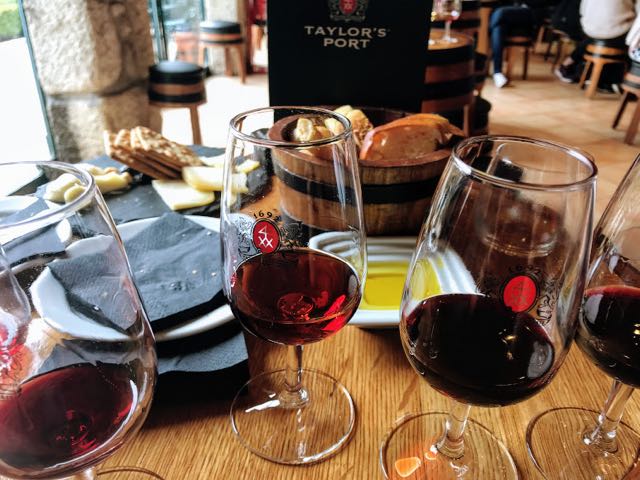 This is one of the biggest mistakes I made when I was in Porto. For some reason, I ended up in Porto with two people who didn't want to drink port. So, dragging them to a famous big brand cellar – Taylors – that we literally walked past was about as good as it was going to get. As I suspected, the tasting room was packed to the rafters, the tastings were overpriced, the small food plates lacklustre and apart from an initial 'old, dry, sweet' introduction to the flight of Ports I ordered, I didn't get any more guidance. Also, I can buy this stuff at the supermarket at home.
How to do it differently: A friend advised me to head to Quinta da Macieirinha. With a port book as thick as something that would make George R.R. Martin (Games of Thrones author) proud, you'll get a much more hands-on, personalised tasting experience. I've done this in several wine hot spots and usually find it a more useful tasting experience than turning up at one of the mass production places. This is on my list for when I return to Porto (alone or equipped with some Port tasting friends).
Tip: when you pop this place into Google, you'll be told that it's a museum house. It is, with an impressive port stock in its attached bar.
Alternatively: go port & wine tasting in the Duoro Valley
Had I actually got myself organised enough, I would have taken a wine tasting trip to the Duoro Valley and this is the Duoro Valley tour I would have taken. It includes port, local wine and olive oil tasting as well as indulging in a Portuguese lunch and (as if that's not enough) a boat trip on a Rabelo – a traditional sail boat. 
Did you know that I'm such a huge fan of wine tours that I have set up an entire blog dedicated to planning a wine tour to the Prosecco region of Italy – it's just one hour from Venice.
4. Don't queue for a Francesinha at Casa Guedes – eat something else entirely
Go to Casa Guedes! Best sandwich in the world.
When I asked travel friends and the Internet, there was a resounding response – I had to eat a Francesinha and I had to get it from Casa Guedes. Well, I failed at the first hurdle – once again, I wasn't prepared to queue at what must be Porto's most famous sandwich shop -but I did eat a Francesinha and I honestly don't think eating it a Casa Guedes would have made much of a difference.
Thick white bread housing several layers of cooked meats (including ham, steak and pork) are topped with a beer sauce and, if you want to go all-in, finished with a fried egg, Francesinha is deemed a local speciality and I can only imagine its because the idea wouldn't take off anywhere else. (The croque monsieur and Philly cheesesteak are proof enough that a local speciality sandwich will go global if it tastes good). Don't get me wrong, I'm all for a curious combo – I couldn't get enough of loco moko in Hawai but Fransecinha in Porto didn't do a single thing for me.
How to do it differently: I accept that you probably should try this sandwich for yourself but if you're travelling with someone, don't go all-in and order one each as we did. Try one between you and then be prepared to order something else. Looking up from the dismantled ruins of our sandwiches, it suddenly occurred to me that we were the only ones eating this filth (yes, filth, Internet trolls). All the other locals in our local bars had the much more enticing looking sausage in a bread roll.
5. Don't take the city sightseeing bus – explore by foot and Uber instead
I love a city sightseeing bus so it's strange for me to advise against taking it. However, Porto is an incredibly walkable city. Not only that – as with all the other popular attractions in Porto, the buses were jam-packed. What doesn't help is that the weather is highly changeable in the city and those peak conditions when you want to be on the bus (sun – on the open-top deck/rain – in the covered deck) you couldn't get on the bus even if you offered to pay a King's ransom.
How to do it differently: Don't spend your time in bus stops hoping there will be space on the next one that comes. Use your feet instead. Yes, there are plenty of hills but if you plan your city sightseeing in a downward direction, the walk is easy enough. And, if you do meet a hill or fatigue or rain (or all three in our case on more than one occasion), call an Uber. The prices were incredibly affordable and it made that 'back up the hill to the hotel' trek a complete breeze.
If your legs would prefer a bus…
If you do want to take the City Sightseeing bus, you can see the route and book (for a discount) the City Sightseeing bus here.
Really want to go to town? You can get a combo ticket that includes the hop-on-hop-off bus with a riverboat cruise AND port wine tasting. I have an alternative suggestion for both the port tasting and the river below but if it's included in the price, who am I to argue?
Want a more fun way to get around Porto? If you've never tried a Segway, I'd highly recommend it. It was the most fun I had when I did it in Washington DC. Not only is it a good way to zip around, you get a guide to point out the major sites along the way. You can book a 3-hour Segway tour of Porto here for around €65 each.
But if you don't trust yourself on a Segway, there is another option – taking a little train ride around the city. Again, it will take you past the major hot spots, with a guide to give you the low-down. You can upgrade to add in a port tasting (there's a theme here), a riverboat cruise and a buffet lunch if you prefer. You can check out your options and book your riverboat cruise here.
6. Don't eat near Ribeira – eat local instead
We all know better than to eat in the tourist hub, don't we? But then you have the problem of where do you eat instead. Thanks to bad planning combined with extreme levels of hangry (hungry + angry = hangry), we ate near Ribeira more twice. The first time I mention below. The second time resulted in something that looked like it had come out of a microwave. In the 1980s.
How to do it differently: Ask your hotel or accommodation for local recommendations. The lady behind the desk in our hotel pointed us to Assador Típico. The waiters spoke barely any English resulting in us ordering enough food for a football team and not receiving anything close to what we thought we'd ordered, but it was so darn good and even better because there wasn't another tourist in sight.
7. Do check out the São Bento station tiles but check out the streets as well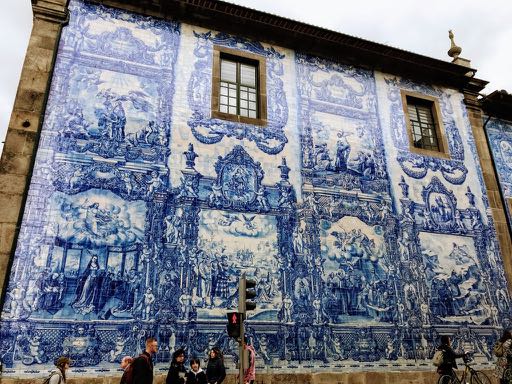 I can't tell you not to visit the São Bento train station to see the magnificent azulejos (hand-painted tiles). It's on every list of things to do in Porto you'll read and every Porto guide you find. And it's earned its place there because of its outstanding beauty. The good news is that you won't need to queue for this particularly famous Porto sight.
How to do it differently: But São Bento train station isn't the beginning and end of the famous tiles in Porto. Look up, look behind and look around. The tiles are everywhere and while they may not be as polished and preserved, there's something more magical about spotting some azulejos amidst everyday Porto life. The tiles above – just your average street scene in Porto.
8. Don't take a boat cruise on the Douro – spend a day at a river view wine spa instead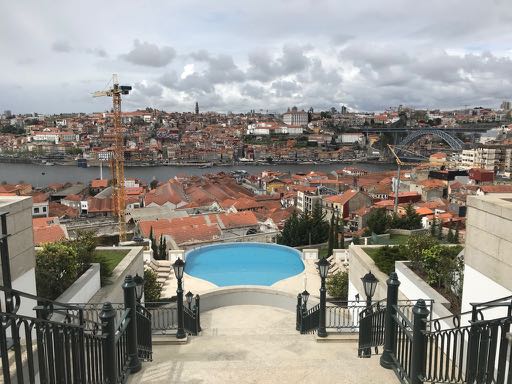 I'm convinced there's a Porto sightseeing circuit because I seemed to meet the same crowds from one attraction to the next. And the boats on the Douro were no different. Don't get me wrong, I really enjoy a boat trip. Just not when I'm crammed on it with upwards of 50 other people.
How to do it differently
Like any city with a river at its epicentre, the water is a draw. But in Porto, there is a better alternative. Instead of spending your money on a boat cruise, why not spend it languishing at a spa? With some of the best views over the city, The Vinothérapie Spa by Caudalíe at the 5-star Yeatman hotel offers an infinity pool with views over the Douro. Book a treatment and the spa facilities are included. Otherwise, it costs €35 for a day pass to use the pools, steam room, sauna and Roman bath. This may have been my best birthday treat to me.
(Humiliating) tip: if you take a mid-spa break for some lunch at the hotel's bar/informal restaurant, don't be disappointed at the three things on the menu. The particular style of menu provided would be fit for Harry Potter – there is a(n almost) secret section that the staff regularly have to point out that includes two further pages of food choices.
But what if you really want to go on the river?
I get it. It's like telling someone not to take a gondola ride in Venice (btw, don't take a Gondola ride in Venice). If you really do want to take a boat cruise, check out this 50-minute 6 bridge cruise from €15 per person.
9. Don't buy nata from a display – eat them hot out of the oven instead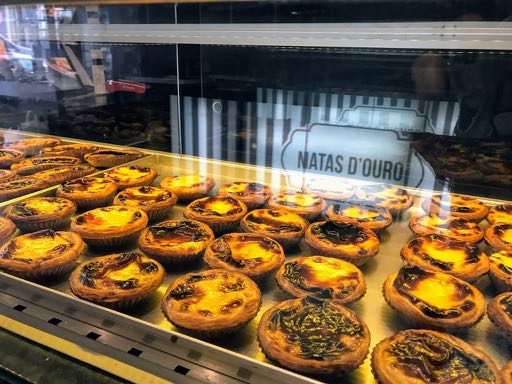 You're in Porto, so you have to eat at least one nata, right? (Well, you'll probably eat more than one but no judgement here). If you do, be choosy about where you eat it. Cold from behind a counter where it's been sat hours is one option. Fresh out of the oven is better.
How to do it differently: Head to Natas D'Ouro. Watch the nata made fresh and then eat one when it's hot from the oven. As well as plain nata you can try one with a chocolate or port centre.
10. If you do eat near Ribeira, at least make sure you get to see fado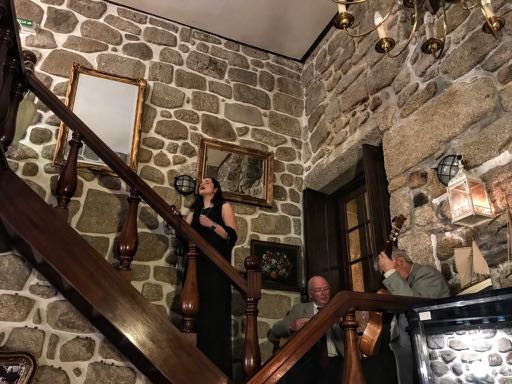 I'm in two minds whether to recommend this place and I decided to go with 'do visit, but…'. Remember I said I'd eaten around Ribeira twice? This was the first occasion and despite our lack of planning we got almost lucky at Terreirinho Restaurant.
Snagging the last table in this tiny restaurant, I was immediately delighted by the rustic, cosy setting and local-looking menu. And that delight doubled when a complimentary glass of local sparkling wine was presented (I'm sorry my beloved Prosecco, I had to cheat on you).
Things went a bit downhill after that. We decided on a tapas-style dinner and the patatas bravas (french fries served with a bravas ketchup) were the start of what turned out to be a pretty disappointing meal. However, this was Ribeira and we were one turn away from the river, what did we expect?
The good news (and recommendation) came in the form of the Fado. The best way I can describe Fado is melancholy Portuguese music performed to acoustic guitar. I've probably just committed several cultural sins with that description so apologies to any Portuguese readers. Admittedly, on our first evening we were three ladies expecting to catch up over dinner and we were shushed for daring to whisper during the performance. So, go with listening not chatting intent and don't expect the best food in Porto but the Fado will certainly give you something to remember.
If you're looking for good places to eat in Porto, I have other recommendations below.
Want to book a fado?
If you prefer to just book a fado session, you can do that here for around €15 per person. It's only an hour-long, you don't need to risk not getting a table/suffer average food (it's just the music, no dinner) and you get a glass of port thrown in.
Porto Travel Guide
Where to stay in Porto
Hotels in Porto
I stayed at Eurostars Das Artes Hotel which I mainly booked because I found a good last minute deal and they could accommodate us in a triple room. As it turned out, the hotel was ideal with a good location and good breakfast (two of my favourite hotel requirements) so I'd definitely recommend it.
If you're looking for something more upmarket, try either the Exe Almada Porto or the Porto River Aparthotel. Exe Almada Porto is ideally located in the União de Freguesias do Centro district and is within walking distance to many of the main historic landmarks, whilst the Porto River Aparthotel offers beautifully decorated apartments closer to the Douro River and Porto's many Port wine cellars.
And if you want the best of the best, then get yourself checked into The Yeatman. As well as having the wine spa I mention above, the views are hands-down the best in Porto.
Hostels in Porto
Bluestock Hostel is located inside an 8-story traditional building in Ribeira, the historic centre of Porto, and retains the majority of its original architecture and structure. Downstairs there is a bar and restaurant area where you can meet other travellers, and to top it all off, Bluestock even offers a free walking tour of the city .
Another great option is 'the world's first branded hostel'; The House of Sandeman Hostel & Suites. This hostel is located right on top of the Sandeman wine cellars on the edge of the River Douro. Not only does the House of Sandeman have amazing views across the river to downtown Porto and it's many colourful facades, as well as easy access to the port wine cellars, but the beds in this stylish little hostel are also shaped like wine barrels! Cool, right?
Alternative accommodation in Porto: Stay local
If you want to truly experience the real Porto, why not stay in one of the many chic and hipster pads you'll find all across the city? Try Booking.com for rental apartments in Porto.
Where to eat in Porto
As I've already mentioned, I didn't do so well on the food-front on this trip (head hung in shame). The two restaurants I would recommend are:
La Ricotta – yes, it's Italian food in Portugal but when a smell wafts out of a kitchen and beckons me in, I'm hard pushed to refuse. And I've glad I didn't. From the setting to the service to the price and the food itself, I'd eat here again, which is saying something when there is so many Porto food places to explore.
Assador Típico – already mentioned above, if you want to dine somewhere hyper-local and don't mind running the risk that comes with not understanding the Portuguese menu, you can't beat this place for atmosphere, good food (mostly meat and fish) and a very local experience.
The following three recommendations are from a travel friend of mine who recently visited Porto too:
Cafe Santiago – if you really feel the need to try Francesinha during your trip to Porto, Cafe Santiago is another place to go. Just don't go at peak time because you'll probably have to queue.
Vinhas D' Alho – combine delicious food with traditional Fado at this lovely little spot overlooking the river and Dom Luís I Bridge. It's central, reasonably priced, and just far enough off of the main riverfront walk to not be considered a 'tourist trap'.
Zenith – just because you're on holiday doesn't mean you can't brunch. And if you're looking for a great brunch spot in Porto look no further than the city's hotspot Zenith. A hip cafe in the centre of Porto, Zenith has a broad menu of brunch dishes including smoothie bowls, eggs Zenith, great coffee and a selection of delicious cocktails if you're after that kind of brunch (and why not, you're on holiday).
Getting to and from the airport in Porto
The metro is the easiest way to get from the airport into Porto city centre. Take Line E (Purple) which runs every 20 or 30 minutes. A one-way ticket will cost you just €2.45.
Alternatively, you could grab a taxi from outside the airport or call an Uber. A one-way journey to the city centre will set you back around €20.
Getting around Porto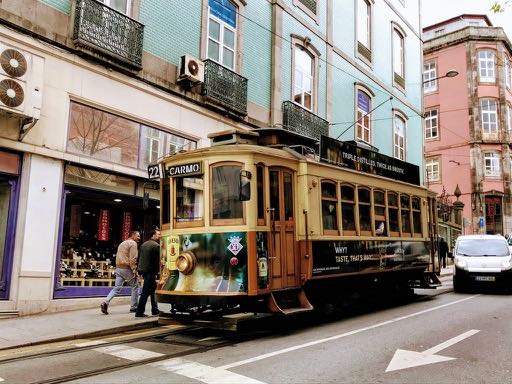 Porto is fairly walkable in a downward trajectory. Otherwise, public transport is the easiest and most inexpensive way to get around Porto. The transport network is made up of the metro, trams, local trains and buses, and between these four methods, you can get just about anywhere in the city.
An Andante Tour Card will cost you €7 and gets you unlimited travel on the metro, buses and trains for 24 hours, whilst the trams will cost €3 per journey, or 2 days unlimited travel for €10.
If you plan on getting around Porto by public transport and exploring the museums and other sites, check out the Porto Card from €13 per person. It's a combination of the Andante card as well as free/discounted access to Porto's sights. As you might expect, there's a free Port tasting included.  
Taking a tour in Porto
If you don't want to take a tour in Porto but want to do something a bit different, check out these Porto tour options.
Eat your way around the city with a Porto food and wine tasting tour, visiting 5 different locations to sample traditional dishes and drinks with a local guide. For me, food tours are one of the best ways to explore a new city.
Take a half day tour of the secret sights of Porto. In this secret sights tour you'll be taken to secret spots that only the locals know about, such as markets, street fairs, local stores and authentic restaurants.
Explore the main historic sights of Porto, but by Segway. A Porto segway tour will take you on a fun and fast-paced 3 hour tour of the central districts and iconic landmarks of Porto. Helps with the hills too.
So, that's my list of 10 Porto things not to do and what to do instead. Hope this helps if you're planning a trip to Porto. Got any other suggestions for Porto or trip planning questions? Let me know in the comments below.
Map of the locations featured in this guide to Porto
Like this? Share it on Pinterest….