The Copper Canyon trip had been on my 'bucket list' for years but, to be honest, fear of straying into Narco territory put me off. Then, one fortuitous day, I bumped into a girl from the Netherlands. She was tiny (smaller then my 5ft self), blonde (so, much more noticeable) and she'd just had the time of her life travelling solo through one of the world's most superlative canyons. It was decided. I was definitely going.
After a lot of internet research, I found that it wasn't so easy to find an affordable tour – the average price came in around $1,000. For a four night stay in a country that is otherwise perfectly affordable, that seemed too much. As an experienced solo traveller, and having met another woman who'd taken the trip, it wasn't much of a leap to make the decision to go it alone.
Apart from the Copper Canyon rocketing into the top 5 best things I've ever done (and there's a lot of competition), my DIY trip saved me about $700 – the whole thing cost me between $300 and $350 including my first class train ticket, a stay in a hotel on the edge of the canyon, food, drink, tours and a few souvenirs.
I've previously written about how to plan your own Copper Canyon tour in this article, which covers everything from
travelling on the Copper Canyon train (which of the two trains to take, route details),
best time to visit Copper Canyon,
which direction of travel and,
you know, those kind of questions you don't really want to ask out loud like: are the toilets useable and clean.
In this article I'll cover the more inspiring side: where to see, where to stay and what to do while while you're visiting the Copper Canyon.
It's absolutely possible to visit this staggering part of Mexico without a tour and on a budget. Between this article and the related one on trip-planning (link above), I'll show you how.
Where is the Copper Canyon?
Before I move on to the specifics, I'll give you some basic information on the Copper Canyon. For starters, what is it and where exactly is it.
It's not one canyon, but a series of six massive canyons. It is located in the Sierra Madre Mountains in the north-central Mexican state of Chihuahua. The walls of the canyon are a copper green colour, hence the name.
Choosing a starting point
There are two options for getting to the canyon. From outside the region, the best places to arrive are either Los Mochis or Chihuahua. I've already covered in my article on how to plan your own Copper Canyon tour the practicalities of choosing a direction of travel. I chose to travel the route end to end from Chihuahua to Los Mochis.
I was in Puerto Escondido before my trip, having travelled from the east coat of Mexico (Cancun) on part of a much longer trip that ultimately took me coast to coast on to the Baja Peninsula. As Chihuahua is well connected, I took a short, cheap flight from Puerto Escondido directly to Chihuahua. I found the flight (as I do most of my flights) using Skyscanner.
A word of warning on taxi prices – one complaint I have the whole world over is the dishonesty of taxi drivers when it comes to tourists. If you travel often enough, you become familiar with the: pause (consider how wealthy they think you are), give you another look up and down, pause (decide how gullible you look), pause (calculate how much they think they can get away with).
This practice is prevalent in the Copper Canyon region and although I took only 2 taxis, both were vastly inflated compared to the rates I'd been paying elsewhere in Mexico – what should have been a $20 peso ride cost me $80 pesos in one case and in the other case, after agreeing an inflated price of $40 pesos, the driver demanded $50 pesos on arrival, claiming I'd misunderstood his Spanish. The only thing I misunderstood was his integrity.
Things To Do In Chihuahua
I wasn't sure what to expect from Chihuahua – mainly because the city is located in one of the cartel states and a touch of fear was at the front of my mind as I boarded my flight. But, on landing, that fear was pushed way back as I looked over the landscape that was so different from anything I'd seen before in Mexico. The mountains, the moodiness of the dusk falling, even the air felt different. Chihuahua promised the start of an adventure and I was ready…
I had 2 nights in Chihuahua but as I landed early evening and departed for the train early on day 3, I only had one full day to explore. However, I was happy enough with that. Here's what I saw.
Plaza Mayor and Angel de la Libertad
This was the first sight I stumbled across and standing, facing the column, with its mountainous backdrop and expansive square, I was taken by the harsh reality of the lack of tourism in Chihuahua. Had this square existed in Venice, Paris or Rome, you wouldn't be able to move for selfie-stick wielding foreigners. As it was, I had this square entirely to myself. Wonderful and wonderfully sad in the same snapshot. All I can say is that Chihuahua is worth of tourists – even if you don't make it to the Copper Canyon, give this wonderful city a visit.
Plaza de Armas and Chihuahua Cathedral
Chihuahua cathedral is definitely photogenic. But it's location in Plaza de Armas is a sight in itself. Have a wander or grab a seat if you can find one spare and watch the world go by. Apart from the shoe-shine boys, which are ubiquitous in Latin America, it was here that I came to realise that cowboy hats and boots are not a stereotype or gimmick. They're the real deal and never have I seen the Mexican people looking so damn fine and cool. Had it not been blisteringly hot, I'd have bought a pair of boots to take home.
Museo Casa de Villa
If you're after a bit of history (I'm always after a bit of history), this small museum, located in the house of a former general of the revolution is a good way to spend an hour (and escape some heat).
Fuentes Danzarinas de Chihuahua
I only found out what these fountains were after I passed by, which makes me sad because I discovered that they are 'dancing fountains' that put on a light and music show at night. Clearly, I saw them by day. Still, pretty enough.
Monument to the Mother Rarámuri
I was delighted to stumble across this monument dedicated to the mother of the Rarámuri, the indigenous people that populate much of the Copper Canyon area, and who I'd read so much about.
The plaque under the monument says "The monument to the Rarámuri mother vindicates the value of indigenous peoples and awakens in all Chihuahuans the appreciation, respect and solidarity that we owe her."
If you're on a longer Mexico trip, you might be interested in my post about taking the Baja Ferry between Topolobampo (for Copper Canyon) and La Paz. (Baja California)
Where to eat in Chihuahua
I wandered around the back of the cathedral and ate at one of the myriad street food stalls. And it was here that I discovered the true definition of a burrito, a local favourite in Chihuahua. Pay close attention. It's a very simple dish and there isn't any rice, cheese or beans in sight.
Start with fried beef and onion in a (larger than usual) flour taco. Add fresh onion, tomato, coriander (cilantro) and chilli sauce. Roll. Eat. Simple. Delicious.
Were it not for the fact that I had an early night ready for my train in the morning, my intrigue would have wandered me into this bar. Would I meet other tourists? And what was different about the ladies' bar versus the bar-bar? Go have a drink for me and let me know.
Where to sleep in Chihuahua
I stayed in the Ibis Hotel, which was a short walk from the centre. The room was clean and, as you can expect from an international brand, identical inside to any other Ibis around the world. The major plus was the price at only USD$30 a night. The main downside was that I didn't fancy the stroll on my own into the centre at night so I ate in one of the mall places nearby, which was predictably average.
Had I been on a bigger budget, I'd have stretched to the Quality Inn. Not because Quality Inn is the best brand in town but being situated right behind the cathedral, it wins hands down for location, location, location.
There's one hostel in Chihuahua (Paqui Hostal), which has opened since I visited. Although I haven't stayed there, it gets great reviews, though it looks to be 30-40 minute walk/10 minutes by taxi from the centre.
To read reviews and check up to date prices:
Ibis Chihuahua: TripAdvisor
Quality Inn: TripAdvisor
Paqui Hostel: TripAdvisor
Train from Chihuahua to Creel
The next day I was up nice (?!) and early (about 5 a.m.) in order to catch the train at 6 a.m. I'm not a morning person but sill, the sunrise made up for it.
The train from Chihuahua to Creel takes 5 hours and 20 minutes, getting you into Creel at 11:20 a.m – just in time for lunch. Still, I took snacks because…well, snacks. In the meantime, I filled up on coffee in the cafe car – coffee with this view? I wasn't complaining.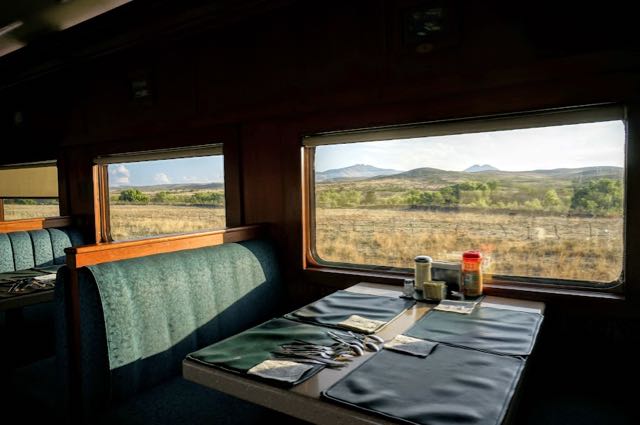 The scenery for that first day of travel was mostly green and abundant compared to the arid canyon lands I'd expected, but it's a great build up and another reason I was pleased I'd taken this direction of travel. Seeing this after travelling through the canyon would have been snoresville.
Slowly but surely, the landscape started to give way to scrub land just before we pulled into Creel.
Things To Do In Creel
I probably could have made more of my first afternoon in Creel but as it was, I strolled through the small, bright town, marvelling at the multi-coloured buildings (which turned out to be one of my favourite places in Mexico); I had lunch and then I spent the rest of my time frenetically trying to find a tour company who would accept just one person (not as easy as I'd have hope).
Eventually I spoke to a man hanging around my hotel who told me he knew someone who'd pick me up the next morning. I was a bit dubious and with only one full day to explore, the potential for missing out was high, but, good to his word, the tour company turned up as planned the next morning.
---
A word on tours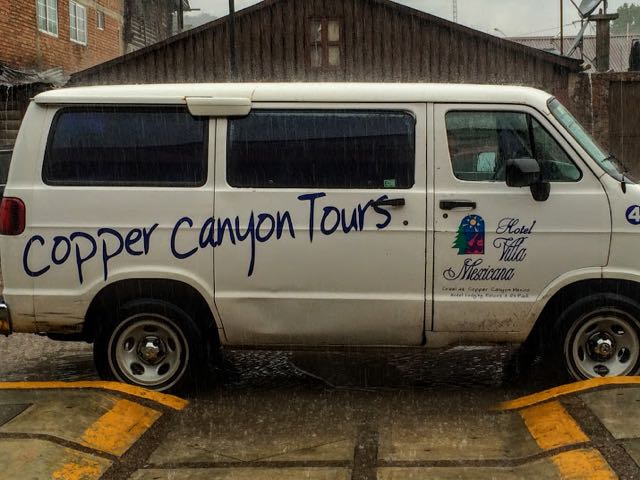 There are several large companies online offering pre-bookable Copper Canyon tours, all priced in US Dollars. 3 Amigos is one of them. My advice, especially if you are a group of 2 or more, is to turn up and book in Creel. These dollar chasing companies still exist within Creel itself but you'll get a much better price if you go to one of the smaller, peso accepting companies. Ultimately, they all seem to go to the same hotspots. I know this because all the vans were parked in the same spot.
What follows is what I saw on my tour.
Rock formations
Just a few kilometres out of Creel, we stopped at a series of rocks where people (perhaps after smoking a bit of local herb) had decided have the rocks have sufficient tangible shapes (mushrooms, frogs etc) to make them a stopping point.
I was a touch underwhelmed by the rocks and it was the brightness of the Rarámuri souvenir dolls that were the highlight of this stop.
San Ignacio Mission
Close to the rocks is San Ignacio, an 18th century Jesuit mission.
Lake Arareko
I would have liked a dip in Lake Arareko but either there wasn't time or it wasn't allowed or both and so after a few snaps of the inviting water, bordered by pine forests, we were bundled back onto the bus for the next stop.
Cascada Cusarare
There was a decent hike to the waterfalls, proving as a reminder of how many tacos and tequilas I'd consumed since I'd left the east coast of Mexico a couple of months ago. Oh, and the altitude. Still, my mind quickly forgot my puffing and panting as I was joined by two local 8 year olds. I asked their permission to take their photograph. Their favourite game was racing ahead, hiding in the rocks and jumping out to scare the holy crap out of me. Worked every Goddam time, much to their delight.
They didn't want anything – there was no begging for money. I was one of only two non-Mexicans on the hike and the only woman so I suppose they were just fascinated to meet another female from another place. So, we chatted about my country, about their country and then parted ways with a wave and smile.
Cave home
On the way back to Creel, we stopped at a local cave home. I always feel a bit intrusive in these situations: 'here, come in and take a picture of my rustic home so that you can go back to your plush home and feel so much better about your life.' I lingered at the door, took a quick snap (above), then waited outside, looking at the view while people traipsed through this man's home.
Thoughts on Creel and my tour
The above tour could have been done in half a day had we left on time (instead of waiting for a large group on the tour to start and finish their breakfast and then do a week's grocery shopping when we stopped to get water). In hindsight, I wish I'd had a few more days to explore in and around Creel. The town had a great vibe, there were lots of tour opportunities (though not so much for solo travellers) and I'd have taken a trip to Batopilas to explore the bottom of the Canyon. However, with an eye on my larger trip plans of crossing Mexico from coast to coast in a matter of months, I felt like I didn't have time to linger.
Booking a tour in advance
If you would like to book a tour in advance, you can find a selection of itineraries and prices on Viator.
You can find a list of the top activities in Creel on TripAdvisor, which also includes links to bookable tours and reviews of those tours.
Where to eat in Creel
I had these divine tacos at Restaurant Lupita (on the main street). Eat there. You won't regret it.
The rest of the time I ate the 'free' food (half-board was obligatory) at my hotel. It was terrible. Don't eat there. You will regret it.
Where to stay in Creel
I stayed at Margaritas Plaza, which ticked all the necessary boxes – good, clean room for the price, well located and nice staff. I was a bit miffed at being forced to buy the half-board option, especially when the food was akin to gruel and some of the worst I'd tasted in Mexico. Still, I'd recommend this place if you're on a budget. Do be aware that there is a secondary, cheaper place run by the same people, Casa Margarita. It's a bit further out but also a good option. The hotels do try to sell you an upgrade from the cheaper to more expensive hotel. Stand firm if you don't want it.
The Lodge At Creel (Best Western) is your best bet if you're not on a budget. Very twee with an excellent location and all the amenities you'd expect from a big brand hotel.
There are no hostels in Creel.
To read reviews and check up to date prices:
Margarita's Plaza Mexicana: TripAdvisor
Casa Margaritas: TripAdvisor
The Lodge at Creel: TripAdvisor
A word on Batopilas: for time reason, I didn't make it to Batopilas but I wish I had. There were plenty of excursions into Batopilas from Creel, which seemed the most obvious jumping off point for a stay at the bottom of the canyon. You have a choice of transport-only or a local tour for a night or two that includes your accommodation and meals. Obviously, the former will be cheaper but if you're concerned about navigating this area alone (there is some marujana in-fighting that happens from time to time), a tour might have you less on edge. You can book a trip to Batopilas when you're in Creel.
Train from Creel to Divisadero
The journey from Creel to Divisadero was my shortest on the train, departing at 11:20 a.m. and arriving at 13:04. However, I was still excited about the journey because the train was edging into the canyon proper and I'd also booked myself a canyon view room in Divisadero.
Things To Do In Divisadero
There are two main organised activities in Divisadero: Teleferico Barrancas (cable car) and a zip line over the canyon.
I didn't do either. Why? With a canyon-view room (picture above), I didn't much fancy spending my time at the canyon surrounded by tourists. Especially not the shrieking and selfie-taking kind (which is what cable cars and zip-lines usually attract). I wanted to sit and stare and awe, in silence (thank you very much) at the behemoth that is 4 times the size of the Grand Canyon and, tea in hand, sat on my balcony, that's exactly what I did. I also managed to squeeze in a yoga session using an app on my phone – because, with those views, who wouldn't want to tap into their inner spirituality.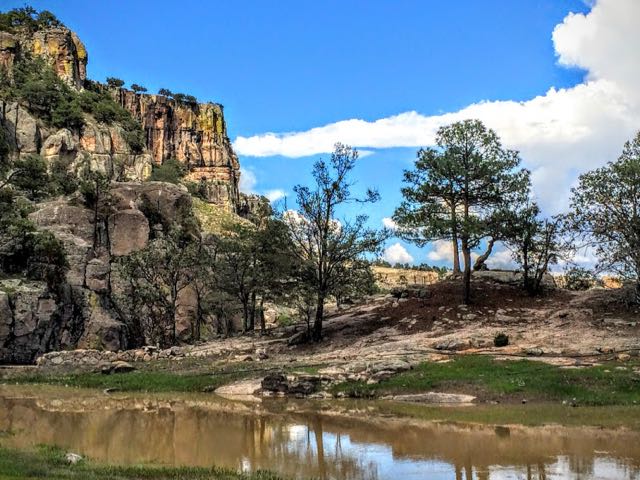 I only spent one night in Divisadero but in the morning before I was due to depart, I took the hotel organised excursion, which guided a small group of hotel guests on a gentle walk into the canyon and to a look out. For me, the sitting and staring and the stroll were enough.
Where to eat in Divisadero
The only evening eating option within the vicinity of the hotel was the hotel itself and, while better than the hotel food in Creel, it still wasn't much to rave about.
The daytime food options, on the other hand, were much more exciting – with plenty of food stalls plying the train station crowd (located just across the road from the hotel), there were more goditas on offer than my stomach could stretch too (though I did try my level best). I particularly liked the gorditas at Antojitos Lucy. As for which gorditas? Try them all!
Where to stay in Divisadero
I stayed at Hotel Divisadero Barrancas, which was the highlight of my stay. At only US$70 a night, it was an excellent price for views that would cost more than twice that anywhere else.
In fact, the same views do cost more than twice that at nearby Posada Barrancas Mirador. I was tempted to book 'the best' hotel in Divisadero but, as nice as this alternative hotel looked, I couldn't justify the extra spend…but if money is no object, give it a try and let me know what you think.
There are no hostels in Divisadero.
To read reviews and check up to date prices:
Hotel Divisadero Barrancas: Booking
Posada Barrancas Mirador: TripAdvisor
I'd give you more options but at Divisadero there aren't any :/
What's the food like on the train?
You might have figured out by now that food is a big part of my travels and, in that spirit, I tried the food on the train. Before you yell at me, yes, I ordered a burger but judging by the look of the Mexican food, I wasn't going to throw away twice the price of an average burger to have very sub-par tacos. The food was edible but I would certainly try to eat elsewhere/take food onboard with you. All that said, the food car was a pleasant (and much warmer place to sit), the staff were super friendly and the beer – well, no complaints there.
Train from Divisadero to Los Mochis
After two days of staring at the canyon, I accepted it was time to move on. It wasn't too difficult a decision given that the best of the train journey lay ahead, where the train loops through the deepest parts of the canyon.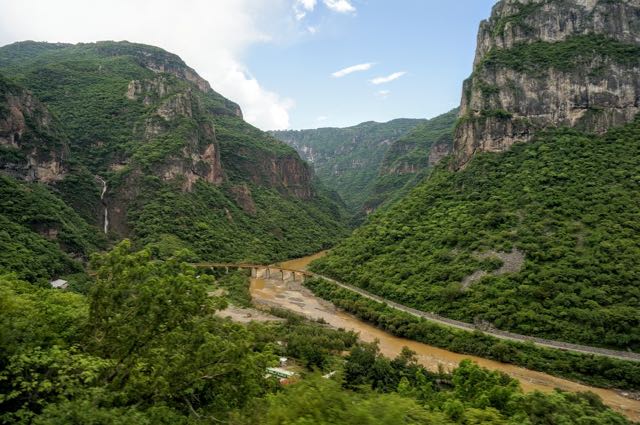 My next stretch was my longest on the train, departing at 13:04 p.m. and arriving 20:22 p.m. so over 7 hours onboard (hence the burger eating above).
When you're onboard, the train does a loop through the canyon and stops for 15-20 minutes so you can take pictures and just soak up the views. It really does have to be seen first hand.
Last stop – Los Mochis or El Fuerte?
If you check out my previous post about planning your trip to the Copper Canyon, you'll see that El Fuerte rather than Los Mochis might be the better 'end' point for you. Most tourists disembarked here, giving them a much nicer end time of 18:23 p.m. I also understand that El Fuerte is a much prettier town. However, as I was planning to take the ferry from Los Mochis over to La Paz on the Baja Peninsula, to continue my coast to coast trip, Los Mochis made more sense to me.
Things To Do In Los Mochis
Main reason I found myself in Los Mochis was to catch the ferry to La Paz and I gather there is not much else to do there. I had a short stroll, checked out a local church, ate some food and readied myself for my next adventure on the Baja Peninsula.
If you do end up in Los Mochis, I wouldn't build more than a night into your Copper Canyon itinerary. However, if you do linger, here's a list of the top 10 'attractions' according to Trip Advisor.
If you are considering a Baja California Road trip, here are my related guides:
Where to eat in Los Mochis
Just around the corner from Hotel Fenix, I found a chicken place where I had incredibly good chicken (firey hot, at my request) with incredibly warm staff. If the place had a name, I don't remember it but I do recall it was one of the few places I didn't get stared at just for being a non-local, which was nice.
I also ate at Hotel Fenix on the night of my ferry to La Paz. Although it looks a bit like something the dog might bring back up, it was actually one of the better hotel meals I had on my trip through the Copper Canyon. It was also proof that looks aren't everything.
Where to stay in Los Mochis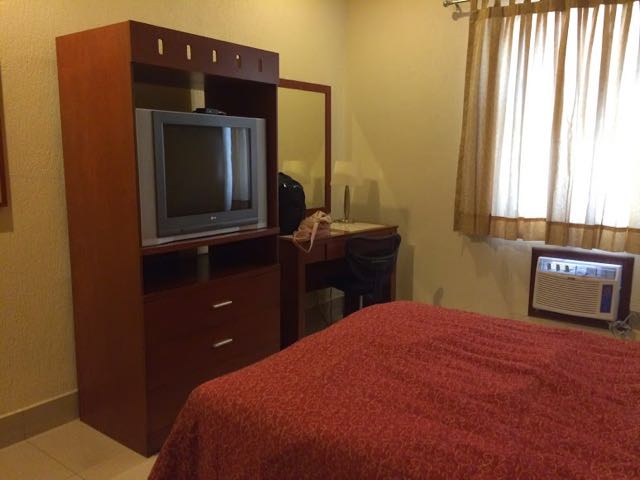 I stayed at Hotel Fenix. It was a budget hotel (around $30) that was clean enough and did for the night. It was well located, had a 7 Eleven across the street, restaurants around the corner as well a a restaurant within the hotel and, importantly, I felt safe there. The staff seemed a bit exasperated and unfriendly but, hey, I didn't check in with the aim of making pen-pals.
There are a few big chains in the city as well, notably Best Western and Ibis, which I'm sure will be an upgrade if you want one.
To read reviews and check up to date prices:
Hotel Fenix: TripAdvisor
Best Western Plus: TripAdvisor
Ibis Los Mochis: TripAdvisor
There are no hostels in Los Mochis.
Copper Canyon Safety
I had zero trouble on my tour to the Copper Canyon and, apart from freaking myself out when I was in Los Mochis (a fear that existed only in my head, not in reality) I didn't have any safety concerns during my tour through the Copper Canyon. I have some articles on safety in Mexico – see below.
Related Articles:
Have you visited the Copper Canyon in Mexico? Have you devised your own affordable Copper Canyon Itinerary or have you used this one? Let me know about your own Copper Canyon travel experiences, together with any tips in the comments below.
Like this Copper Canyon itinerary? Share it on Pinterest….