I recently had ACL surgery, which most people who follow this blog will already know. For my regular readers, apologies for the break away from my usual travel topic. If you have zero interest in reading about my ACL repair surgery, how about a few travel articles you might not have read yet:
10 Travel Experiences Everyone Should Have in Their Lifetime
How to Plan Your Own Prosecco Tour in Italy
If you're still here. you're either intrigued or facing ACL surgery yourself.
NEW: Nearly 3 years after ACL surgery, and still under the care of a physio, I've written a list of the 15 things I'd have done differently during my recovery. Click here to open the post in a new window if you want to read if after you've finished this post.
Like most people about to go under the knife, I did a bit of research before my operation and I found all the usual stuff – anatomical diagrams of the inside of a knee, a description of what the actual surgery involves (lights, camera, scalpel).
It was a bit of a learning curve since I hadn't even heard of an anterior cruciate ligament until mine went pop. And I found lots of medical stuff. Great.
What I didn't find was a description of what it's really like to have ACL repair surgery – and it turns out there were more than a few things that I didn't know about the operation. So, in this article I'm going to share with you what the surgery was like for me together with how I've been recovering in the days, weeks and month post-op.
A couple of notes:
I had my surgery in the UK on the (public, not private) National Health System. I can't imagine that the experience would differ that widely around the world but who knows…
At the time of writing this first part I was 3 to 4 weeks post-op but I've been updating the recovery section as time goes by.
Advance apologies if you're squeamish – I've included a couple of pictures of my incision so you can see what it looks like. I'll give you another warning just before you reach them!
ACL Surgery – 15 Things They Don't Tell You
1. They shove a tube down your throat while you're unconscious
I'm a grown up. I understand that there are things that need to happen while you're being operated on. I just wish I'd been told in person (rather than finding out from Google) that they shoved a tube down my throat while I was out for the count. That way, I wouldn't have been worried about why my throat was so damn dry and sore when I woke up. I also could have pre-planned and got some honey and lemon and throat sweets in for my post-op recovery.
2. They also insert a catheter and suppository
TMI warning
In fairness, they asked me if I wanted a suppository and my initial reaction was 'urggghhhh. NO!' until they told me it delivered 16 hours of pain relief. The idea of them inserting it while I was unconscious made me feel a little bit violated but I opted for that over having it inserted while I was awake, which would make me feel violated but with the added 'bonus' of a visceral memory of the event.
What they didn't tell me (and I once again learned from Google) was that they also catheterised me. How did I surmise this? Well, I felt somewhat irritated in that area – something that lasted for around a week and made me wonder what they hell they'd done to me. Seriously, if you're going to mess around in my 'downstairs closet' while I'm asleep, i) tell me about it; and ii) be gentle!
3. You'll be weak…from hunger
I'm that person who needs to eat 10 small meals a day. Ok, that's an exaggeration, but being nil by mouth from 8pm the night before until 3pm the following day can make you weak. Sure, I was fed tea and toast (which was a struggle to get down because of my dry mouth and throat), it's simply not enough to sustain me.
The result – I felt very weak and sick when I tried to move from horizontal to upright on my crutches. The nurses were convinced I was having a reaction to the surgery. I was convinced it was something more simple – I was weak from hunger. A sandwich later and I was up no problem.
4. The end to end admission may take longer than you think
I was first to surgery (around 10 a.m.) and with an op time of about 1.5 to 2 hours, I had ideas that I'd be home by mid-day. As it turns out, I got home around 8pm. That was partly because I had to sit with my leg in a knee bending machine for a few hours post-op but also because I was too weak to walk (see above).
5. The pain medication will probably make you feel sick
I was given co-codamol (codeine and paracetemol) as my main pain relief medication and boy did it make me feel sick. Ever drank too much coffee and felt jittery/like you want to vomit? That's what the codeine did to me. It also made me want to nap within 15 minutes of taking it. As a consequence, by day two, I was already phasing it out and replacing it with just paracetemol and ibuprofen instead. The downside – I was in more pain that I probably needed to be in those first few days but at least I was alert and not feeling sick.
6. It hurts (more than you think)
Of course I knew the operation wasn't going to be a walk in the park (nor afterwards!) but the intensity of the pain in those first 3-4 days surprised me. Not feeling able to take the co-codamol didn't help. The good news is that although the pain is bad those first few days, it does ease and I was on off-the shelf painkillers within a few days.
7. The pain medication will probably give you constipation
Another TMI warning
We all know what constipation is. Fortunately, my physio had pre-warned me and I just chilled out about it, waiting for my body to right itself. Which it did and within the week things were back to normal.
8. The surgical dressings will hurt as much as the incision
It didn't occur to me that this would happen. I possibly didn't help myself – I'm the kind of person who needs some sort of shower every day to feel like I'm not a slob. This meant I was changing my dressing daily – I had staples rather than stitches and was told not to get them wet (nurse: 'you don't want sticky staples'). I also kept my dressing on as long as the staples were in because my body magically started to push the staples out around week one and I didn't want to snag anything.
Upshot: this constant pulling off and putting on of adhesive dressing took its toll. In fact, I've had the dressing off for nearly a week and the skin where the dressing stuck is still tender. I have been using Elizabeth Arden's 8-hour cream. It's not your average moisturiser – it has a bit of a medical scent to it and it has amazing repairing properties which have really soothed my skin.
9. The small incision – not as small as they say
Just a couple of camera holes and a small incision. Yeah right. My incision is a couple of inches long – which looks a lot on a 5ft tall person. Pre-surgery, I'd just seen the scars from other people, which were a lot smaller because, well, healing and all that. I know my incision scar will shrink too but that first time I saw the cut, I was a bit shocked. Photos of the incision further below.
10. Bathing is an epic challenge
At the time when you need stability in the shower the most, ACL repair surgery takes one leg out of action. Had it been decent, I'd have videoed the various poses I found myself in while I simultaneously tried to wash my body and hair while keeping my dressing dry. I have to say, my yoga came in very helpful.
By about day 10 I simply gave up and just showered faster.
After three and a bit weeks, I've finally had a soak in a bubble bath – I was advised to wait a little in case the fragranced products irritated my skin after having the staples out. To be on the safe side, I went with a baby bath foam which I knew was going to be gentle on my incision.
The rest of the time, I've just been using my L'Occitaine Lemon Verbena shower gel as usual and this week I'm going to buy some Bio-Oil to help reduce scarring. Some articles say don't bother but I say nothing ventured, nothing gained.
11. Having your staples out is brutal
I've had stitches removed before and apart from feeling a bit queasy (I was 10 years old – I was allowed to feel queasy), it didn't hurt. For some reason, I thought having my staples removed would be the same. Not so.
It hurt like hell!
First of all, they use a sharp, metal staple extractor – in fact, I was supplied this in the hospital and for a good few seconds I thought I was looking at a DIY jobbie until the nurse read the horror on my face and reassured me it was just to take to the clinic; I didn't have to pull them out myself at home.
The problem with this tool is that to get the staples out, it needs to fit under the staples – which is right where your skin is most tender at the point of incision. Some of my staples had lifted themselves up a good few millimetres by the time of removal which I was so grateful for. I can't imagine the pain if they were still flush with my incision. Take pain pills before you go and take comfort in the fact that there are people who have more staples inserted that you would after ACL repair surgery. Plus, the relief of having them out is worth the pain.
12. Initial progress will be quicker than you think
I couldn't believe the hospital had my leg bending back to 45 degrees within just a few hours of surgery. Sure, the contraption was fresh out of a horror movie, but it did an excellent job. I was also given stair and crutch training, which gave me the confidence to go home that day. I was told I could weight bear and within a few days I was taking steps without crutches – I'd expected a much slower start to my recovery and I was frankly delighted with myself.
And here's the contraption in action just a few hours post-surgery…
13. 'Back to normal' progress will be slower
And those early days gave me false ideas about how quickly I'd progress. Sure, I'm swifter moving around without crutches but weeks 1 to 3 have seen pretty much that same level of progression. I'm still taking stairs by putting both feet on each step and although my knee bend has moved on to over 110 degrees, that's a bit of a no-man's land in terms of usefulness – most activities (kneeling, bending crouching, going down stairs) require closer to 180 degrees. Impatience has taken hold. Fast.
(On the plus side, all this feet-up, stay indoors business means I'm finally catching up on some of the books on my reading list).
I should say that I also had a medial meniscus repair at the same time as my ACL surgery. However, as I had a horizontal tear in the cartilage in the 'red' blood vessel zone, it just required a stitch, so I'm not sure it's added that much more to my recovery time (that's based on zero expert opinions, btw).
14. The physio protocol is impressive
I knew that ACL repair was common but it hadn't occurred to me how well-established the ACL recovery protocol would be. With goals and exercises for each phase, if you're a person who likes to have something to aim for and a bit of a tick-list to get through, you'll like the structured approach to the physio.
15. Having ACL repair surgery is totally worth it
I was told that I could live without having surgery and many people function happily without having their ACL in place. However, as my physio said, that's fine for people with a desk job who maybe go to the gym a couple of times a week. That's certainly not me.
At only 40 years old, and with one eye always on the next adventure, I wasn't prepared to live a life limited by forward-facing, even-surface activities. I want to climb more volcanoes. I want to swim with whale sharks again. And if I ever find myself having to outrun an ostritch in the dessert (look, strange experiences tend to find me), I'd like to know my knee has my back.
Mentally, I already feel better knowing that my knee bone's connected to my thigh bone (ok, not necessarily anatomically correct, but there's a song in there). Knowing that in time I'll be able to get back to all the adventures I'm used to, I'm 200% happy I went ahead with the surgery.
If you want to hear my busting my knee story, you can read it here.
---
Things I found most useful during my ACL surgery recovery
Therapearl Ice Pack – I particularly like how flexible this ice pack is, which allows it to bend around your knee and leg. It also doesn't give you frost bite.
Ice machine– I didn't personally use an ice machine of these but more than one person below has commented how wonderful it was to have an ice machine and looking at it, I wish I'd had one for my recovery rather than fiddling with ice packs and sleeves to keep them in place.
Knee sleeve – nope, not for actual knee support but to hold the Therapearl ice pack in place without having to hold it, though you'll want to wait until your incision is robust enough to cope with wriggling this on. I bought a basic one from a pharmacy and opted for a size larger than I'd need to fit in the ice pack. I also tried using an old pair of tights that I cut up but it didn't work nearly as well. If you're buying in advance, a velcro strap version will be much easier to handle/will be more tender on your knee.
Lightweight shopping bag– again, not put to its original use. I used one to carry my stuff around the house (books, pain medication, ice pack, water) when my hands were busy with crutches or steadying me on stairs. Get a couple because when you come to use it, you'll find you've left it in another room.
Gym ball– physio is a chore so surrounding myself with a couple of at-home items, I was able to squeeze in exercises between formal physio sessions. The ball was great for squats against the wall and resting my leg on it to let gravity work on straightening my leg.
Floor exercise bike – Cycling is highly recommended for strength and range of motion in the early weeks and, like with the gym ball, it was easy to fit in 5 minutes here and there while I watched TV or worked from home, rather than dragging myself to the gym.
Therabands – if your physio or hospital doesn't supply one of these, buy it online. Your physio routine will involve a fair bit of therband use and having one lying around can also encourgae at home use and swifter recovery. When I travelled for 3-months post op, my theraband came with me. Speak to your physio about which colours you should use.
Warning: incision photos in this section!
---
My ACL Repair Recovery Experience
Pre-surgery and even post-surgery I've done a lot of research on what ACL recovery looks like and apart from a bunch of medical websites that have vastly varying timescales, I didn't find anything close to a real description. So, I thought I'd share my recovery experience. Of course, everyone is going to be different: I'm 5ft tall so that's providing some challenges (step height and sitting in chairs); I'm not good with pain; I'm terrified of falling over; but I am diligent about doing my exercises and have the luxury of working from home to commit time to doing them.
I'm currently at the end of week 3 of recovery from ACL repair surgery but I'll try and update this as the weeks go on. Here's my experience.
In hospital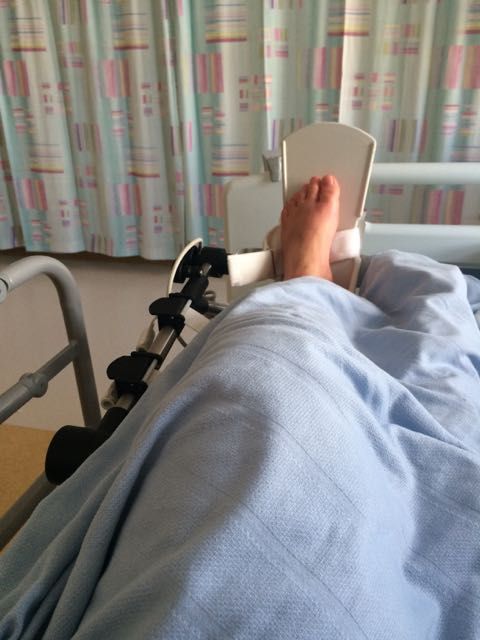 placed on a machine to get 45 degree range of motion operating
tested on crutches
told I can weight bear on both legs if using crutches
given 'stair training' so I can use the stairs with crutches
given 3 exercises to do at home: i) heel slides (lying down, sliding my heel until my knee was bent); ii) straight leg raises (also from lying or sitting down), contraction of the quadracep (flexing the muscle above my knee))
told RICE – rest, ice, compression, elevation (but without the compression)
bandage and surgical dressings applied
First 24 hours
Dressing & incisions: remove bandage day after surgery and change dressing (luckily not much full-on blood but some weeping)
Crutches: on both crutches to get around – makes carrying things a problem, especially on stairs. Tip – get a shoulder bag to carry items around (e.g. book, pain meds, water bottle)
Pain medication: taking maximum pain medication, added in Ibuprofen and wishing I had more
Physio & swelling: exercises hurt so I do them just after taking pain medication. I don't think my knees 'that swollen' (turns out it is)
Stairs: (up and down) require one crutch and two feet on each step
Sleeping: not able to sleep in usual position (on front). Can sleep on side with support of pillow under my knee
Range of motion: without the machine, actually feels like I have less ROM than immediately post op
Bathing: 'sink wash' with a flannel
After a few days
Dressing & incision changing dressing each day (still weeping). Pretty colourful bruising (front – ACL repair surgery; back – medial meniscus repair)
Crutches: down to one crutch at home
Pain medication: still taking maximum pain medication and feeling pain in the hour to half hour before the next dose
Physio & swelling: exercises still painful but already feeling easier – I should be icing my knee but I don't (because I'm stupid and think it's not 'that' swollen)
Stairs: (up and down) still require one crutch and two feet on each step
Sleeping: still not able to sleep in usual position (on front). Can sleep on side with support of pillow under my knee
Range of motion: leg feeling generally more stable but range of motion still very limited
Bathing: somewhere between a sink wash but with the shower turned on, using a flannel. Able to wash my hair but helps I'm at my mum's house where there's a disabled walk-in shower with shower seat
Within a week
back home (alone) – feeling a bit nervous in case I tumble down the stairs and die…all alone…I get over this after a couple of goes up and down the stairs
Dressing and incision: dressing pretty much clean and now spending a few hours with dressing off to give incision some air. Bruising moving south (thanks, gravity)
Crutches: hobbling without crutches indoors but one crutch outdoors (not that I'm going out much beyond physio appointment)
Pain medication: ditched the coedine but otherwise still on maximum pain medication
Physio & swelling: first physio session just to check how I'm doing. Knee swollen preventing further range of motion – told to ice. Berate myself for being stupid
Stairs: (up and down) still require one crutch and two feet on each step
Sleeping: still not able to sleep in usual position (on front). Can sleep on side with support of pillow under my knee
Range of motion – at 45 degrees (the target I was given)
Bathing – back to more regular style of daily showering but it's a hell of a balancing act trying not to get dressing and staples wet.
Within 10 days
Dressing and incision: fed up of the dressing – skin feels tight and sore and I'd take it off permanently if I wasn't worried about snagging a staple. Speaking of staples – my body is starting to reject them and they're working their own way out (magical)
Crutches: without crutches indoors and trying to replicate proper walking (rolling through the toe) but it's deliberate and slow. Still using one crutch outside. Made it to the supermarket (accompanied) – good to have the trolley for support but getting around is tiring
Pain medication: starting to use pain medication more sporadically but still taking something every day
Physio & swelling: continuing with exercises – much easier but don't feel like I'm making much more progress. Ice is helping with swelling but knee still tight
Stairs: stairs (up and down) crutch free but using the wall/banister for support and still two feet on each step
Sleeping: still not able to sleep in usual position (on front). Can sleep on side with support of pillow under my knee
Range of motion – hard to tell – feels about the same as post op, but it's slowly getting easier to move
Bathing – completely over keeping my dressing dry and with 'staple removal date' in sight, I shower normally and put a dry dressing on immediately after each shower. Takes a toll on my leg skin but my hair and body feel better for it. For the ladies – annoyed I didn't fit in time to wax my legs pre-op because there's no way I can do it now, so forced to shave. Grrrr.
Within 2 weeks
Dressing and incision: staples are removed – hurrah! Hurt like hell but feels good.
Crutches: told by physio to wean myself off crutches indoors over the next week or two but I'm already there. Still too nervous to go crutch-free outside (uneven road by my house)
Pain medication: taking much more sporadically and most days taking none at all. Needed mostly at night if I do need them.
Physio & swelling: back to physio and given 3 additional new exercises (1/4 squat against wall, 1/2 lunge, supported steps going up one at a time). Taken into the gym to try the bike and step. Swelling going down but still there. Told to continue icing.
Exercises: advised to get back to the gym 2-3 times a week for 10 minutes of cycling. Frustrating because i) I can't drive so need to rely on others or take taxis; ii) for just 10 minutes of exercise (and some careful upper body weights if I want), it feels like a big effort/poor use of time but I commit to it
Stairs: stairs (up and down) still using the wall/banister for support and still two feet on each step but now in 'stair training' practising on bottom step at first, taking full weight on the knee to go up (not enough ROM for going down yet)
Sleeping: still not able to sleep in usual position (on front). Can sleep on side with support of pillow under my knee. Seems just as irritating on the incision because now I have no protective dressing.
Range of motion – Leg is close to straight when lying down but not when I stand up, making standing painful after a while. Range of motion is up to about 110-120 degrees (full ROM is around 180 degrees)
Bathing – back to normal – so nice to put the incision under running water.
When can you get back to work?
The answer to that really is going to depend on what you do and how your recovery goes. I work from home and do a laptop based job and while I've been checking emails since week one, sitting at a desk to reply to them has been more of a challenge. Equally, because I can't fully bend or straighten my leg, my laptop on my lap isn't a good alternative.
I'm going to try to get back to something close to a normal work week next week (week 4). Fortunately, working from home, I can have a rest/lie down when it all gets too much. I'm also free to fit in my physio exercises as and when. Oh, and I don't have a commute, so no need to stand on the Tube or figure out how to get to work without being able to drive (an activity for weeks 4 to 6).
If I worked in an office, I'd try to get some work from home time and return on reduced hours around weeks 3-4. In fact, that's what the hospital told me was a reasonable expectation and it feels about right.
Within 3 weeks (I was here at time of writing – more updates below)
Dressing and incision: Still need to wear 'soft' clothes – jeans are tough and irritate the incision but it's nice to be staple and dressing-free.
Walking: walking is better but still deliberate and slow. Also starting to understand shortened hamstring – leg sometimes feels heavy to lift off the floor, so I shuffle sometimes.
Pain medication: no longer taking pain pills regularly – just pop a couple pre-physio so I can get the most out of the time there or if I've been doing a lot of leg movement
Physio & swelling: exercises are going well and don't really hurt anymore. Swelling going down but still present in pockets so continuing to ice (and wishing my op had been in summer when ice would have been more welcome).
Exercises: Made it to a coffee-shop solo – with one crutch and 30 minute walk instead of 10 but FREEDOM. I want to get back to yoga so badly but I don't believe I'd be able to get on and off the floor at this stage, so I'm going to have to be more patient.
Stairs: slowly introducing one stair at a time for going up – do it for a few steps then revert to two feet on one step.
Sleeping: still seems just as irritating on the incision. I feel like I've made no progress on this front.
Range of motion -struggling to sit in a normal chair for long but most likely because I'm short (5ft) and my feet don't touch the floor so all the weight it on my knee. Impacting my ability to work more than I thought. I'm finding my dictation software useful for writing this blog article. More awkward for emails.
Bathing – Bought baby bubble bath and gave my knee a good soak in the tub – bliss (even if it was a challenge getting in and out of my slipper bath).
What I've been told to expect/hope to achieve in the next few weeks
Week 4 – I need to figure out a better way for sitting at a desk or with a laptop on my knee so I can get more work done.
Week 5 – return to physio for the next 'phase'. Not sure when I will be added to the lower limb class, but I'm hoping around this point.
Weeks 4- 6 – I should be able to return to driving – this will be liberating, but I need to get physio approval first because I've injured my 'clutch leg' and without that approval my insurance will be invalid.
Week 6 – return to see the surgeon for a check up. Fingers crossed, I'm hoping that's going to be the all clear on the surgery front – no infection, the graft seems to be holding and no problems with the nuts and bolts or whatever it is they put in my knee (ribbons?) to keep everything in place
Week 10 – rough estimate of when I'll be able to look at activities like running on a treadmill. That feels both very far off (impatience) and also much too soon (confidence) at this point.
We'll see how it goes.
Updates
Week 4
I'm one-day shy of my month-anniversary of having the surgery – where did the time go? Anyway, here's how I've been getting on.
Dressing and incision: Jeans still irritate a bit but I'm able to wear my softer ones for hours. At home I'm still in my leggings.
Walking: friends and family are starting to comments that I'm walking better. I feel quicker, too. I have a bit of a limp but I've given my crutches back and feel confident enough to get around without them.
Pain medication: it's now rare for me to take any pain pills.
Physio & swelling: I've STILL got pockets of swelling. Sigh. Told by physio to continue the exercises but I can add in leg press at the gym. I've also been told to step-up the bending and push my leg a bit harder on that front.
Exercises: The bike at the gym is feeling a lot easier although I'm completely over the exercise a couple of times a day regime. It's only 5 minutes here and there but it's feeling like a chore. On the plus side, I got back on my yoga mat which was a huge personal success. My practice is still very modified but nice.
Stairs: I'm also now walking both up and down the stairs normally though it's still an effort and I need to be careful (no hot cups of tea in hand when going down!)
Sleeping: I'm finally starting to feel like I can sleep more normally. My incision can still feel a bit tender under the covers but nothing too unbearable.
Range of motion – I'd say I'm probably at about 160 degrees and judging from my physio, I could do more so that's my focus for the next weeks.
Bathing – Absolutely back to normal 🙂
Week 6
By week 6 I was starting to get around more, although the stairs in my flat (the steep Victorian kind of stairs) were still causing me bother. I also got back on my yoga mat for some gentle stretches (avoiding knee and kneeling positions) and it felt good.
I was, however, getting frustrated with what seemed like slow progress. I took myself to a travel conference in London, at Excel (which is almost bigger than China inside, or so it felt to me at the time) and it was way too much for my knee.
In hindsight, two things were going on: i) my expectations surrounding recover speed were too high and ii) I'd gotten a bit lax with my physio routine (after 6 weeks, finding time to do the exercises can feel like a bit of a chore and because I was mostly mobile, I tricked myself into thinking things were fine without the exercises).
Round about week 7, I had a check-up with the surgeon. My knee was x-rayed and the surgeon did a bit of pulling and pushing to check the strength of my knee. All seemed to be well. I was expecting to be discharged at this point but apparently that doesn't happen until month 3, which was a bit of a glitch for me because I was planning a trip to Italy as well as a larger trip to Southeast Asia around week 16. This meant I would have to declare my ACL repair as a pre-existing condition on my travel insurance, and I was worried about the cost. However, as it happened, ACL repair is so common that provided you only have physio to do, they will add it to your insurance with no extra cost.
All seemed to be going slowly but surely in the right direction. And then I had a physio session and things went to sh!t.
After an intense half hour that included time in the gym and some hands-on manipulation, I woke up the next day and could barely walk. My knee had ballooned, I was in pain and I got my trusty walking cane out because my knee didn't feel stable enough. This state endured for the best part of 2 weeks and I was frustrated at hell at being set back.
Week 8
Returning to the physio in pretty much the same state as I'd been at week 6, I explained the set-back and my physiotherapist told me is was highly unlikely it was anything he'd done (I remain sceptical). I left the session with a few new exercises (lateral stepping) but wouldn't let him touch my knee.
In week 8 I took my knee on a trip to Italy (Sardinia). I took my walking stick as a precaution, which turned out to be a good thing (I was visiting a lot of hilltop towns for a work project). With 16 hour days and a lot of time on my feet, I needed to ice my knee at least once if not twice a day and I was back to taking pain medication at least once a day but my knee held and it was nice to feel a semblance of normal travel life.
However, my physio exercises and gym visits had pretty much disappeared and by 9 weeks I had a long hard chat with myself. To recover, I needed to do my damn exercises and I needed to make them a priority. So, after my Sardinia sojourn, I got back into a physio routine. Every morning I did my exercises. Sometimes I did them at night, too. I returned to the gym (3 times a week), squeezed in a few 15 minute yoga sessions at home, bought a static bike and gym ball for while I was watching tv/not able to get to the gym.
And, d'you know what. It worked.
Week 12
Thanks to my increased commitment to the physio exercises, by the time I went for my 3 month check-up, I was walking close to normal, my knee felt strong and I was positive about my recovery prospects. As a hyper-mobile person, my knee still hasn't reached full extension but I'm confident it will get there. My physiotherapist felt happy with my progress and I (almost) skipped out of the session.
At this stage, a few more exercises were added to my routine including jumping, lower squats and use of a theraband. I was also told I could start to add some running back into my routine (I've been on the treadmill twice since then and although terrifying, I was able to get in a few minutes worth of running). Weirdly, kneeling and crouching is still a long way off (month 6 apparently).
Week 16
Around week 15, I boarded a long-haul flight to Southeast Asia for a long-term (2 or 3 months) backpacking trip through the region (but with a suitcase, not a backpack this time). I booked the trip before my op and, to be honest, I'd vastly underestimated the length of the recovery process.
Still, I have gone ahead and so far (10 days into the trip), my knee is holding up exceptionally well. I need to be more careful than I would normally and there are some activities I simply am not chancing – just yesterday I said no to a bit of cave exploration because of the risk of the uneven floor. However, I'm able to have some gentle swimming, and I'm walking a lot, which seems to be strengthening my knee. I also let a Thai masseuse have a gentle 'go' at massaging my leg and knee, to great success.
My legs get tired a lot more quickly than they would have before on the same trip, but mostly because I've lost a lot of fitness and those first few days pounding the streets of Hong Kong were agony. However, things have improved dramatically in under 2 weeks. I still have some knee swelling, made worse by the tropical heat, but I'm icing every few days, which is helping.
My scar is also looking pretty good. I kept up with bio-oil twice a day until just before I flew to Asia and now I'm going to let nature, the sea and the sun (with sunblock over it) do the job. If any ladies are interested, it's apparently not advisable to have the site of the incision waxed for 12 to 18 months post op! My waxing lady did a great job of going around the scar and then painstakingly tweezered the rest of the hairs out one by one. Thanks to some lingering numbness, I didn't feel a thing.
My physiotherapist has advised that I should limit my trip to 2 months instead of the original 3 months I planned – this is so I can start my lower limb class and avoid setting myself back. At the moment, I plan to see how things go. I have a theraband with me as well as the list of lower limb class exercises (a 6 week course I took after I damaged my knee) and I'm going to see if I can build those sessions in as I go along. I'll let you know how it goes.
Six months on…
I'm not great at listening to medical advice and so I ended up staying in Asia for that 3rd month instead of coming home and resuming my PT. And, guess what, I'm glad I did.
Why? Because I pushed my knee far more than I might have done in the UK in winter. Here's the program I ended up putting together for myself:
daily walking and some gentle hiking (round about month 5) – it was so much easier to get out and move about in the warm weather and with plenty of things I wanted to go and see, I didn't struggle with 'gym motivation';
weekly and sometimes twice weekly massage. I trust the Thai masseurs more than I trust my own GP and despite the fact that some of the lower leg massages were painful, this did a lot of loosen up my muscles, reduce the fluid on my knee and, I think, even reduce the thick scar tissue. Obviously you should take medical advice before getting a massage and I totally did that :/
lower limb class exercises – it turned out that I got to fit this in about once every 10 days rather than weekly but I quickly realised a hotel room served perfectly well as a gym (trampette =hotel bed, FYI) and I wasn't really missing out on doing the classes back in the UK;
small amounts of running on a running machine if my hotel had a gym. I did this only a few times;
swimming – in the ocean, with the current. I was very careful at first, especially because of the uneven surface underfoot but within a few weeks of going away, I was gently hopping in and out of boats;
yoga – this was the hardest part for me because there was so litle bend in my knee at first but slowly and, I admit, a bit painfully, I have gotten much of my bend back (more on that below). I practised for about 15 minutes around 2 times a week, sometime less. However, it was the week-long yoga retreat that really helped.
I saw a physio once while I was away just to make sure I was on track to recover fully and he said I was doing well.
Arriving back in the UK on 31 March, within a few days I had my first catch-up with my physiotherapist since before going away. I was a bit nervous but as it turns out, he was very pleased with my progress.
I have now been medically dischaged – yay! However, because I skipped the lower limb classes, I can start them now and I am taking the NHS up on the offer even though I can now walk and run pretty well.
Month 8…
I've been back in the UK for about 2 months now and, to be honest, my recovery has hit a bit of a brick wall. I'm not exercising as much and I'm not as active because – well, work and life have gotten in the way. I have, however, resumed my lower limb class at the gym. By starting the classes so long after my op, I'm pleased to be able to work on really strengthening my knee (standing up from chair on one leg while holding a 5kg medicine ball will do that). I've also got the all clear to run outside.
As for the overall health and strength of my knee, here's how it is at the moment:
Strength – so, so, so, so weak still. I didn't realise that as a pair my legs feel strong but my physio asked me to hop on my injured leg and I could barely get myself off the ground. Clearly I have much work still to do on rebuilding the muscle;
Pain – I no longer have pain but I do get the occasional ache – usually when I've been static moreso than when I've been mobile!
Flexibility – as a yogi, it frustrates the hell out of me that the physio program does nothing to increase flexibility – it's all about strength and stability. Thanks to yoga in Asia, I am now able to cross my legs, get in and out of a crouch position (if I'm careful, but it hurts and I can't stay there for long) and kneel on all fours (yoga table top position). I'm still struggling to sit back on my haunches but I am practising. Yoga is definitely the key to getting back my flex.
'Risky' activities – I'm still giving all challenging sports a wide berth. I did a short hike up Great Orme in North Wales on grassy terrain and it was fine and after way too many beers to be making sensible decisions, I learned some Romanian dance moves in Romania a couple of weeks ago. My next challenge is getting off the treadmill and out onto the road running. I did hit just under 5k on the treadmill and recovered well so I will take it slowly and return to the cushioned runner if I need to. Many people do return to risky sports around now but I'd like to get more strength in my knee muscle before then.
Popping and clicking – yep, my knee pops and clicks pretty frequently. Again, this corresponds with how inactive I've been. It doesn't hurt and I've been told by my PT and surgeon that it's fine. It just feels DISGUSTING. I'm hoping it will ease over time.
Hyper extension – like with flexibility, there's little in the physio session designed to get my hyper-extension back and even now my injured knee doesn't push back as far as my healthy one. However, I understand from the physio I saw overseas that this will happen as my knee muscle strengthens.
The scar – I'm really impressed with my scarring. Of course, you can see it but more compared to those first pictures post surgery, I've very happy with how minimal it looks.
12 months on…
It's been a year since I had my surgery and there are many days when I don't even feel like I had the operation at all. However, there are still days when I certainly do feel like my knee is not quite as good as it was. Those days have gotten fewer over the year but I'm not at the point where I can report that I'm back to full knee strength and I'm not sure I will reach that point. Still, my knee is a lot stronger, sturdier and stable than it would have been if I hadn't have the surgery.
My range of motion is actually pretty good. I can cross my legs, squat, kneel down and I'm working on sitting on my heels for increasing periods of time. I attribute this decent range of motion to yoga which I try to do at least 2 to 3 times a week.
The other physical activity I was very keen on before my ACL surgery was running and I'm pleased to say that I'm back to running outdoors with only a small fear of hitting potholes. My knee doesn't give me any trouble when running but I've certainly taken a hit in terms of my overall fitness and the strength in my leg muscles has dissipated. For that reason, my progress is slow, I'm still largely running intervals and my aches post run are worse than they used to be. But this could also be down to the fact that I am now in my 40s. I used to run 10ks and I've got back to 5k running with hopes of increasing my distance slowly over time.
Being completely honest, I could have done more in the past year to strengthen my knee – I've gotten out of the habit of going to the gym and using the weights and I know that my knee would have been stronger for it.
I do still have some hideous clicking and crunching sounds, though none of them hurt. My knee sounds like screwed up paper when I go from a full squat (sitting on my haunches) to standing e.g. when crouching at my under the counter fridge and I then stand up. The internet tells me this might be my scar tissue breaking up. I hope so because the noise makes me feel queasy to the point that I loudly shout 'crunching' when I stand just to cover up the noise. A bit awkward when I'm in public!
The clicking comes and goes and usually happens after I've been pushing my knee with exercise. I've got to the point where I stopped worrying about it and it goes away on it's own. Again, I don't feel any pain.
My scar is barely noticeable in my opinion and I never give it a moment's thought. I am convinced the bio oil helped with scar reduction though, of course, I can't prove that! My numbness has also gone.
My office is located in the attic of my apartment, which is two flights up from my front door. The other day I caught myself running down the stairs, taking the corners at speed to catch the postman. I've come a long way in 12 months and to be able to run and twist and turn without too much fear has made the surgery and all the pain and dressings and physio completely worthwhile.
2 years on…
I never imagined I'd be writing a 2-year update on here. Mainly because I thought I'd be back to full strength. Unfortunately, I've recently taken myself back to physio. Don't worry – I think these are my individual quirks rather than being indicative of what you can expect in 2 years. However, as this post has become popular and everyone has shared their own experiences below, I thought I may as well tell you what's going on with me.
My two favourite forms of activity are outdoor running (10k but I'll honestly settle for 5k at this point) and yoga, as well as some hiking. The problem is, I've never been able to get back to full strength with running or yoga. I also shy away from adventurous hikes because my knee isn't as strong as I'd like and I worry I'll have to be helicoptered off a mountain.
The issue with my running has been pain in my opposite hip any time I get back into a regular (3 times a week) routine. It's probably not helped by the fact that I now only hyper-extend in one knee. This has had the effect of a few weeks on, a month or two off with the running and I've not been able to push through a 5k without hurting for days afterwards.
Yoga has been more of an issue with cracks and pops and, about a year after surgery, development of a noise in my knee that sounds like scrunched paper every time I squat and stand. Cue: vomit.
After spending a few days in Verbier recently, watching from the sidelines as people hiked and biked and climbed, I decided it was time to see a sports physio (private rather than NHS) to find out if I can do anything to progress from basically functioning to returning to sports without fear.
The problem was, I had back to back trips (Verbier then Malaga) and didn't book an appointment. Then, while I was doing yoga on a hard tiled hotel floor room in Malaga (with a towel under my knee, but still, not smart in hindsight), I felt a jolt of pain in my 'repaired' knee.
I returned home and, with yoga on the shelf, I decided to give running another try. I'd bought some 'Miracle balls' (more on that above), which seemed to be working for my hip pain, so I was feeling more confident than I had in a while.
About a week into my new running routine, frustrated at my entire lack of fitness, I decided to do some hill sprints. Yes, I know what you're thinking but we've already established that I don't always make the best decisions in the moment. (Does anybody?) Plus, muscle memory isn't always your friend. I felt a tiny knee twinge as I tackled the hill but nothing more. In fact, I was quite upbeat when I got home…until I hit the shower and noticed a huge egg shape underneath my knee cap, next to my incision scar.
Dr Google told me I had a swollen bursa sac (fluid in one of the sacs that protect the knee). Mostly likely irritated with the yoga and fully developed by the hill sprints. In fact, bursitis is commonly known as housewives' knee because it's usually triggered by kneeling (seriously, someone needs to update that for 2018, but I digress). It's also common in runners. So, bingo. Full house.
While getting bursitis was not the best thing – rest, ice, compression and elevation, hello my old friends – it finally made me book that sport's physio appointment I'd been thinking about.
And that's when I found out I have two issues with my knee that are probably hampering me getting back to full knee fitness.
First, my knee isn't properly aligning. It buckles inwards slightly when I move it. I suspected this right at the beginning of my recovery, watching it when I was doing leg presses at the gym, but I must have gotten used to it over the past two years because I thought it was now ok. With incorrect knee alignment comes pain when I run, difficulties in yoga and that lack of confidence and strength in my knee.
It also seems to have caused the screwed up paper noise when I crouch – more professionally known as crepitus – which is probably caused by my tendon/ligament catching on my knee bone. Nice.
The good news is, both the misaligned knee and crepitus can probably be fixed through the right combination of strengthening exercises.
But not until my bursitis has gone down. (Dr Google was right, btw.)
What next? For the next three weeks I'm on a routine of rest, which is already driving me insane. Then I'm off to China for a couple of weeks. There will inevitably be some pavement pounding and I'll be visiting the Great Wall of China. But I'm no longer going to include the extensive hike I had planned in the Longji rice terraces (excuse me while I sulk for a bit). I'm hopeful that by the time I get back, I'll be ready to start on the realignment and strengthening exercises. I'll let you know.
The main point from this 2 year update (and my biggest lesson): if you're still having trouble, go and see someone. Just because you've had ACL reconstruction doesn't mean you necessarily have to put up with a bad knee.
2.5 years after ACL surgery
I've written a new post about the 15 things I would have done differently during my recovery? You can find find my latest post here.
3 years after ACL surgery
I'm still updating this post because my recovery is ongoing. I had a chat with a friend about this the other day. His question was: 3 years after surgery, surely everything is done now? My answer was yes. And no.
Within a year I'd say I was 80% recovered. It was enough to work in an office and go to the gym, for sure. However, I wasn't prepared to let go of the remaining 20% recovery. Call me a perfectionist (you won't be the first) – I wanted to get fully back into every yoga posture I'd ever done, even the kneeling poses, and push my practice deeper. I wanted to do more than just go the gym. For those reasons, I pushed and persisted and I got results.
By year 3 my legs were stronger than they were pre-surgery. My running was coming along, entirely pain free and I was deeper into my yoga practice than I've ever been.
I achieved all of this by getting an amazing physiotherapist who I met every 6 weeks and who tailored my physio exercises according to which specific muscles were strong and weak (quads, hamstrings and glutes). She got great long-term results by forcing me to slow the f&ck down with my running and how fast I'd been escalating my distance. I did my exercises 3 times a week. I was so diligent that I recall lying down in my hotel room in Milan, my head next to the toilet so I could use the bed base to do my elevated bridge exercises.
But then things kind of fell apart. Just after my 3 year ACL anniversary (anyone else not celebrate this?), I got dengue fever and it wiped me out. Two months on, I'm still recovering my day to day strength and my physio program has promptly fallen apart. It doesn't help that I'm on an extended trip in Central America and I'm struggle to do my physio work (finding the space and motivation are a challenge). I feel like this steps forwards, steps back approach has happened a lot during my ACL recover but what I've taken away from the last year of hard work is that almost 100% recovery can be achieved (at least for me) with the right guidance, dedication and work.
If you are struggling, I'd recommend starting by finding a physio who works for you.
My favourite recent discovery – fascia release and the melt method
I was whingeing on about my tense legs when a health journalist told me to google fascia release and the melt method. So, I did and I can't believe I hadn't read about this before. I won't get into the science but the basic idea is that placing a couple of squidgy balls (can't think of a better description) under certain pressure points on your body which helps your tight muscles, ligaments etc 'melt' towards gravity, releasing tension in the process. Suffering from locked up calves and hip pain from running, I decided to give it a try. I opted for the cheaper version (miracle method not melt method balls) and for under £15/$20 it's one of the best post-op purchases I've made. In fact, I keep waxing lyrical about them – I bought my mum a set, I told my physio about them and I butted into a conversation in my local coffee shop to tell a woman about them.
If your muscles feel tight but you're not ready for the rigours of a sports massage, I'd give these a try. Here's the ones I bought.
A reminder of the things I found most useful during my recovery
So, that's been my ACL repair surgery recovery experience. Have you have an ACL repair? Did you have a different experience? Let me know in the comments below. Also, happy to answer questions if there's something I haven't covered.
Found this guide to ACL surgery useful? Share it on Pinterest…
So, that's been my ACL repair surgery experience. Have you have an ACL repair? Did you have a different experience? Let me know in the comments below. Also, happy to answer questions if there's something I haven't covered.
The comments below, links and my replies
It's so wonderful seeing all the comments and how everybody is sharing their experience and helping each other out. I will reply to all comments but please forgive me if there is a bit of a delay – as you can see, there is a lot and replying can take me a bit of time. I've also had a few people try to leave links to their own websites. Some are probably legitimate, some are from people in the health biz. Because I can't verify what's at the end of the links, I'm afraid I won't be publishing. Apologies if yours is one of the legit ones.