Once upon a time in a land far, far, away (London), I used to be a full-time lawyer. In September 2010 all that changed when I swapped my Blackberry for a backpack and set out on a one-year adventure.
Over 5 years later and with over 50 countries visited, my travel adventure continues…and I've taken on a mission to help you pursue the travel adventure of your dreams, on your terms and to you budget.
What's Indiana Jo about?
In short, Indiana Jo is about two things:
1) Independent travel; and
2) Adventure
Neither of which might be exactly what you think…
Indiana Jo on independent travel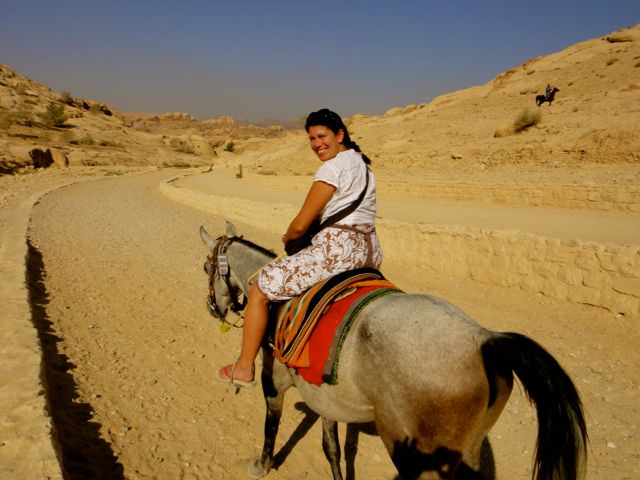 I'm an independent traveller…a digital nomad – you know, one of those people who travels the world with one set of possessions, moving from location to location without even the slightest ability to read a map or decide which destination comes next. I sold my home in 2010 and have been roaming free ever since.
However, I know that I'm a rare beast. Most people only travel for a week or two at a time and even those who set out on a longer journey, whether a career break or post-college gap-year, tend to go home…eventually. This site isn't about selling my lifestyle. It's about helping you take your dream trip. And, for the most part, the style of travel I advocate is travelling independently, arranging everything from beds to buses to boat trips all on your own.
Why? There's a much longer answer I need to get around to writing, but the main reasons are cost, the ability to set your own itinerary and the freedom that independent travel gives for exploration.
That said, I entirely accept that this style of travel isn't for everybody….there are occasions it isn't even for me.I have joined tours from time to time because even adventurers accept that other people (most often the local people) usually know best.
Not only that, some tours or packages offer great value for money compared to booking things separately, can take me to locations I don't have the wheels to get to and…if I'm being plain old honest, sometimes I just get a bit lazy and want someone else to point to the bus I need to board.
So, yes. You'll find a lot of information on this site about how to arrange your own independent trip, but there will also be some useful stuff, particularly on the destination pages, if you don't want to go it alone.
Indiana Jo on adventure
Adventure is a funny concept. When I tell people I write an independent travel and adventure blog, they instantly think about extreme sports, imagining me base jumping off the Eiffel Tower (no I haven't and no I wouldn't).
Yet the dictionary definition and my interpretation of adventure is more subtle. It's less extreme sports and more:
Any unusual, exciting or daring experience.
The beauty of what constitutes an adventure is that it will differ from person to person. Sure, volcano climbing, surfing and skydiving excite me, and there will be some of those things on this site. But in essence, adventure is about doing something different. If you usually spent most of your free time in front of the TV (sorry, mum – you've just been outed), a trip to Rome is likely to represent an adventure of epic proportions. And if it's your life-long dream to walk the Great Wall of China, then what greater adventure are you likely to find?
As for me, my adventure threshold is pretty high, but my adrenaline levels wouldn't handle it if I went swimming with whale sharks every day. Sometimes, my travel adventures are as simple as trying to tackle 72 museums in 72 hours in Florence, or eating scary foods…like courgette (a.k.a evil zucchini of which I confess I have an irrational fear).
Adventure doesn't need to be all physical either – the challenge of staying silent for a 10 day meditation retreat in India was one of the most adventurous things I've tackled and the intellectual hurdle of learning Spanish while living in Mexico – something I'm hoping to do soon – promises more adventure than summiting another mountain.
So, no – you don't need to have a desire to surf the waters of Mars to find travel inspiration here. I get questions from readers from all backgrounds, ages and with very different definitions of adventure. Hopefully, there's a story in here for you.
Indiana Jo on budget versus luxury
In 2009, at the height of my lawyer years I took a 2-week luxury trip to the Caribbean and it cost £10,000 (for two people including flights). I lay on a sun-lounger and sipped Champagne. A year later, I travelled the world for 14-months throughout Latin America and Southeast Asia for not much more.
The result: I personally sit somewhere in the extremities of the budget-luxury spectrum. I may spend a week camping out in a tree house so that I can enjoy a Michelin-starred meal, often I'll take the chicken buses but sometimes I fly business, and I've been known to bounce from dorm-room bunks to boutique hotels.
Mostly, it's a question of travel maths. The less I spend, the longer I can travel. Let's face it – if I lived on my two-week Caribbean trip budget for nearly four years, I would have needed to rob a bank (all of which were sadly lacking cash thanks to the economic crisis when I decided to hit the road). However, I can't turn my back on some of life's luxuries – spa's, rooftop cocktail bars, the occasional designer item. The trick, I've found, particularly if you're on a budget or travelling on a longer trip, is knowing when to save and when to splurge.
You will find a fair amount of budgeting advice on here – like how to visit Pearl Harbor for only $5 because one of the biggest reasons people present for not travelling is not having enough money. Part of my purpose with this site it to show you that things don't need to cost as much as you think. But there will some indulgences (like eating the world's most expensive beef) on here too.
Trip planning and story telling
In terms of the kind of content you're going to find, click on any post and you'll instantly realise I'm a story-teller rather than just a Wikipedia-style resource. Yet, woven into my travel tales you'll find the details you need to plan your trip. If stories aren't your thing, I won't be offended – skip through the headings and read to the end, which is where you'll find the trip planning details you'll need.
And if you don't find what you're looking for, contact me. I've spent a lot more time travelling than I have done writing, so there are many destinations I've visited that I've not yet had the chance to write about. I've helped readers plot routes, select accommodation, find the right train tickets, figure out visas and track down the best pizza in Naples.
Above all else, keep dreaming but start planning. With the right information and inspiration, you can build your own travel adventure and take that trip of your dreams on your terms and to your budget.
Want to see more?
Check out my video – 3 years of my travels in 3 minute.
Disclaimer: Affiliate Links
A final point about links in my posts.  Just to be transparent, I am a member of a number of affiliate schemes and if you see a link that points to a website where you can buy something, it's safe to assume that the link is of the affiliate kind. What does that mean? If you click on the links and buy, I get a small commission. It doesn't cost you any more but I get a small reward for referring you. Don't be alarmed – it doesn't mean that I'm letting corporate giants own my views. I will only ever recommend products I believe in.