With a history that pans back over 10,000 years, it can be hard to squeeze everything in…but it's fun trying.
I arrived in San Diego after several months in Mexico and despite plans to spend only a couple of nights in the city (it was, after all, my second visit), I ended up lingering for close to a month. From the harbour and downtown to the beaches and coves, I've written this list of things to do in San Diego so that you can cover as much as possible in a 3 day itinerary or weekend trip. If you're there for longer, just do it all slower.
Here's the best things to do in San Diego, complete with recommendations for where to eat, drink and sleep.
I've included a Google Map at the end of the post featuring all the locations listed.
Starting on day one…
Have breakfast in Little Italy
Photo: Michael Hilton
Start your first day with a meander through Little Italy. You may automatically think Gaslamp is the place to start but located a few blocks north of downtown and the Gaslamp Quarter, you're going to find some of the best breakfast options in the city from pastries to paninis and, most importantly, good, strong Italian coffee that's going to fuel you day.
India Street is a good place to start – just hold your nose in the air and follow the best scents. And if you're in the city on a Saturday, check out Little Italy's Farmer's Market.
Visit the Maritime Museum, Star of Indian and U.S.S. Midway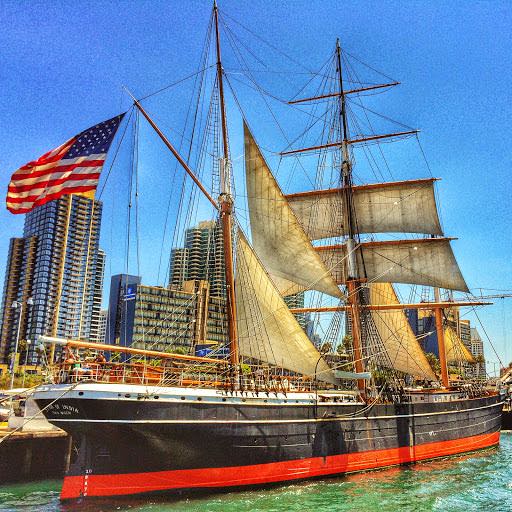 Once you're high on sugar and caffeine, head to a few streets west to the Harbour (North Harbour Drive) for a day along the sea front. This is one of my favourite suggestions for your San Diego itinerary.
The Maritime Museum of San Diego, U.S.S. Midway and the Star of India are the three top attractions and it's easy to spend half a day exploring this part of the city. Even if you're not into maritime stuff, make an exception – the Maritime Museum in San Diego possesses one of the finest collections in the world including the Star of India, which is the world's oldest active ship. Meanwhile, U.S.S. Midway is one of the longest serving aircraft carriers that has 29 restored aircrafts on board. The flight simulator is brilliant for both kids and adults – but take it from me, you might want to let your morning latte go down before you spin through a few loops.
You can get more information here: Maritime Museum & Star of India and U.S.S Midway.
Stop by Petco Park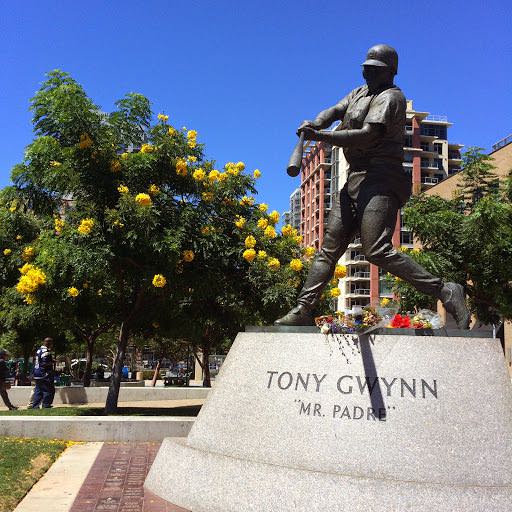 When you're finished at the harbour, stroll a few blocks east and you'll land yourself in the historic downtown, known as the Gaslamp Quarter. Whether you're a sports fan or not, this centre of the city baseball park should be on your San Diego itinerary. Before you start exploring, you may want to grab a quick bite at Tivoli Bar & Grill (see below). Afterwards, take yourself to the south east corner of the Gaslamp area and locate Petco Park (it's kind of hard to miss). This giant baseball stadium is home to the San Diego Padres and, baseball fan or not (I'm not), is a pretty spectacular sight. If you're in San Diego during the baseball season, tickets are affordable and make for a great night out. Otherwise, you can take a stadium tour, or just climb up onto the grassy bank opposite and have a nosey from there.
You can get more information here.
Wander around Gaslamp Quarter
This historic part of the city is made up of 16 (and a half?!) blocks that feature almost 100 buildings from the Victorian Era and the name Gaslamp Quarter is a nod to the gas lamps that once lit the area during Victorian times. Today, the area is packed with hotels, restaurants, clubs and bars and is the perfect place to spend your first night in the city. I've got some recommendations below for where to eat and drink, but the best thing to do in the Gaslamp Quarter is to wander around and go where the feeling takes you. There's a reason this area is on every San Diego itinerary you see.
If you want a more formal 'tour' of the old buildings, check out this route by National Geographic.
Where to eat and drink in Gaslamp Quarter
Tivoli Bar & Grill (505 6th Avenue) is great for a lunchtime stop or for pre-game beers and a snack. The bar is the oldest bar in the Gaslamp Quarter stretching back to 1885 and once included Wyatt Earp as a patron. These days its a favourite amongst Padre fans and has an extensive happy hour and bar food menu. (Currently no website – guess they're investing all their money into their drinks!)
Lounge Six (at the top of the Solamar, a Kimpton Hotel) is an excellent choice for rooftop pre-dinner drinks. Think fire pits, palms, cabanas and cocktails.
The Shout House(655 4th Avenue) – I was a bit reluctant about going to this place which is famous for its rock'n'roll duelling pianists, who sit opposite each other and battle it out on grand pianos while taking requests from the crowds. I expected it to be a bit kitsch but it was actually a whole heap of fun.
If you're looking for a place for dinner in the Gaslamp Quarter, there are plenty to choose from – you can find a list of recommendations on Zagat.
Tip: Don't forget to take some form of ID with your age on it if you're heading to a bar or club.
On day two…
Hit the museums in Balboa Park
Day two of your San Diego itinerary has a focus on culture. It's also going to be another day for those comfortable walking shoes. Start the day in Balboa Park and try to get there early because this park is HUGE (and by huge I mean there is a freeway and several other roads running through it).
Balboa park isn't just green space, its packed with the best of San Diego's museums and you'll want to do some pre-planning to decide which museums you want to see in the time available (half a day). I'm a space and science nerd so I made a beeline for the Air and Space Museum.
The Natural History Museum, the Museum of Man and the Museum of Art are three of the other most popular museums. (And, no, I've not missed San Diego Zoo – see my thoughts on the zoo and Sea World below).
You can read more about the Bilboa Park Museums here.
A word on San Diego Zoo and Sea World
You may have noticed that two of San Diego's prime attractions haven't made it onto my list. That's not because I'm being remiss. It's because I made a pledge some time ago to no longer contribute (with payment or even visitor numbers) to places that keep animals in captivity.
San Diego Zoo: As excellent a zoo as the one in San Diego is, there are still some animal welfare issue at the zoo. If you plan to go to the zoo, please at least do your research first and then make a decision.
Sea World: I would strongly urge you not to visit Sea World. The captivity and treatment of Ocras and other animals at Seaworld is so horrific it led to the sensational documentary Blackfish. You can find out more about Seaworld and animal cruelty here.
It's nice for us humans to get close to the animals we adore, but the best way to adore them is to go see them in the wild, not in a small tank or a cage.
See Old Town San Diego
Ok, so Old Town San Diego is definitely kitsch, but if you can look past all the sombreros, tacos stands and Tequila Tasting Taverns, there's a whole heap of history to be had. For that reason alone I recommend you add Old Town to your San Diego itinerary.
In the words of the Old Town Guide:
Old Town San Diego is considered the "birthplace" of California. San Diego is the site of the first permanent Spanish settlement in California. It was here in 1769, that Father Junipero Serra came to establish the very first mission in a chain of 21 missions that were to be the cornerstone of California's colonization. Father Serra's mission and Presidio were built on a hillside overlooking what is currently known as Old Town San Diego. At the base of the hill in 1820's, a small Mexican community of adobe buildings was formed and by 1835 had attained the status of El Pueblo de San Diego. In 1846, a U.S. Navy Lieutenant and a Marine Lieutenant, raised the American flag in the Old Town San Diego Plaza.
In 1968, the State of California Department of Parks and Recreation established Old Town State Historic Park to preserve the rich heritage that characterized San Diego during the 1821 to 1872 period.
Within Old Town don't miss Casa de Estudillo, which is one of the few original buildings (many are reproductions), Whaley House and Museum, which is believed to be haunted and Junípero Serra Museum, literally the place where California began.
You can get more information here.
Take a Brewery Tour
Photo: Randy Read
If your brain is just about addled after all of that sight-seeing, it's time to unwind with a Brewery Tour. Craft brewing is a subject-matter the city of San Diego excels at because what's better in year-round warm weather than a nice cool beer?
There are plenty of formal tours you can book in the city but if you're not happy to throw down $75 to $125 dollars for a few glasses of beer and a guide, you can create a DIY (drink-it-yourself) tour with this San Diego Craft Beer Walking Tour from Discover San Diego.
Pretend you're hip in Hillcrest
It's probably going to be tempting after a long day of sight-seeing and beer sipping to return to good old familiar Gaslamp Quarter for dinner and an evening of entertainment, but force yourself a bit further north to Hillcrest. If we're going to use the word 'hipster' for any part of San Diego, we're going to use it in relation to Hillcrest, but I much prefer to consider the area as just plain old cool.
Crammed with bars, cafes and restaurants, you might think it's Gaslamp in disguise but it's got a whole different vibe going on. If you really can't muster the strength to visit for dinner, then put Hillcrest at the beginning of day two of your San Diego itinerary day and visit for breakfast before Balboa Park – the brunches here are something else, particularly if you're in town on a Sunday.
Where to eat and drink in Hillcrest
Near Balboa Park – you'd be wise to eat before or after your visit to Balboa Park because the food options once you're there are very limited. If you do get famished to the point that you're considering biting your arm off, leave the park on the west side and skip over a block to 5th Avenue where there are a dozen or so restaurants and cafes to choose from. Skip 6th Avenue around the park – there are no eateries unless you're considering knocking on the door of one of the grand residences that run the length of the road.
Brunch in Hillcrest: Hash House a Go Go(3628 5th Avenue) Warning, don't visit Hash House alone. The plate sizes are disgustingly large but the eggs Benedict and bloody Mary (hey, you're on holiday!) are amazingly good (even if it is a chain).
Dinner in Hillcrest: Pho Fifth Avenue (3807 Fifth Avenue) – if you're anything like me and you've trucked your way through wheelbarrows worth of American grub, there's every chance you're craving something light to eat. Enter: Pho on Fifth Avenue. This is genuinely excellent Vietnamese food (as decreed by someone who's spent over a month in Vietnam).
Bars in Hillcrest: I confess to having a few nights out in Hillcrest and equally confess that I can't quite remember the names of the places I went (sign of a good night). You can find a list of bars here. Hillcrest is gay-friendly but not exclusively a gay area.
On day three…
Chill out at Ocean Beach
Day three of you San Diego itinerary is all about 'active-relaxation' – time at the beach (relaxation), though trying to cram more than one part of the coastline into the day (active).
Start out at Ocean Beach, my favourite beach area in San Diego. Where khaki shorts and deck shoes give way to tie-dye and flip-flops, the 1960s haven't quite been squeezed out of existence at Ocean Beach. And that's a good thing. Grab a bran muffin, a flax-seed shake (or just banana one if you prefer) and chill-out beach-side.
Hit the rides at Mission Beach
San Diego's answer to the east coast's Coney Island, Belmont Park is one of the main attractions at Mission Beach, which sits north of Ocean Beach. Get your stomach rollercoaster-ready or if you're still feeling the heat of your Ocean Beach tacos, just take a nice long stroll along the Boardwalk.
Stroll the boardwalk at Pacific Beach
Photo: Dirk Hansen
Because why not complete the trifecta of three beaches in one day? Head even further north from Mission Beach and you'll arrive at Pacific Beach. Known among the locals as P.B., if you're looking for the stereotype of Californian beach life, you're going to find it here. If you're looking for a place to have a go at surfing, many newbies start out in the white water around P.B.
See the seals at La Jolla
Photo: gibdffe
All I'm going to say is: sea lions. Ok, I've got a bit more to say than that. There's a reason La Jolla (pronounced 'La hoy-ah') is known as the Jewel of San Diego. La Jolla Shores is a prime swimming, sunbathing and water sports spot; La Jolla Cove, meanwhile, features a series of sea caves that get kayaker, snorkelers and scuba divers excited. For ridiculously tall sea cliffs, head to Torrey Pines City Beach at La Jolla's northern point. And then, of course, there are the sea lions and seals, which bask themselves close to downtown La Jolla. Add ice cream, a stroll along the boardwalk and dinner at night and you've just had the perfect ending to 3 days in San Diego itinerary.
Where to eat and drink in Ocean Beach
Jungle Java (Ocean Beach) (5047 Newport Avenue) is a great tucked-away spot that has a host of roasts and good-priced refills. The vibe is as you'd expect in Ocean Beach and you can be damn sure the sweet stuff on offer is home made and organic.
Tacos (Ocean Beach): Sure it's San Diego so the concentration of taco joints and Mexican cantinas is expected to be high, but the density of choice in Ocean Beach is close to overwhelming. Whether you're in town on 'Taco Tuesday' or not, follow your nose for the scent of Mexican cooking.
Here are some recommendation for food and drink at Mission Beach, Pacific Beach and La Jolla.
Where to stay in San Diego
San Diego is a sprawling city that, unhelpfully, has it's top sights scattered around. The good news it that it doesn't therefore matter much which area you choose for you San Diego itinerary because you're going to have to move around anyway. That said, I'd recommend first time visitors place themselves in the tourist hub of Gaslamp/Downtown and explore from there.
Due to bad (read: no) planning, I ending up trying the vast majority of the hostels in San Diego and, overall, they were of a high standard. The budget accommodation is listed in my order of preference.
Luxury: Hotel del Coronado – Perhaps the most famous hotel in San Diego, this sprawling red-roofed Victorian era hotel with beach-front views over San Diego bay is an absolute beauty. Tucked away on upscale Coronado island, if you're after big bite of lux and whole heap of history thrown in, this is the place for you.
Luxury: Fairmont Grand del Mar – Tripadvisor's traveler's choice, this five-star hotel consistently wins five-star reviews; understandable when everything about this hotel screams elegance.
Mid-Range: Kimpton Solamar Hotel – Located in Gaslamp, I stayed at this hotel during my first trip to San Diego and I spent a lot of time enjoying the rooftop: pool time by day and cocktails by night. The quality is as you'd expect from a Kimpton hotel and the location is perfect.
Mid-Range: Pacific Terrace – Ocean views without the price tag of the Coronado (below), Pacific Terrace is ideal if want to spend your down-time at the beach in La Jolla.
Budget: ITH Zoo Hostel in Hillcrest – As well as a great environment, breakfast and some evening meals are included at this hostel. The dorms were clean and spacious, the common area was sociable and the location was a surprise – a bit of a walk to downtown, I enjoyed the more local feel to the restaurants and bars without being surrounded by tourists. Hillcrest is San Diego's main gay neighbourhood. Dorms and private rooms available.
Budget: ITH Adventure House in Little Italy – Sister hostel of the one in Hillcrest, ITH Adventure House is a smaller hostel but with the same free-food and social vibe. It's also a lot closer to downtown if Hillcrest feels too far away. Bonus: you won't have to walk far for decent coffee, gelato and other Italian goodies. Dorms and private rooms available.
Budget: HI San Diego – Always a safe bet (though sometimes a little less dynamic than other hostels), you can't beat the location if you're interested in being in the area Gaslamp. Dorms and private rooms available.
Budget: USA Hostels Ocean Beach
If you want to be within walking distance of the beach, this place is perfect. Very relaxed – expect a wonderful 60s hippy vibe in OB.
Not found what you're looking for? How about the top 10 hotels in San Diego according to Tripadvisor. Check prices and reviews here.
Want to take a gamble? Check out Priceline's Express Deals. I've had discounts over 50% (almost $100 saved a night) using this site – including getting a great deal on the Solamar when I stayed. You can find out more about how to get great deals in my related article: How to Book Cheap Hotels Using Priceline Express Deals.
Check out Priceline Express Deals here.
Planning your trip to San Diego
How to get to San Diego
I flew direct from Mexico to San Diego with Spirit…so, don't do that unless you have to (I dislike them more than Ryanair). You can fly direct from the UK (London) to San Diego in just over 10 Hours with British Airways.
If you want to compare flight prices, I still find Skyscanner to be the best place to start.
Best USA Guide Books
I used the USA Lonely Planet Guidebook to plan my San Diego itinerary because I was on a longer USA trip. Although it's not filled with pictures, it's got all the details you need including train and bus routes and times as well as local maps. If you prefer something more visual, check out the DK Eyewitness Guide for the USA which has great images and 3D guides to major sites.
Although I didn't use them, the Lonely Planet for Los Angeles, San Diego and Southern California Guidebook will be a lot lighter, as will the DK Top 10 San Diego Guide.
Getting From San Diego to Tijuana – Check out my guide to visiting Tijuana from San Diego which includes what to see and do in Tijuana, where to eat, where to stay, how to get to Tijuana from San Diego, crossing the border and is Tijuana safe for tourists (spoiler: I've been more than once and I've had nothing but a fantastic and worry free trip).
Map of things to do in San Diego
Click here to view the places on this list of things to do in San Diego in Google Maps
More of My USA Blog posts
Blog posts to help you plan your trip
Share this guide to the best things to do in San Diego on Pinterest…