On my first visit to this Asian cultural hub, I was so jet-lagged that my time in Hong Kong wa a blur of sights, snacks and somewhat insane sleeping hours that culminated in me ordering breakfast with a beer in an Irish bar at 4 a.m in some part of the city I couldn't identify even if it was marked on a map. To say I didn't do Hong Kong any justice with my exploration was an understatement.
So, I was determined this time to do better. I drew up an itinerary that covered the top sights and, despite the fact that I was once again flying from London to the east (a route that somehow seems to break me, so matter how many times I fly it), it was a plan that worked. I may have shuffled through the city like a character from Waking Dead, but there wasn't a single Irish bar or 4 a.m. breakfast involved.
Here's my guide to the best things to do in Hong Kong.
1. Ride the Star Ferry
Taking the Star Ferry across Victoria Harbour to Hong Kong Island is so much more than an act of function. Sure, it's used as a commuter route by locals but this ride is a blend of history, scenery and staggeringly good value all in one.
The ferry's inaugural trip was in 1880 (history), it takes you past some of the best views in the city (scenery) and at less then 50 cents per ride (USD), you definitely get value.
You can also take a one-hour harbour tour for around $13 USD if you want a longer stint onboard.
2. Stroll along Central Waterfront Promenade & Victoria Harbour
With a visit up to the Peak frontmost on my mind, I didn't pay the central waterfront promenade much mind (beyond a few photos). Still, if you have time, take a walk around this area. A lot of money has been invested in the area and it's a welcome respite from the jammed city. You can find out more here.
3. Take the Peak Tram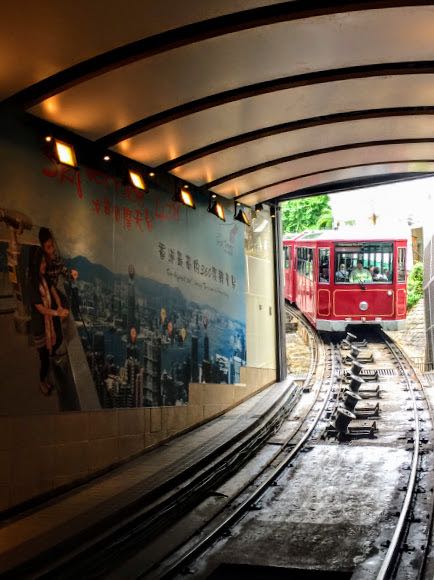 4. Enjoy the views from Victoria Peak
Being the highest point in Hong Kong and with a famous skyline stretching out below, there's the potential for spectacular views from up Victoria Peak. However, as you can see, the haze isn't always on your side. I was fortunate enough for a blue sky day the first time I visited, so I look my jet-lag for some strong coffee instead of trampling over old ground. If you do have a few days to play with, consider saving the peak until the weather works for you. Better yet, visit at night when the city lights burn regardless of the stubborn haze.
5. See the Symphony of Lights over Victoria Harbour
The Symphony of Lights is the 'world's largest permanent light and sound show' (according to the Guinness Book of Records). It only runs for 13 minutes so you have to make sure you're in the right spot at the right time. Want to see what all the fuss is about? Check out this Hong Kong Symphony of Lights video.
You can find out more about seeing the light show here.
And if you want a prime spot, you can book a seat on a junk boat in the harbour where you can enjoy the view with dinner or a drink.
6. Ride the Ngong Ping 360 Cable Car
Whether you're suffering jet-lag or just want a nice, gentle start to your time in Hong Kong, taking the Ngong Ping 360 cable car ride is a great activity. Over three stages, the cable car takes you over land and sea (bay?) on a 25-minute ride up to Lantau Island. The ever-present smog will make it look like you've switched your camera onto the black and white setting but still, the views are captivating.
The cable car ride spits you out at Ngong Ping Village which was crafted entirely with the purpose of extracting cash from tourists. However, despite the glut of souvenir shops, gimmicky photo ops and restaurants, it's pretty nicely done. And, with the exception of the tea shop which required a small mortgage for a pot of tea, the prices are relatively reasonable. But don't worry, the real prize lies beyond the village in the form of Tan Tian (Big Buddha). More on that below.
How to do it: you can get to Ngong Ping 360 by taking the metro (MTR) to Tung Chung station. The cable car is sign posted and is a short walk (a few minutes) from there.
You have a choice of two tickets: standard or crystal car. The crystal car had a glass floor which looked too thick and worn for great photos so at almost twice the price, I didn't bother. However, it is the less popular option so can cut down your queuing time by quite a lot if you do go for it. Do note that online and at the ticket office there are lots of packages advertised. Unless you want to go on a tour, the simple standard or crystal car tickets are all you need. You can find out more here.
Hong Kong Metro: my favourite metro map app is by Mapway and you can find their free, interactive Hong Kong metro maps for iOS and Android here.
7. Visit Tian Tan (Big Buddha)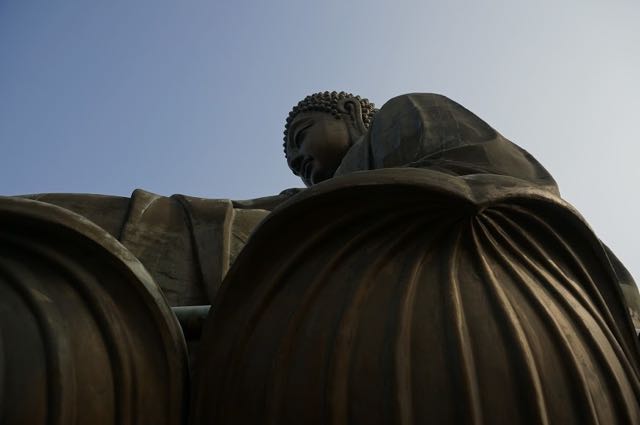 I'm always impressed by the creative definitions employed to ensure that each big Buddha finds its place in the record books and Tian Tan is no different. Wait for it: it's the world's largest seated bronze Buddha in the world (which kinda makes me wonder how many other large seated bronze Buddhas there are to compare it to). Still, at 112 feet/ 34 metres and with 268 to get to reach his feet, nobody's disagreeing with the Big Buddha title any time soon. Don't miss the Po Lin Monastery.
How to get there: If you don't like the sound of the cable car, you can also take the bus (NLB numbers 2 and 23).
8. Hike Lantau Island
Given I was travelling with a 3-month-old new knee ligament, I was about ready for a sit down after the steps to Tian Tan but if you're feeling energetic, you can shuffle your itinerary around so that you hike up to Lantau Island instead of taking the cable car or bus.
Be warned, the hike starts from the same area as the cable car and every 5 minutes I'd look down and re-declare "that really is one hell of a hike". It covers 5 peaks and takes the best part of half a day even if you're fit. So, start early to avoid the mid-day heat.
9. Temple Street Night Market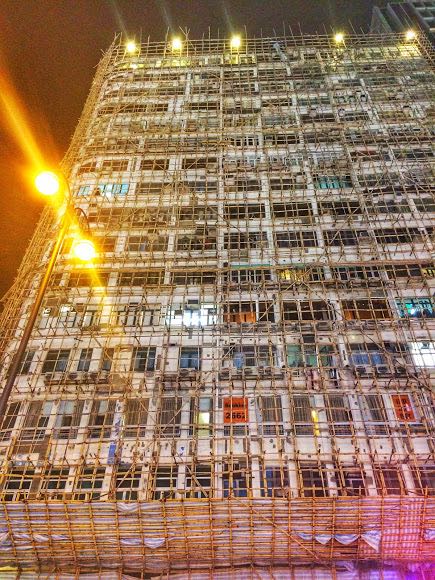 One of my favourite parts of travel is trying the local food and luckily my accommodation was a 10-minute walk from the Temple Street Night Market. As a non-shopper, I gave the souvenir and fake-brand stalls a wide berth and after communicating to several sellers that I didn't want a fake Rolex, I settled down on some tiny plastic chairs outside a street restaurant called Spicy Squid. Yes, I was perched under a Sex Shop sign, but that didn't stop me tucking in to some delicious grub and glugging down the first beer of my trip.
You can read more about the Temple Street Night Market here.
10. Enjoy a beer at Ned Kelly's Last Stand
Determined not to be in bed by 8 p.m., I did a quick interwebs search for a bar within crawling distance of my room (pre-empting tiredness, not insobriety) and Ned Kelly's Last Stand came up. Yes, it was a 'western' bar (and so similar to an Irish bar that I can't really claim to have avoided Irish bars) and yes the beer prices made my eyes water but the place was packed with a good mix of locals and ex-pats and the live music was enough to make me stay awake until bed time (2 a.m as it happens).
You can read more about Ned Kelly's Last Stand and find directions here.
11. Try the Shanghai Pan Fried Buns at Cheung Hing Kee
Jet-lag had me up nice and early one morning and the time difference had me famished (actually, I'm pretty much always hungry, but I was using jet-lag as a convenient excuse). Fortunately, I was staying just around the corner from one of the best hole-in-the-wall pan fried bun places in town. And by 'one of the best' I mean this place has a Michelin star.
I completely annihilated the counter with my chopstick skills (non-skills) but these juice and meat filled buns gave me a good dose of energy to get me started for the day.
You can read reviews and find out the location of Cheung Hing Kee here.
I'd say the Peak Tram is Hong Kong Island's equivalent of Ngong Ping 360 cable car – the main purpose is to get you to a major sight (in the case of the Peak Tram, that sight is Victoria Peak) but the journey there is as much if not more fun than the sight itself.
Not only is the tram one of the world's oldest – it's been going since 1888 and the wooden interior and rickety ride are proof of its age – it climbs from 18 metres to 396 metres (around 1,300 feet) in such a short period that you spend most of the journey at seemingly impossible degrees. Have your camera ready.
It's not necessary but if you're the plan ahead type, you can pre-book your tram tickets here.
The Peak Tram runs until midnight.
12. Take the Hong Kong Hop On Hop Off Bus
As well as the MTR, which serves a lot of the city, taxis are pretty affordable compared to how pricey Hong Kong is otherwise. Just make sure you get a metered rate rather than an agreed price, which will always work against you.
If you want to do some sightseeing while sat down, there is a Hop On Hop Off Bus. I've become a big fan of these buses since I bust my knee.
You can book your Big Bus Tour tickets here.
13. Enjoy a cocktail at the Peninsula Hotel
I'm a big fan of a dark bar that serves good cocktails to the tinkle of live jazz on the piano and the Peninsula Hotel (just near the harbour in Tsim Sha Tsui) is the place to do that. Get your glam on – there's a smart/casual dress code. And even if this isn't your vibe, stop by for Johnny Chung Kam Hung, the bar tender who's been working there for over 50 years. You can find out more about the Peninsula bar here.
14. Visit Man Mo Temple
Back on Hong Kong Island, I was ready for some culture and Man Mo Temple was high up the 'must-see' lists. Built in 1847 in dedication to the God of Literature – Man (yay) and the God of War – Mo (boo), I had grand expectations. So, I was pretty unimpressed with the initial view from the outside (picture below). In hindsight, the age of the temple should have told me it wouldn't be of grandeur of much of Hong Kong. Still, I let out a sigh of 'oh? That's it?'
Once inside, I quickly apologised to the God of Literature (the God of War can get stuffed, IMO). Smoky incense filled the air and for the first time in days I realised that my eyes were, in fact, still able to recognise colour.
15. Explore the antiques on Cat Alley
On this occasion, I'd done my research and knew I wasn't likely to find a single cat on Cat Alley, which is just a street over from the Man Mo Temple. Instead, you'll find a curiosity of antiques jumbled together on trestle tables outside old stores. Even if you're not there to buy, a stroll down this alley provides a nice contrast to the designer shop names you'll find pretty much everywhere else in Hong Kong.
16. Go shopping
I would rather chew on my own toenails than spend my time shopping while I'm away. Unless I need something specific (e.g. I've broken my hairbrush and realised 5 days of no brushing it about the limit or I've left behind the charger for my iPhone), you won't see me within running range of a shopping mall. However, I accept this isn't the norm and you can find a guide to Hong Kong's shopping areas here.
17. Ride Central's Mid-Level Escalator
If nothing else, Hong Kong is a city of biggest, best and longest. And the central mid-level escalator is no exception. It may seem a strange activity to recommend – suggesting you stand on an escalator; but that all falls away when you realise that the escalator runs for over 800 metres (over 2,500 feet) and climbs more than 135 metres (almost 500 feet) through Hong Kong's hilly streets. Still, not sure what that really means? The escalator takes 20 minutes to ride. One way!
At the top, have a stroll back down. There are lots of cool bars and restaurants littering the route, making it a great stop for lunch or dinner.
Finding the start can be a bit tricky. You can find out more here.
18. Chill in Hong Kong Park
Although I didn't make it to Hong Kong park during my most recent trip, I did on my previous visit and can definitely vouch for the sanctuary feel this large swathe of green provides. With landscaped gardens and water features, you can pretend – at least for a little while – that Hong Kong isn't as densely packed as it is.
You can find out more about visiting Hong Kong Park here.
19. Stroll The Avenue of Stars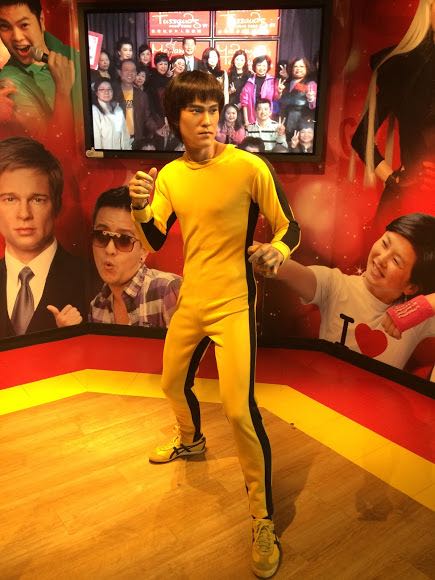 The Avenue of Stars, known as Hollywood of the East, is a major attraction in the city but it was closed for renovations when I visited. So I had to settle for a picture of Bruce Lee up Victoria Peak.
20. Explore the nightlife in Lan Kwai Fong
About half a step up from an Irish bar is Lan Kwai Fong. Yes, it's blistering with westerners (tourists and ex-pats) but it still makes for a fun night out with back to back and side by side bars. Search out the happy hour offers otherwise you're going to drain (drink) your budget very quickly. I really enjoyed IQ bar – great cocktails, a flashy interior and just so much more on offer than the surrounding sameness.
You can read reviews and find out the location of IQ bar here.
And if this is your last night in the city, don't get too silly. Missed flights are expensive. I should know.
21. Take a tour of Hong Kong
Whether jet-lag has got the better of you or you want to put your sightseeing in the hands of a local, here are some tours of Hong Kong.
Tours of Hong Kong featured on Trip Advisor– book the highest rated tours through Tripadvisor to be sure you get the best experience as rated by real people.
Get Your Guide Tours – a brilliantly broad range of full and half day tours in the city from the top attractions to more quirky options.
Viator tours in Hong Kong– handpicked tours, verified reviews, low prices and 24hr support, there's no surprise Viator is one of the biggest tour booking companies out there.
Intrepid Travel Tours that include Hong Kong – I've taken a few Intrepid Travel tours in my time and can highly recommend them if you're after a longer trip. You'll definitely get beneath the skin of a country with Intrepid.
---
Where to Stay
After some research and scant memories of my last trip, I chose the Tsium Tsum Tsu (TST) area. Right by the waterfront, with access to the Star Ferry and the night market, it was a great spot I'd recommend. Accommodation is generally pricey in Hong Kong.
Last time I stayed in the New World Millenium Hotel, which has a spectacular view of the skyline and which I got cheap on Priceline. If the sky were the limit, I'd opt for the Peninsula Hotel.
New World Millennium Hotel – Trip Advisor | Hotels.com
Peninsula Hotel – Trip Advisor | Hotels.com
You can find a list of alternative hotels here and a list of alternative hostels here.
Understand the areas of Hong Kong
Hong Kong is a combination of the peninsula of mainland China and a series of islands. Some of the main locations tourists will touch are:
Kowloon Peninsula: Tsim Sha Tsui is at the tip of the peninsula and within walking distance of Victoria Harbour, the area that connects Kowloon with the islands.
Hong Kong Island: Central – 'original' Hong Kong, where the city started is here. On Hong Kong Island, you'll also find Victoria Peak, Lan Kwai Fong, Wan Chai and Causeway Bay.
Lantau Island: Where you'll find Tian Tan.
If you don't want to spend your time zipping across the harbour, plan your sightseeing to take in areas at a time. This itinerary will do that for you.
You can read more about the different areas of Hong Kong here.
Related Articles:
Like this? Share it on Pinterest…