Giuseppe Verdi once said, "You may have the universe if I may have Italy."
I feel that way about Florence; which might explain why I have visited this arresting Italian city so many times I'm losing count. And, with that, what I'm equally losing count of is the number of times I've scribbled out an itinerary for 3 days in Florence – on the back of beer mats, across the bottom corner of a child's nursery drawing or tapped out in a hasty text. In fact, I've written the same itinerary so many times, it seemed sensible to put it in a more permanent form because, if it comes to pass that I may not have Florence, then I'd at least like to share it with you.
The main reason I'm so committed to this particular itinerary is because it will get you to the top sights at the right time of day; it doesn't see you jumping around the city too much; and it includes advice where to eat and sleep. There's a lot of information in here, but don't worry because at the bottom you'll find a one-page, printable itinerary that you can take with you.
Day 1 – Morning
Santa Maria del Fiore Cathedral (Catthedrale di Santa Maria del Fiore)
My recommendation for all first-time visitors to Florence is to head straight to the main cathedral (Santa Maria del Fiore), which is undoubtedly the most iconic sight in the city.
Highlights:
Brunulleschi's cupola – although you can go inside the cathedral for free, the real highlight is the climb inside the cupola to see the famous ceiling fresco.
Views over Florence.
Top Tips:
Beware, there are over 400 narrow steps to get to the top with no option to go back. Wear flat shoes and pace yourself.
Baptistry (Battistero di San Giovanni)
Just across from the Santa Maria del Fiore Cathedral is the Baptistry. It's a very impressive octagonal building that most people only see from the outside, largely because they want a photo opp with the famous bronze Porta del Paradiso (Gates to Paradise). What they don't realise is that the real gates are kept inside at the Opera Museum (see below).
Highlights:
The impressive 12th century ceiling mosaic
Stand in the baptistry where Dante was baptised.
Opera Museum (Museo dell'Opera di Santa Maria del Fiore)
Tucked away behind the back of the cathedral, most visitors miss the Opera museum in favour of selfies in front of what is actually replica Gates of Paradise on the baptistry. To see the real deal, head to the Opera Museum.
Highlight:
Original Gates of Paradise
Lunch: Mr Pizza
Yes, I'm serious.
I'm a big fan of packing in as many sights as I can, especially on day one when energy is usually high. For that reason, I recommend grabbing a quick pizza.
I was a disbeliever when a local advised me to try Mr Pizza. Between its proximity to the duomo (just to the left when you're facing the cathedral) and ridiculous name, I didn't believe it could possibly serve good food but I was wrong. Yes, it's canteen-style so you have to order at the counter, but the pizzas are fresh, fast and amazing value. Best of all, there are no tourist menus or microwaves hiding out back, which is pretty much what you'll find everywhere else around the cathedral. (Oh, and gluten-free fans rave about the pizza here.)
You can read reviews about Mr Pizza on Tripadvisor here.
Looking for a cooking class in Florence? Check out this post from The World in My Pocket.
Day 1: Afternoon
Giotto's Bell Tower (Campanile di Giotto)
I must warn you that my suggested day 1 itinerary includes a Three Tower Challenge i.e. climbing the steps of the three main 'towers' in the city in one day (i) the duomo in Santa Maria del Fiore; ii) Giotto's Bell Tower; and iii) Arnolfo Tower in the Palazzo Vecchio.
If this isn't your kind of challenge, swap the itinerary around, but I'd still recommend ascending the three towers in the order recommended as you'll get increasingly amazing views of the city culminating in views from Arnolfo Tower over the Duomo and Giotto's Bell Tower.
Highlights:
Giotto's Bell Tower is ornately beautiful in itself (viewed from the ground)
Superb up-close views of Santa Maria de Fiore from up high.
Piazza della Signoria
In a city where there seems to be one piazza for every winding street, it's easy to brush them all off as being the same. Don't – Piazza della Signoria has special significance as Florence's main square. It may not be as riddled with cafes and bars as popular Piazza della Republica, which is just around the corner, but you're going to discover a lot more history in Piazza della Signoria (Piazza della Republica has fallen victim to regeneration which tossed out a lots of the square's past in the process).
Highlights:
This is the very square where the Bonfire of the Vanities took place and a marble plaque on the floor marks where Savanorola (the priest at the heart of many such bonfires) was later hung and burnt on the cross.
Fountain of Neptune.
A word on 'fake David': If someone tells you that you can just see the fake David outside the Palazzo Vecchio instead of going to see the real one inside the Academy, send them to me and I'll set them straight.
You can read more about the history of the many statues in the square here.
Palazzo Vecchio Museum (Museo di Palazzo Vecchio)
You're probably suffering brain overload at this point so I'd recommend a leisurely amble around Palazzo Vecchio. Unless you're smitten, I'd suggest a relatively short visit because you're going to have plenty of time to consume Renaissance art at the Uffizzi on Day 3.
Highlights:
Hall of Five Hundred (Salone dei Cinquecento)
Tour of the secret passages (most recently made famous by Dan Brown in his popular book, Inferno).
Arnolfo Tower of the Palazzo Vecchio (Arnolfo Torre di Palazzo Vecchio)
Most visitors seem to skip this tower climb and I don't know why – with both Santa Maria del Fiore and Giotto's Bell Tower in frame, it offers some of the best photos in all of the city. Go just before sunset for the best photography light.
Highlight:
Most impressive up-close views you're going to get of Santa Maria del Fiore and Giotto's Bell Tower.
Vecchio Bridge (Ponte Vecchio)
The Ponte Vecchio was designed in 1345 and back in Medieval times, it was filled with butchers and the accompanying stench of rotting meat. These days the bridge is mainly occupied by jewellers, which makes it an all-around more pleasant place. Just go slowly: the crowds can be dense.
Look up and you'll see the curious Vasari corridor that was built for Cosimo and which runs for a kilometre from the Pitti Palace (his home) to Piazza della Signoria where he worked.
If you plan ahead, you can book tickets to get inside the corridor.
Highlights:
The Vasari Corridor
Views over the Arne at sunset
Dinner: Le Fonticine
My favourite restaurant in Florence, Le Fonticine is a far cry from the usual tourist options on offer in the city. Near the main train station, this restaurant serves up real, Tuscan food that is good enough to satisfy it's mainly local crowd. I'll admit, I've found the waiting staff consistently surly but the fact that I'm prepared to take that on the chin and still recommend this place amplifies how wonderful the food is. Book in advance and save space for the dessert menu.
Day 2 – Morning
Academy Gallery (Galleria dell'Accademia)
If you only visit one museum in Florence, make it the Academy. There's a reason people from all over the world filter through the doors each year and that reason is to see the perfection of Michelangelo's David up close and…er…personal. But that's not all the Academy has on offer so take more than the cursory 5 minutes most visitors sadly give this impressive museum.
Highlights:
Michelangelo's David (obviously)
Top Tip: The Firenze Card will let you skip (most of) the long lines to get into the Academy and also means you don't have to book a time slot. However, if you decide against the Firenze Card, do book your tickets in advance from the official Uffizi site. There is a 4 euro booking fee, but you shouldn't pay any more fees than that.
Update about the Firenze Card 2019 – I've receiving mixed feedback on whether the Firenze card a) will let you skip lines and b) whether it's good value for money. The card has changed since I last visited so I've removed most of the references in this post until I get a chance to return to Florence and test the card out again.
Santa Maria Novella Church (Basilica di Santa Maria Novella)
Even if churches aren't really your thing, it's worth a look inside Santa Maria Novella. With its ornate exterior and strikingly stripey interior, the church is another example of the grandiosity that is Florence.
Highlight:
Picture perfect church that is both dramatic and grand.
Lunch: Mercato Centrale
I always tell friends that they should at least pop into what has become the most popular tourist market in the city. However, if you're in the slightest bit 'hangry' (so hungry that you're angry), the crowds are going to send you into a rage. If, on the other hand, your appetite has a bit of time, the pace of this market and contagious atmosphere can make it a fun place for lunch.
Be under no illusion, this market has long-lost its local crowd (think: Mercado de San Miguel in Madrid). If you want something more local (though not so close to the Uffizi), check out Mercato Ambrogio.
You can read more reviews on TripAdvisor and get directions for each of Mercato Centrale and Mercato Ambrogio.
Day 2 – Afternoon
Santa Croce Church (Basilica di Santa Croce)
Call me morbid but the Santa Croce church in Florence is one of my favourites mainly on account of the number of famous dead people who rest there. Yep, morbid. I did warn you.
Highlights (a.ka famous dead people who are buried here):
Galileo Galilei
Michelangelo
Gelato break: il Procopio
A trip to the Uffizi, which is what I recommend for your afternoon activity, is going to require some stamina. Fortunately, my favourite gelateria in Florence is just around the corner from the Santa Croce church.
il Procopio is tucked away down a residential street, successfully hiding it from most tourists. That pleases me because it means that the award-winning gelato makers can focus on their craft without bending to the needs of mass production. I think what impressed me most about this place is that, speaking to the owner, their gelato is made freshly each day using ingredients, fruits and nuts from nearby Mercato Ambrogio.
You can read reviews about il Procopio and find directions on TripAdvisor.
Uffizi Gallery (Galleria degli Uffizi)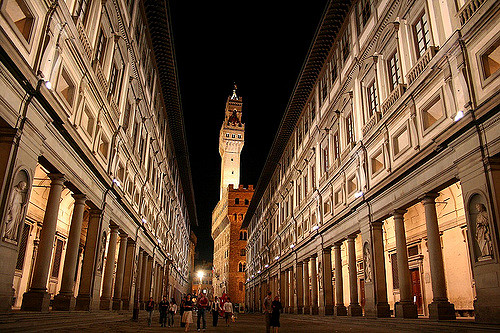 What can I say about the Uffizi? Let's start with the fact that it's massive and houses a mind-boggling volume of Renaissance and European art from some of the biggest names in history.
You can take a guided tour around the museum but it's easy enough to visit on your own with or without an audio guide. The Uffizi website provides a great overview of the museum and points out the major pieces of art to see if you don't have the time or patience or interest to explore it all.
Highlights:
The Birth of Venus by Botticelli – if you see only one work of art in the Uffizi, make it this one.
There's also plenty of work by Raphael from Urbino but why not just plan a separate trip to Urbino instead?
Dinner: Cibrèo Teatro del Sale
Ristorante Cibrèo sits facing its sister establishments, Cibrèo Trattoria and Caffè Cibrèo, in a quiet square near Mercato Ambrogio. Far enough from the Duomo and Ponte Vecchio to lose the tourist crowds and the mass production of pasta that shadows them, Cibrèo is the creation of Fabio Picchi and is known for its menu-less menu that changes according to the whim of the season and, I suspect, the chef. If you're after crisp linen, slick service, high-end produce and complex comb combinations, Cibrèo will deliver in spades.
You can read reviews about Cibrèo and find directions on TripAdvisor.
Day 3 – Morning
Pitti Palace (Palazzo Pitti)
One of the reasons I recommend the Pitti Palace on the final day is because, as grand and impressive as it is, it's the kind of place where you can simply wander, without having to tick off a list of must-sees.
That said, don't skip past the Costume Gallery. Walking through the history of Italian fashion together with a few more global additions, Gucci, Versace and Prada are all present. Regardless of whether fashion is your thing or not (it's not mine), this is a beautiful collection that will leave you thinking wow.
Highlights:
Appartamenti Reali: If the word opulence could be captured inside a room, it would be inside here.
Costume Gallery
Lunch: Boboli Gardens (Museo Giardino di Boboli)
With Florence being as popular as it is, there is very little peaceful outdoor space in the city…apart from the Boboli Gardens. Yes, you have to pay to enter despite the fact that they're part of the Pitti Palace. But it's worth paying because, with great views over the city and tree-shaded paths to meander, these highly tended gardens make a great space to stop for a while. Take a picnic and a good book and it's easy to lose an hour or two in this serene space.
Highlights:
Neptune's Fountain
the Buontalenti Grotto
Egyptian obelisk
Day 3 – Afternoon
It's very possible that by the afternoon of your third day in Florence, all you want to do is find a shaded terrace and sip on Aperol spritz. And if that's what you want to do, go forth and relax. However, if you still have a bit of time and energy, there are some (less significance but still worthwhile) sites and museums I'd recommend. Most of them can be seen very quickly (in under half an hour). So, why not squeeze one last whirlwind bout of sightseeing into your trip?
Galileo Museum (Museo Galileo)
If you want to step out of the Renaissance, the Galileo Museum is the place to do it. Telescopes, globes and other scientific instruments are all on display in homage to Galileo Galilei, the famous Italian astronomer who was sentenced to prison for agreeing with his Polish counterpart Copernicus that the sun and not the earth was the centre of our solar system.
The Bargello Museum (Museo del Bargello)
In many ways, the Bargello Museum is one of my favourites in Florence. A wonderful combination of both paintings and sculptures, the Bargello is manageably small and features some of the earlier sculpture works of Michelangelo and Donatello.
Dante's House (Museo Casa di Dante)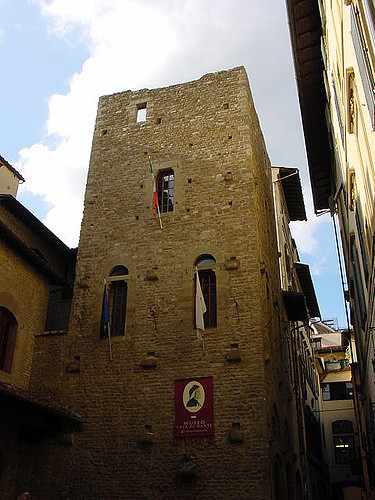 My brother gave me a 'was that it?' look when he emerged from Dante's house so I feel the need to set your expectations low. It may not be the grandest sight in Florence but this tiny museum does give you a glance inside a more modest abode, and one that was occupied by the poet behind the enduringly famous Divine Comedy.
Dante and Beatrice's Church (Chiesa di Santa Margherita)
And while we're on the topic of Dante, his life contained a tragic love story – he never got to spend his life with the woman he truly loved, Beatrice. This tiny church is entirely missable (unless there's a guided tour blocking the narrow street outside) but it is mostly significant for the basket inside where the brokenhearted come to make a plea to Beatrice to reunite them with their lost love. I personally think that if she couldn't sort her own love life out, she's got a fat chance of solving 21st century romantic problems from beyond the grave, but I guess I'm a bit of a cynic.
Michelangelo Square (Piazzale Michelalangelo)
I always save Piazzale Michelalangelo for last because I can't think of a more impressive way to end a trip to Florence. The piazza itself isn't much to speak of, complete with ice cream vans and water vendors, but the views out over the city can't be beaten. It can be a sweaty hike up there so take a taxi or the bus if your legs won't take the pace. Aim for sunset when you can drink in the views and I've no doubt make a pledge that to Florence you will return.
By the way If you are superstitious and determined to return to Florence, go rub the snout of il porcellio, the bronze boar in Piazza del Mercato Nuovo. There's a fascinating history surrounding the boar, which you can read here. No, seriously it is interesting!
Printable Itinrary
You can get the printable PDF version of this itinerary here.
Florence Travel Tips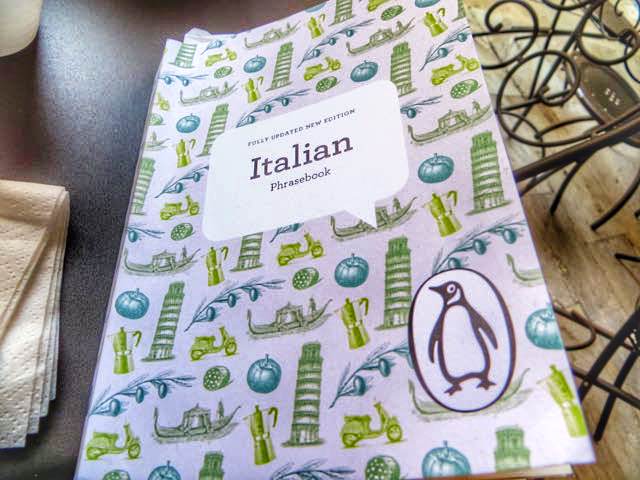 Where to stay in Florence
On a budget: Over the years, I've tried a few of the hostels and budget hotels in Florence including:
Ostello Bello Florence – I love the Ostello Bello chain. Always high-quality accommodation with a choice of dorms or private rooms. Well located near the station.
Hotel Benvenuti – this is a great mix of hotel facilities with a few dorm rooms if you're on a budget. It can be hard to meet people if you're a solo traveller…but the breakfast is great and so is the location and staff.
Plus Florence – decent location, modern, clean and comes with a pool but beware – school groups take over in summer!
Apartment rentals: on my last trip to Florence I took an apartment rental with Airbnb. It was a fair enough place for the price but not great enough I'd recommend it (me and my last minute booking!). These days I tend to book my apartment rentals on Booking.com and I've had a much better experience that way.
For hotels: Here's a list of the 10 best hotels in Florence (according to Trip Advisor) with Portrait Firenze winning Trip Advisor's Travellers' Choice Award.
On my bucket list are Villa Cora, which wins for opulence and Degli Orafi, the hotel where A Room with A View was filmed (and although I've not seen the film, I love the book, which should be compulsory reading for any trip to Florence!).
Booking tours in Florence
If you'd rather take a tour than plan your own trip, I've used Viator before and find their tours to be great value, easy to book and, best of all, there's a huge range of tour types from one to several days long and covering a huge range of interests from walking tours to Vespa rides to cooking lessons.
You can see all of Vaitor's Florence tours here.
Alternatively, if you're looking to take a longer tour through Italy, Intrepid Travel is one of my favourite group tour companies – you tend to get a more loca experience of a country than you would on most package trips.
You can see all of Intrepid Travel's Italy tours here.
Getting around Florence
If you're smart, you'll ditch your car plans and see Florence by foot. Not only are the streets narrow and filled with confusing one-way streets, car parking is either horrendous to find or horrendously expensive ..and then there are all the parts of the city you simply can't access by car.
If you're not great on your feet for hours at a time, there's a choice between local buses or the City Sightseeing bus. It may be touristy but they're usually good value for money considering you get an audio guide to the sights and city's history.
As for getting to Florence from home, the city is popular and air prices have been set accordingly. If you're finding flight prices are just too high, consider flying into nearby Pisa and taking the train – it's fast, cheap and direct. I've written about it here
Why not visit Italy's Prosecco region – 1 hour from Venice
Planning a longer trip to Italy?
Why not go and visit the Prosecco region and taste Italy's famous sparking wine amidst rolling vineyards.
I've created a whole website dedicated to visiting. You can find it here.
Have you been to Florence? Any other suggestions for 3 days in Florence? Let me know in the comments below.
Related Articles:
Like this? Share it on Pinterest…