September 2014 marks four years since I quit my job as a lawyer to travel the world – and it seemed about time I shared with you my 20 worst travel stories. This article is in two parts. This is part 2. You may want to read part 1 first.
11. Having my passport confiscated at the Mexico-Belize border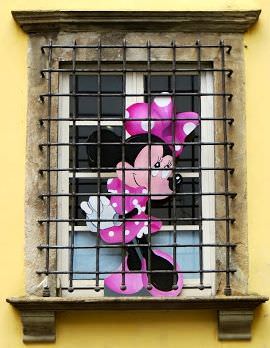 There is one thing I'm not very good at and that is being knowingly scammed. So, I guess I could have foreseen that I was going to run into trouble when I crossed from Chetumal in Mexico on my way to Belize. The border crossing was renowned for it's scamming status, fleecing tourists to the tune of $25USD for an exit fee that you're not required to pay if you've landed in Mexico by air (like I had).
It was 3am when we hit the border and I was grumpy as hell (that's generally how you'll find me any time I've been woken up against my wishes). What ensued was a debate between me and the border control guy in broken Spanish (me) when he demanded my money. Despite showing him the appropriate documents, he refused to relent…as did I. Ten minutes of "debate" followed until, losing his patience and exercising his power, he took my passport off me and told me it was cancelled.
Even more furious than when I'd been woken, I took some deep breaths before returning to his booth. At this point he was waiving tourists through without the exit fee. And seemed extremely peed off as a result.
At a loss for what to do, I proceeded to take a picture of the guy and threatened to publish his face on the internet. Against all expectations, it did the trick and with a fake exit stamp (he did the motion of the stamp but never pressed the ink to the page), I left Mexico. Fortunately, the border control people in Belize were more amenable and my lack of a stamp didn't become a problem.
Travel Lessons
this is a tough one because on the one hand it's important to stand up for your principles – but not to the point that you're going to get yourself into expensive or unpleasant trouble. Gauge the situation and push your point, but be prepared to back down. If he hadn't handed back my passport when I photographed him, I'd have probably paid the money just to get my passport back.
12. Feeling the aftershocks in Japan after the tsunami (and stupidly drinking the potentially contaminated water)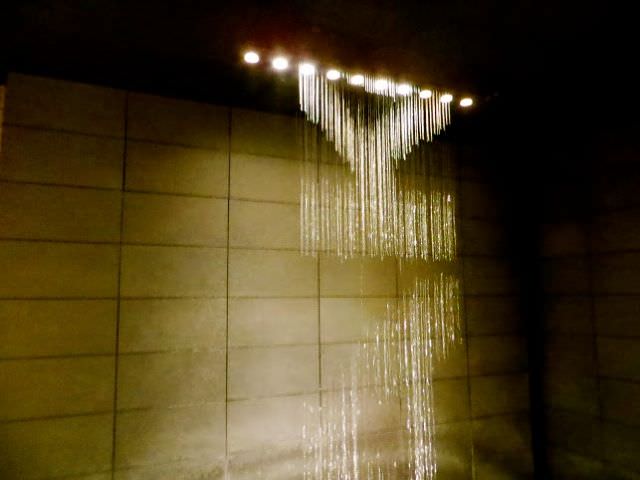 I mentioned in part 1 of my Worst Travel Stories that I had experienced a tsunami warning in Hawaii. Yet, that wasn't the first time me and the word tsunami had crossed paths on my travels.
In 2011, I turned up in Japan just a few weeks after a tsunami had devastated much of the country.
I had planned to spend a month in the country, together with my dad and brother, but we ultimately decided to postpone the trip until another time (and I did manage to finally get there in 2013).
However, back in 2011 I wasn't able to re-route my around the world ticket leaving me with no choice by to fly into Southeast Asia via Japan with a layover for the night.
Feeling my hotel turn to jelly and wobble through the aftershocks while I was over 10 floors up was a pretty scary feeling but that wasn't the worst of it. Too damn budget conscious to buy water from my airport hotel's minibar, I gulped away on the tap water…until my brain conjured up vague memories of news reports that the water in Japan was potentially contaminated from the nuclear power station that was going crazy at the time.
For weeks after I left Japan, every shed of hair I lost made me panic.
Travel Lessons
keep a close eye on the news; and
errr…don't drink contaminated water- duh!
13. Getting into a non-taxi in Costa Rica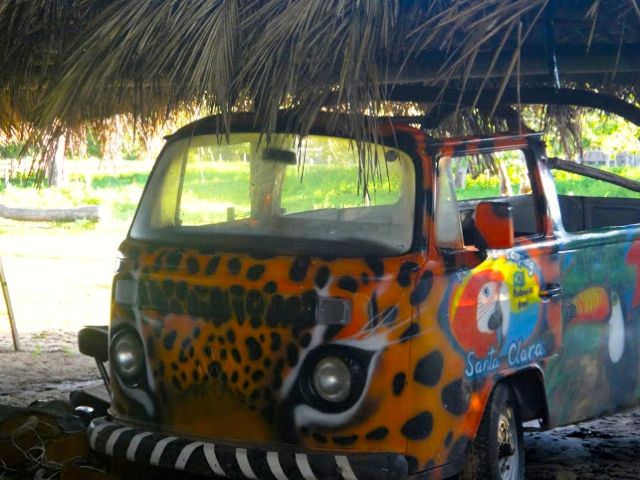 This story definitely falls under the "entirely my fault" category (and serves as further proof that I'm not at my best early in the morning).
Trying to catch the once a day bus from San José to Santa Teresa in Costa Rica, I set out at 5am by taxi from my hostel. Turning up at the bus station, I quickly realised I was at the wrong one (there are commonly a number of bus stations in Latin America that serve different destinations). Entirely focused on catching my bus, I hopped in the back of a car with a guy who offered me a ride to the correct station for only $1USD. Checking my watch, it didn't occur to me to check that he was a legitimate taxi driver…which, of course, he wasn't.
As it quickly dawned on me that I'd just willingly got into a car with a complete stranger, I stared wide-eyed for the journey which comprised some of the longest 10 minutes of my life. Thankfully, nothing bad happened – the guy really was just interested in my $1USD, but it was a valuable reminder to take a lot more care, even when…especially when…you have other things on your mind.
Travel Lessons:
don't get in cars with strangers, kids; and
keep your wits and street smarts about you even when you are distracted.
14. Freaking myself out in drug cartel territory in Mexico
I talked in part 1 about the difference between actual danger and perceived danger and when I was in Los Mochis in Mexico recently, I was definitely suffering from a serious case of the latter.
Not a single bad thing happened while I was in Los Mochis in the Sinaloa state of Mexico – I was never threatened and the people were very friendly, however, I had let my tiny brain go into "worse case scenario" overdrive. Why? While I was in Mexico, news broke that US backpacker Harry Devert's body had been found after he went missing month earlier in a state well know for its drug cartels. And, there I was, following my Copper Canyon trip, firmly in one of the well-known drug cartel states.
Instead of upping my awareness, I fed my fear by hitting Google. Even though it was three years ago and things were under much better control, I couldn't help but focus on the 142 people who'd been killed in just one month in the state in 2011.
For my entire 48 hour stay I was as twitchy as hell and panicked every time a car drove past.
Travel Lessons:
do your travel research before you arrive in a destination to check it's safe; and
don't let your brain trick you into a subjective assessment of the safety of a place when everything else seems objectively fine.
15. Entering Palestine on a day when a fresh wave of violent conflict was possible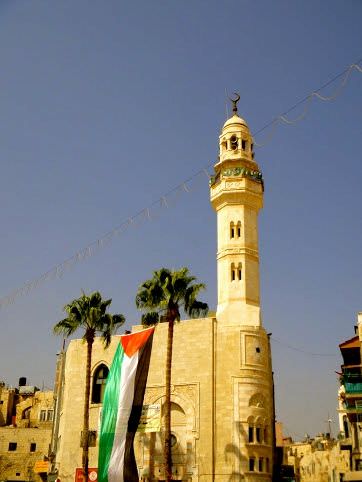 When I visited Israel as part of my around the world trip in 2010/11, I knew that I also wanted to visit Palestine…or at least Bethlehem. Leaving my visit to the last-minute before having to catch a bus north, I left myself little opportunity to visit Palestine other than on the day that Palestine made a bid to the UN for recognition as a full UN member.
As one local told me at the time, it was one of those moments in the Israel-Palestine history when further violence could have sparked. Taking advice from the local tourism office, I took my chances and passed into Palestine. I only spent a day exploring but I was on tenterhooks the entire time.
Travel Lessons
don't leave things to the last-minute – in less stable regions, safety can turn on a pinhead so try to do your sightseeing as early in your stay as possible; and
pay very close attention to local advice as well as the news.
16. Falling into a fire and spraining my ankle on the Gili Islands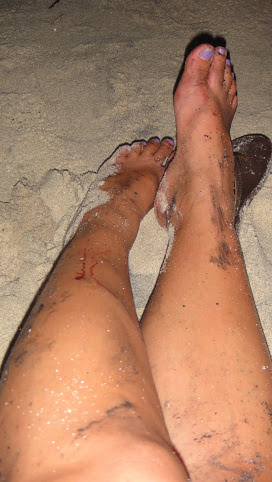 The Gili Islands and particularly Gili Trewangan was one of my all-time favourite spots on my around the world trip. Ruled by a chief and with none of the usual trappings of modern life, the island was idyllic…in most ways. However, during my stay, the downsides of such an informal island really hit home when I headed back towards my room after a beach party to find a full row of houses and shops blazing.
People travelled from all over the island to help and every passing tourist pitched in. But, with nothing more sophisticated than bin lids, buckets and beer cups to carry water from the sea to the fire, it took the entire night to put out the flames. During that time, several properties were entirely destroyed.
In the panic, I was pushed over onto the smouldering flames. As well as acquiring some scorches and a hefty bruise, I twisted my ankle, which left me unable to leave the island for about a week. It was a lonely time for me as I spend most of that week confined to my bed, but not nearly as upsetting as it must have been for the Indonesian locals to see their homes and businesses burn to the ground.
There was a palpable feeling of displacement on the island – an emotion I hope never to be witness to again.
Travel Lessons
try to steer clear of flailing panicking people – they are more dangerous than helpful in a crisis;
if you injure yourself, especially your ability to walk, you have to make friends fast. The islanders would come fetch me from my accommodation and help me to lunch and dinner each day when I was unable to walk.
17. Sharing my room with a family of rats on Lombok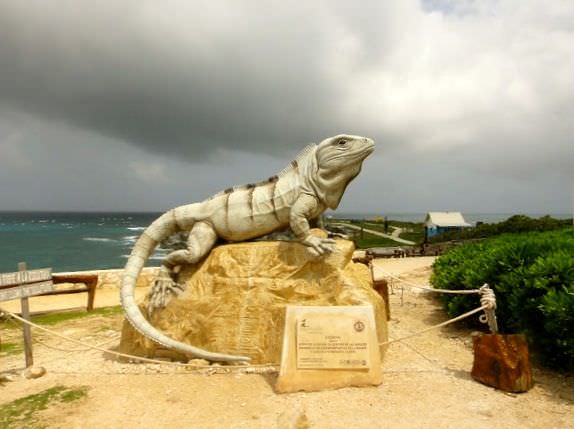 As if the Gili Trewangan fire wasn't enough of a kick to my travel joys, my next stop after the Gili islands took me to Lombok where I was to hit another travel low point. Still unable to move around much, particularly with my heavy bag on my back, I took a taxi to one of the guesthouses listed in the Lonely Planet. Unfortunately me and the writer of the Southeast Asia guide don't share the same views on a good place to stay.
Woken around 2am by a loud rustling, I opened my eyes and saw a gleaming pair of eyes shining back at me. As I screamed, the owner of the second pair of eyes leapt across the room, scrambled over my bed and climbed up the walls. I heard the scurrying of around three more friends. Switching on the light, I saw that the rats had been dining out on a packet of crackers that had been triple bagged and stowed in my rucksack.
For the rest of the night, I slept upright, hugging my knees to my chest in the middle of my bed with my mosquito net draped over my head (what exactly I thought it would do in terms of protection even I don't know).
The next day I left at 6am.
Travel Lessons
18. Getting a point-and-stare rash in Pantanal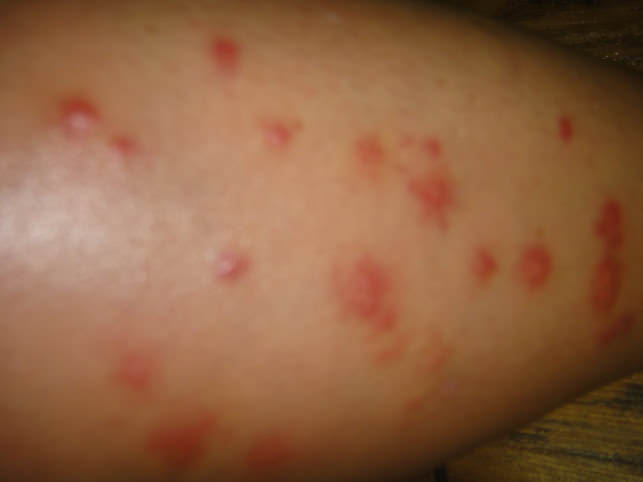 The second my guide said "whatever you do, don't walk into that plant", I looked down to find that I was stood dead in the centre of afore-mentioned plant. "Why?" I asked as I hopped out. "Because it's like being bitten by 1,000 mosquitos" was his answer. And so it was.
As the days passed, the rash on my legs grew more and more brutal until a Brazilian friend marched me to the pharmacy for some treatment. Trying their level best to maintain a look of calm as they frantically spoke in Portuguese wearing worried faces when they thought I wasn't looking, I was finally given an ointment. It didn't stop people pointing and staring at me in the meantime.
Travel Lessons
follow in the footsteps of your guide, especially when you're wading through unfamiliar and exotic plant life.
19. Watching my bus drive off with my bag and without me
Taking the bus to Santiago de Chile was my first solo bus ride in South America my friend left to go home. It was a pretty epic journey stretching for 23 hours and came immediately after I'd been stranded in Chile with no access to cash (see part 1). In short, I was fairly on edge.
So, when we stopped at a place for food about half way into the journey and I watched as the bus sailed off without me but with my bag, I went into a full-on state of panic. With practically no Spanish to assist, it took two bus company guys to calm me down and reassure me that the bus was coming back – it had only gone off to refuel. Of course.
Travel Lessons
learn a few words of your foreign language to find out what time you need to be back at the bus/ask where it has gone;
always pay attention to where your bus is parked and the registration number – they all look the same when you return to board; and
remember – buses need to dash off to refuel – no need to freak out.
20. Having a very lucky escape in India
This story is by far my worst travel story and scariest moment from four years of travel. It's something I've never written about. And, I've no particular desire to write about it detail even now except to say that I was in India. There were four guys on two motorbikes with very bad intentions who pursued me through the dark streets of India.
I made a very lucky escape but it made me realise that your world can turn on a pinhead in seconds.
It's the only time I felt the need to pull out my knife. And it's the only time that travel has made me cry.
Travel Lessons
Having an intimidating experience with men in a foreign country is not your fault, but still there are things I'd have done differently:
try to travel between places during daylight;
know exactly where you're going so you don't end up accidentally straying into an unsafe area;
don't get complacent with your dress standards just because you're going from A to B – I was more uncovered than I would usually be in India (just over the knee skirt and shoulders on show);
use your credit card to get you out of danger and into safety: I booked a western hotel than night and took a hotel taxi the next morning to the airport to return to Delhi; and
try your very best not to let even the worst experiences taint an otherwise great trip – after a solid night's sleep and a fair bit of wine, I picked up my bag the next day and forced myself to carry on.
Well, they are my 20 worst travel stories. I've got a bunch more – like the time a guy in Israel kept trying to touch me because he thought I was his wife…and that time I had a snake in my room in Vietnam. The list could go on and on.
How about you? Want to share your worst travel stories? Leave a note in the comments below.