If I asked you to think of Verbier in the Swiss Alps, you'd probably conjure up images of snowy scenes, days spent skiing and evenings huddled around log fires or packed into a bar indulging in some late night après-ski.
But what happens when the thaw starts, the ski-season ends and Verbier's winter tourists go home?
You might think Verbier turns into an out-of-season ghost town, as desolate as a scene from Stephen King's The Shining (shudder).
Yet the reality couldn't be more different. Underneath all that powder lies thousands of kilometres of trails and footpaths – prime for biking and hiking – verdant pastures are grazed by cows and the whole region turns into a playground with infinite potential. If you've never considered Verbier as a summer spot, it's time to have a rethink.
Here are 21 things to do in Verbier in Summer.
1. Get the Verbier VIP Pass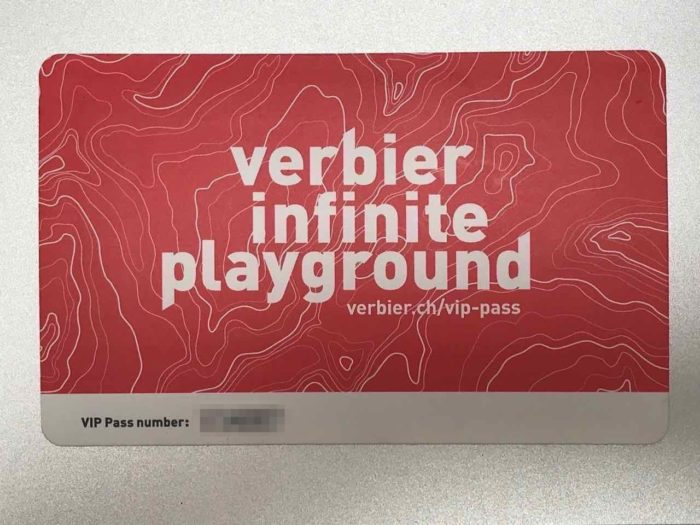 Possibly the best feature of visiting Verbier in summer is a wonderful money-saving pass called the VIP pass.  The Verbier Infinite Playground (VIP Pass) is given to all summer visitors who book accommodation in Verbier, Val de Bagnes or La Tzoumaz. It's a big 'something back' for the small (around €4 per per per night) tourist tax you pay when you book accommodation in Switzerland. And you can even take advantage of the pass if you're on a budget – just book a spot at a campsite.
The VIP Pass is valid for each night you stay and gives you free or deeply discounted access to over 25 activities. From free admission to the mountain lifts on foot (50% discount for mountain bikes) to free outdoor swimming at the sports centre to free museums and guided tours, you can explore a wide range of Verbier's summer activities. There's even free cheese tasting.
Yes.
Free.
Cheese.
Several of the activities I've mentioned in my list of things to do in Verbier in summer below are included in the Vervier Pass and I've highlighted them below. You can find out more about the Verbier VIP Pass here.
2. Climb the Via Ferrata at Mauvosin Gorge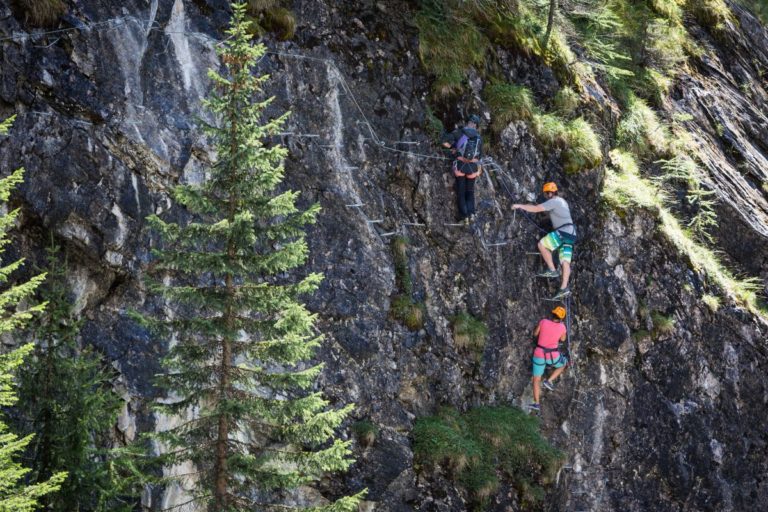 Photo Credit: verbier.ch / Melody Sky
If your favourite thing about the ski season is the chance to test that your adrenaline still functions, don't worry – the Via Ferrata in the Mauvoisin Gorge has you covered for summer in Verbier. Traverse 600 metres of rope bridges, ladders and carved steps pitted along the face of a deep gorge; it's up to you whether you decide to look down at the river Dranse far below.
There are two sections to choose from – Saxifrage which is considered 'quite difficult' and Tichodrome which is deemed 'difficult'. Pick one or try them one after the other.
VIP Pass: VIP Pass holders get a 50% discount on Via Ferrata in the Mauvoisin Gorge, which includes a guide, your equipment and transport. Full details here.
3. Taste Swiss raclette at La Marlénaz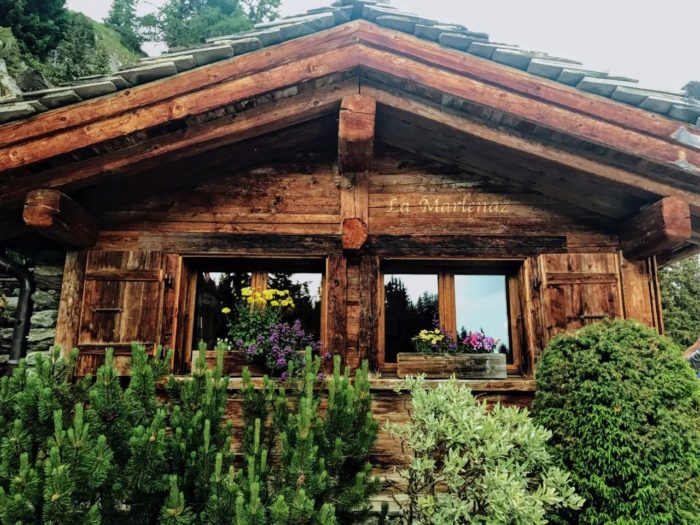 For those of you who think rich, gooey melted Swiss cheese is the preserve of winter, I'm pleased to inform you you're wrong. The beauty of the Swiss Alps summer is that despite the hot, sunny days, the temperatures drop just enough at night to justify indulging in the Swiss tradition of raclette.
What is raclette? Typically, half a 6kg wheel of cheese that's toasted under a grill until it's sufficiently melted that the cheese can be poured onto your plate. Usually, it's served over potatoes with pickles on the side to cut through the richness. If you're a glutton like me, you'll skip the spuds and spoon the cheese straight from plate to mouth, no carbohydrate vessel needed.
How to do it: I can vouch for the raclette at La Marlénaz. Excellent cheese, excellent wine and a chef who was as passionate about preparing the raclette as I was about eating it.
Did you know? Bagnes is the capital of raclette and every year there is a festival dedicated to the dish. Expect dressed up daisies (cows), floats, folk music, wine and, of course, plenty of local cheese. The festival is held in September. You can find out more here.
4. See Val de Bagnes on the Sentier des Chamois hike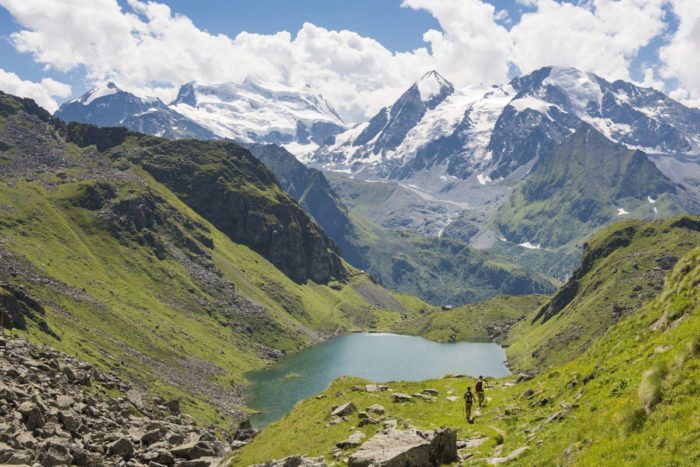 Credit: verbier.ch / (c) Yves Garneau 2015
There may not be enough snow to ski in summer but there's usually enough to leave you with a spectacular backdrop if you go for a hike. And the challenging Sentier des Chamois hike is particularly worth exploring thanks to its views of Val de Bagnes. Summer is also the ideal time for spotting local wildlife.
How to do it: Ruinettes or La Chaux are good starting points for the hike, which can be reached by gondola. Full details here.
VIP Pass: Your VIP pass gives you free admission to the mountain lift on foot as well as free transport on the postal bus.
5. Brunch al fresco on the Sery mountain pasture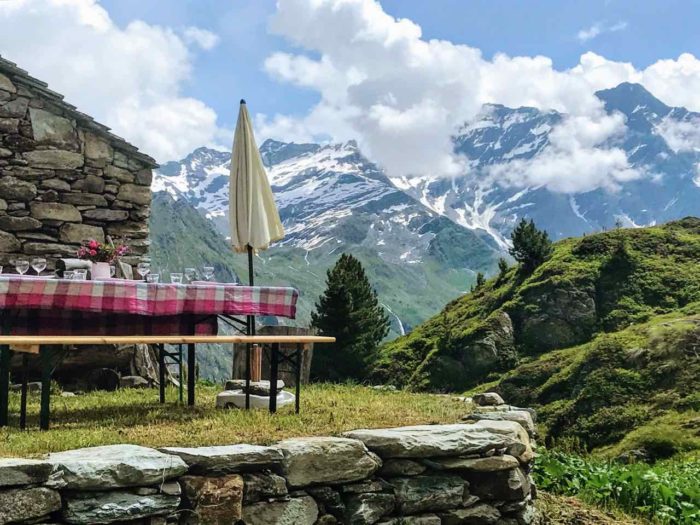 It's been a while since I mentioned Swiss cheese, right? Don't worry – I have another cheese-eating opportunity for you; vital when you're burning all those hiking calories. And this cheese opportunity is particularly special because it's hosted by the president of the local mountain pasture association at a local farm hut right in the middle of the pastures.  Enjoy handcrafted cheese, cured meat, bread, jam and juice.
If you're not sure what to do in Verbier besides all of the active pursuits, I'd say start here.
How to do it: Book your brunch at the Verbier tourist office up to noon the day before. Full details here.
VIP Pass: Visit in summer and this activity is absolutely free as part of your VIP Pass.
6. Say hello to the alpine cows (but beware the fighting cows)
One of the true delights of wandering through the Swiss Alps in summer is the ever-present tinkling of cowbells. But did you know that there's a particular breed of Swiss cow that has fighting in their blood? Each year the Héren cows lock horns to determine who will be the top cow for the herd. So, be careful which cows you decide to stare down. You might find yourself in the middle of a cow fight.
How to do it: Visit the Héren cows in the pasture under the supervision of an expert guide. Book your visit at the Verbier tourist office up to 4 p.m. the day before. Cheese tasting included. (Yes. More. Cheese.) Full details here.
VIP Pass: This activity is also free with the VIP Pass.
7. Bike through the mountains of Verbier
Credit: Verbier.ch | KifCat
You're probably about ready to work off some of that cheese, so why not take your bike up into the heights of Verbier to explore the bike trails. With 500km of cross-country trails to choose between, the only limits are the ones you decide to set.
How to do it: Bikes are available for hire from Backside Verbier, located in the centre of Verbier and within view of the gondola. You can find details of the mountain lifts here and the bike trails here.
VIP Pass: 50% discount on the price of mountain lifts for cyclists. Full details here.
8. Dine at agritourism farm, La Ferme du Soleil
Try an all encompassing agritourism experience at La Ferme du Soleli. Visit the farm animals and explore the farm shop before sitting back for sunset cocktails with panoramas over the valley. When the sun disappears, head inside to experience the Collombin family's gastronomic offering. If you're starting to feel like a wheel of cheese, try fondue chinoise, where you cook slithers of meat in a simmering pot of stock. Just like regular fondue but without the threat of cheese dreams.
How to do it: You can find out more about La Ferme du Soleil here.
9. Hit the downhill trails at Verbier Bike Park
If you're looking to grip your handlebars a bit tighter than you might on the cross-country trails, get yourself to the Verbier – La Tzoumaz Bike Park where you have over 12 km of trails to play with. There are 7 downhill trails in total ranging from the blue trail for beginners, intermediate and black trails as well as a competition trail.
How to do it: As mentioned above, Bikes are available for hire from Backside Verbier. You can find out more about the Verbier Bike Park here. And if you'd prefer to have a bike guide show you around, you can find out more here.
10. Go zip-lining at the Aerial Walkway
Credit: verbier.ch | Laeticia Lehner
When you start to feel a bit saddle sore, take to the treetops in Médran. The high-ropes adventure course has three stages and difficulty levels. Try your hand at zip wires and free-fall jumps from the top of 12 metre towers.
How to do it: Full details about the aerial walkway are here.
VIP Pass: VIP Pass holders get a 50% discount on the aerial walkway entry fee. Details above.
11. Check out Verbier's nightlife
Credit: Verbier.ch | (c) Alpimages
Just because there's no ski, doesn't mean you can't enjoy a little aprés-summer-day. Absent the winter crowds, Verbier's bars offer a much more chilled vibe but the party scene is still very much alive during the summer months.
How to do it: Milk Bar is a good place to start (or spend your entire evening). Otherwise, you'll find a full list of bar and nightlife options here.
12. Explore Verbier's heights by E-bike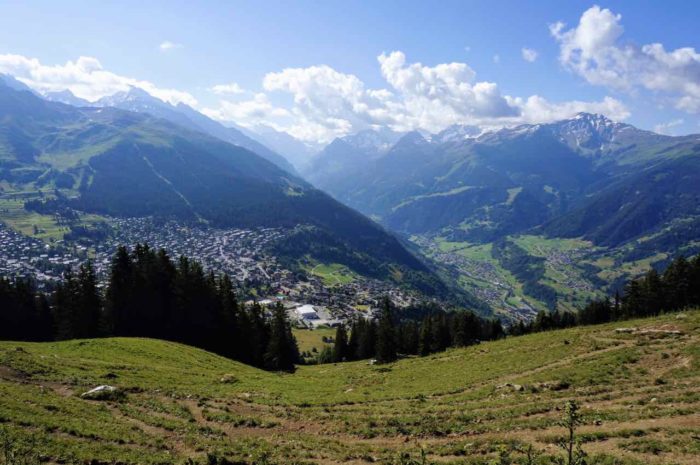 Whether you're not confident enough to take to the advanced trails, or you're just looking for a more relaxed approach to your biking in Verbier, why not hire an e-Bike? With a bit of electrical assistance, you'll go further with less effort, meaning you can explore more of the beauty of Verbier in summer.
How to do it: E-bikes are available for hire from Backside Verbier. You can find details of the mountain lifts here and details of e-Bike itineraries and trails here.
VIP Pass: 50% discount on the price of mountain lifts for cyclists. Full details here.
13. Eat (and drink) all the apricots

I challenge you to spend time in Verbier in summer and not consume apricot in some form. From fresh juices to oh-so-good-you-have-to-try-a-new-one-every-day apricot tart to abricotine (Swiss brandy made from apricots), you won't struggle to find apricot eating opportunities. Fresh, seasonal and in abundance, you know you're in peak Switzerland summer when apricots make their way to your plate at every meal time.
How to do it: You don't need to try too hard to find apricots in Verbier in summer. I recommend you try a few tarts because they are not all made equally. Leave a comment below if you think you've found the best apricot tart in Verbier. We can compare notes.
14. Practise your mountain pose with WholeyCow yoga
This was one of my favourite things to do in Verbier in summer. Usually, my yoga practise takes place in a dull studio or, worse still, a little nook in my office with my to-do list staring me in the face. Hardly the best way to channel your inner yogi. But head out into the Swiss Alps, place some mountains in your backdrop, inhale deeply on that fresh Swiss air and you'll probably do more good in a one hour class than you've done in your last dozen classes elsewhere. Not a yogi? Give it a try – it's great for un-crinkling your body after some Verbier hiking and biking. Still not convinced? Check out one of my favourite, laugh-out-loud yoga books, The Reluctant Yogi.
How to do it: Book a session with WholeyCow Yoga. Yoga mat and stunning backdrop supplied.
15. Visit the original 13th century Verbier village

Most visitors casting an untrained eye over the alpine lodges in the heart of Verbier's resort town may be fooled into thinking they're in the thick of the historic centre. That's definitely what I thought, until I took a tour of Verbier village.
Dating back to the Middle Ages, Verbier Village will make you realise how relatively modern the nearby tourist resort town is; and it will make you appreciate the feat of preserving the buildings and local culture in a place where tourism has expanded exponentially. Fill your water bottle in the local fountains, visit the village church, step inside what was once the communal bakery, and try to imagine what this remote part of the world was like before people came to ski the slopes.
How to do it: Book in advance up to 10 a.m. on the day you want to visit the village.
VIP Pass: Free with your VIP Pass. Full details here.
16. Hike the Bisse du Levron
Not all hikes have to be challenging. Nor do they have to be focused purely on the mountains. Verbier is home to several bisse, man-made gulleys that were created to carry the alpine waters to villages, farms and homes. Walking paths feature alongside many of the bisse and you can spend a restorative few hours ambling through woodlands and across pastures, following the bisse. I took a walk alongside Bisse du Levron, which culminates in a waterfall and sheer drop (protected by a barrier, of course).
The bisse is a summer activity in Switzerland and Verbier only because this is when the gullies fill with meltwater.
How to do it: You can follow the Bisse du Levron path here or find out about additional bisse walks here.
17. See Europe's highest vaulted dam, Mauvoisin Dam
Credit: Verbier.ch | Studio Bonnardot
Mauvoisin Dam, towering at 250 metres, it's the highest vaulted dam in Europe. But that's not all, walk Sentier du Barrage (trail of the dam), and you'll be guided through a gallery that spits you out at the top of the dam. From there, you'll be offered views of waterfalls and Mauvoisin Lake below.
How to do it: You can find out more about the dam here. You can reach the dam by car or by using the local postal buses.
VIP Pass: The postal bus is free with your VIP Pass.
18. Visit during Verbier Festival
Credit: Verbier.ch | © Nicolas Brodard
Verbier Festival is one of the biggest festivals in Europe that takes place outside a major city. Featuring world-class classical musicians as well as young and emerging performers, the festival is one of the major highlights of summer in Verbier.
The festival takes place over nearly 3 weeks between late July and early August. Even if you don't visit Verbier during the festival, keep an ear out in the village as you're likely to hear musicians practicing their performances in the run up to the event.
How to do it: You can find out more about the event and book tickets on the official festival website here.
19. Take a cooking class with Mountain Thyme
Want to learn how to cook with Swiss cheese? And what actually goes into that divine salad dressing you get on your summer salad? Take a cooking class and find out. As well as learning local recipes, you get to sit down and taste the results of your hard work when you're done. Apricot tart was on the menu when I took a class and we had enough left over for breakfast. Fine by me.
If anyone is interested in the history of Cholera pie, read here.
How to do it: Book your class with Mountain Thyme Cookery School.
20. Chill out at a spa hotel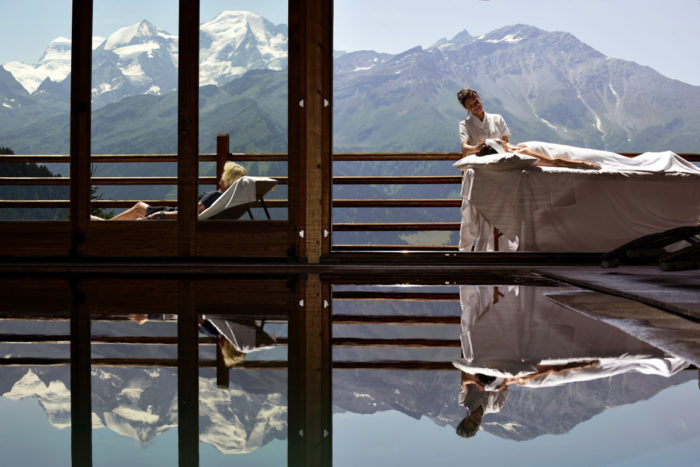 Credit: Verbier.ch | Sporting photo Verbier
Whether you're in need of a massage after all your hiking and biking or you've travelled to Verbier in summer for a spot of indulgence, you really should treat yourself to a spa day. Look out for spas featuring mountain views and private pools with infinity views.
How to do it: I visited the spa at hotel Chalet d'Adrien which had the perfect combination of outdoor views and indoor steam rooms. You can only use the spa if you're staying at the hotel but there are other spas in Verbier if you are not a guest at Chalet d'Adrien.
21. Ride the Regional Alps train from Le Châble to Martigny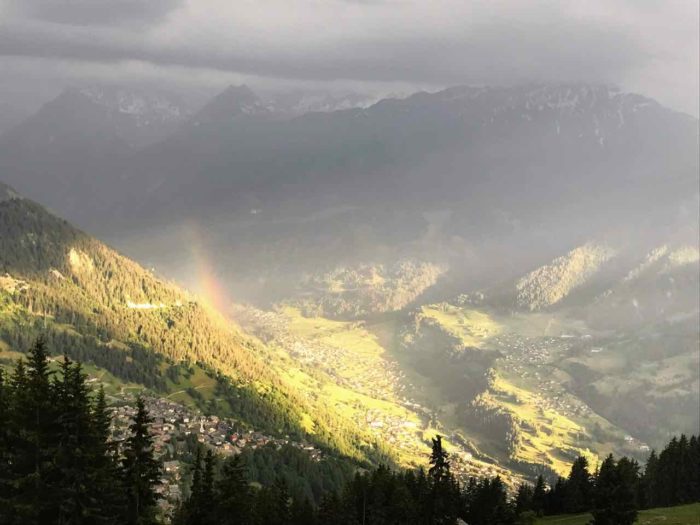 I found myself on the Regional Alps train because I took the train to Le Châble from Geneva. However, even if you arrive by car, the scenery and ascent make this 25-minute train journey worthwhile. Pack a picnic (apricot tart and something cheesy should do it) and watch the Alps pass by.
How to do it: You can check train times here.
Where to stay in Verbier
I stayed at Hotel Farinet which has to be one of the best Verbier hotels to go for. This boutique accommodation features cow print themed rooms, a terrace with views, and a breakfast you'll want to linger over. Situated in the heart of Verbier, surrounded by bars and restuarants and a short walk to the gondola, you'll be hard pushed to find a better spot.
How to get to Verbier from Geneva airport
It's very simple and, in fact, a very pleasant journey to take the Geneva to Verbier train. It takes just under 3 hours with one change at Montigny for the Regional Alps train. The train departs from within the terminal at Geneva Airport so it couldn't be simpler. The simplest thing to do is buy the Swiss Transfer Ticket, which covers a round-trip between the airport/Swiss border and your destination. Prices are £116 in second class and £188 in first class.
Of course, if you prefer to drive, you can rent a car from Geneva Airport. I use Rental Cars, a price comparison site for car rentals. The journey is shorter than the train ride at around 2 hours.
So, that is my list of 20 things to do in Verbier in summer. Got any questions? Leave a comment below.
Like this? Share it on Pinterest…