With my next big trip coming up, I have packing on my mind. I've previously written about the 10 Travel Essentials I Wouldn't Travel Without and I've also shared my experience of downsizing to carry-on luggage.
Given that around one-third of my travelling gear (in size and weight) is made up of gadgets and their chargers, this seemed like the next sensible packing topic.
Although one-third of my baggage may sound excessive, compared to your average office size, it's a pretty compact outfit (I don't pack a desk, chair or coffee machine, for example). However, I'm not suggesting you heft the same level of kit around the world (unless you want to). Instead, you might want to consider this a pick 'n' mix list.
Note: You'll see I'm an Apple fan – of course, there are plenty of other brands and gadgets out there, but I speak only of what I know. Feel free to drop me a note in the comments with any other non-Apple brands or, indeed, other gadgets, you'd recommend.
1. Laptop: Macbook Air
Would you judge me too harshly if I said that I love – yes, LOVE, my Macbook Air?
I got my first one (a 13″) about 8 years ago and although I've had some ups and downs with Apple (I don't care what the Genius Bar people say, Macs can get viruses), and I moved away from Mac for a spell. However, I'm back in the fold (after a moment of weakness in the Apple Store in Bangkok) and couldn't be happier.
So, why do I love my Macbook Air so much? Not only is it extremely compact, has an amazing battery (up to 9 hours!) I actually find it a pleasure to work on and, given the amount of time I spend online, that's important for me.
But, perhaps most useful of all is that Apple has customer service like no other laptop manufacturer I've come across. Even several years after owning an (out of warranty) machine, I've walk into many Apple stores around the world and (so far) they have helped me out…and usually for free.
On the downside, Macs do have great appeal to thieves and can be difficult to insure for long-term travel, but as my laptop is vital for my work (rather than an elaborate Facebook checking machine), I'm prepared to take the risk that comes with carting such an expensive piece of kit around the world.
Buying Tips
If you can stretch to it, I'd recommend getting the larger, 256GB version. Being frugal, I bought the 128GB Mac and regret it. Between managing photos, housing my iTunes library and downloading the occasional TV series, the disk space fills up pretty quickly.
I wouldn't advise getting the 13″ version for travel. My first Macbook Air was the 13″ version and I travelled with it for several months and it felt pretty heavy. It also required a slightly bigger day bag compared to my 11″ Mac and overall I really noticed the extra weight and bulk.
You can find all the products mentioned in this post on my Travel Store.
2. iPhone Pro
If I could recommend only one travel gadget, it would be a smartphone with decent photo capability. I personally pack an iPhone Pro.
Why would I recommend a smartphone? Well, they are very powerful devices that offer a huge range of functions in a compact size that can be slipped into your bag or pocket. Music, internet access, social media, photos, videos, a game centre and there is the bonus feature – you can make calls!
But what has impressed me most about my iPhone 5S is the camera and video function. In fact, I'm so impressed that if I wasn't taking pictures for the purpose of my work, I'd be comfortable ditching my bigger camera and would rely on my iPhone alone. The autofocus is fast, the images sharp, depth of field is captured beautifully without any manual controls, the flash gives great (realistic) lighting , the panorama function is easy to use, you can take pictures in a range of shapes (e.g. Instagram-friendly square) and the zoom is pretty impressive. Add the incredibly well stabilised video function including a fun slow-mo effect, and I really don't see what more most travellers could need.
I took the picture above using my iPhone from the top of the cathedral in Seville. Sure, the image has been "treated" by Instagram, but that's the only editing I did to the image.
Buying Tips
If you're taking it overseas, make sure you buy an unlocked phone that can accept any SIM. Although prices are heaps more attractive when you sign up to a monthly contact deal, all those inclusive minutes and texts in the UK (or your home country) are going to be a fat lot of good when you're overseas.
Plan your purchase in advance – I didn't and ended up getting the larger memory size and paying the extra cost because that was all they had in stock when I popped into the Apple Store just before heading off on a trip.
3. Sony Compact System Camera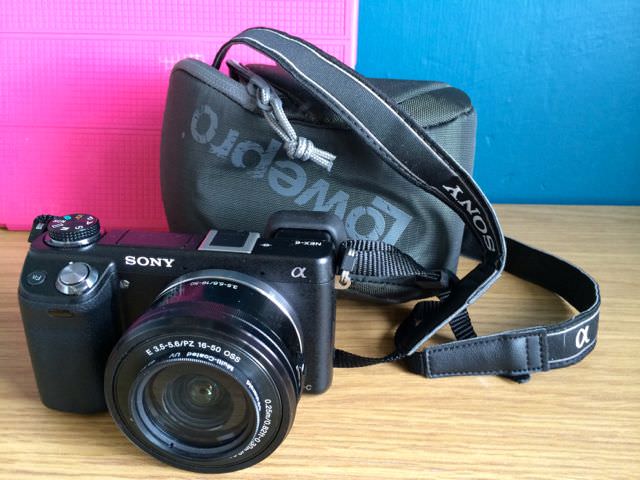 Ok, having said that you don't need more than an iPhone (or similar) for photos, I now declare that I also travel with a Sony. One of my new year's resolutions was to get more serious about my photography skills and I upgraded to a more professional camera. I knew I needed a model where I could play with aperture, shutter speed, ISO etc. but I really didn't want the extra bulk of carrying around a DSLR.
Thanks to some great advice from a bunch of fellow bloggers, videographers and travel photographers, I stumbled across a new breed to cameras that are ideal for travel. Compact System Cameras (CSCs) come with all of the whizz-bang features of a DSLR but because they are digital, they don't include the mirror system inside that makes DSLRs so large and heavy. In fact, CSCs have become so advanced in recent years that the sensors inside (the bit that helps take professional quality images) are the same size and therefore offer the same quality as DSLRs.
Out of all the CSCs on offer, I opted for the Sony because it is relatively compact (it's larger than a point and shoot but can still fit in my handbag), has a viewfinder, comes with an built-in flash, has some zoom functionality on the kit lens that comes with the camera and (subject to my skills), takes excellent photos.
Unfortunately, most CSCs are no cheaper than their DSLR counterparts, but the investment pays off when you come to buy extra lenses, which are around half the price of the lenses for DSLRs.
Buying Tips
The Sony I have is the slightly earlier version and has good reviews from friends I know who have it. It's more affordable.If you're looking for the latest model, then you might want to check out the latest Sony.
4. Memory Cards
If you're going to be taking photos, you're going to want some decent storage space. I carry two memory cards. One acts as a back-up in case the other breaks or if I run out of space in the middle of something time sensitive e.g. a safari…or someone planting themselves face-first in the sand.
I used to use a small GB SD Card and that served me fine for a long time. When I upgraded my camera to the Sony and started shooting in RAW (a larger file size) as well as trying my hand at some video, I up-sized SD Card from Sandisk, which has so far provided me with more than enough space (I've yet to fill it up).
5. Seagate Portable Hard Drive
If you're trigger happy with your camera's 'take-photo' button or have decided to use some of your trip time to finally write your memoirs, you're going to want a portable external hard-drive. In fact, it's advisable for anyone packing a laptop and camera. Not only will it help you keep your laptop clean and fast running (you can store your music, photos and movies on the drive), it helps you follow the 3-2-1 rule for backups i.e. that you should keep 3 copies in at least 2 different formats with at least 1 copy online. (Yeah…I kind of follow that rule myself…sometimes.)
I like my Seagate because the hard drive is sleek looking, pretty robust (I now have it in a lightweight neoprene case, but didn't for a whole year and it's accepted bumps and knocks well), super small (smaller than my hand) and lightweight.
Buying Tips
The price of external hard drives has come down a lot in recent years making higher storage levels much more affordable so I'd recommend getting a minimum of 1TB to 2TB if you have a lot of photos or movies to store. As a guide, on my hard drive I hold around 5 year's worth of photos, over 4,000 songs in my iTunes, a handful of movies and an entire back-up of my laptop, and I'm only using around 250GB (half the drive). Not bad going!
If you're buying a machine online, make sure you check the weight to ensure you're getting a portable version. Not all external hard drives are compact and suitable and it can be hard to tell from just the images online.
When you set-up your hard drive, try to set it up to read and write to both Mac and PC. I didn't do this and had a mare when I kept swapping between Mac and PC on my travels.
6. Smugmug Online Photo Storage
For a long while I used the Google Photos (previously Picasa) free online photo storage facility. I liked it because the interface was nice and there was no storage limit. However, I have increasingly found the service so slow as to be useless when I'm travelling (remember, some places will have internet speeds from the 1990s). I've also tried Flickr and although they have also moved to an unlimited storage plan, I don't find them fast enough either (plus the interface doesn't please me).
After looking around and trying a few alternative services (Dropbox, Microsoft's OneDrive etc.), I opted for SmugMug. The service was recommended to me by a professional photographer so I was initially suspicious the service would come with professional prices, but it doesn't. Overall, Smugmug is much quicker for uploading photos compared to Google+ or Flickr and functions much better when internet drops out (I can reload the batch of photos and it will tell me which ones are duplicates and let me skip them).
I signed-up for the Power Plan at $60 per year (alternatively $8 per month).
There is also a Basic Plan ($40 per year/$5 per month), but I like the customisation options that the Power Plan gives.
The Portfolio or Business Plans are aimed at professional photographers.
Each plan allows you to make your images available for sale offering a potential way to boost your travel funds if you've got the talent (I'm a long way from there yet!).
More information: Smugmug
7. Kindle Paperwhite
I never thought I'd utter these words – I love my Kindle! I put an eReader on my Christmas wish list over a year ago and was kind of reluctant when Santa (aka my dad) provided what I'd asked for. I must have come across as the least grateful gift recipient ever. I knew an eReader was a much smarter choice compared to travelling with books, but I wasn't ready to give up my paper-based reading material…until I started to use the Kindle.
It did take some time to get used to a different format but it didn't take long for me to fully appreciate the benefits of packing a kindle:
I'm no longer beholden to the hostel bookshelf – I can download whatever books I want, when I want including the latest best sellers.
I can read in the dark (on buses and in my dorm when the lights are out) thanks to the built-in light (and you can change the brightness level).
The kindle is much lighter than a paper book.
I can carry over 1 million books with me at a time – imagine packing those in your bag! But more seriously, I sometimes read several books at a time (not the exact same time, mind), and it's nice to be able to do this with my Kindle. For a while I travelled with two paperbacks and the weight was noticeable in addition to my guidebook, Spanish phrase book, notebooks…I was a walking library and my back hated me for it.
It's brilliant at the beach – it's not so valuable that I'm afraid to take it with me and it has a matt screen that can handle the sun (my iPad didn't fare so well on either count).
I can fit it in a back pocket – imagine trying to do that with a hard copy of Shantaram.
Speaking of larger books – I can travel with them now – buying a 900 page epic doesn't hurt my back.
Kindle books are competitively priced.
When I'm desperate, I can download a guidebook (I say desperate because the formatting isn't quite there yet for books like Lonely Planet).
Need I say more?
8. Mi-Fi
Ok, so Mi-Fi (i.e. a portable modem that let's you create your own Wi-Fi hotspot) is going to be overkill for most travellers but if you need (yes, need – not just want) Wi-Fi on the move, then a Mi-Fi device is ideal. The device works by magic…well, that may not be strictly true, but it feels magical. Arrive in a new country, buy a local SIM and pop it into your palm sized, lightweight Mi-Fi device and you can connect several devices to the internet at the same time (the Huawei will take up to 5 devices).
What that means in practice is that I can sit on a train, take a great photo, upload it to the cloud, download it on my laptop and post it to Facebook on the go. Meanwhile, travel friends forgive my rudeness because they can also get online and spent the time messaging family back home. I can also update my blog in cafés that don't have Wi-Fi (meaning I can escape the clutches of Starbucks).
Buying Tips
You absolutely must buy an unlocked device otherwise it will only work in your home country, which kind of defeats the point!
Find out about data SIMs and data charges in the countries you're going to. In the Philippines I could get an 'all you can eat' SIM for £15. In Italy the minimum contract I could sign up to was 2 months, costing £35 (I was only staying for one month). Doing this research beforehand will help you determine whether a Mi-Fi device is worth the cost or not.
Do a comparison of data tariffs for each country but be aware that as a general rule pay-as-you-go is rarely as cost effective as a one-off monthly plan.
Get your SIM from a phone store rather than a convenience store. There are some technical settings that need to be input to make the device work and the guy in 7/11 probably isn't going to know them. In fact, you're probably not going to know them either so get the store to get your device up and running before you leave.
I have yet to find a universal SIM or traveller SIM that offers better value and data costs than the SIMs you can buy locally when you arrive.
9. Skross Travel Adaptor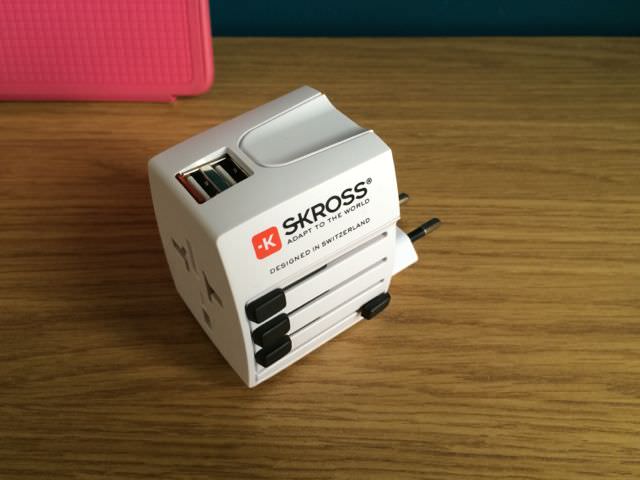 If you're travelling outside your home country (and to countries that don't accept your home country plug), you're going to need a travel adaptor. I've tried a number of styles over the years from country specific plugs to all-in one convertors and find the all-in-ones to be the best.
For years I've been travelling with a no-brand all in one convertor that I bought from the trolley in-flight (with Virgin Airlines and no, I hadn't confused it for a Gin and Tonic). However, my charger recently found it's way to Travel Gadget Heaven and I've found myself in the market for a new one.
Skross is the daddy of all-in-one plug convertors (or so it seems) and it felt like time to give the brand a try. I bought the Skross World Travel Adaptor MUV 2-pole & USB Charger (see my comment under Buying Tips about the complexities of the Skross adaptor world!).
It's much more expensive compared to other similar styles (up to 3 times more expensive). However, although I haven't yet had a chance to use the plug overseas (when the sockets always seem that bit more wobbly and dodgy), I've already found the plug to be lighter than it's cheaper no-brand equivalent (vital when every gram of weight counts).
However, perhaps most importantly, it has super-duper USB charging capability.
After doing a bit of research, I learned that not all USB charging ports are made equal…which explains why my travel gadgets don't power up as quickly when I'm using different chargers. With that in mind, I opted for the Skross plug because it gives 5V / 2100 mA USB charging (the highest charge you can get), meaning I can spend more time exploring and less time inside watching the battery slowly increase.
Buying Tips
Although I'm happy with my purchase, buying this adaptor was more complex than I'd anticipated because Skross has a very wide but highly different range of plugs. From 2-pole to 3-pole to USB (only) to dual USB & plug charger, I found myself having to do some research before I picked the right one. It's nice to have choices but the classification system didn't seem particularly clear or consumer friendly (to me). So, check carefully before you buy.
Skross chargers are the most expensive on the market, which makes them attractive for counterfeits and rip-off copies. If you're looking for a deal (who isn't?), just be aware that while you may pay less, there can be safety implications if you pick up a badly made copy product that later becomes faulty.
10. Apple Ear Pods with Remote and Mic
If you want to listen to music on a night bus (or day bus for that matter), watch a movie in a hostel common room or have a private chat with your bestie back home, you're going to need a pair of headphones. No, seriously – you are (I've heard more strangers have break-ups and fights on Skype than I'd ever want to and just because you want to watch Resident-Evil 5 doesn't mean everybody else does).
There are literally hundreds of types of headphones out there and I've been through a whole bunch of them (some I lost, some my brother's cat's decided to annihilate one night confusing them with prey).
At the moment I travel with the Apple ear buds. They came with my iPhone so didn't cost me any more, but I would genuinely recommend them because not only do they have great sound, more importantly, they have a remote control on the wires so that you can change tracks or volume without having to pull your expensive (and attractive) gadget out while you're on a chicken bus and there is an inbuilt microphone, making Facetime conversations wonderfully private – you can break up with your latest travel love without anyone having to hear it). Note, time has passed and I now have a pair of wireless airpods and would highly recommend them if you can afford them.
That's my top 10 list, but there are a couple of other, incidental items you might want to carry.
A Memory Card Reader
If your laptop doesn't have a memory card slot (like my Macbook Air doesn't – seriously, Apple, you couldn't just squeeze one in?), you'll need a USB card reader. I use the Sandisk Micromate Reader. It's small and works well. However, it is a slightly unusual shape, taking up more than just the USB area so keep that in mind if you have two USB ports on your laptop close together.
SIM adaptor for Mi-Fi
If you're carrying a modern smartphone like the iPhone that has a micro-SIM, you'll need a size convertor like to be able to use your SIM in a Mi-Fi or other device that only accepts standard SIM sizes. I picked mine up at a phone shop in Milan Centro train station. I only really need the adaptor this when I'm travelling within Europe and use my UK Vodafone SIM for data roaming (the data prices are pretty competitive).
A Spare Battery
Why is it that a) camera batteries only ever run out when you are somewhere really cool and b) they take forever to charge when you are just trying to head out of the door? If you are snap-happy, I'd recommend taking a spare battery. If you're saving some cash by using a non-branded spare, check out some reviews to make sure the thing works.
I've recently bought a replacement from the band Ex-Pro, but I've yet to test it. I'll let you know!
Protective Cases
For everything item of any value, I'd absolutely recommend getting a case. As a prize-A klutz, I drop my stuff a lot so I've had the advantage (?!) of having tested a lot of my cases in real life.
For laptops, I love the Built brand. I've dropped all my laptop (Mac and old netbooks) from chest height to hard floor in these Built cases and they've not been damaged.
For my iPhone I picked up a £2 bumper case in a supermarket and despite dropping my phone at least once a week (I did say I'm clumsy), it hasn't broken…yet. Before my £2 purchase, I picked up a rather professional looking case from the Apple store that cost around £20 and promised to dissolve all impact and protect my iPhone for eternity. The problem was it was just plain ugly so I'll be sticking with my £2 deal for now.
For my Sony, I bought the Lowepro Dashpoint 30 case. It's bulkier than I'd like but actually the smaller of the range of CSC cases out there. I only tend to use the case while I'm in transit because it does have more padding than the camera needs and I am on the look out for a better alternative (recommendations welcome). Daily, I protect the lens with a UV filer, the screen with the Sony screen protector and a lens cap. On the lens cap, the original Sony one didn't come with an attachment string so I lost it within days of getting to Spain. Here's hoping I have better luck with my replacement.
And with all of this kit, you're going to need some insurance…check out my advice on buying travel insurance:
My other packing guides you might like…
So, that's my list. Do you have any other tips? What travel gadgets do you travel with? What do you consider essential versus nice to have?
Main image: japokskee